Ryzen processors are a success when it comes to overall performance and there are three series from AMD:- Ryzen 3, Ryzen 5 and Ryzen 7. Each one of them is made specifically for different purposes.
Ryzen 3 processors are low-end processors and Ryzen 5/Ryzen 7 are mid-high end processors that can be used in a mid or high-end PCs.
Prices of processors have an appropriate difference between them and each one of them delivers decent performance. Every processor in these series are overclockable and you should get an aftermarket CPU cooler in order to overclock them properly.
Today I will be talking about Ryzen 5 1600 and Ryzen 7 1700 processors. These processors are from different Ryzen series. The Ryzen 1600 is from Ryzen 5 and Ryzen 1700 is from Ryzen 7. So, there are some major differences between the two in most of the specs. However, the architecture used in both are the same.
One may get confused in these two because each one of them is good for its price. So, I am going to list out some reasons why and which CPU should you buy?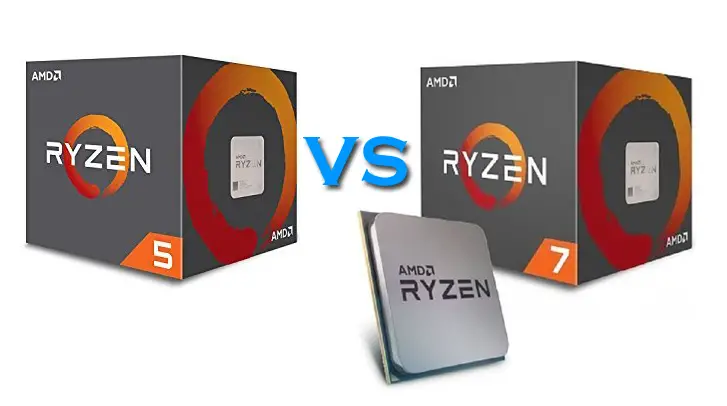 Use Ryzen 5 1600 if you only want to game
Ryzen 5 1600 costs just above $200 and is worth its price. The CPU features 6 cores and 12 threads which is much better than the Intel i5 processors, although, Intel i5 8400 is a great hex core processor without hyperthreading but because of hyperthreading the Ryzen 5 1600 is a good processor that can handle multi-tasking well.
For a mid-end gaming PC that costs from $750–$1000, I suggest going with Ryzen 5 1600 instead of 1700 because most important part of a gaming PC is Graphics card. The faster, the better. Although one may say that Ryzen 1700 has more cores, then whey go with a less powerful CPU?
It's because Ryzen 5 1600 doesn't bottleneck high-end graphics card like GTX 1070, 1070 Ti or 1080. Surely, there is an advantage of Ryzen 7 1700 over it in gaming if both are tested with the same GPU. But spending another $80 on a CPU rather than GPU will not benefit you.
If you can get a GTX 1070 Ti with your budget along with Ryzen 5 1600, it will be better than getting a GTX 1070 with Ryzen 7 1700. And there is a clear difference between the performance of GTX 1070 and GTX 1070 Ti.
Use Ryzen 7 1700 if you want to run rendering applications
Ryzen 7 1700 has 8 cores and 16 threads and I know that it's very fast. I myself have a Ryzen 1700X and multi-tasking performance is great. In Cinebench, it always scores more than 1500 points and similar is in the case of other applications which requires 3D rendering. Streaming and gaming at the same time and letting your other programs open in the background won't let your system hang.
This processor is a beast if you use it and possibly would never face big troubles. Combining it with any high-end graphics card will give you insane performance.  Although, the performance difference won't be that much noticeable than the Ryzen 5 1600 since both use the same architecture and the difference is of Core and threads mainly.
No game would require you to use more than 4/6 cores which is the highest requirement a game can have and both of these processors successfully meet these conditions.
But Ryzen 5 1600 has higher clock speed!
Even though Ryzen 5 1600 is a slower chip than the Ryzen 7 1700 in multi-tasking, it has 200Mhz more clock speed than the latter and this is a noticeable benefit. Just increasing 200Mhz gives observable difference and as the processor is also unlocked, so you can take it higher than 3.5Ghz easily while the boost clock of Ryzen 7 1700 is 3.4Ghz.
It's not impossible to get the Ryzen 1700 above 3.4Ghz but actually, both of these processors can go easily up to 3.9Ghz but it requires a lot of trials and advanced tweakings. So, here Ryzen 5 1600 is safer in terms of basic overclocking.
Power Consumption is the same
Despite the differences, both the chips are power efficient having TDP of 65 Watts. Though overclocking them is different as both the chips will be stable at different voltages, but that wouldn't be any major difference.
So, when it comes to building a gaming PC that is also power efficient, going with any of these chip will do the job.
Now when you buy any one of these be sure to buy at least a B350 chipset motherboard or if you can buy an X370 chipset motherboard, that will be better because X370 chipset motherboards have more power phases which lead to better stability. Although for budget builds, I recommend going with B350 motherboards as they don't cost you much and will be enough if they have good heatsinks on their VRM.
Conclusion
With Ryzen 5 1600 costing around $200 and Ryzen 7 1700 around $300, it's really a matter of need which you want to fulfil. If you just want to game and stream sometime, then Ryzen 5 1600 is the best CPU and there will be no noticeable difference in fps if you use any one of these chips.
However,  if you have heavy programs that need to run at the same time, then spending a $100 extra will be worth your money as you can use the same board for your 1700 as you would use for 1600 for overclocking.