Instead of making graphics cards dedicated to gaming "Only", some vendors are trying their best to get profit from miners by producing cryptocurrency dedicated graphics cards. Gigabyte started recently this trend and now comes the INNO3D with another card known as P102-100 Crypto-Mining Accelerator that looks more like a Zotac Mini of GTX 1080 or 1080 Ti.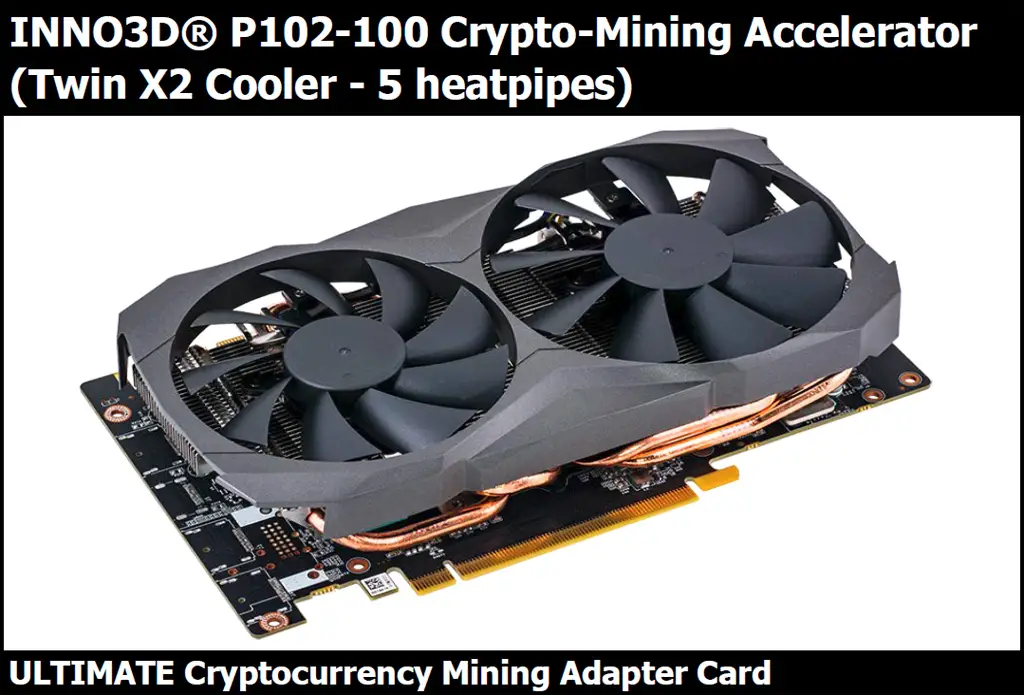 Above is the card which is launched by Inno3d specific to mining and won't be able to get used as a graphics card for gaming. So, if the cryptocurrency market crashes, this card is a waste. This card I don't know if miners gonna buy it or not because someone who buys a graphics card that can fulfill the purpose of both gaming and mining, why would he buy something that will have no use if someday mining business trend stops?
Related:- Best Budget Graphics Cards
This card doesn't have any output ports for display and no backplate. It's just a PCB with a dual fan heatsink having some copper heat pipes that will just do the job for mining. The question is, Why no one is making dedicated "gaming" graphics cards? Nvidia is preparing for the Turing but it will take a few months more before it hits the market.
Inno3D P102-100 Specifications:
– GPU: P102-100
– CUDA Cores: 3200
– Base Clock: 1582 MHz
– Memory Clock: 11 Gbps
– Physical Memory Size: 5 GB
– Memory Type: GDDR5X
– Memory Interface Width: 320-bit
– Memory Bandwidth: 400 GB/s
– Bus Support: PCIe Gen1 x4
– Card Size: 21.5 cm length, 12.5 cm height, dual slot
– Max TDP: 250 Watt
– Power Connectors: 2x 8-pin PCI-E
So, it's pretty a powerful card, nearly similar to the GTX 1080 Ti but having some of the specs much lower than that of GTX 1080 Ti like VRAM and CUDA Cores.