Xtremegaminerd.com is a participant in Amazon Associate Program and is supported by the readers. The qualifying purchase you make through our links may get us some commission and doesn't cost you an extra penny.
---
Well, look what is here! Its Splinter Cell: Conviction, which is made available for Xbox One earlier yesterday by Larry Hryb, Microsoft's Director of Programming for Xbox Live via a Tweet. Earlier when the backward compatibility announced, fans were eagerly waiting for the title to come out for Xbox One version due to its intense storyline and action-packed gameplay.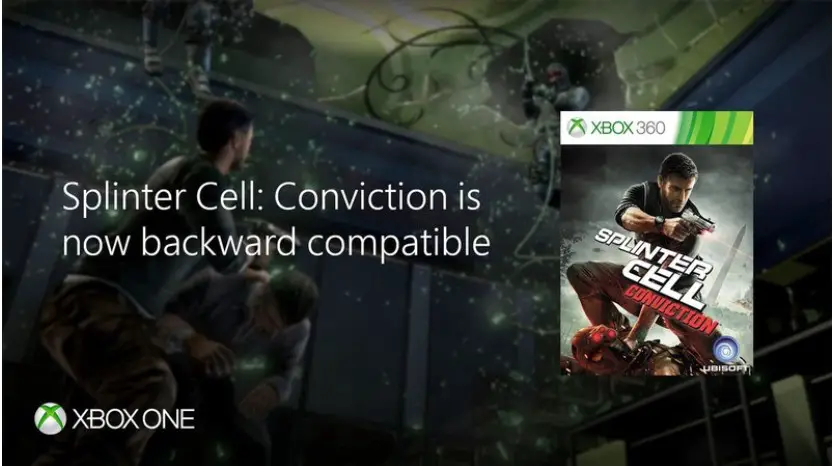 The game was staged as an investigation of the lead character's daughter's death which unwittingly leads a former agent Sam Fisher to discover that he has been backstabbed by his prior agency named as, the Third Echelon. Fisher finds himself in a time crisis situation where he needs to race against time to prevent a deadly terrorist plot which can cause a serious threat to millions of people.  Tom Clancy's Splinter Cell Conviction arms you with all the high-tech weaponry and also your experience as a mercenary will have an advantage of the lethal lethal skills of an elite operative and where you need to set your own rule to prevail justice.
The announcement happened in a funny mater where Ubisoft accidentally published an image revealing that the game was "now backwards compatible" which seems to make curiousness among the users as it was nowhere to be found in Xbox "Ready to Install" section. This raise question of the news's authenticity. After the incident, Larry from Ubisoft made the post in tweeter.
Tom Clancy's Splinter Cell Conviction is coming to Xbox One Backward Compatibility today (it is also on sale for 50% off in this week's @Ubisoft publisher sale) https://t.co/qPMRNrLoTQ pic.twitter.com/mDtB6INELk

— Larry Hryb ✈️ 🇬🇧 (@majornelson) February 8, 2018
Players who previously has the franchise-reinventing 2010 adventure either digitally or a key will be able to play it immediately. If you don't have the game but interested to taste the action-packed storytelling scenario can purchase the game and additionally you will be able to get a discount of 50% till February 12. The discount is also up for other Ubisoft titles which are being offered with a discount of up to 60%. So hurry up and grab a copy for yourself immediately and game on.