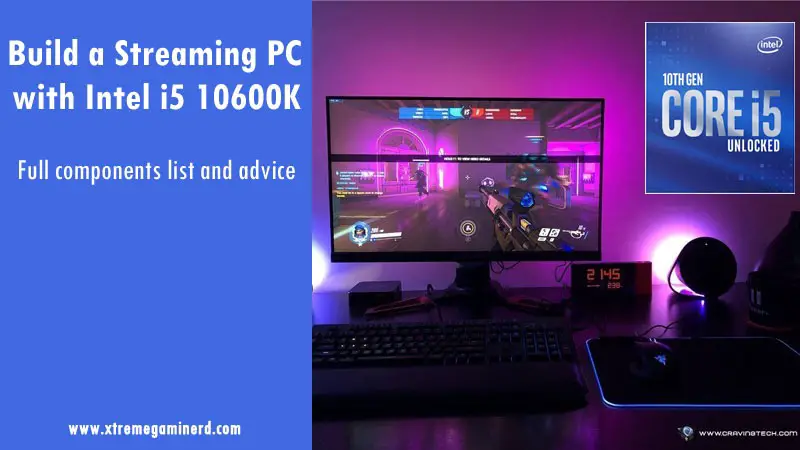 While Ryzen processors are more popular currently, there is no denying that Intel's 10th gen processors still hold up to their claim of being one of the best processors for gaming. Intel's 10th gen Core i5 10600K is fortunately cheaper than the Ryzen 5 5600X which is its direct competitor and features similar specs which include 6 cores and 12 threads and the ability to overclock.
As streaming is getting popular amongst most gamers, the Core i5 10600K gives a chance to those who don't want to spend thousands of dollars on an expensive gaming setup. This processor costs around $260-$270 and can handle any high-end graphics card without a problem.
The second important thing is now selecting the parts which will be best suitable to a build a streaming PC using this processor and as there are dozens of choices in each category, it's easy to get confused especially for a beginner in the PC master race.
Don't worry, I have listed the parts which you need to build a powerful streaming setup that will allow you to stream flawlessly while you enjoy gaming and in case you need suggestions, you can drop your comment down below the post.
Motherboard
Option 1
Related- Best motherboards for Intel Core i5 10600K
RAM
Graphics Card
There are currently two most widely used resolutions: 1080p and 1440p where 1080p still dominant with more than half the gamers using this resolution for gaming. There are a number of graphics cards that you can use for both the resolutions with Core i5 10600K and I have listed the best ones for each resolution.
For 1080p
Option 1
Option 2
For 1440p
Option 1
Storage
Solid State Drive
Power Supply
Chassis