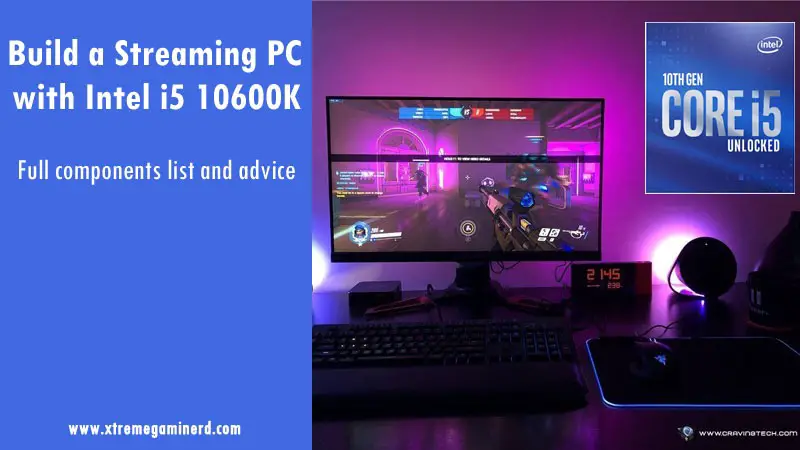 While Ryzen processors are more popular currently, there is no denying that Intel's 10th gen processors still hold up to their claim of being one of the best processors for gaming. Intel's 10th gen Core i5 10600K is fortunately cheaper than the Ryzen 5 5600X which is its direct competitor and features similar specs which include 6 cores and 12 threads and the ability to overclock.
As streaming is getting popular amongst most gamers, the Core i5 10600K gives a chance to those who don't want to spend thousands of dollars on an expensive gaming setup. This processor costs around $260-$270 and can handle any high-end graphics card without a problem.
The second important thing is now selecting the parts which will be best suitable to a build a streaming PC using this processor and as there are dozens of choices in each category, it's easy to get confused especially for a beginner in the PC master race.
Don't worry, I have listed the parts which you need to build a powerful streaming setup that will allow you to stream flawlessly while you enjoy gaming and in case you need suggestions, you can drop your comment down below the post.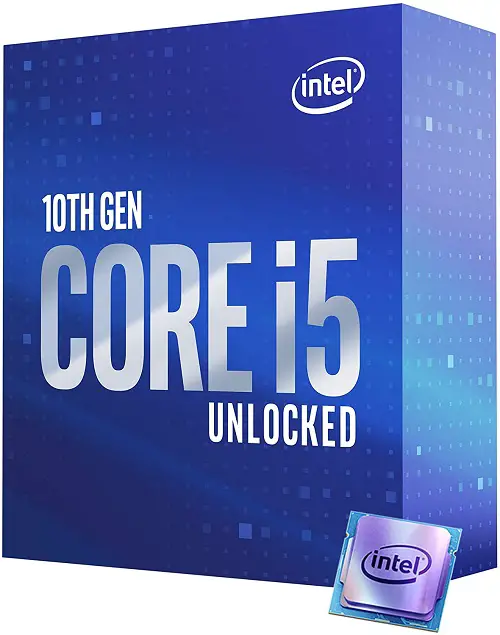 6 cores, 12 threads Base clock- 4.1GHz, Boost clock- 4.8GHz Overclockable Intel UHD Graphics 630
Motherboard
Option 1
14 power stages for stable overclocking Lots of ports, headers and slots Supports memory up to 5000MHz RGB lighting and Debug LEDs
---
The only chipset which can overclock the i5 10600K is the Z490. It's important to use a chipset that is able to unlock the full potential of an overclockable chip and allow upgrading easily. It features 14 power phases in the VRM with decent heatsinks that will allow cooler and stable operation while the chip is overclocked. Moreover, this board can support very highly clocked memories and allows up to 128GB memory in total.
For storage, you will get 2x M.2 slots for fast SSDs and 6x SATA ports for SATA devices which should be enough to add a couple of storage drives for storing big games. Also, one of the most fascinating features of an MSI board is the availability of Debug LEDs which allow you to figure out the possible cause of the system non-booting.
At the I/O, you will get dual LAN ports, 8x USB ports including a Type C and a combo PS/2 port for peripherals. This board will fulfill all of your needs to add whatever component or peripheral you want to in order to start streaming out of the box.
Related- Best motherboards for Intel Core i5 10600K
RAM
3600MHz clock speed RGB lighting
---
Going with a 3000MHz+ memory kit is the way to go for the best possible performance with Intel's i5 10600K. This will provide as much as fps as possible and 16GB of RAM will eliminate any kinds of bottlenecks while multi-tasking which is very important in streaming.
The Corsair LPX provides 3200MHz of frequency with timings as 16-18-18-36 which is great for performance and its aluminium heat spreader will allow active cooling.
Graphics Card
There are currently two most widely used resolutions: 1080p and 1440p where 1080p still dominant with more than half the gamers using this resolution for gaming. There are a number of graphics cards that you can use for both the resolutions with Core i5 10600K and I have listed the best ones for each resolution.
For 1080p
Option 1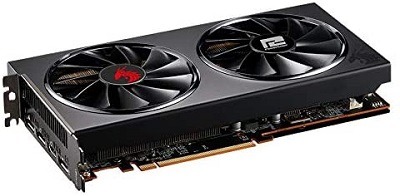 6GB GDDR6 VRAM Boost clock up to 1620MHz
---
The RX 5600 XT is currently the best possible 1080p card for $300 and competes directly with the more expensive RTX 2060 and beats Nvidia GPUs such as GTX 1660 Ti and Super which cost around $240-$300. It features 6GB of GDDR6 VRAM that runs at 14Gbps and is capable of maxing out most games at 1080p resolution.
This card is capable of maxing out all the setting at 1080p resolution and can consistently provide over 60 fps in AAA titles while in eSports games like CSGO, Valorant, Apex Legends etc. you can expect above 100 fps for sure. The card is also very capable of playing games at 1440p with some settings tweaked which makes it a good future proof for gaming at 1080p.
Option 2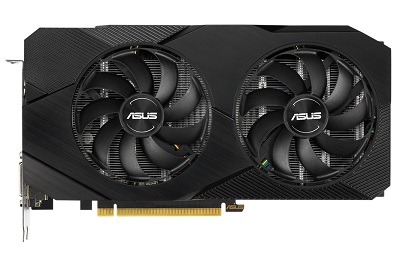 6GB GDDR6 VRAM Boost clock up to 1860MHz
---
Although the GTX 1660 Super is slower than the RX 5600 XT it's also cheaper. The GTX 1660 Super is better than the GTX 1660 Ti with regards to value to price and will save around $50. This option is only for those who know that they don't have to deal with 1440p resolution and I recommend it for only 1080p.
It also features 6GB of GDDR6 VRAM with the same memory specs as the 5600 XT has and can provide 60 fps in most games on highest settings. This is particular great in eSports games where you want more than 100fps and you can enjoy gaming at a 144Hz refresh rate monitor.
For 1440p
Option 1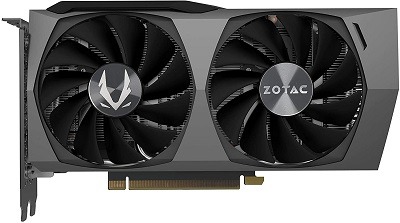 8GB GDDR6 VRAM Boost clock up to 1665MHz
---
The RTX 3060 Ti is a monster GPU that you would want for 1440p gaming and is capable of providing Ray Tracing in games without losing much of the performance compared to the RTX 2000 series GPUs. There is currently no better $400 card than 3060 Ti this is the sweet spot for enthusiast gamers that can provide well over 100fps in almost every game.
It features 8GB of GDDR6 VRAM and 4864 Cuda Cores which makes it much faster than the RTX 2070 yet alone RTX 2060 from last gen. If you want even higher fps then you can go with the RTX 3070 which is $100 more expensive but provides lesser performance increase compared to the increase in its price because of which I recommend sticking to the 3060 Ti.
Storage
Solid State Drive

1TB x 2= 2TB storage total Up to
3200/2000MB/s R/W speed
---
It's better to use SSDs instead of hard drives and for this build, I recommend using 2 SSDs. These are much faster and particularly the NVME SSD like Sabrent Rocket, it will boost the booting of operating system and reduce loading times in games. You can use one for storing the OS and applications while the other for games. This will make a balance in storage and as the motherboard has 2x M.2 slots, you will have no issue in installing both of them.
Power Supply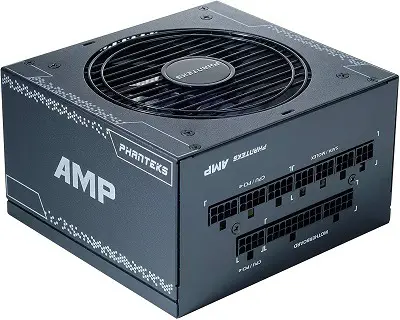 80 Plus Gold rated Fully modular Tight voltage regulation and low ripple
---
I mostly recommend 80 Plus Bronze PSUs at the minimum but it will be better if you get a Gold one under $100. The Phanteks AMP 650 PSU, you will get around 90% of power efficiency and tight voltage regulation. It's fully modular and you can connect only those cables which you require.
The 650 wattage capacity will be enough for supplying power to all of your components but if you need more wattage for future proofing, there is a 750W edition too.
Chassis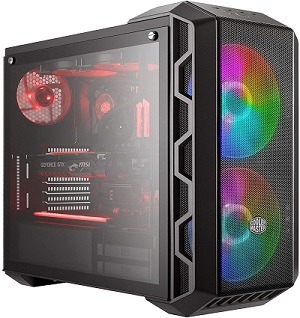 2x 200mm ARGB fans and Tempered glass side panel Great airflow capability Advanced cable mangement system Built in handle
---
As a fan of airflow mid-tower cases, I have no doubt in the capability of the Cooler Master H500 ARGB. This case is the mini version of the H500M which our seniour editor uses. You can check out its review here.
The case is equipped with pre-installed 2x 200mm ARGB fans which throws lot of air through the front and can be controlled using the pre-included controller. Unlike most of the mid-tower cases, it's design is a little bit different and features a half-length PSU shroud with hard drive cages in the half bottom.
The case has an advanced cable management system inspired from the H500M and up to 30mm clearance at the back for cable management. For cooling, you can remove the front two fans for either 3x 120mm fans or a 360mm radiators whereas you can equip the case with up to 2x 140mm fans or a 240mm radiator. This case is available for around $120 and won't dissappoint.