In a recent post over their website, MSI confirms that the MSI Z370 motherboards will support Intel 9000 processors through a BIOS update. This option was first speculated when an ASROCK H310 express chipset motherboard supporting the upcoming 9th Generation Coffee Lake Refresh processor was spotted.
MSI now officially confirms that through a BIOS update it will make their Z370 motherboard to support the upcoming processor. They also published a list of motherboards that will be able to support the upcoming 9th generation processors. The new BIOS updates are all fully optimized for Intel 9000 processors.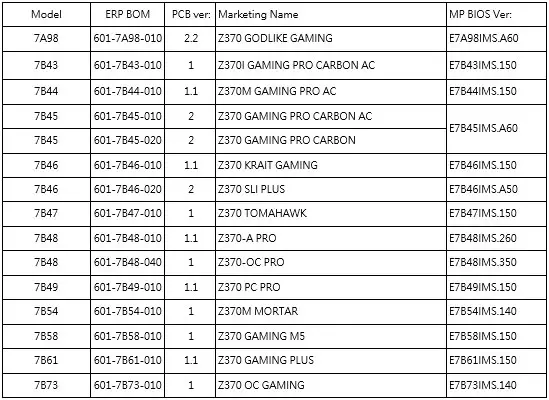 The main fact about this one is that the release of the Coffee Lake Refresh is not a huge news as the new upcoming CPU's will offer higher clock speed and increased efficiency along with a combination of 8-core/16-thread support for the SKU. Moreover, the Intel Z390 chipset that was supposed to be launched alongside the Z370 chipsets doesn't offer a significant difference.
According to recent rumours, there are the three SKUs that are scheduled to launch and it includes:
Core i9-9900K: 8 cores / 16 threads, 3.6GHz to 5GHz, 16MB L3 cache, 95W TDP
Core i7-9700K: 8 cores / 8 threads, 3,6GHz to 4.9GHz, 12MB L3 cache, 95W TDP
Core i5-9600K: 6 cores / 6 threads, 3.7GHz to 4.6GHz, 9MB L3 cache, 95W TDP
And these new processors are supposed to get released in the coming October as it was delayed for some unknown reasons. To get more information about the new BIOS versions, make sure to check out this page.