The Crew 2, developed by Ivory Tower and will be published by Ubisoft is not going to get released on March 16, 2018. Instead, it is now officially announced that the game will get released on June 29, 2018.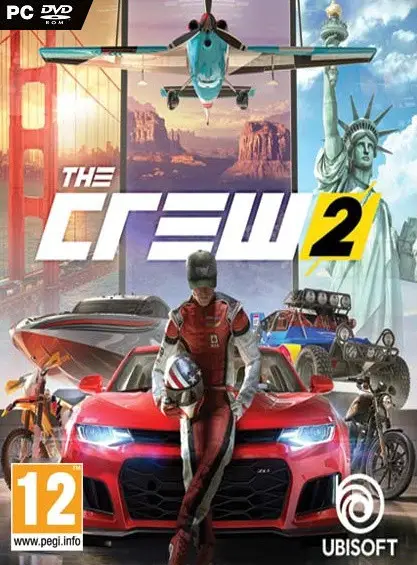 As a player, you will take on American Motorsports to a whole new level and dominate the land, air, and sea across the entire USA along with a variety of cars, bikes, boats, and planes to sharpen your driving skills. The newest member of the revolutionary franchise, The Crew 2 is intended to capture the thrill of the American motorsports spirit in one of the most exciting open worlds ever created.
"Want to play graphical-intensive games on a budget? Get this Cheap Gaming PC that will get the job done"
A player is offered with a huge, varied, action-packed, and beautiful playground built for motorsports throughout the entire USA. You can enjoy the exploration on ground, sea, and sky and from a different location and pro racers, off-road explorers, and freestylers gather and compete in all kinds of disciplines. The Crew 2 gives you the chance to showcase your skills and rise as a multi-skilled motorsports champion and dominate the land.
Players who can't resist the excitement and want to go for an early can pick up $110 USD The Crew 2 Motor Edition which will allow the user to access the game on June 26. This Ubisoft Store exclusive also includes and is not available in other places like Steam, though the other edition i.e. the Standard, Delux, and Gold edition are available in Steam Store also:
The Crew® 2: SteelBook® Gold Edition which will also include the Season Pass and a collectable SteelBook case.
An 11.81" x 5.9"speciality license plate customized to reflect the spirit of The Crew 2 during the gameplay.
"A 25" x 20" fold out a road map of the game which will be your guide to explore the entire USA, full of activities and hidden surprises.
Four motorsport stickers to choose your own style between the 4 Motornation families.
High-quality Collector Box packaging
Season Pass.
The Crew 2 Motorsports Deluxe Pack, which includes: Ford F-150 Raptor Race Truck 2017, Abarth 500 2008 Monster Truck Edition, Pilatus S PC-21.
Three outfits to customize your avatar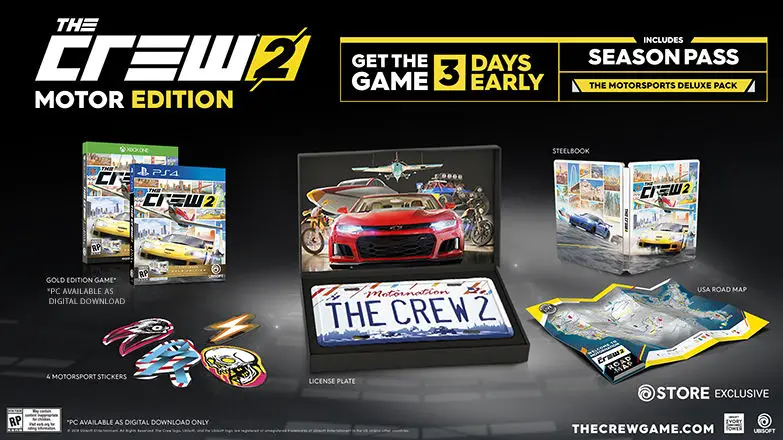 Players who will buy the Motor Edition will also get three days early access to the game. And if you are going to pre-order the Legendary Motors Pack, you will get Harley Davidson Iron 883TM 2017 and Mercedes-AMG C 63 Touring Car 2016 with the pack. You can also sign-up for the beta and other announcements here.