Xtremegaminerd.com is a participant in Amazon Associate Program and is supported by the readers. The qualifying purchase you make through our links may get us some commission and doesn't cost you an extra penny.
---
Last week we posted about Nvidia developing the GTX 1060 with "GDDR5X" memory and now the evidence is becoming stronger as Gigabyte and Palit have now published a page dedicated to the new GTX 1060 on their official websites. However, not everything is mentioned there. Some of the important and "Curious to know" specs are still hidden which can appear anytime. But there is one thing that caught my attention which is still an unknown thing right now.
The original Nvidia GTX 1060 doesn't have any SLI connector and it's a known fact but Both the Gigabyte GTX 1060 G1 Gaming D5X and Palit GTX 1060 GamingPro OC+ seem to have them and they are clearly visible from the side. look at the two Gigabyte G1 Gaming GTX 1060 cards below and notice the difference.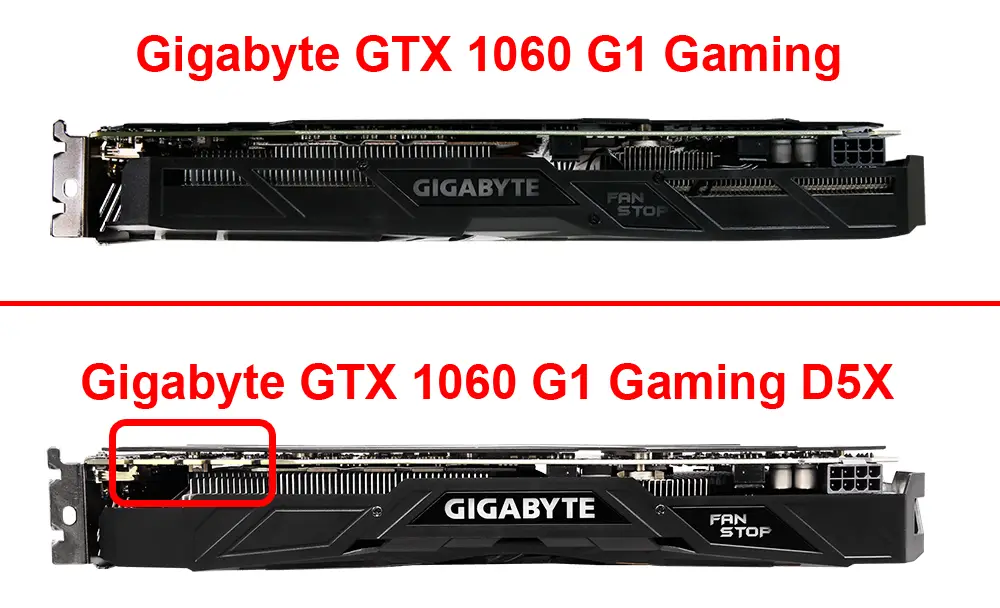 Similarly, Palit GTX 1060 is also having an SLI connector

It's quite surprising that suddenly Nvidia thought to implement SLI feature in the GTX 1060 when the RTX 2000 series has been launched and we might be near for the launching of RTX 2060. Although the specifications page tells us a totally different story. Despite equipping them with SLI connectors Gigabyte clearly lists it as a non-SLI compatible graphics card.
Related:- Best CPU for GTX 1060
Other specs like the Core clock, Memory clock are yet to be declared but the memory interface, TDP, and Cuda cores are the same. Memory clock of GDDR5X is faster than the GDDR5 memory and may vary between 9Gbps, 10Gbps, and 11Gbps giving an upper hand in overall gaming performance but the most important thing right now for me is SLI compatibility which is a real deal as two GTX 1060s will give performance equivalent to a GTX 1080 in most cases.  let's see if Nvidia announces something related to this in the coming days.