Xtremegaminerd.com is a participant in Amazon Associate Program and is supported by the readers. The qualifying purchase you make through our links may get us some commission and doesn't cost you an extra penny.
---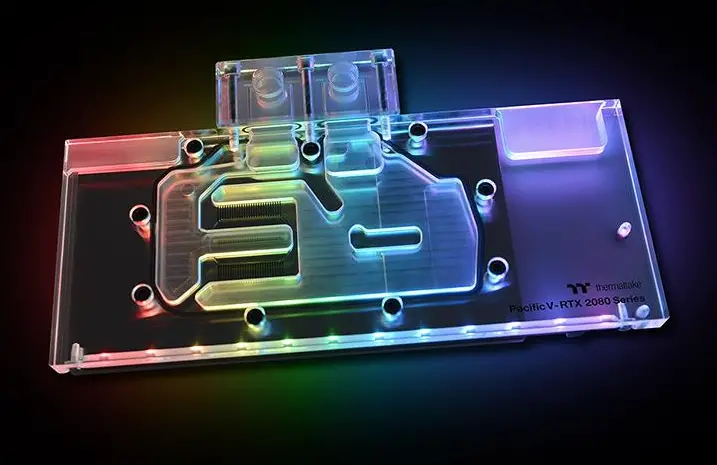 The whole digital world is now crazy about the new GPU that was released by Nvidia. The latest series of the RTX cards are no doubt the current sensation and recently Thermaltake has announced new water block for the RTX 2080 and 2080ti GPU's.
Thermaltake's Pacific V-RTX 2080 Plus series founders edition RGB water block is currently available on their website for Pre-Ordering. The water block is meant to offer nice cooling to the RTX reference cards and at the same time make it look more appealing.
The Pacific V-RTX 2080 Plus water blocks come with RGB illumination and the lighting can be controlled via TT RGB Plus software allowing the user 16.8 million colour combination. Moreover, the illumination can also be controlled via TT AI Voice Control function and Amazon Alexa Voice Service which according to me sounds awesome.
Featuring a 0.5mm internal fin construction along with high-flow water block which allows the coolant to flow directly over the required surface area of the card. It also comes with copper base CNC which prevents corrosion and also offers more cooling performance. Moreover, Thermaltake has kept the mounting procedure very simple by having a toolless mounting procedure.
The Pacific V-RTX 2080 Plus Series Founders Edition is intent to deliver superior performance along with awesome potential and a bunch of customization in illumination. They are listed on Thermaltake's TT Premium Website and are up for pre-ordering, however, users might need to wait till October for getting hands on them. The Pacific V-RTX 2080 Plus Series Founders Edition comes with two-years of warranty support which can be availed worldwide. To know more details make sure to check out this link.