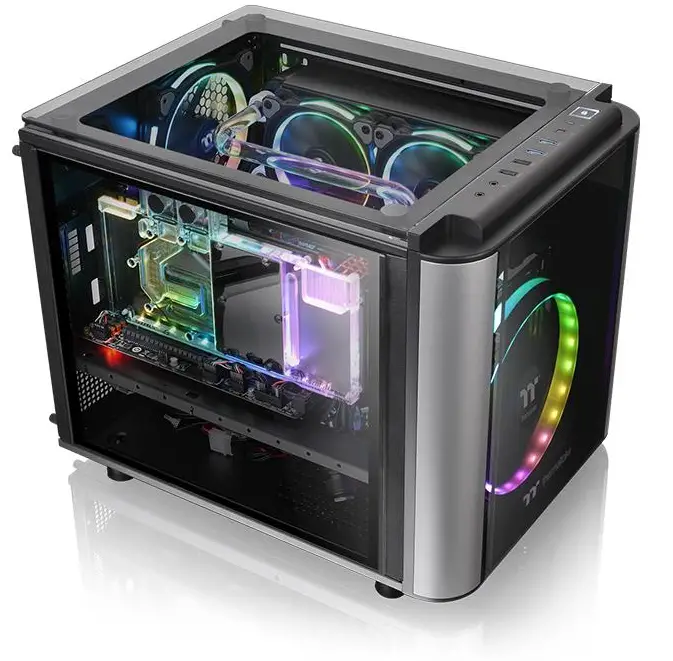 After introducing to the other variants of the new Level 20 PC cases, Thermaltake now announced a mini version of its Level 20 line up and the case is named as Level 20 VT which is a MicroATX which come with four-sided tempered glass and within an affordable price range of $99.99.
The Level 20 line up of PC Cases is here to demonstrate Thermaltake's 20 years of dedication towards PC industry. Being a MicroATX case, it offers nice features starting from the four-sided tempered glass which is 4mm of thickness along with awesome support for liquid cooling and interchangeable panels with filters.
The case has a flat motherboard tray which allows you neat cable management and showcase your hardware components. Being a MicroATX case it can house CPU coolers up to 185mm in height and also offers support for a full-length GPU up to 350mm in length. It can also house 2 x 240mm radiators on top or a single 280mm and in front it can house rads up to 240mm.
The Level 20VT comes pre-installed with a 200mm fan at the front and it has a dual chamber design which is optimized for space management. The upper chamber is for your motherboard other peripherals and the lower one is for the PSU and the storage. Even one can stash all the cable at the PSU chamber and can perform a clean build in the upper chamber. Moreover, the case is TT Premium certified which makes this case a perfect for PC Enthusiasts.
The case is available at Amazon.com for a price of $99 and if you want to know more details about it, check out this link.