Keyboards
Top 5 Mechanical Keyboards Under $50
Xtremegaminerd.com is a participant in Amazon Associate Program and is supported by the readers. The qualifying purchase you make through our links may get us some commission and doesn't cost you an extra penny.
---
Day by day mechanical keyboards are becoming way cheaper than they used to be, the production cost for them is way low as cheap mechanical keyboards don't use original cherry Mx Switches so the production cost of making the knockoffs are a lot cheaper. So we will take a look at cheap mechanical keyboards having great build quality and after sales support. I didn't include any company that have bad after sale support. So let's begin.
AULA ANTI-GHOSTING MECHANICAL KEYBOARD

This keyboard comes at around $36 and this is one hell of a keyboard for the price. This has a plastic base with a metal plate that is all black with sexy shampered edges. This keyboard also features raised feet with rubber bottoms that are a plus point if you are going to game on this, and as you can tell by looking at the price, it doesn't have backlighting which is okay because of how cheap the keyboard is. The company have to cut the production cost somewhere right. Also they did use lower quality Abs plastic keycaps like every keyboard in this lineup but this has some sharp looking gamer inspired fonts, personally I'm not a fan but I guess it's okay, and as you can tell by the name this also has 100% anti-ghosting and windows lock key to help you while gaming.
They used the cherry MX-blue equivalents in this keyboard which is nice to type on, you get the clicky noise along with good actuation point that makes the typing experience even better. This is a 10 keyless keyboard having only 87 keys with no Numpad, but seeing the price point of below $40, not that big of a deal. So if you are looking for a really cheap mechanical keyboard this is the right choice for you.
---
Velocifire VM01 Mechanical Keyboard With Brown Switches
This keyboard is made up of plastic and we can't find any of metal from the outside but it's heavy so I bet that they would have used metal inside because it feels really solid for a $38 keyboard. Although they don't have raised feet, that is a bummer because every other keyboard in this lineup has them even the cheapest ones but this doesn't, they do have rubber bottoms though so it's not going to move while you are gaming. You are missing multi-coloured backlighting because of this only glow in weird teal colour, that is visible during the night and you will not have a problem typing or playing at night.
Although I loved if they included few more colours or if they made the backlighting white because teal doesn't go well with every setup. Again the key caps are made up of cheap Abs plastic but still feels kind of premium because they have a weird texture to them that I like to touch LOL. The switches used are cherry MX-brown equivalents, so the tactile feel is present like the original German made MX browns but the clicky noise is not present. Also, this is a full-sized mechanical keyboard with a num lock and everything. So I think this a solid keyboard for 38$ and you should definitely check it out if you are Ballin on a Budget.
---
MechanicalEagle Z-77 Multicolor Backlit Mechanical Keyboard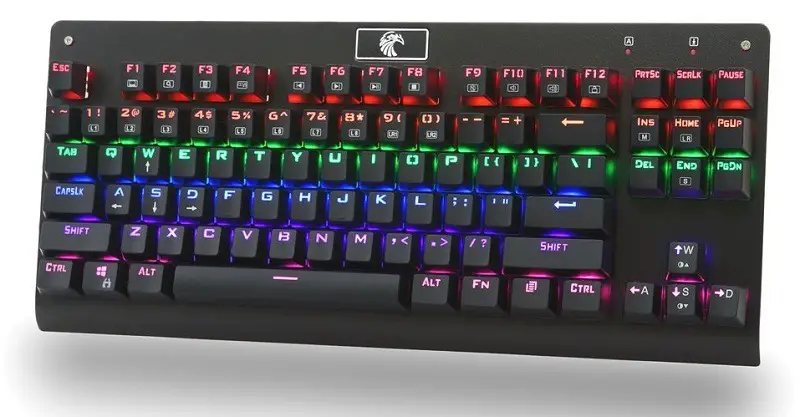 This keyboard comes at around 40$ and the back is made up of plastic although the backplate is aluminium and feels premium. This comes in 2 colour schemes white and black so you can choose either of them, according to availability. This also has raised feet with rubber bottom which is fantastic for a 40$. Now the only thing which I didn't like about this keyboard is the lighting, it seems like it has RGB backlighting but it doesn't, every row can have only one colour like the top row will only be Red, the row below that can only be Green and so on.
Although they do have quite a few of animations like key glowing when you press the button, snake animation, classic rainbow wave animation. The key caps again are made of Abs plastic like every other keyboard in this price segment. Also, this keyboard uses Cherry Mx-Blues duplicates from Xindo, they are actually good to type on surprisingly. This keyword doesn't have a Numpad so you are missing on that but for some, it's an advantage because in games like CSGO you will have more space for your mouse to move. In my opinion, this is one of the best Keyboards for 40$ so go for it.
---
Redragon K552 KUMARA LED Backlit Mechanical Gaming Keyboard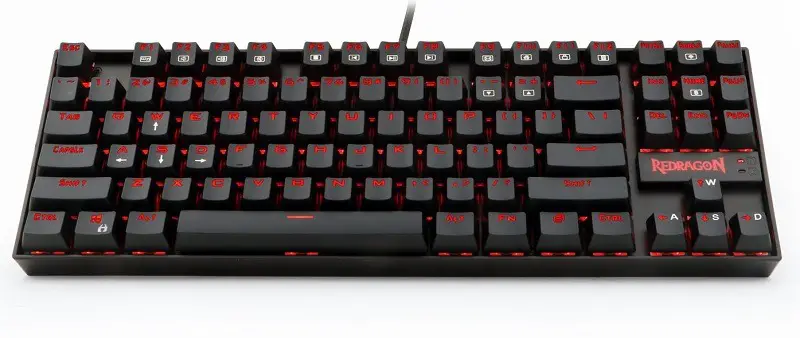 This keyboard is made up of plastic but the plate underneath the switches is a metal plate. So it's really nice to type on. This keyboard also has a newer version that has a gamer inspired edgy look, I'm personally not a fan of that. I like minimal designs more. This also includes raised feet with rubber bottoms so it's not going anywhere on the table while gaming. This also features cheap Abs plastic keycaps that are pretty common at this price point. The backlighting is another place where they skimmed I guess as this only has a red backlighting, nothing fancy.
It also has a Windows lock key and anti-ghosting features. It uses Cherry Mx-Blues knockoffs which personally I can't tell a difference between the original one and knock off switch. Also, key caps wobble a bit while typing because of the lower price point and this is pretty common in all 5 of these keyboards. This is an again a tenkeyless keyboard so we are missing the Numpad although they also sell a full sized version of the same keyboard for the same price. Reddragon is also an established company in terms of keyboards.
---
EagleTec KG011 Office / Industrial LED Backlit Mechanical Keyboard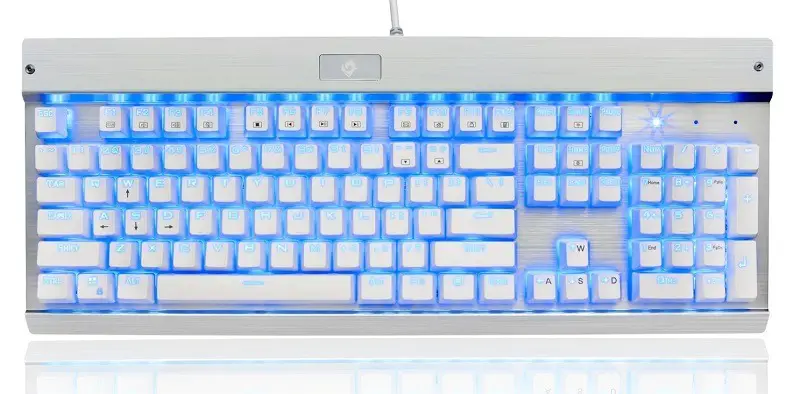 The base is made up of Abs plastic but the backplate is solid aluminium although they do get scratched easily. The brushed aluminium looks and feels really premium. Build quality is also sturdy and this features windows lock key and 100% anti-ghosting. The backlighting is only fit for a blue themed setup because blue is the only colour present in this keyboard and for a 49$ keyboard it is not okay for many gamers and enthusiasts, we have cheaper alternatives with better lighting. But the backlighting shines a lot brighter than other keyboards because of the reflective backplate underneath the keys. Speaking of keycaps these are made of Abs plastic and again these are MX-Blues knockoffs. This is a full sized keyboard and I think this is great for the price only thing that I didn't like is the lighting part. And I guess they could have added a wrist rest because it's almost 50$ but I'll take it as the build quality is awesome and the keyboard feels premium.
---
So there you have it folks these are the best Keyboards you can pick for 50$ as of now.
If you want more cool and informative tutorials and blogs make sure you subscribe to our newsletter and I'll see you guys next time.