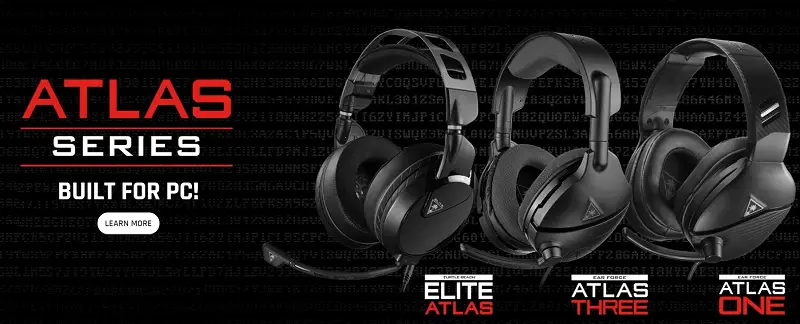 The TurtleBeach is about to release its new trio Atlas headsets, as they are made ready for preorders today, August 17. These gaming headsets are built specifically for PC. The trio includes the Estate Atlas Pro, Atlas three, and Atlas one. Each of them costs below $100 and that shows they are affordable. The company claims that the three headsets have been made in a tie with many eSport teams. Customers are told to await the release on the eve of October 2018.
The Elite Atlas Pro costs $99.95 and it is of the highest price. Its price is very similar to that of the Hypex Cloud Alpha which is among the best gaming headsets. The Elite Atlas Pro has a metallic headband with its padding suspended. It features magnetic memory from ear cushion and also has well-designed appealing glasses. It is also accompanied with pro-tuned 50 millimetres Nano clear drivers and a removable highly sensitive microphone made with TruSpeak technology. The Elite Atlas pro is also equipped with 3.5 millimetres PC splitter cables.
The next in rank of the trio is the $79.95 Atlas Three. It features a metal reinforced headband with its padding not suspended. It comes with 50 millimetres driver, and it supports wireless connection with a rechargeable cell that is claimed to last 40 hours of gaming.
The most affordable of the trio is the Atlas One at $49.95. It is accompanied by 40 millimetres driver that can make a quick flip to mute the microphone. Similarly to Atlas Three, Atlas one has a metal-reinforced headband but without thick padding.
What do you have to comment on the turtle beach's new headsets?