Fortnite has become an ongoing sensation for many gamers due to its huge popularity and unique gameplay. The game just released its recent update on the mashup which will let gamers be able to obtain the infinity gauntlet and get transformed into the Mad Titan Thanos himself. Check out about the recent update here.
But as with new things many individuals are trying to exploit it and turn the things in favour of him/her. Recently there are prevailing reports of emails which are inviting people to take part in a beta test of Fortnite Battle Royale on Android but according to Epic, this is a scam as they have only released the game for IOS devices only and we might see the game coming on Android in upcoming months.
"Check out these graphics cards under $100 for budget gaming"
Now many individuals will think what they will achieve with this exploit and to be very honest with you if an attacker gets under your device that attacker can do a lot many things which you are even not aware of. Generally, an exploit can be bind to other application in android and if the attacker was able to manipulate you and successfully makes you install the application then the exploit also gets installed and it will act as a medium through which the attacker gets the control of your devices starting from your gallery, SMS, camera, storage etc. Here in the case of the emails if acts as a phishing link which shows this :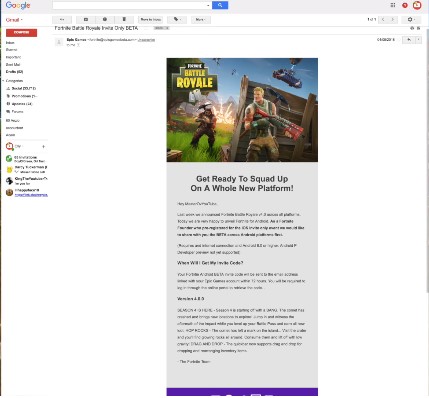 The thing is that guys are falling for this one and letting them get compromised without even knowing the truth. Your safety is in your hand and if you come across this kind of emails then you can tweet Fortnite directly and they will definitely help you. Recently we have seen Nick Chester from Twitter who also confirmed the same.
Fortnite Android: Shooter's announcement rumoured for Google I/O https://t.co/KX9Gmabq9s pic.twitter.com/5mThWYFtXv

— Trusted Reviews 📱💻 🎮 (@trustedreviews) May 8, 2018