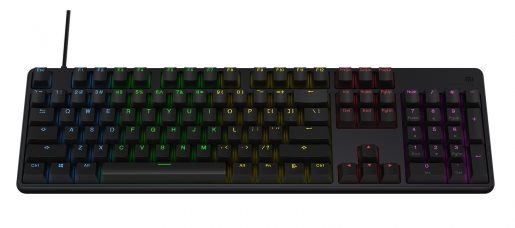 Nobody expects Xiaomi Company to have come this far just in eight months into 2018. However, this year has been fair, kind, and good with this Chinese Electronic Manufacturer of gaming product. Customers can now visit electronic shops across China or visit the e-store of Xioami Company to purchase the NEW MECHANICAL GAMING KEYBOARD that the company has just released. Just eight months into the year, Xiaomi has launched many products and they include VR Headset, Gaming Smartphone, MI Gaming Mouse Pads and among others. Personally, I think the company is doing well. Let me specify some attributes of the new keyboard.
Also Check:- Best keyboards under 100 dollars
The keyboard has a custom game axis, 104 keys, RGB backlight, and a metallic aluminium cover. Guess what! The cover (upper) is made out of 5052 Korean cover aluminium through the processes that include stamping, grinding, CNC, sandblasting, anodizing, and laser engraving. The product is built with an independent game feel shaft body that is developed with TTC. And to ensure a balance responsive expression, the Xiaomi Company's Manufacturers went on and placed a trigging force between the red and black axes. To make it very comfortable for usage, the stroke is of 3mm length. The keyboard is also accompanied with the Sonix 32-bit ARM master MCU to make sure that the keyboard's return rate reaches 1000Hz.
The Xiaomi new mechanical keyboard has 33n-key rollover, with anti-ghosting technology, and the left large keyboard and the direction key area are claimed to support n-key rollover. It uses an ergonomic button arrangement. The button array is designed to enhance the angle of different fingers that drolls on the keyboard. The lightning of the Xiaomi keyboard is of RGB dynamic light effects. Consumers can control the styles of the lightning to switch among RGB wave, RGB chase, and RGB breath. They can also change the speed, switch colours, and adjust brightness.
Now! What is the price of the Xiaomi's new mechanical gaming keyboard? CNY 229! The keyboard costs CNY 229 in China, and it is approximately Rs. 2300 in Indian currency. What do you have to comment on the Xiaomi and its new keyboard?