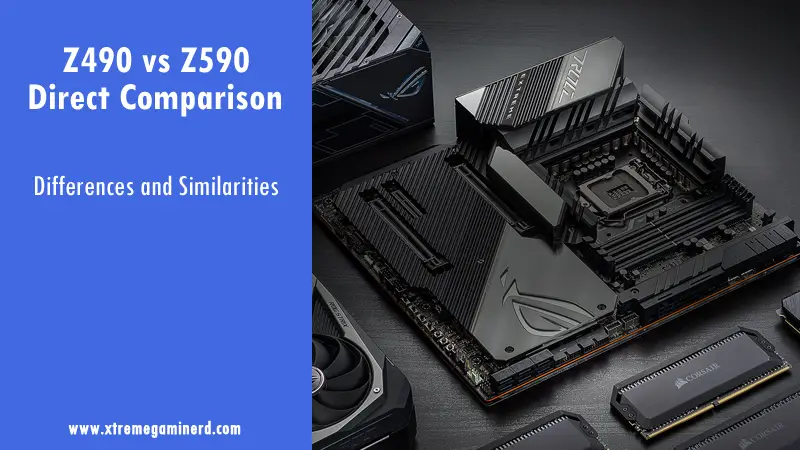 Z590 is the newest chipset from Intel that allows overclocking of both the 10th and 11th gen Intel processors. The new chipset if compared directly to Z490 has some improvements but most of them are minor.
The good thing is that Z590 features the same LGA 1200 socket as the Z490 has. Intel thankfully also made the Z490 motherboards compatible with the 11th gen processors but you will be limiting yourself in a few areas.
Differences between Z490 and Z590 chipsets
With Z590, you will get 4 more PCI lanes to use with the CPU compared to the 16 on Z490. That means you will get 1×16+1×4 instead of 1×16 only.  This increases the support to primary M.2 connector which now is independent of the chipset PCI lanes.
Compared to Z490, the Z590 chipset has X8 DMI(Direct Media Interface) between CPU and chipset which doubles the total bandwidth as present on Z490.
The Z590 chipset comes with native PCI-E Gen 4 support but it will only work with the 11th gen Intel processors.
Z590 motherboards will have better connectivity with faster USB 3.2 Gen 2 ports having speeds up to 20Gb/s compared to 10Gb/s on the Z490.
Compared to the memory support on Z490 which is 2933MHz, Z590 chipset can support up to 3200MHz out of the box.
Similarities between Z490 and Z590 chipsets
Both the chipsets allow overclocking of unlocked Intel processors.
Both have equal number of PCI lanes from the chipset which is 24.
They both have the same socket LGA 1200
Z490 and Z590 both are compatible with 10th and 11th gen processors
For display, both can support up to 3 monitors at the same time through the motherboard display outputs