Features and Conclusion




As we have explained the packaging and build quality, let's advance with the features this keyboard offers.
Keys
The keyboard is equipped with multimedia keys however they are not separate ones which mean they are along with other keys and is accessible through a function key. The keys which are present in this keyboard are custom blue mechanical switches which feel similar to the Blue Cherry MX switches found in high-end premium gaming keyboards and are quite costly as compared to the Zebronics Max Plus.
It will give you perfect tactile feel and acoustic feedback. These keys have very detectable actuation point which helps you in typing as well as gaming. There is no mention of the Anti-ghosting present, however, upon use, we didn't found any. Max keyboard has suspended and double injection keycaps meaning it can be taken off easily and double injection means they are very durable.
Mechanical keyboards have significantly longer life than normal keyboards. The keycaps can be replaced with any MX switches if you found the provided keycaps are not up to the mark as for us the fonts printed on the keycaps are very dull. There are no macro keys present and nor can be configured. I feel this would have been a great addition to make macro keys via utility software as they are really helpful in games like Dota2, Counter-Strike etc.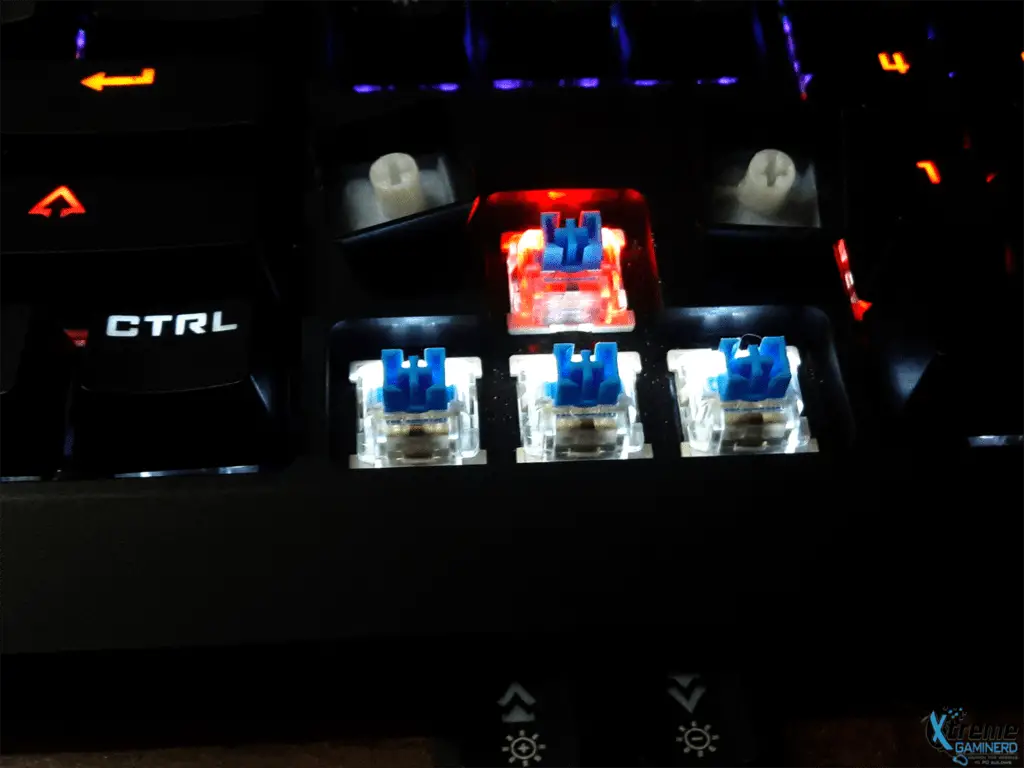 LED Back Lighting
As it's a plug & play device, therefore, there is no hassle present. We need to plug it in USB and boom it's ready to use. The first thing you will notice is the backlighting of the keyboard. The keyboard is loaded with 7 pre-configured modes of multi-coloured LED backlighting which can be changed easily with the help of the "Fn" key. Instead of illuminating every key with other colours, Zebronic has illuminated 6 rows of keys with six different colours and it also has the lightning effect such as game, snake, breathing, wave etc. it has also provided with 5 different brightness level and transition speed. Though the lighting is quite annoying to me because the modes and the transition speed will draw your attention while you are playing games in the dark as they are too bright or too dull.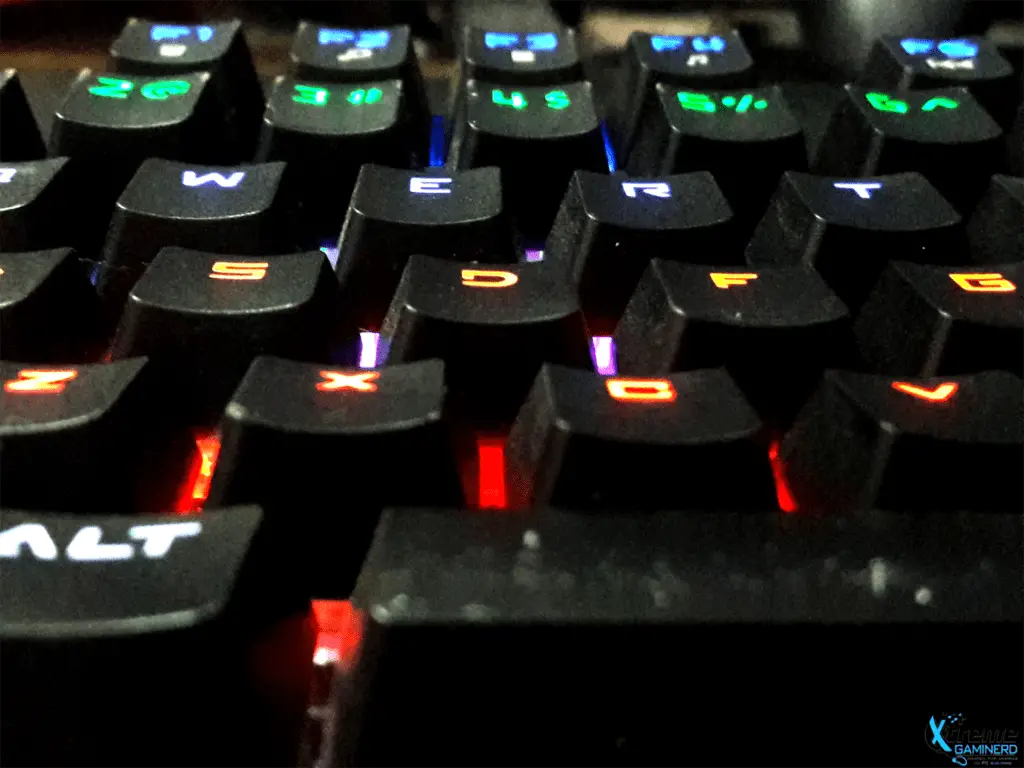 Hotkeys
The Zebronics Max Plus is equipped with 12 function hotkeys which are shortcuts for multimedia such music player, controlling the media volume, seeking the tracks and more. The keyboard also comes with a windows lock key that is basically used to disable the action of the windows key on your keyboard which when playing a game is quite handy as you don't want your start menu to pop-up accidentally. While the hotkeys are great, it should be kept in mind that they are all accessible using the Fn(function) key present on the keyboard, which is same to the ones found on laptop devices.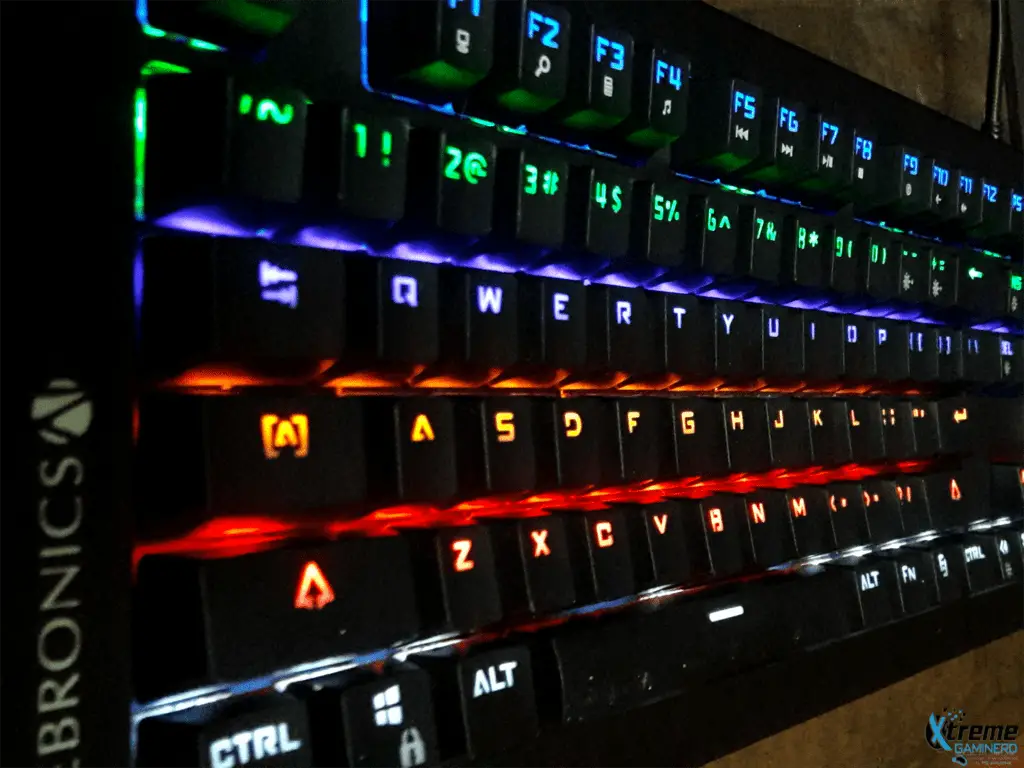 Performance
Now as we have covered the features of the keyboard, without any further adieu let's test the performance of the keyboard. If you have used membrane keyboard or Chiclet keyboard, it will take some time to get used to a mechanical keyboard, but once you are on to it, I can assure you, you'll never want to go back. The Max Plus or any mechanical keyboard will help you in achieving faster typing speeds, allowing you to type in more words per minute than you usually would as I am writing this article with the same keyboard and decided to review it after a month of use. The tactile and audible feedback offered by this keyboard is also quite good. The key placing on this keyboard is quite good and it will ensure that you don't miss your keystrokes.
Now from a gamer's point of view this keyboard is really awesome as there is zero input lag and alongside it has a response time of 1000Hz which really makes a difference if you are playing FPS games such as Counter-Strike, Call of Duty, Battle Filed etc. The fast response time makes it's sure that the moment when you make a key depression that's been reported to the CPU. Its performance is quite satisfied as I tasted this keyboard in DOTA 2, Counter-Strike: Global Offensive, COD, etc. and none of a time I faced ghosting or any input lag.
Zebronics Max Plus
Pros
Superior Build quality
Tactile Feedback
Mechanical Keyboard
Fast Response time
Anti Ghosting Keys
Cons
Fonts are dull
Lightning is annoying
No Wrist Rest
No Macro Keys
Not spill Resistance
Summary
The Zebronics Max Plus is really a great value for money product along with awesome performance. It is one of the cheapest mechanical keyboards available in the market currently which is priced within a 3k range, but it does not compromise on the quality. Both Gaming and Typing on this keyboard is a great and the feedback is really satisfactory. The inclusion of the wrist rest and software bind macro would have make it a real catch of the year.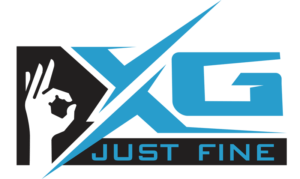 Offer Till 31st March