In a very recent video, RGT talks about the flagship Battlemage GPU from Intel that will supposedly feature 64 Xe Cores which are double the Xe Cores present on the current fastest Alchemist GPU, the ARC A770.
This should put the Battlemage GPU theoretically somewhere around the RTX 4070 Ti which is quite powerful even for 4K gaming. This card is supposedly the BMG 510 that will feature a TDP of around 225W and will have its clock targets above 3GHz as per the specs leak.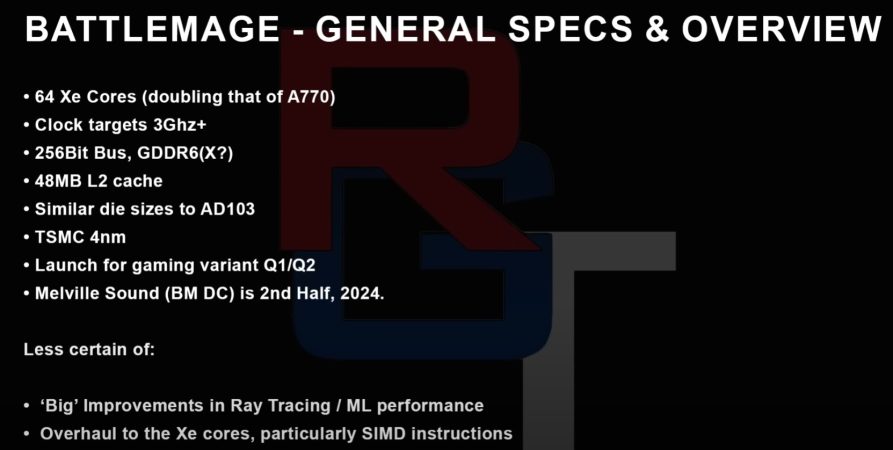 The card is said to feature a 256-bit bus and can have either GDDR6 or GDDR6X VRAM. According to the specs, it can be assumed that the card can have up to 8-32GB of VRAM where 16GB or 32GB looks more reasonable considering that the A770 is featuring 16GB of VRAM.
The GPU will use TSMC's 4nm process node and will have a similar die size to AD103 which is the RTX 4080 from Nvidia. However, the L2 cache will be smaller than the AD103 GPU which features 64MB of L2 cache compared to 48MB on the flagship Battlemage GPU.
RGT says that the card is planned to launch in Q2 or Q3 of 2024 followed by the BMG G21 which falls in the Performance grade.
While Intel is still struggling in the GPU market, the company is not giving up and already has a planned roadmap for the next-generation GPUs.
The Alchemist family is already getting price cuts frequently which lands it in a favorable position in the budget GPU segment but as we know, the company doesn't have an enthusiast-level GPU that could compete with Nvidia's latest RTX 40 series or AMD's RX 7000 series GPUs.
However, if the recent GPU roadmap leak by RedGamingTech is true, Intel may catch up with the current-gen high-end graphics cards from both the Red and Green teams.