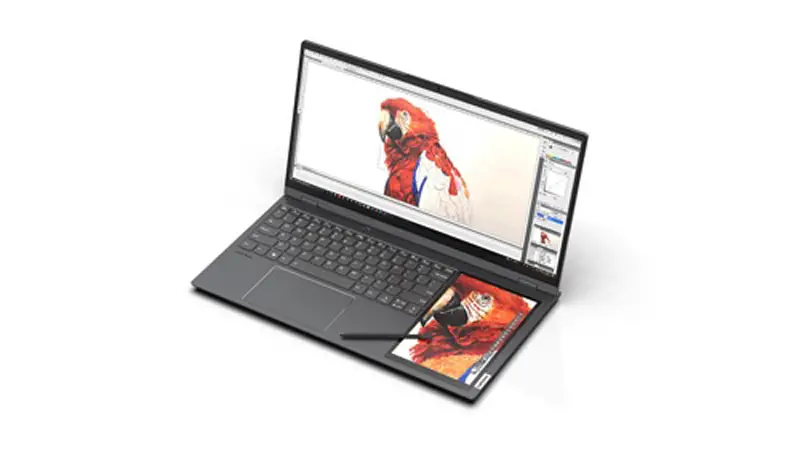 Le
The design trend for laptops is constantly changing. We have seen bulkier laptops in the past and as of now we also have options with ultra-sleek design, yet powerful models from various manufactures. However, some manufacturers took this to a different level altogether. The first of its kind to feature a fully functional dual-screen was introduced by Asus.
Back in 2019, Asus introduced the ASUS ZenBook Pro Duo and ZenBook Duo. These models feature a dual display. Apart from the main screen, the second one is docked in the area of the keyboard. And earlier today, we got the first glimpse of a dual-screen laptop from Lenovo. Thanks to @Evan Blass (aka @evleaks) we are having the first look at it.
Have you guys seen this yet? 17-inch ThinkBook Plus from Lenovo… pic.twitter.com/OElc5ZM3pb

— Evan Blass (@evleaks) October 31, 2021
According to the tweet, we can see a dual-screen design laptop from Lenovo. However, the screen placement is not similar to what we have seen in Asus ZenBook Duo or Pro models. It seems Lenovo went with their own design and in an interesting way.
In this model, Lenovo puts the second screen next to the keyboard and touchpad. We can also spot a Stylus pen on the laptop itself. And the positioning of the screen makes it much easier to use. With the presence of the touchpad in its usual location, it will be more convenient for the user.
But the concern is with the size. To adjust the screen next to the keyboard, the overall size of the keyboard was increased. Although, apart from the looks, we aren't aware of its configuration yet.