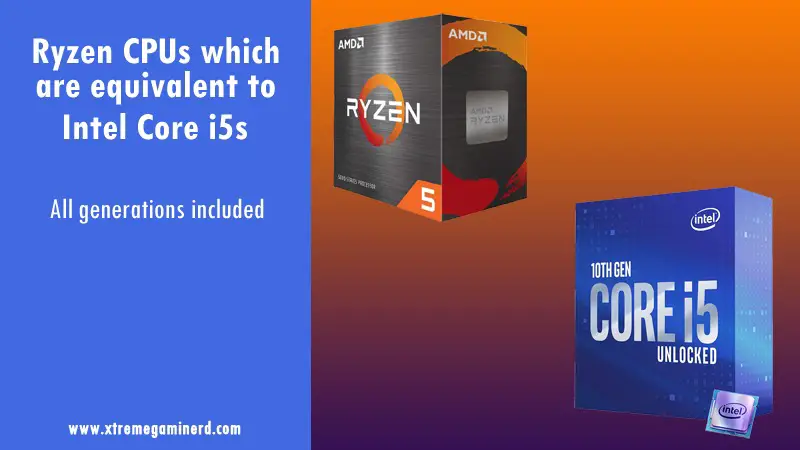 Intel vs AMD war is a never-ending CPU battle that is actually good for the PC users as it provides a lot of options to choose from. Currently, Ryzen has taken over most of the CPU market, thanks to the fast Zen architecture that has improved a lot in the past 4 years.
Just as we have Intel core processors under different tier, we have Ryzen CPUs under AMD with equivalent tiers. The most popular series from Intel is the Core i5 while in Ryzen, it's the Ryzen 5 CPUs. Now there are several generations of CPUs to choose from and it will be a lot difficult for you to know which Ryzen CPU is equivalent to which Intel i5 CPU.
I have taken the time and made a table that lists out the equivalent Ryzen CPUs from 1st generation to the current one compared to the Intel's Core i5 CPUs starting from 6th gen. The list is based on the benchmarks done by various reviewers which can be easily found on review sites and Youtube channels(Mostly from Testing Games).
AMD
INTEL
Cores/Thread
Clock speed
Overclockable
Ryzen 5 1400
Intel Core i5 6500/7400
AMD- 4/8
Intel- 4/4, 4/4
AMD- 3.2/3.4GHz
Intel- 3.2/3.6GHz, 3.0/3.5GHz
AMD-
Intel- ,
Ryzen 5 1600
Intel Core i5 7600K
AMD- 6/12
Intel- 4/4
AMD- 3.2/3.6GHz
Intel- 3.8/4.2GHz
AMD-
Intel-
Ryzen 5 2600X
Intel Core i5 8400
AMD- 6/12
Intel- 6/6
AMD- 3.6/4.2GHz
Intel- 2.8/4.0GHz
AMD-
Intel-
Ryzen 5 3600
Intel Core i5 9600K
AMD- 6/12
Intel- 6/6
AMD- 3.6/4.2GHz
Intel- 3.7/4.6GHz
AMD-
Intel-
Ryzen 5 5600X
Intel Core i5 10600K
AMD- 6/12
Intel- 6/12
AMD- 3.7/4.6GHz
Intel- 4.1/4.8GHz
AMD-
Intel-
Ryzen 5 1400 vs Intel Core i5 6500/7400
Ryzen 5 1400 Price on Amazon  Core i5 6500 Price on Amazon  Core i5 7400 Price on Amazon
The first-gen Ryzen 5 processor, Ryzen 1400 features 4 cores and 8 threads which are almost equivalent to the i5 6500 and 7400 in gaming but does exceed them in multi-tasking and other tasks such as rendering and video editing. The Core i5 6500 and 7400 feature only 4 cores/4 threads which make them somewhat inferior to the Ryzen 1400 as many games now utilize hyperthreading and the limitation of hyperthreading in the i5 6500/7400 leaves no headroom.
However, based on the various benchmarks, they are almost equivalent in performance. One more thing should be noted that the Ryzen 5 1400 is an overclockable chip while the i5 6500 and 7400 are locked and can't be overclocked like the Ryzen 1400.
Ryzen 5 1600 vs Intel Core i5 7600K
Ryzen 5 1600 Price on Amazon  Core i5 7600K Price on Amazon
The unlocked i5 7600K has a lot of headroom that allows performance bump by overclocking. This is of course, faster than the i5 7400 and Ryzen 5 1600 is the chip that matches its might. Though the i5 7600K is a 4 core/4 thread processor, it is equivalent to the Ryzen 1600 which features 6 cores and 12 threads. In most games, they perform similarly but in CPU-intensive tasks, the Ryzen 1600 definitely takes a good lead.
Ryzen 5 2600X vs Intel Core i5 8400
Ryzen 5 2600X Price on Amazon  Core i5 8400 Price on Amazon
The i5 8400 features 6 cores and 6 threads which makes it a lot better than previous-gen Intel Core i5 processors and this leads to an increase in gaming and productivity performance. The AMD processor that is really close to it is the Ryzen 5 2600X which has 6 cores/12 threads and is slightly behind the i5 8400 but can be a better alternative due to the availability of hyperthreading.
Unfortunately, the i5 8400 is locked and the Ryzen 2600X still has headroom for increasing the overall performance.
Ryzen 5 3600 vs Intel Core i5 9600K
Ryzen 5 3600  Price on Amazon  Core i5 9600K Price on Amazon
Perhaps the fiercest war of AMD and Intel can be seen between the Ryzen 3600 and i5 9600K. Both when launched were around $200-$250 and featured 6 cores with the exception of hyperthreading in Ryzen 3600 which is made on the 7nm process. This made Ryzen 3600 beat every Intel i5 processor from the previous generation and compete with the 9600K for a less price.
Both are unlocked and in some games, the Ryzen chip takes the lead while in some, the 9600K shows up to be better but overall, they are equivalent.
Ryzen 5 5600X vs Intel Core i5 10600K
Ryzen 5 5600X Price on Amazon  Core i5 10600K Price on Amazon
Intel Core i5 10600K is a hyperthreaded processor with 6 cores and 12 threads just like the Ryzen 5 5600X and features very high clock speeds compared to the previous gen i5s. Ryzen 5 5600X, however is a revolutionary processor that is 20% faster than the Ryzen 3600 and beats the i5 10600K easily in gaming and productivity.
There is currently no other younger sibling of 5600X in the Ryzen 5000 series which can be put as an alternative to the i5 10600K, so, it makes sense to compare the 5600X to the 10600K.