Battlefield games are among the top 5 FPS games of all time and due to the success of the first battlefield games, EA added more and more sequels to the series which made most Battlefield games a huge success and favorite amongst fps lovers.
As a Battlefield 4 lover, I couldn't ignore the fact that today whatever improved mechanics and gameplay we have on the latest Battlefield games is due to the fact that the older Battlefield games were ahead of their times and led to the success of the series which people still love today.
So, here are all the Battlefield games in order from their release date and how they started.
All Battlefield Games in order
| Sequence | Battlefield games | Release year | Platform |
| --- | --- | --- | --- |
| #1. | Battlefield 1942 | 2002 | Microsoft Windows, macOS |
| #2. | Battlefield Vietnam | 2004 | Microsoft Windows |
| #3. | Battlefield 2 | 2005 | Microsoft Windows |
| #4. | Battlefield 2 Modern Combat | 2005 | Playstation 2, Xbox, Xbox 360 |
| #5. | Battlefield 2142 | 2006 | Microsoft Windows, macOS X |
| #6. | Battlefield Bad Company | 2008 | Playstation 3, Xbox 360, Xbox One |
| #7. | Battlefield 1943 | 2009 | Playstation 3, Xbox 360, Xbox One |
| #8. | Battlefield Bad Company 2 | 2010 | Microsoft Windows, PlayStation 3, Xbox 360, Xbox One, iOS, Kindle Fire |
| #9. | Battlefield Online | 2010 | Microsoft Windows |
| #10. | Battlefield Play4Free | 2011 | Microsoft Windows |
| #11. | Battlefield 3 | 2011 | Microsoft Windows, PlayStation 3, Xbox 360, Xbox One |
| #12. | Battlefield 4 | 2013 | Microsoft Windows, PlayStation 3, Playstation 4. Xbox 360, Xbox One |
| #13. | Battlefield Hardline | 2015 | Microsoft Windows, PlayStation 3, Playstation 4. Xbox 360, Xbox One |
| #14. | Battlefield 1 | 2016 | Microsoft Windows, Playstation 4, Xbox One |
| #15. | battlefield V | 2018 | Microsoft Windows, Playstation 4, Xbox One |
| #16. | battlefield 2042 | 2021 | Microsoft Windows, Playstation 4/5, Xbox One X/S |
#1. Battlefield 1942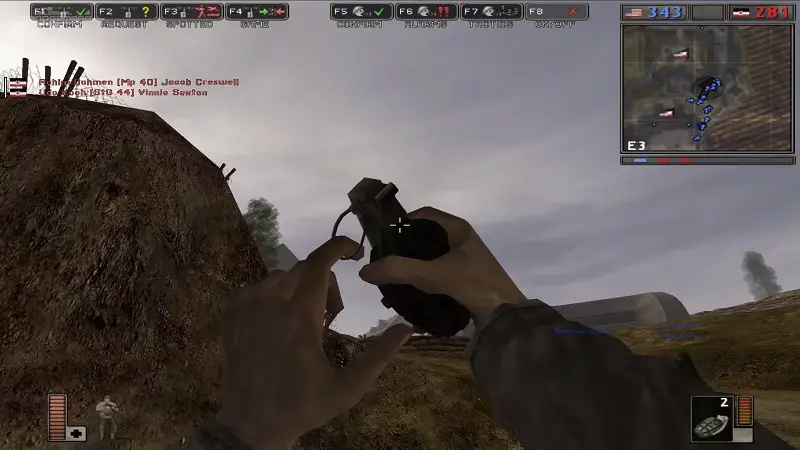 The first Battlefield game was developed by Digital Illusions Creative Entertainment and published by EA in 2002 for Microsoft Windows and Mac OS. Battlefield 1942 let the use of warcraft, tanks, artillery, jeeps, submarines, and machine guns from World War II. If you look at the game closely, you will find many similarities between it and the new Battlefield games for sure.
The single-player mode and the multiplayer mode were fun and the best part is that the multiplayer mode is still alive even after 2 decades. The graphics are very much similar to some of the FPS games at that time which include Medal of Honour, Call of Duty, Desert Storm, etc. but excel in gameplay due to the number of things you can do with your boys.
Similar to the game Hell Let Loose, it assigns you one of the roles in Scout, Assault, Anti-Tank, Medic, and Engineer which is still one of the active features in modern Battlefield games. For some, it still holds the best features that a Battlefield game can and they haven't let it die yet.
#2. Battlefield Vietnam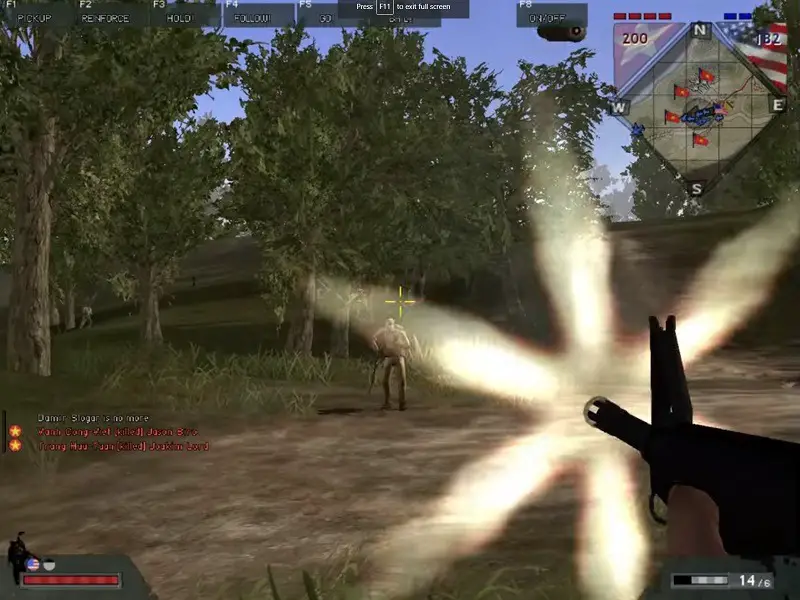 Battlefield Vietnam was developed by DICE and was based on the Vietnam war against America. Soon after the success of BF 1942, Battlefield Vietnam makes a great entry and proves to be a successful sequel in 2004.
The game uses historical settings for its maps such as the Ho Chinh Minh trail, Battle of Hue, La Dragon Valley, and more. While the game uses the same game mode of capturing the Control Points, the teams America and Vietnam have different weaponry and kits like American team has heavy artillery and vehicles while the Vietnamese team has anti-tank and anti-aircraft weapons to stop the American military.
The game features 2 loadouts per kit compared to one in BF 1942. The classes are Assault, Engineer, Heavy Assault, and Scout. Battlefield Vietnam was re-released in 2005 with new vehicles, weapons, maps, and a World War II mod. This was the Battlefield Vietnam: Redux
#3. Battlefield 2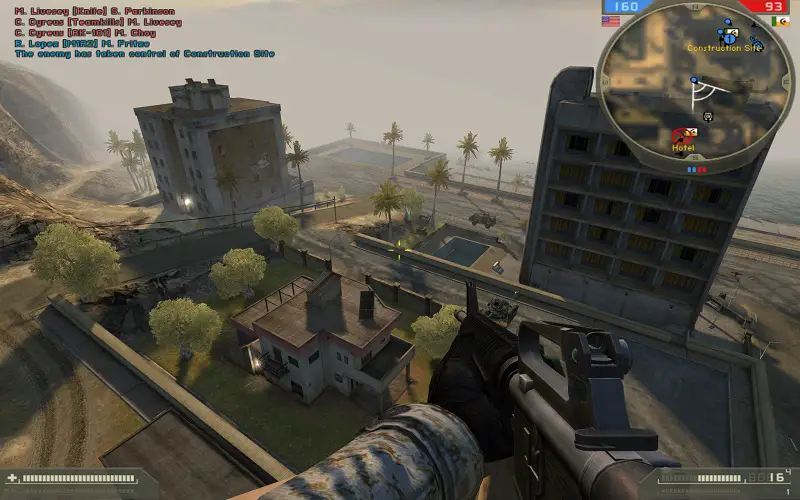 Considered to be the pinnacle in the Battlefield series, many gamers spend countless hours on this game. The game offered so much fun in its multiplayer mode where you jump into the battlefield with your squad and the maps offered so much.
Developed by Digital Illusions CE and published by EA in 2005, the game was only available for PC users i.e., Windows. The game in single-player mode uses a theme where a number of different countries like the USA, China, and the fictional Middle Eastern Coalition are constantly at war with each other and its multiplayer mode uses 7 different classes to choose from.
Unfortunately, the multiplayer master server was closed in 2014 but remains a masterpiece of its time much ahead of its predecessors.
#4. Battlefield 2: Modern Combat
The Modern Combat was an extension to Battlefield 2 but on the consoles: Playstation 2 and Xbox. The game was released in 2005 and an updated version with improved graphics was released next year for the Xbox 360.
While the PS 2 and Xbox versions looked terrible, Xbox 360 version could be compared to the Battlefield 2 PC but in no way surpasses it. Its official multiplayer servers were shut down in 2011 as it couldn't become a huge success like the other previously mentioned Battlefield games.
#5. Battlefield 2142
Battlefield 2142 takes place in the year 2142 in supposedly an Ice Age where European Union and Pan Asian Coalition fight for an unfrozen land. The game was developed by DICE and was published by EA in 2006.
Unlike its predecessors, the theme is futuristic and the game has two modes: Conquest and Titan. Titan mode is multiplayer and looks very much similar to TitanFall where you get to control the Titans. It also looks somewhat like Halo 3 and has slots for up to 64 players at the same time in multiplayer mode.
The game also received an expansion with the Northern Strike Booster Pack in 2007 which was based in Central and Northern Europe in 2145 where new maps and vehicles were unlocked.
It met a similar fate with regards to the multiplayer mode when its multiplayer servers were shut down in 2014 due to the closing of Gamespy but a community 2142 Reclamation Project still allows you to play the game online.
#6. Battlefield: Bad Company
Bad Company was exclusively made for consoles Playstation 3 and Xbox 360 but the support was extended to Xbox One later when the new console was released. This game was released by EA in 2008 and was focused mainly on single-player although multiplayer was also present with a few modes with Gold Rush as the sole multiplayer online mode at the initial phase.
Multiplayer mode could equip up to 24 players at the same time and the Gold Rush had the standard Attackers vs Defenders setup. The game also introduced the classic wall destruction mechanics developed with Frostbite Engine through which heavy weapons can now destroy buildings, vehicles, and vegetation.
#7. Battlefield 1943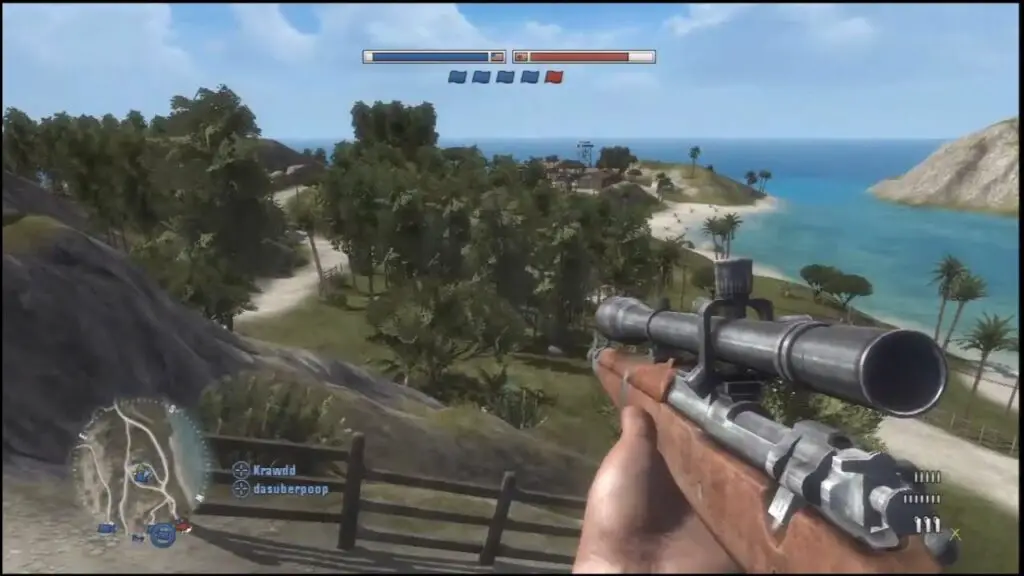 Battlefield 1943 looked similar to the next-gen battlefield games and was much identical to them in gameplay and mechanics. This game is pure fun but unfortunately did not make it to PC till today. It was released in 2009 and featured the battles of WWII in 1943.
It was initially released for Playstation 3 and Xbox 360 but was later made compatible with Xbox One. Similar to the Bad Company, it used Frostbite Engine for a destructible environment. Initially, it featured the conquest mode in multiplayer but later adopted Air Superiority when the total kills by the BF 1943 community reached 43 million.
This shows how much popular the game was even though it was only available to console users.
#8. Battlefield Bad Company 2
BF Bad Company 2 featured aiming designed originally for consoles making it easy for the controller users to aim at the targets. The game was released in 2010 by EA and it featured simplified gameplay with the help of fewer weapons and Rush game mode which is still my favorite game mode that I love to play most of the time.
In just halfway a multiplayer game, half of the buildings and objects get destroyed, thanks to the Frostbite Engine. The weapons according to the majority of the player base were balanced and the Rush mode was more than fun.
Moreover, the game was later released for the iOS and Kindle Fire, making it one of the most supported Battlefield games on different designs.
#9. Battlefield Online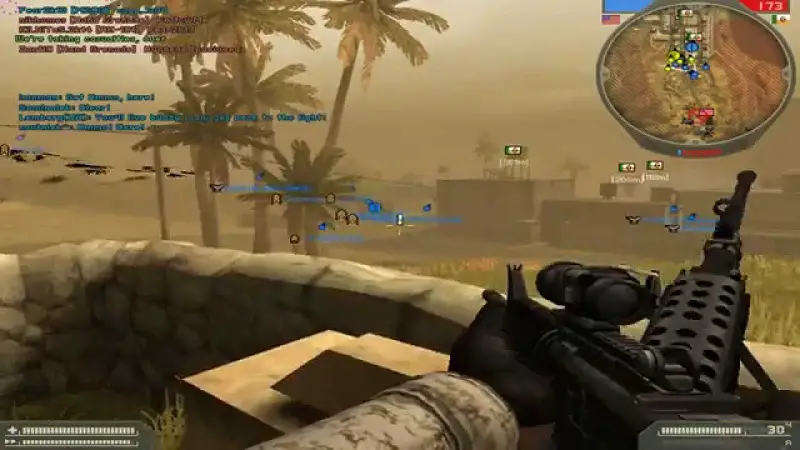 Battlefield Online was the remake of Battlefield 2 with improved graphics. The game was developed by Neowiz Games and EA and was launched in 2010. The gameplay and maps look more like PUBG but showed some noticeable improvements in graphics and gameplay over the original BF2.
It was totally free to play but did not meet the success of the original one which made it shut down in 2013.
#10. Battlefield Play4Free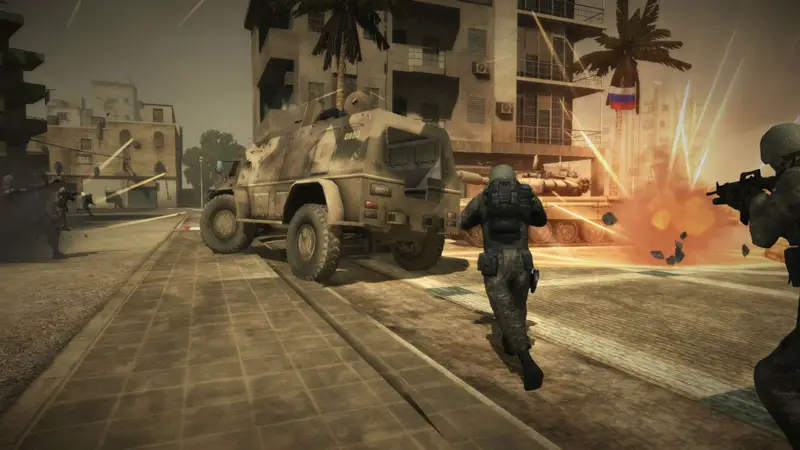 EA calls BF Play4Free "a deep, rich, adrenaline-filled Battlefield all-out war experience". The game was launched for Windows in 2011 and was completely free for the players. While it is very rare to see EA providing free games, when it launched Play4Free, it was something that fans expected to be as good as the original Battlefield 2 but with improved graphics and gameplay.
Though EA calls it an improved version with maps from Battlefield 2 and weapons from Bad Company 2, the gameplay is somewhat clunky and has micro-stutters. The game does provide you with something that feels old as it was aimed to do but the mechanics turned off many gamers.
For some, it was awesome but for many, it was the worst Battlefield game ever.
#11. Battlefield 3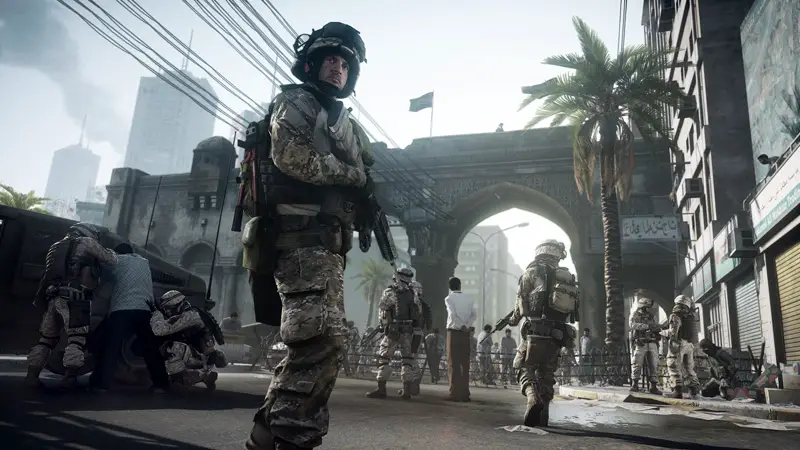 Battlefield 3 was the first BF game I ever played. I simply cannot forget the experience when I was not able to hit the target as I was able to do in Call of Duty games. That told me how unique BF was and how you require proper aiming, unlike COD.
The Battlefield 3 perhaps brought the best single-mode campaign that was long and had a rich story. It was the flawless Battlefield that EA has ever produced and it's still alive with its multiplayer mode where you can find players playing all types of modes 24/7.
#12. Battlefield 4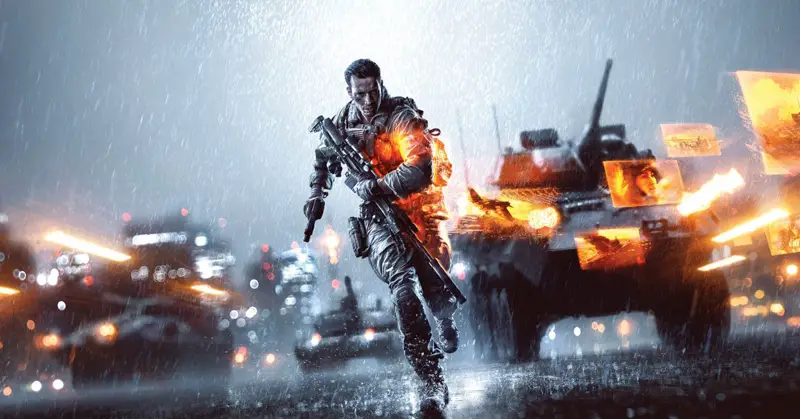 I have several hundred hours of playtime on Battlefield 4. The game was published in 2013 by EA and has been a massive hit since. I still play this beautiful game today and love the loadouts in all 4 factions. The game has a level-up process based on how much game you played unlike some of the games like EA produces now.
New weapons, attachments, and artillery get unlocked after you acquire some good stats with different weapons, and on achieving every new rank, you get a drop box in which you can find attachments and tags.
It although didn't surpass the single-mode campaign of BF3 but the falling building and dams in maps were something that shocked everybody in multiplayer games, thanks to the Frostbite Engine 3.
#13. Battlefield Hardline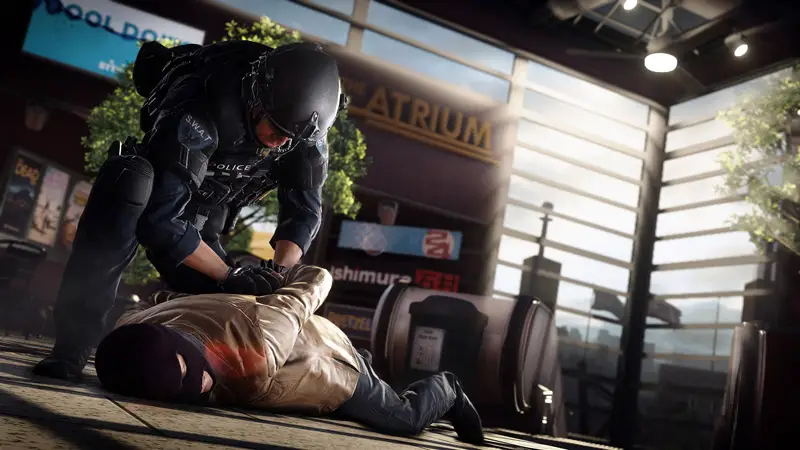 Two years after the launch of Battlefield 4, fans expected EA to come up with a brand new Battlefield that would have huge improvements in the campaign and multiplayer modes but they were disappointed. Although the Hardline wasn't a bad game at all, the fans wouldn't be impressed if you the company will give them the same thing after 2 years.
Unfortunately, the current state of this game is worse than most older titles and its multiplayer mode is almost dead which made many Battlefield Hardline lovers put negative reviews on Steam.
#14. Battlefield 1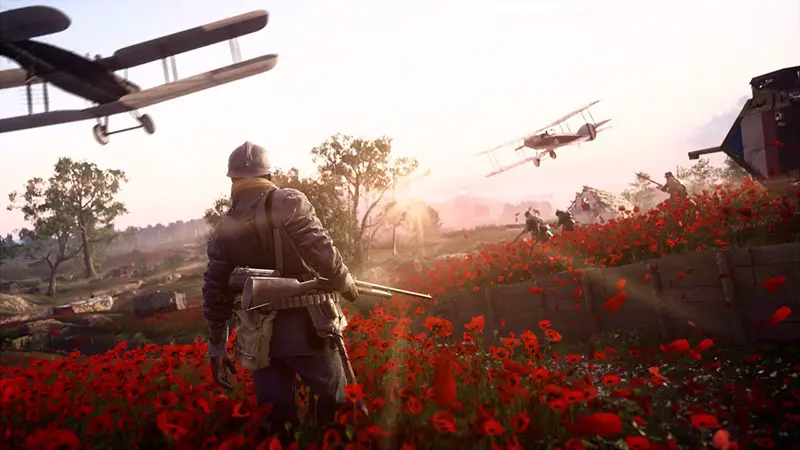 The name tells otherwise but Battlefield 1 is the sequel to Battlefield Hardline. The game was published in 2016 and became a huge success soon due to its World War 1 theme. The game requires better teamwork and features weapons, maps, artillery, and vehicles from the time of World War I making it unique and different from other Battlefields.
Here you can use Horses and swords if you get the opportunity and with the different classes such as Assault, Medic, Support, and Scout, you get to use class-exclusive weapons. The game is still going strong on multiplayer servers and the fans love it.
#15. Battlefield V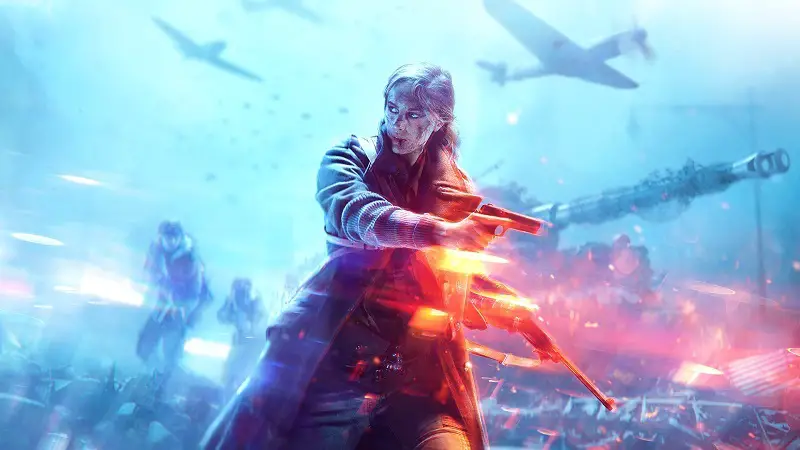 As you would assume, Battlefield V features a World War II theme and you will get the opportunity to use the weapons and vehicles of that time. Published in the year 2018, it is currently the most recent Battlefield game.
The game when launched received some criticisms over a female protagonist to which EA responded that those who don't like it don't buy it. This happened after the colossal disaster at the hands of EA after the launch of Battlefront II.
While the game featured Ray Tracing and other stuff, it met with a failure and didn't feature the gameplay and modes the way fans wanted.
#16. Battlefield 2042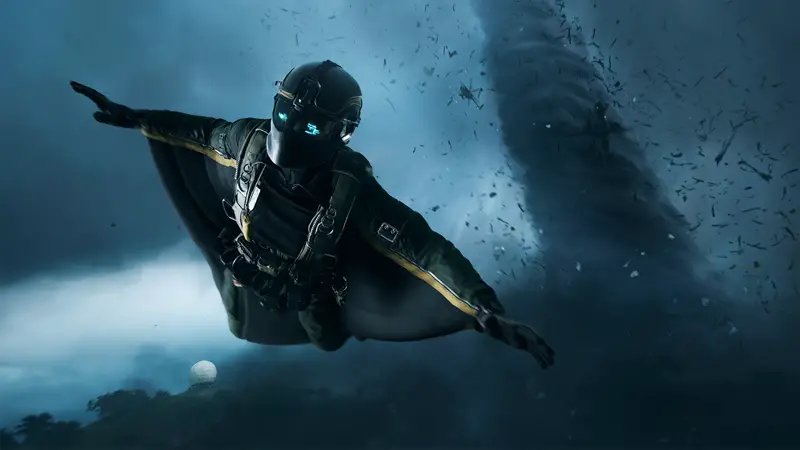 Almost after two decades after the release of the first Battlefield game, EA announced a brand new Battlefield game, named- Battlefield 2042 which takes place after 100 years since Battlefield 1942 happened. This game, however, doesn't feature any single-player campaign and is fully based on online multiplayer gameplay.
EA's initial expectation was to see it as the Best Battlefield game ever but unfortunately, Battlefield 2042 proved itself to be the worst of all. With many missing features such as scoreboards, classic factions, and campaign mode, almost every Battlefield fan was disappointed when it was released on 21st November 2021. The game further lost its player base massively in a very short span of time due to huge amounts of glitches and poor shooting mechanics.
Battlefield 2042 might be the only game on Steam that received the highest number of negative reviews and lots of refund requests. With the player base dropping all the way from over 100,000 to just 1,000, the game is almost dead right now.