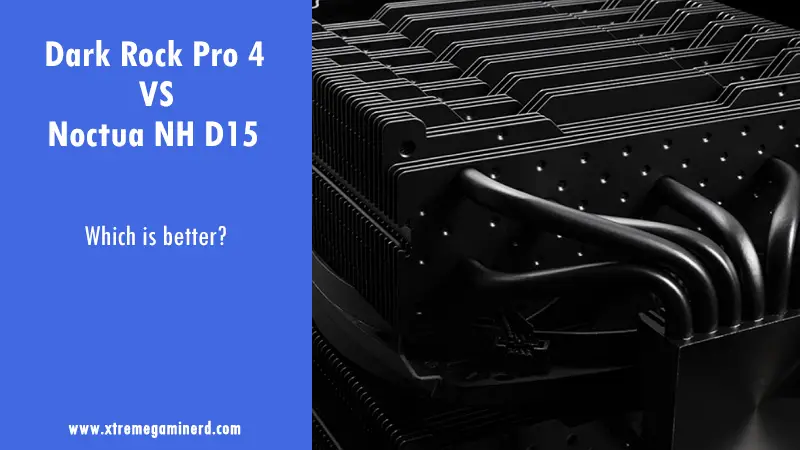 Enthusiast PC overclockers or gamers who prefer air cooler over AIO tend to go with beefy CPU coolers that can provide them with the same level of performance as AIO coolers. Though there are some disadvantages of beefy coolers like their weight and the space they acquire, they are risk-free, unlike AIO coolers which at some point of time may leak.
Among the beasts in air coolers, the Noctua NH D15 is the most popular and dominant one. Many manufacturers seeing the success of NH D15 started to make similar CPU coolers and have succeeded in doing so. The Be Quiet Dark Rock Pro 4 is another example of a high-end air cooler that can take the performance level of any high-end processor to its peak.
They both look similar but there are some noticeable differences that may make a particular user prefer one over the other. This brief comparison between the two coolers will let the users decide what is best for them.
Differences
Dimensions
The overall size of Dark Rock Pro 4 is a little less than NH D15. The depth of Dark Rock Pro 4 is 121mm while the NH D15 is 14mm lengthier. Dark Rock 4 is also smaller in height compared to D15 where the D15 is 14mm wider. Comparing the height of both coolers without fans installed, they are almost similar but the D15 is 3mm shorter than the Dark Rock Pro 4.
Airflow
As both the coolers use different fans and even different sized fans, their airflow can't be directly compared and therefore, it won't be fair if one gets the advantage over the other due to having a bigger size.
Pro 4 uses dual fans where one is Silent Wings 3 120mm and the other one is 135mm. The 135mm fan has an airflow close to 60CFM whereas the D15 uses dual 140mm NF-A15 fans that are designed for high airflow and each of them can throw around 82CFM of air.
This makes the D15 a superior cooler for airflow and overall cooling. Also, both the coolers can have one more fan installed on the other side.
Weight
Both the coolers are big and heavy. Along with fans installed, they both weigh more than 1KG but the D15 weighs 200gms more.
Heat pipes
Heat pipes play a solid role in dissipating heat from the processor. They are connected from the base to the aluminium heatsink to absorb more heat from the processor.
Dark Rock Pro 4 uses 7 heat pipes whereas NH D15 uses 6. The more heat pipes a cooler uses, the more likely it will perform better. But do not forget that cooler design, fan performance, and other factors also affect this.
Similarities
Design
Both Pro 4 and D15 are dual-tower coolers and use dual fans. Also, they both are compatible with the latest AMD and Intel sockets.
Noise
Noctua is very well-known for producing ultra-silent cooler fans. However, the Silent Wings 3 fans from Be Quiet are also made specifically for low noise. Fans of both the coolers feature max noise of 24dBA that is great considering how much heat they have to handle.
Pricing & Conclusion
As tested by many reviewers both the coolers perform similarly. As tested by Tweaktown, the Dark Rock Pro 4 wins by 1 degree Celcius and that is not a clear win over the NH D15.
Considering the pricing, the Dark Rock Pro 4 wins easily over the NH D15. Pro 4 costs only $70 while D15 costs $90.
Be Quiet Dark Rock Pro 4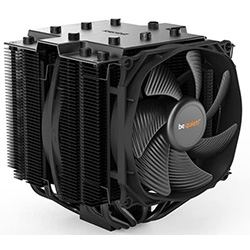 Noctua NH D15