Intel Core i5 13600K's overwhelming power toyed with the previous gen Core i5 12600K and even the Ryzen 5 7600X which is faster than the 12600K. This shows that the 13600K is capable of doing more than what we expected.
While the gaming performance of 13600K isn't very far ahead of the 7600X, the CPU is undoubtedly too much when it comes to productivity performance. So, it will be interesting to compare the Core i5 13600K to the next fastest Ryzen 7000 processor which is the 7700X.
To compare both the CPUs, we are going to consider several factors like Specs, Architecture, Compatibility, Gaming/Application performance, Thermals, Power consumption, and lastly the Value for the price. This detailed comparison will help you decide between the two if you planning to build a brand new computer.
Specifications Difference
2.6-3.9GHz(Efficient)

3.5-5.1GHz(Performance)
The Core count of Core i5 13600K has increased dramatically since the last few generations. Core i5s were known to feature 4 cores initially but as the competition grew fierce, Intel gradually made the Core i5 like an i7 and the 13600K is the best we could have.
AMD, on the other hand, retained the same 8 core/16 thread count on the Ryzen 7 processor from the very first generation. However, the architectural improvements made it compete with the Raptor Lake CPUs. Here we are seeing the 13600K bringing 6 more cores and 4 more threads than the 7700X.
This makes the i5 look crazy on paper but as the 13600K features hybrid architecture, there are two types of cores involved. The most active ones are the 6 Performance cores that perform the most intensive tasks while the 8 Efficient cores handle the background operations. AMD doesn't have this hybrid architecture but 8 cores on the 7700X kinda work like the 6 Performance cores on the 13600K.
Core clocks on both CPUs are impressive but the base/boost clock on the 7700X is significantly higher. Ryzen 7000 series CPUs don't have any problem running at 5+GHz consistently and the 7700X can stay at 5.4GHz most of the time.
L2 and L3 cache is where we find an interesting difference. Historically, Ryzen CPUs always brought more cache but Intel is now very close to Ryzen CPUs. The L2 cache on the 13600K is doubled over the past generation and is 2.5X more than the L2 cache on 7700X. The L3 cache still remains higher on the 7700X.
Lastly, the power consumption is looking significantly higher on the 13600K. This is the most power hungry Intel series ever and the Core i5 13600K is 72% more power hungrier if we go by the specs.
Sale
AMD Ryzen™ 7 7700X 8-Core, 16-Thread Unlocked...
This dominant gaming processor can deliver fast...
8 Cores and 16 processing threads, based on AMD...
5.4 GHz Max Boost, unlocked for overclocking, 80...
For the state-of-the-art Socket AM5 platform, can...
Architectural Differences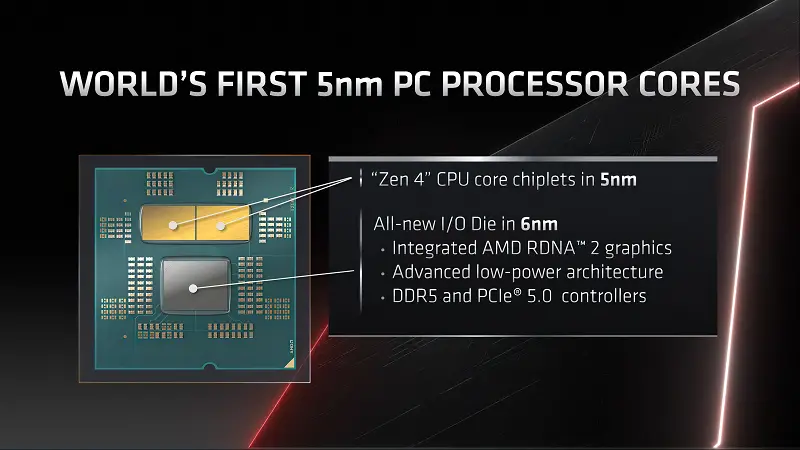 Comparing architectural differences isn't going to take us anywhere as there is no direct comparison between Alder Lake and Zen 4. Still, we can take a look at how these are designed and what improvements they come with compared to past generations.
There is little info about the Raptor Lake CPUs architecture. The i5 13600K uses hybrid architecture as I stated above utilizing Raptor Cove Performance Cores and Gracemont Efficient Cores. It is fabricated on Intel 7 or 10nm process node and is basically an enhanced refresh of Alder Lake architecture.
This generation doubles the Efficient cores count and therefore, we have a lot of cores and threads compared to the past generation. As for AMD, the Ryzen 7700X is based on Zen 4 which is also a redesigned Zen 3 architecture and brings a lot of similarities to Zen 3. However, the processors enjoy performance uplifts due to enhanced Front End, Execution Engine, and Load Store Advances.
Almost 50% of the total performance boost the Ryzen 7700X gets over the last generation is due to the higher clock speeds. The die design is also a little bit different than Zen 3 CPUs. Here, AMD dropped the concept of two CCXs(Core Complex) per CCD(Core Chiplet Die) and instead brings the Zen 2 concept of using a single CCD for hosting 4 cores.
Therefore, we have 4 cores per CCD and a total of 8 cores in two CCDs. These chiplets are manufactured using TSMC's latest 5nm process and the I/O die uses 6nm instead.
Motherboard Compatibility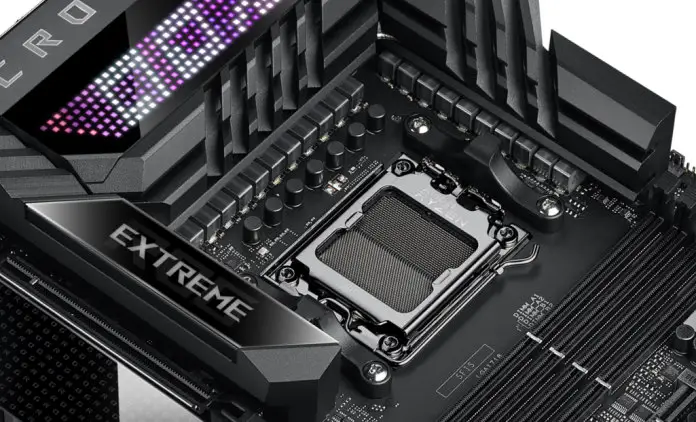 The Core i5 13600K is compatible with the LGA 1700 socket while the Ryzen 7700X is compatible with the AM5 socket. LGA 1700 socket is older than AM5 as it was initially launched for the Alder Lake CPUs but the AM5 socket is brand new and brings a new socket type on the motherboards.
AMD mostly used PGA(Pin Grid Array) sockets on its motherboards and that includes the FM2, AM3, and AM4 sockets. AM5 uses LGA(Land Grid Array) just like Intel and therefore, this time users are going to see the pins on the socket itself and not the processors.
LGA 1700 sockets feature a lot of chipsets including the previous-gen 600 and the latest 700 chipsets that comprise both locked and unlocked chipsets. AM5 doesn't have that many options and has a total of 4 chipsets namely- X670, X670E, B650, and B650E where the "E" stands for Extreme for more PCI-E 5.0 lanes.
RAM Compatibility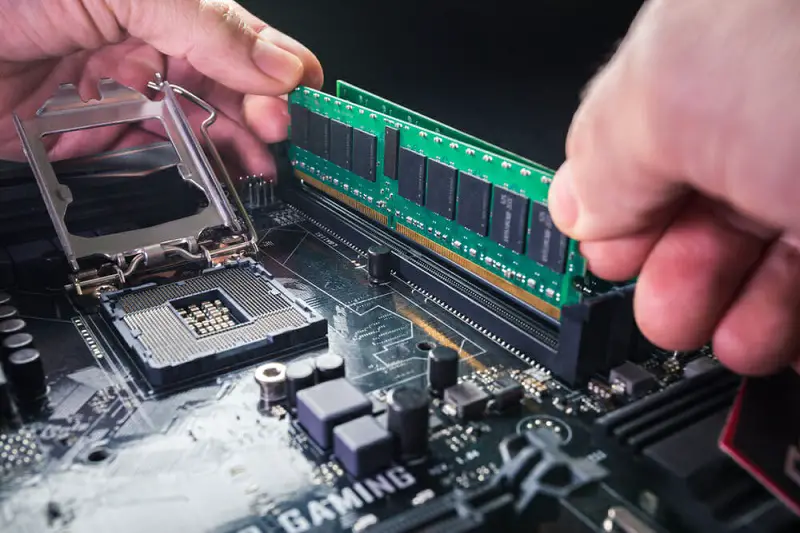 Ryzen 7700X can only support DDR5 memories while the Core i5 13600K can support both DDR4 and DDR5. This gives the 13600K an upper hand on the 7700X and users can either buy a DDR4 or a DDR5 edition motherboard.
DDR5 is noticeably faster in gaming and brings faster clock speeds. This does impact the gaming performance of Raptor Lake CPUs and if you check out benchmarks, you will find that Raptor Lake CPUs provide at least 5% more performance with DDR5 memories.
However, DDR4 compatibility does give the 13600K a good advantage as DDR4 RAM is cheaper and its compatible motherboards are also cheaper than DDR5 edition motherboards. It should also be remembered that the default DDR5 frequency support on the 13600K is 400MHz higher than the Ryzen 7700X.
Gaming And Non-Gaming Performance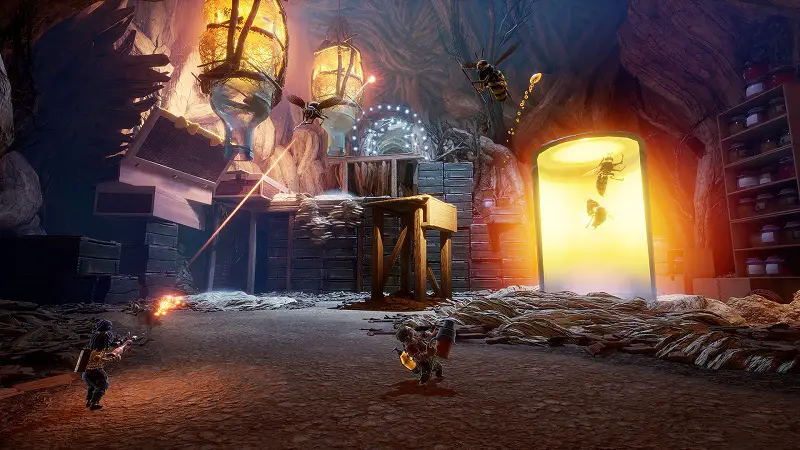 To compare two CPUs theoretically may give us insight but it will never be sufficient unless we check out the real-world performance. To compare the 13600K and Ryzen 7700X, we will need to analyze their gaming and application performance numbers. Then we can consider all the other factors together to see which one brings better value to the table.
Even though benchmarks from a single source will do the job just fine, I have seen that no single source is immune to error. If we consider more than one source to analyze the numbers, we will get a more accurate and clearer picture. Therefore, we are considering benchmarks from Gamers Nexus1)https://youtu.be/todoXi1Y-PI, Tomshardware2)https://www.tomshardware.com/reviews/intel-core-i9-13900k-i5-13600k-cpu-review, Techspot3)https://www.techspot.com/review/2555-intel-core-i5-13600k/, and Techpowerup4)https://www.techpowerup.com/review/intel-core-i5-13600k/ that are widely considered as reliable when it comes to benchmarks.
When we compare the results, it looks like there is really tough competition going on between them, be it gaming or productivity. It's very difficult to declare a winner just on the basis of these results.
In gaming, the difference remains mostly under 5% and sometimes so low that it can be considered as a margin of error . So, there isn't much to talk about the gaming results.
Productivity numbers are not one-sided either. In some tests, the 13600K comes to be the winner but the 7700X also beats it in some tests. The 13600K is faster in rendering giving around 10% better performance on average in Blender. It is also 9% faster in Compression, 17% faster in Cinebench R23 Multi-core, and 7% faster in media Encoding .
On the other hand, the 7700X is 7% faster in Decompression, 8% faster in Adobe Premiere Pro, 12% faster in Adobe Photoshop, and equal in Cinebench R23 single-core performance .
Intel Core i5-13600K (Latest Gen) Desktop...
13th Gen Intel Core processors offer revolutionary...
14 cores (6 P-cores + 8 E-cores) and 20 threads
Up to 5.1 GHz unlocked. 24M Cache
Integrated Intel UHD Graphics 770 included
Thermals And Power Consumption
To compare thermals, we can only take and compare numbers from a single source as comparing two different sources will be unfair due to different setups, environments, and testing methodologies.
Very few did a successful thermal test and Techpowerup has the best chart on the thermal comparison. Under full load both 7700X and 13600K cross 90C with 7700X taking a 3 degrees lead and running a bit hot. In gaming, the temperature drops to early 70s on both CPUs .
Power consumption is a different story. If we consider the power consumption result when running Blender only, the 13600K consumes much more power than the 7700X. We are seeing at least 23% more consumption on the 13600K with Techpowerup and Tomshardware showing 38% and 63% more power consumption respectively.
Value For The Price
The Ryzen 7 7700X was launched at $400 while the Core i5 13600K was launched at $300. So, a $100 difference between the price and equivalent gaming and productivity performance.
This means we are seeing equivalent performance for a 33% lower price on the 13600K . However, if you consider factors like Power Efficiency and Upgradeability, the Ryzen 7700X looks a little better. Certainly, not better enough for us to clearly say that it is better than the 13600K.
Now, if we consider the price of a Z690/Z790 DDR5 motherboard for 13600K and an X670/B650 motherboard for the Ryzen 7700X, no one gets any significant advantage. This means the 13600K is better even if we look at the total cost of your build.
Final Words
The Core i5 13600K is a clear winner over 7700X. It is better than the 7600X and better than the 7700X for the price you pay. Ryzen 7700X is not bad either but I believe that it is pricier compared to 13600K. The rest is up to you to decide which one should you go with.
AMD Ryzen 7 7700X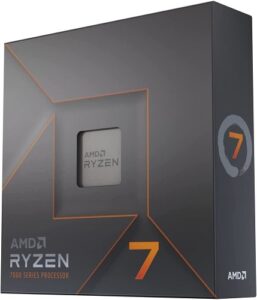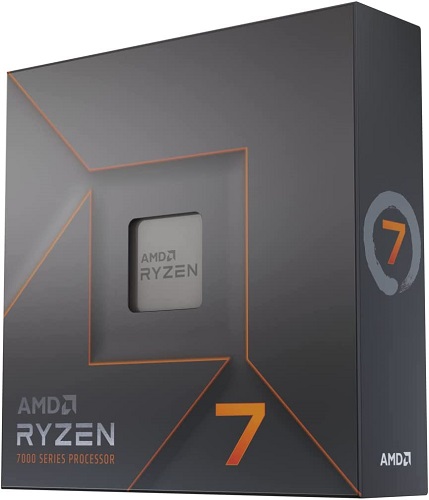 Reasons To Buy Ryzen 7 7700X
Higher clock speeds
AM5 will last longer
Intel Core i5 13600K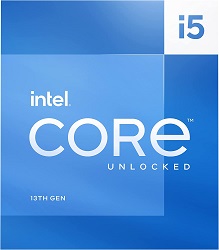 Reasons To Buy Core i5 13600K
Higher core and thread count
Supports both DDR4 and DDR5
Significantly better value