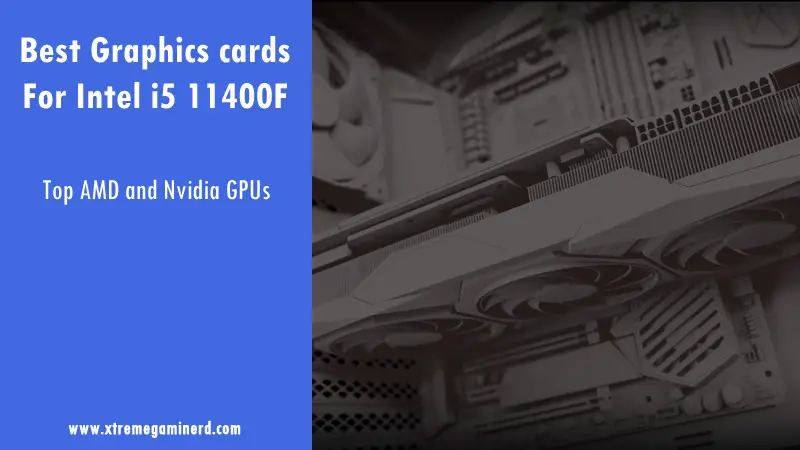 2021 brought has us the ultimate sub $200 gaming CPU- the Intel Core i5 11400F. It can handle most high-end graphics cards but it's important to know which ones are the best to combine with this processor.
Even though it can support the RTX 3090 and will deliver awesome performance at 4K, it's not recommended as the prices of the CPU and GPU have too much gap. A balanced combo helps you achieve better performance per dollar spent. Meanwhile, you can get more with the RTX 3090 if you combine it with something like i7 11700K.
So, to choose a graphics card wisely, you need to take a look at the available graphics cards' performance and their specs. Also, it's important not to choose a GPU that runs at less than 90% while the i5 runs at 100%, as this will limit your overall performance.
Therefore, for this 11th gen Intel CPU, I recommend going with the following graphics cards that will allow you to play games at resolutions starting from 1080p up to 1440p with 60+ fps in most titles.
Nvidia Geforce GTX 1650 Super
EVGA GTX 1650 Super SC Ultra Gaming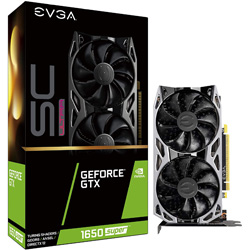 Specifications
Architecture: Turing
VRAM: 4GB GDDR6
Clock speed: 1755MHz(Boost)
Cuda Cores: 1280
TDP: 100W
Summary
Without going over $200, you can still have a decent gameplay experience with the GTX 1650 Super that is aimed to provide 60 fps in AAA titles. While it is not capable of maxing out all the settings, it is definitely faster than all the cards available for this price
The Turing series has a couple of budget graphics cards that are aimed to play games from 1080p up to 1440p on ultra settings. Among them is the GTX 1650 Super which is the revised edition of the GTX 1650 non-Super card but with upgraded memory from GDDR5 to GDDR6.
This alone makes a significant improvement in fps as the memory now runs at a faster speed of 12Gbps instead of 8Gbps. With 4GB of VRAM, it is completely ideal for 1080p gaming and 90% of games will allow you to max out a lot of graphical settings.
It can easily provide you with up to 60fps in most AAA titles and it's even perfect for eSports games as they require less horsepower. Along with being powerful it is also power efficient with a TDP of up to 90W and can be easily powered with a single 6-pin power connector cable. But note that the power consumption will increase further if you overclock the card.
Related: Best motherboards for Intel Core i5 11400F
Nvidia Geforce GTX 1660 Super
Asus DUAL-GTX1660S-O6G-EVO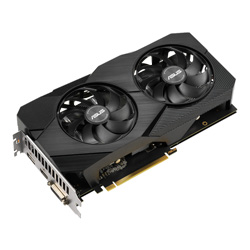 Specifications
Architecture: Turing
VRAM: 6GB GDDR6
Clock speed: 1860MHz(Boost)
Cuda Cores: 1408
TDP: 125W
Summary
The GTX 1660 Super can max out any game at 1080p resolution and can possibly play many games on high-ultra settings at 1440p. This is surely a 1080p future proof option for a couple of years and can max out graphics settings as it boasts 6GB of VRAM that is essential for textures and anti-aliasing
The GTX 1660 Super has a similar story as that of the GTX 1650 Super. At the price of the original non-Super edition GTX 1660 card, 1660 Super now features faster GDDR6 memory with memory speed up to 14Gbps and provides 6GB of VRAM to increase textures to the maximum setting at 1080p.
This card is roughly 20% faster on average and increases the performance gap further in some games. With the i5 11400F, it is currently the best 1080p graphics card you can buy and will run at 100% while your processor will still have a lot of room left for more performance which you can use for some background tasks.
AMD Radeon RX 5600 XT
XFX RX 5600 XT THICC II PRO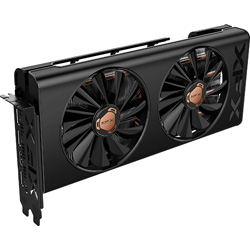 Specifications
Architecture: Navi
VRAM: 6GB GDDR6
Clock speed: 1620MHz(Boost)
Stream Processors: 2304
TDP: 150W
Summary
The best $300 GPU today available is the RX 5600 XT. With its powerful architecture, it surpasses Nvidia's $300 card RTX 2060 and is sufficient to max out games at 1440p resolution
At $300, we have Nvidia's RTX 2060 but at the same price or for even less, the RX 5600 XT is the faster alternative that is capable of playing all the games on ultra settings at 1440p resolution. This is currently the best value $300 card for 60 fps gaming and features 6GB of GDDR6 memory.
In comparison to the GTX 1660 Super, it is up to 20% faster and compared to the RTX 2060, it is generally equivalent in most games but gets up to a 5% lead in some titles like RDR2, Metro Exodus, Forza Horizon and more.
It has 2304 Stream processors, a memory bandwidth of 336GB/s and a TDP of 150W. It will definitely prove to be a wise choice with the i5 11400F if you want something to start on at 1440p.
Nvidia Geforce RTX 3060
ASUS TUF Gaming NVIDIA GeForce RTX 3060 OC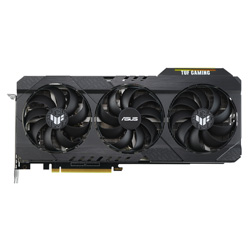 Specifications
Architecture: Ampere
VRAM: 12GB GDDR6
Clock speed: 1882MHz(Boost)
Cuda Cores: 3584
TDP: 170W
Summary
The Ampere series from Nvidia is hands down the fastest when it comes to features like Ray-Tracing and DLSS. The new architecture has improved the RTX 3060 to an extent that it matches the performance of the RTX 2080 from the last generation
Currently, the RTX 3000 is dominating all the graphics cards in the market and even the slowest among them is too fast to be directly compared with the previous-gen adjacent card. The RTX 3060 features these characteristics by showing up to 30% more performance compared to the RTX 2060.
Thanks to the latest Ampere architecture, it is not only fast with regular graphics settings but it is way too fast with Ray Tracing On where the RTX 2000 series failed miserably. It features 12GB of GDDR6 memory and 3584 Cuda Cores that are more than double compared to the GTX 1660 Super.
I believe it is the best companion to choose for the i5 11400F and will not break your bank either.
Nvidia Geforce RTX 3060 Ti
MSI Geforce RTX 3060 Ti Gaming X Trio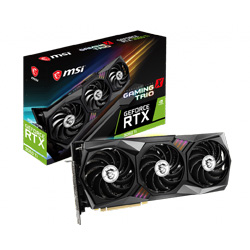 Specifications
Architecture: Ampere
VRAM: 8GB GDDR6
Clock speed: 1830MHz(Boost)
Cuda Cores: 4864
TDP: 240W
Summary
RTX 3060 Ti is the bigger sibling of the 3060 and comes with a performance boost of up to 15%. It features smaller but faster memory and has 1280 more Cuda Cores that quickens the processing
The RTX 3060 Ti although features 4GB less VRAM than the 3060 but the memory interface is bigger. As compared to the 192-bit memory interface on the RTX 3060, here you will get a 256-bit memory interface. You might think that's a downgrade in memory as less VRAM means lower performance, Right?
Wrong! 8GB is more than sufficient in most games and what matters more is the memory specifications. Also, the RTX 3060 Ti has 4864 Cuda Cores which are 1.35 times more than the RTX 3060. Cuda Cores help increase the execution of processes in a given time yielding more performance.
The RTX 3060 Ti is not only capable of maxing out games at 1440p but in some cases can provide you with decent playable framerates with Ray-Tracing On.
Summing Up
Let me say it frankly: Yes, you can go with the RTX 3070 and RTX 3080 too but I would prefer going with an i5 11600K or i7 11700K with those beastly graphics cards just to make my system balanced. With overclocking enabled and higher cores/threads, you will have more fps in games and can do a lot of CPU-dependent tasks faster.
So, what do you think about these graphics cards? Are you going to stick to one of the GPUs on my list or are you going with a higher-end GPU?
Let me know in the comments below!