Micro-ATX form factor although isn't as popular as ATX but it serves some great purposes. Like you can reduce the overall size of your PC build without losing many of the features.
It's also true that a lot of people tend to go towards a Mini-ITX case to go more compact but what if you can get better compatibility without much increase in size?
Thankfully, there are a lot of micro-ATX cases that are as small as some mini-ITX cases that can equip bigger and better components without taking the whole space on your desk. Considering measurement as one of the deciding factors, I have listed the following 10 cases where most of them are under 400mm with regards to Length, Width and Height.
MasterBox Q300L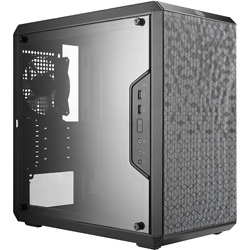 Highlights
Dimensions- 387 x 230 x 381mm
Cooler clearance- 159mm
GPU clearance- 360mm
Recommending a particular case is easier when you have tried it yourself. I have built a PC with MasterBox Q300L and it looks cute on your desk. The compatibility of this case is crazy over most Micro ATX cases. It can fit in long graphics cards measuring up to 360mm and CPU coolers measuring up to 159mm in height. This is the standard measurement of most mid-tower cases and you couldn't be wrong going with this one.
This case measures under 400m on two sides and the width is 230mm that allows it to host a lot of components. It features a clear side panel to see through and unlike most cases, it has front panel ports on the side. For cooling, you will get one pre-installed 120mm fan at the rear and dust filters in different places.
Good thing is that it has an uncompromised cable management system where you get a lot of clearance at the back and multiple routing holes for easy cable routing. It's just perfect.
MasterBox MB400L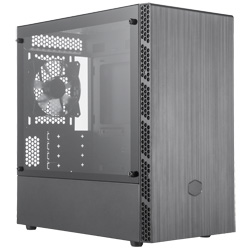 Highlights
Dimensions- 411 x 218 x 410mm
Cooler clearance- 166mm
GPU clearance- 344mm
If you are ok with one cm added on two sides, then MasterBox MB400L is one of the best premium looking cases you can buy. It looks so sleek and modern without compromising on its features. It has a brushed front panel that allows airflow from two sides. There is also a tempered glass side panel to see through and admire the beauty of components.
Unlike Q300L, it comes with a full-length PSU shroud that covers all the mess in it whether it is the cables or the hard drive. For cooling, it is definitely a top-notch choice that can host up to 6x 120mm fans and up to 280mm radiators. Its GPU and CPU cooler compatibility, on the other hand, isn't behind with 344mm clearance for GPU and 166mm for cooler.
Antec NX200M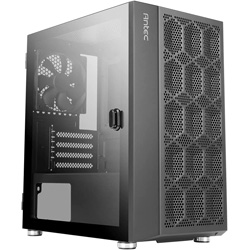 Highlights
Dimensions- 351 x 200 x 390mm
Cooler clearance- 150mm
GPU clearance- 275mm
Antec NX200M is the successor of NX100M and has huge improvements over the previous one. The design is modern and the compatibility is way better. Although the original NX100M was more compact but due to the old case design, you could not fit in a lot of components. NX200M, on the other hand, has a clear side panel and a better cable management system.
It has a fully meshed front panel and a meshed top panel for intake and exhaust. There is a big cut out in the motherboard tray where you can easily install a new CPU cooler without taking out your whole motherboard. Installing a medium to long graphics card in it is also possible but the length should not exceed 275mm whereas you can install a CPU cooler measuring 150mm in height.
Just like the MB400L, it comes with a full-length PSU shroud to hide the cables, PSU and hard drive. Also, it takes noticeably less space on the table.
Antec DP31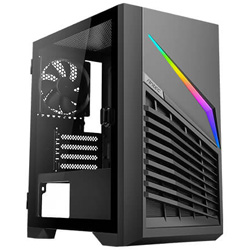 Highlights
Dimensions- 378 x 212 x 398 mm
Cooler clearance- 150mm
GPU clearance- 275mm
DP31 is a very competitive micro-ATX case to the NX200M and features a significantly different front panel. The interior is, however, similar and the same goes for its size. DP31 has a beautifully designed front panel that has half of the panel ventilated and the other half features RGB lighting.
It features a side tempered glass panel that is easier to attach and remove with the help of the included handle on the side. The case on the inside is spacious and brings a long PSU shroud to cover up the mess. The GPU and cooler clearance are equal to the NX200M and you can install up to 5x 120mm fans in it and if you prefer a radiator, then up to 240mm radiator is supported at the front.
Thermaltake Core V21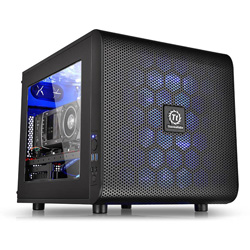 Highlights
Dimensions- 336 x 320 x 424mm
Cooler clearance- 185mm
GPU clearance- 350mm
Thermaltake's Core V21 is an old case and despite that, it is still seen as one of the most successful micro-ATX chassis of all time. I remember how many people were confused between the Core V21 and Core V1 as both are cube in design and are almost identical in size and shape.
This is just a different design than what you have seen till now and the built will come out totally different. It is modular and features meshed panels on all sides to allow proper airflow that you will need in a compact case like this. It can support multiple fans or radiators at the same time that most cases listed here can't.
Also, the CPU cooler clearance is insane and you can install tall coolers measuring up to 185mm. At the front panel, you can also install a single 200mm fan if you wish for massive airflow. All these features make Core V21 a unique chassis that makes it worth $80.
Thermaltake Versa H18 TG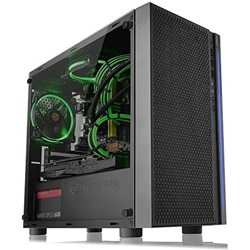 Highlights
Dimensions- 390 x 205 x 380mm
Cooler clearance- 155mm
GPU clearance- 350mm
Versa H18 is another fantastic micro-ATX tower that features a long PSU shroud to cover up hard drives and PSU. It although features a modern design but the case itself is not new. However, due to being among the first ones to features this design, it surely becomes a part of the best smallest micro-ATX cases. Both of its length and height are under 400mm and its width stands at 205mm only.
This doesn't put it any kind of disadvantage and rather, you can install up to 155mm tall CPU coolers inside it. With a spacious interior, you can install long graphics cards measuring up to 350mm. And lastly, its support for fans and radiators are appreciable where you can install up to 5x 120mm fans or up to 280mm radiator at the front.
Thermaltake Divider 200TG Air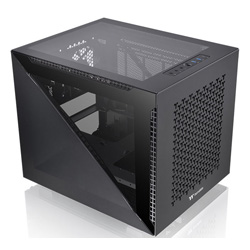 Highlights
Dimensions- 364.7 x 333.2 x 425.7mm
Cooler clearance- 185mm
GPU clearance- 310-340mm
Divider 200TG Air is a highly modular case that is inspired by the Core V21 when we look at its design. But it feels way more modernistic and premium in aesthetics. The case is a cube in design and features great compatibility with AIO coolers and chassis fans. It doesn't go beyond 400mm on any width and height except on depth.
It can support either a 310mm GPU with clearance up to 27mm for an AIO radiator or you can skip a radiator for a longer GPU measuring up to 350mm. Meanwhile, you can use another area for installing an AIO radiator if you just want a single one as this case can support up to 2x 280mm radiators in two places.
The case from the outside looks amazing with a tempered glass side panel and vented panels for airflow. Lastly, you can also install a single 200mm fan at the front for a huge amount of airflow.
Goodisory S200
Highlights
Dimensions- 347.5 x 187.5 x 290mm
Cooler clearance- 150mm
GPU clearance- 305mm
Moving away from the popular case brands, we have some unpopular brands like Goodisory that has an excellent micro-ATX tower with a design that is different from the trend. It features a design where the power supply is installed where we used to install ODD. This helps utilize the empty space in the case decreases its height.
Of all cases listed here, this one is the shortest in height due to the same reason and its width is also below 190mm but still fits a 150mm cooler easily. Length-wise, it's just fine with clearance for GPU up to 305mm. The only disadvantage is its cost which is almost double compared to most cases listed here but you do get premium quality and a side tempered glass panel.
Vetroo M01
Highlights
Dimensions- 402.5 x 225 x 385mm
Cooler clearance- 180mm
GPU clearance- 340mm
Last but not the least, Vetro M01 is a great budget option for $60 where you will find a lot of space inside for installing bigger components. It can fit up to 340mm long graphics card and features clearance for CPU cooler up to 180mm which is appreciable. It boasts a tempered glass side panel and a unique front panel design that features both opaque and vented areas.
In the vented area it comes with a pre-installed RGB 200mm fan that you can replace with smaller fans or even a 280mm radiator. At the top, you can install 240mm rad or dual 120mm/140mm fans for exhaust. All this inside in 402.5mm length that doesn't cover a lot of area on the desk.