Be Quiet! Dark Rock 4 vs Dark Rock Slim Specifications
| | | |
| --- | --- | --- |
| | | |
| | | |
| Dimensions in mm(L X W X H) | | |
| | | |
| | | |
| | | |
| | | |
| | | |
| | | |
| | | |
| | | |
| | | |
Differences
Dimensions
Be Quiet Dark Rock 4 is bigger than the Slim and is longer in length and width. The Dark Rock 4 is roughly 24mm longer and 9mm wider than the Dark Rock Slim but has the same height.
Heat pipes
Dark Rock 4 features 6 copper heat pipes while the Dark Rock Slim features 4.
Fan 
Dark Rock 4 comes with a single 135mm Silent Wings 3 PWM fan while the Slim comes with 120mm Silent Wings 3 PWM. While both feature the same design, the 135mm fan comes with higher airflow of up to 70CFM which is roughly 20CFM more than the 120mm fan on the Slim.
Noise
The fan on Dark Rock 4 runs at a lower max speed than the 120mm fan on Dark Rock Slim. On the Rock 4, you can expect up to 21.4dBA of noise at max fan speed while on the Rock Slim it is up to 23.4dBA.
TDP
Dark Rock 4 is rated at 200W while the Dark Rock Slim is rated at 180W.
Weight
The Dark Rock 4 is a heavier cooler with 0.92Kg of weight while Dark Rock Slim is 0.62Kg on the scale.
Similarities
Height
Both the coolers have a height of 159mm.
Compatibility
Both coolers are compatible with an equal number of motherboard sockets that include 1150/1151/1155/1156/1200/1366/2011(-3) Square ILM/2066.
Fan
Both feature a controllable high-speed Silent Wings 3 fan although different in size.
Pricing and Conclusion
Dark Rock 4 is priced at $69.99 while Dark Rock Slim is priced at $64.99. The former provides better cooling per dollar spent due to the bigger aluminium heatsink size and 2 more copper heat pipes.
Also, the fan is bigger and the TDP is higher.
Be Quiet Dark Rock 4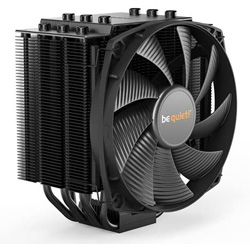 Be Quiet Dark Rock Slim