Gamers always like to have some accessories that offer a superior advantage in the games that they play. Especially the pro players always prefer them as a valuable gaming companion. They play an important role in games especially the MMO titles and helps the user to perform certain tasks on the go.
Why use a 12 side buttons mouse?
You might be wondering why you will be needing a mouse with that many buttons? If you have ever played some MMO titles or some MMORPG like DOTA 2 WoW, Guild Wars 2, or some other, then you will need to perform certain actions on the go with various combination of the keyboard that might be difficult for you to do if you are using a keyboard.
Thus, dedicated keypads were being used in the early days which has been replaced by a mouse that comes with multiple buttons that are configurable via software and can be used to assign specific action. The need for having them get increased when you need to act in a fraction of a second and it might decide the outcome of the game.
My experience
For example, I play DOTA 2 where Invoker needs to combine his three basic spells to invoke an attack spell, now it is hard to do this on the keyboard but if I am having once such mouse that offers multiple buttons then I can record the action on macro via software and assign it to a specific key. That particular key will help me to cast that spell instantly.
Now you must be wondering what are the games that you can use this kind of mouse to play. To be honest, there are a lot many that you can use these types of mouses to get an edge on your gaming sessions such as DOTA 2, WoW, Warframe, The Elder Scroll Online, and many others where you might be in need of one of this mouse.
Therefore, in this topic, we will cover some best mouse that comes with 12 programmable buttons that can be configured via software to give you an extra edge on your battle.
---
Top 4 Gaming Mice with 12 Side Buttons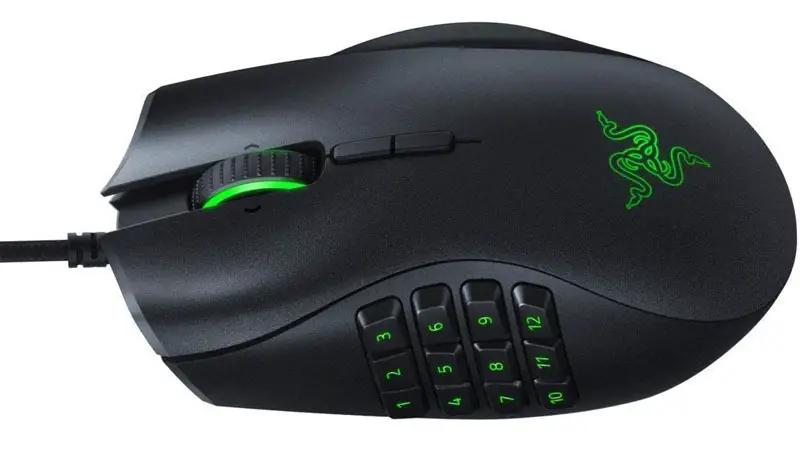 Undoubtedly one of the best mouse to date that offers a gamer, peace of mind in almost any game he plays. It can be termed as a gamers paradise due to the vast flexibility it offers. The mouse is perfectly suitable for any kind of gaming scenarios starting from FPS and going all the way up to MMORPG.
The mouse is equipped with the world's most advanced 5G optical sensor with true 16,000 DPI and is optimized for precision and speed, ensuring swift movements. However, what truly makes this mouse unique is the feature of customization of side plates where one can set the side plates according to his needs.
The Razer Naga Trinity comes with 3 additional side plates with different button configuration: 2, 7 & 12. One can set the side plate according to their gaming needs. If the user wants to play FPS games like CSGO or PUBG then the user can use the 2 button side plate or if the user is playing DOTA 2 then he can go for either the 7 or 12 button configuration.
Furthermore, the mouse also comes with RGB illumination and also is backed by 2 years of warranty to assure you hassle-free gaming.
---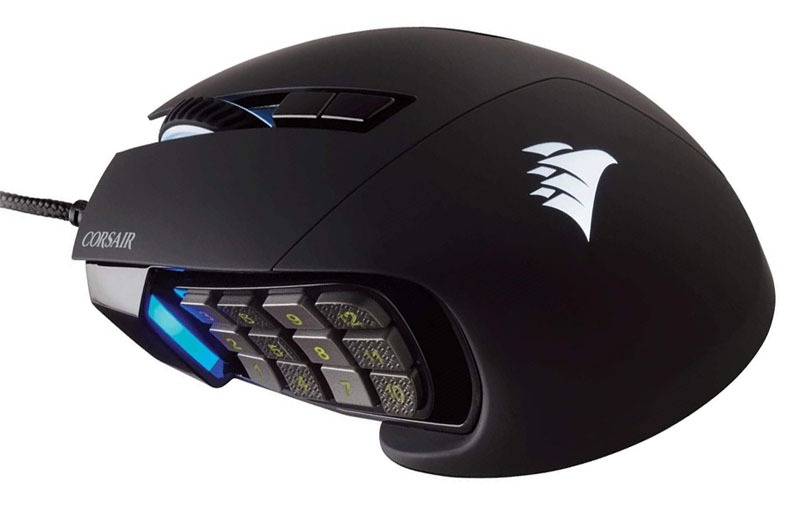 The next in our list is the Scimitar PRO RGB  from Corsair. The SCIMITAR PRO RGB gaming mouse advances your game with the customizable Key Slider macro button control system, a native 16000 DPI. It comes with a custom 16000 DPI optical sensor along with on-board profile storage with hardware macro playback and a pro-proven Key Slider macro button control system.
Users can adjust the button positions up to 8mm and securely lock them into place in order to ensure that the keys can be utilized irrespective of their playing style. And each of the buttons can be configured individually to perform specific actions on the go.
Furthermore, one can fine-tune the sensor of the Scimitar PRO to adjust it according to the mouse pad they are using to ensure optimum performance. It also comes with 4 zones of RGB illumination, to sum it up together.
---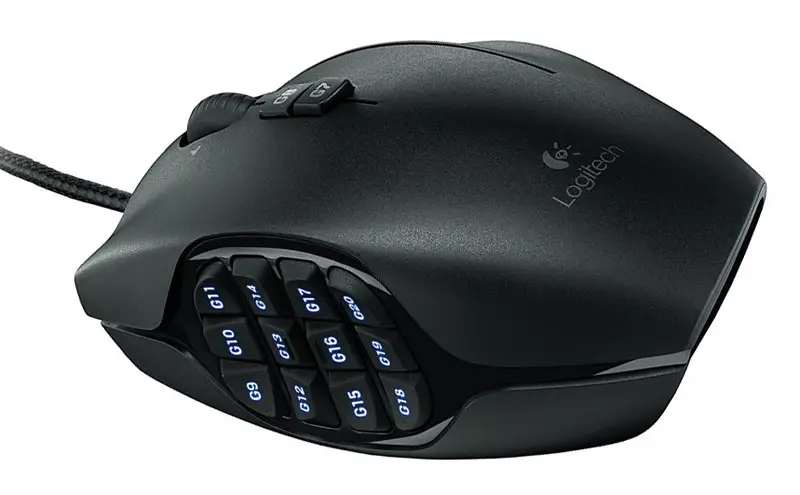 The next in the line of the MMO mouse is the Logitech G600. The Logitech G600 comes equipped with 12 thumb buttons, a clickable scroll wheel that tilts, and a G-switch to double down and dominate the game session. The unique dual-dish design of the thumb panel of the G600 was developed with direct input from both MMO gamers and leading MMO game developers and tested in real-world led to two carefully positioned sets of six buttons that help to reduce both learning time and action timings.
The G Shift buttons care be customized to be used as per your choice but it is preferred to use them for changing the DPI. It also comes with an illumination that can be configured with the help of the software.
The make and build of the mouse have been kept top-notch to ensure that it is able to sustain everything that you throw at it. And to ensure you with the best support the mouse comes with 3 years of warranty.
---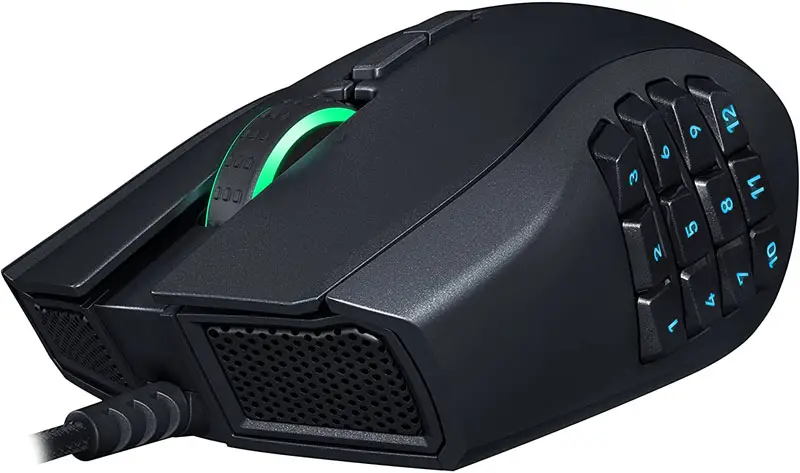 Razer Naga Chroma is another such mouse that is perfectly suitable for such games that need to perform actions on the go. The Razer Naga Chroma's original 12 button thumb grid is equipped with 12 mechanical switches to give you tactile and audible feedback, so you can be assured of every actuation. Furthermore, the buttons grid comes with a concave shape to allow each button to stand out individually that can allow users for blind-find so that you can stay focused on the game.
It comes equipped with a True 16,000 DPI 5G Laser gaming mouse sensor, with 0 interpolations and has the ability to track 1 DPI increments and a lift-off cut-off distance as precise as 0.1 mm resulting in utmost precession and accuracy in your game sessions.
It also comes with Chroma customizable lighting for both the scroll wheel and thumb grid that can be personalized with the help of via Razer Synapse software. It also has a TILT-CLICK SCROLL WHEEL that can be customized as well. And one more interesting facet of the mouse is that it is dedicatedly available for left-hand users having a separate version with almost similar functionality.
---
Conclusion
There are many pro players who prefer to use one of the above-listed mice, some do stick to the old traditional mouse too. However, when it comes to picking a perfect one for your gameplay, it comes to do to you on what you actually prefer. Thus we have listed out the best MMO mouses available out there that you can choose from if you are looking for competitive gameplay.