Xtremegaminerd.com is a participant in Amazon Associate Program and is supported by the readers. The qualifying purchase you make through our links may get us some commission and doesn't cost you an extra penny.
---
Logitech G810 Orion vs Corsair K70 LUX- Which is the best?
Logitech G810 Orion and Corsair K70 LUX mechanical keyboards with Blue Switches come nearly at the same price near $100. So, many people get confused on which to buy and why? So, this is a to the point comparison of the mechanical keyboards that will list out the similarities/dissimilarities as well as advantages/disadvantages of each keyboard over the other.  
Note:- The specs of the keyboards are taken from their official pages and not from Amazon because there are some differences
1. Mechanical Blue switches
2. Tactile Actuation
3. Full length with NUMPAD
4. Multimedia keys
5. Roller for adjusting Volume
6. Weight: 1.2 Kg
7. 100% Anti-ghosting
8. Backlighting
9. Dedicated software for customization
10. Warranty Two years
Logitech G810 Orion
1. Plain and simple body
2. Romer-G mechanical switches
3. Without wrist pad
4. Patent-pending asymmetric keycaps
5. RGB lighting
6. No Windows Lock key
7. No pre-included USB port
8. No additional keycap sets
Corsair K70 LUX
1. Brushed aluminium body
2. Standard Cherry MX blue switches
3. Detachable wrist pad
4. Standard keycaps
5. Single colour lighting
6.  Windows Lock key
7. Pre-included USB port
8. Additional keycap sets for FPS and MOBA games
Pros of Logitech G810 Orion
✅Actuation distance of only 1.5mm
✅ 16.8 million colours with several lighting effects
✅ Good placement of fingers on the keycaps
✅ Good value for money
Pros of Corsair K70 LUX
✅ Stronger body with better looks
✅ Pre-included wrist rest
✅ 104 key-rollover 
✅ Pre-included USB port
✅ Additional keycap sets
✅ Windows lock key
Winner
Best Bang for Buck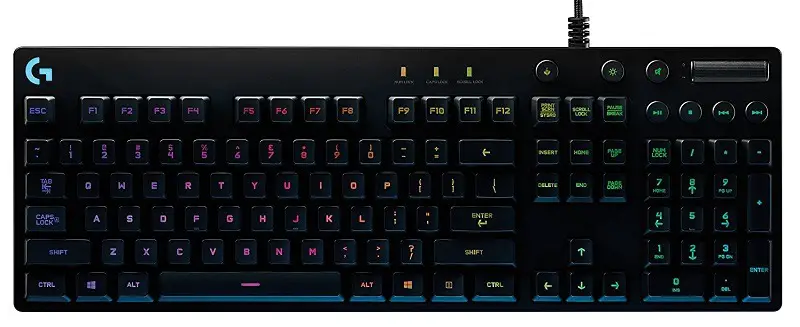 Best Features for money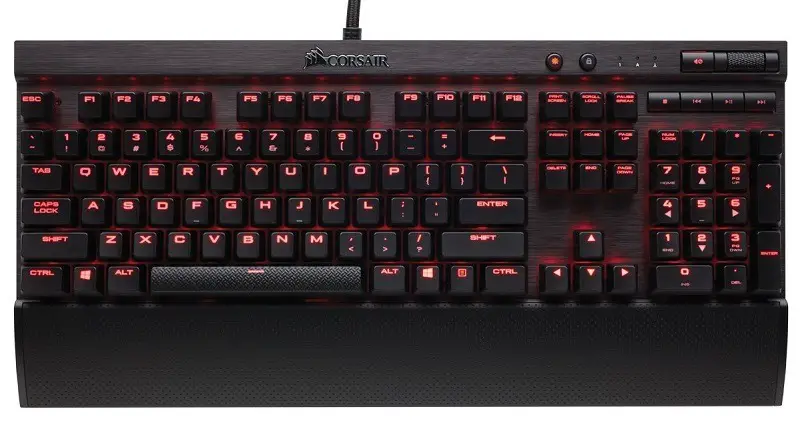 Conclusion
Both the keyboards are perfect for their price and it now depends upon the preference of the buyer whether he likes more premium body and features or RGB with faster responsive keys. If you want a faster typing keyboard then the Logitech G810 is perfect along with RGB lighting, however, the additional features of Corsair K70 LUX have no match from Logitech's side and the only CON is not having RGB lighting effects.