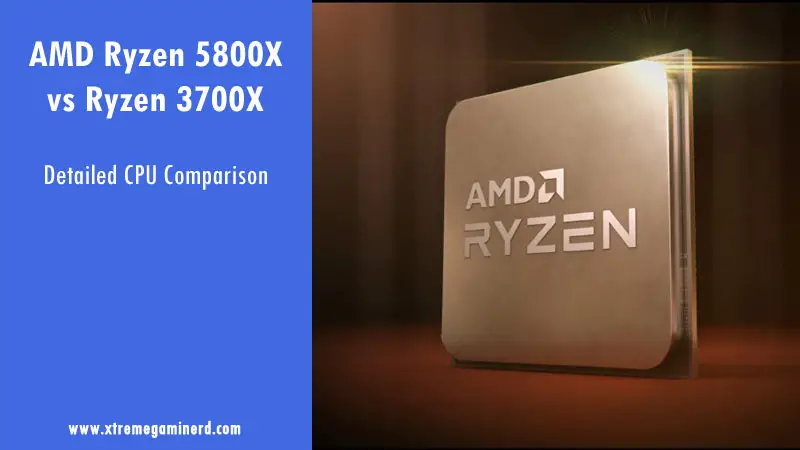 Ryzen 3700X remains very successful gaming and productivity CPU and though it was quite enough for every type of task, it was beaten by Intel's i7 10700K by a significant margin. AMD then released the Ryzen 7 5800X in the Ryzen 5000 CPU series in November 2020 which replaced the 3700X.
Though both the CPUs are great for a high-end PC build, choosing between them is still difficult without getting insights into the performance, price, and specs difference. In this post, I will discuss what you can expect from the Ryzen 5800X and will it be a better upgrade or a better choice for gaming and productivity over the Ryzen 3700X or not.
Architectural Difference
I have already talked about the architectural difference between the Ryzen 3000 and 5000 processors in different posts like 'comparison between Ryzen 5 5600X vs Ryzen 7 3700X' and will briefly explain what changed in the new Ryzen 5800X.
Although both the processors are made on the 7nm, the 5800X uses the Zen 3 architecture which is around 19% faster in Instructions per clock than the Zen 2 used in 3700X. This will directly influence the performance and help the 5800X gain lead in overall performance whether it is in games or applications dependent on CPU.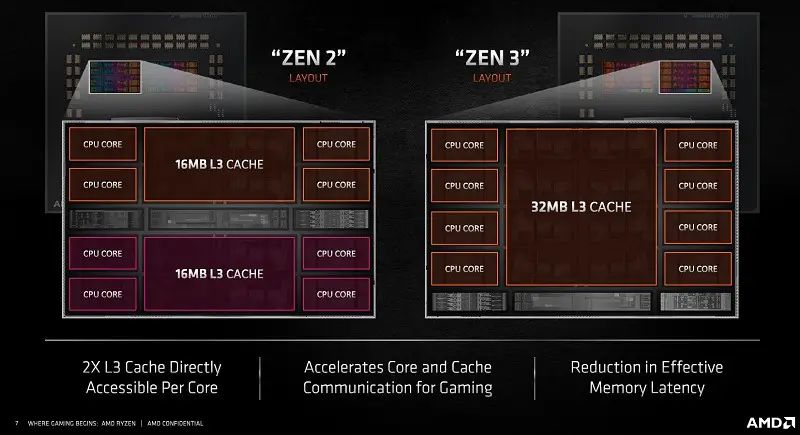 Moreover, the new core layout increases the capability of the cores of 5800X to use L3 cache memory directly without any delay whereas the 3700X used dual CCXs instead of one causing a delay in the interaction between the cores of different CCXs.
Specification
| Specs | Ryzen 5 5800X | Ryzen 7 3700X |
| --- | --- | --- |
| Architecture | Zen 3 | Zen 2 |
| Lithography | 7nm | 7nm |
| Cores/Threads | 8/16 | 8/16 |
| Clock(Base/Boost) | 3.8/4.7GHz | 3.6/4.4GHz |
| Overclockable | Yes | Yes |
| Total Cache | 36MB | 36MB |
| Socket | AM4 | AM4 |
| TDP | 105W | 65W |
| Integrated GPU | N/A | N/A |
| CPU cooler | Not included | Wraith Prism |
There are quite a few differences between the two that are worth considering. First of all, the core clock speed of 5800X is comparatively much higher than the 3700X which directly affects gaming performance and its TDP is also 40W higher which means it is more overclockable but at the same time, it will need a better CPU cooler especially when it doesn't come with one while the 3700X still has a Wraith Prism included that is sufficient for basic tasks. You can check out our recommended best CPU coolers for Ryzen 5800X for better cooling.
Performance
When tested in games with an RTX 3080, the Ryzen 5800X outperforms the 3700X by around 30% in games like Mafia Definitive Edition and Shadow of the Tomb Raider while in games like Assassin's Creed Odyssey, Battlefield V, and RDR2, it achieves roughly 10-20% boost in fps1)https://www.youtube.com/watch?v=PW2Ora_Jx0I.
As tested by LinusTechTips, the Ryzen 5000 series processors already surpassed all the available Intel and AMD processors in single-core performance even with its Ryzen 5600X CPU2)https://www.youtube.com/watch?v=iZBIeM2zE-I&t=243s. The 5800X is even better in multi-core operations and speeds up the processes in video editing and rendering by over 10% compared to the 3700X.
Motherboard compatibility
Some of the chipsets in the table may require BIOS updates for supporting the processors.
| Motherboard Chipsets | Ryzen 3000 series | Ryzen 5000 series |
| --- | --- | --- |
| A320 | Yes | Yes |
| B350 | Yes | Yes |
| X370 | Yes | Yes |
| B450 | Yes | Yes |
| X470 | Yes | Yes |
| A520 | Yes | Yes |
| B550 | Yes | Yes |
| X570 | Yes | Yes |
Pricing and Conclusion
While the 5800X surpasses the 3700X by an average of 20% in gaming and productivity, the 3700X is around 33% cheaper than the 5800X with its official MSRP sitting at somewhere close to $300 and that of the 5800X at $449. This makes the 3700X still a great choice for building a super-fast gaming PC.

The only problem now is availability. While Ryzen 3700X has poor availability these days, the 5800X is available for around $300 which helps in the reduction of overall expense in building a powerful gaming PC. On the other hand, AMD also released the Ryzen 5700X which is close to the pricing of the Ryzen 5800X. Read our Comparison Between Ryzen 5700X and 5800X to know which one should you buy.

[box]

AMD Ryzen 7 5800X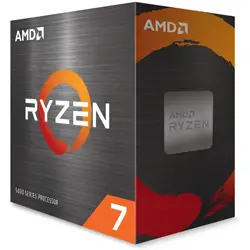 AMD Ryzen 7 3700X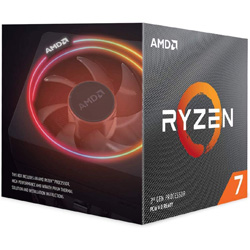 [/box]