Introduction
Ryzen 5 2600 and 2600X are undoubtedly the best mid-end Gaming processors that cost below $200 and perform similar to a high-end Core i5. It has even more benefits along having a good gaming performance, like more cores and more threads. Although the i5 9600K features 6 cores but it's almost $90-$120 more than the 2600/2600X and the latter features 6 more threads. Taking this thing into consideration, the Ryzen 2600/2600X is an excellent choice for any mid-high-end Gaming PC.
As the 2600/2600X is an unlocked processor, it can be overclocked using a B450 chipset or an X470 chipset motherboard. The most important thing, however, is the graphics card which will determine how much fps you will get in your game. If you combine it with a GTX 1050, surely you will be able to game properly with like 40-50 fps on high settings but if you want to max out the games at 1080p, then you have to spend a little more money on your GPU because Ryzen 5 2600/2600X is a very capable processor.
In this post, I have brought to you the list of the best GPUs that will provide the maximum performance with the Ryzen 5 2600/2600X. Make sure that you read about each graphics card carefully and if you still remain confused, then you can ask me in the comments section below.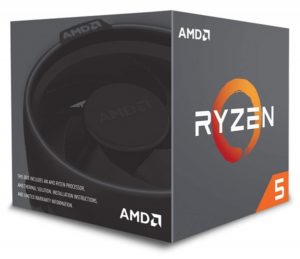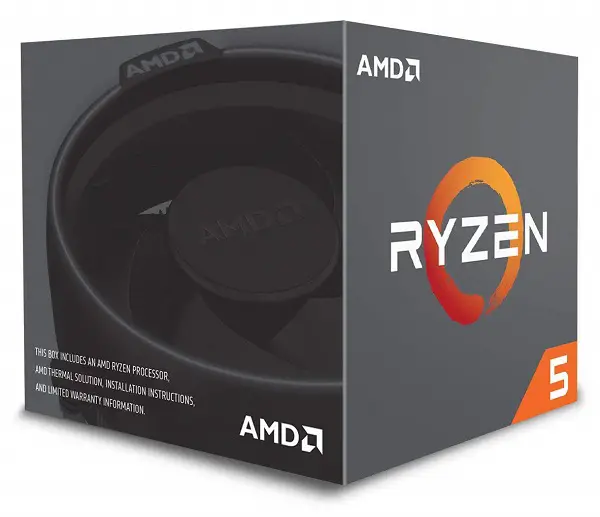 ---
PowerColor Red Devil AMD Radeon RX590 8GB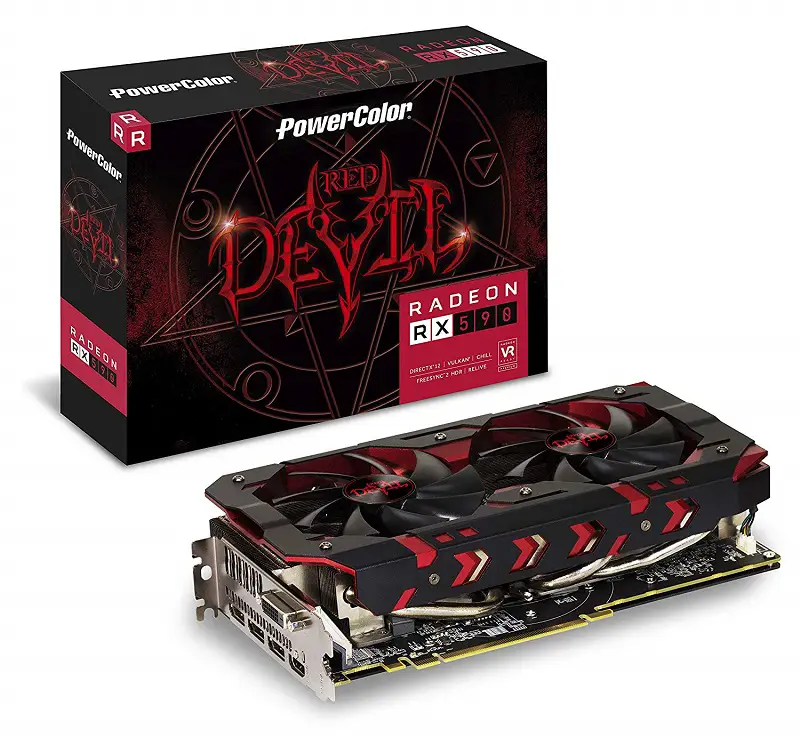 AMD's RX series has been very successful in the mid-range graphics cards and the current fastest mid-end graphics card from AMD is the RX 590 which is the successor of the RX 580 but now with almost 10% more performance packed inside. It features 8GB of VRAM which is the maximum amount of memory a game would need to max out settings. Though it is meant for 1080p Ultra settings, it's also true that some of the games may not reach above 60fps but almost every game will run with that much performance.
It is even faster than the GTX 1060 6GB and is the best gaming card under $250. The PowerColor Red Devil  RX 590 features a great design that is very effective in cooling as the heatsink comprises of aluminium heatsink along with copper heatpipes. The black shroud features red accents on it that makes it look slick. The only Con of this card as compared to the Nvidia cards is that it draws more power. It requires 6+8 pin power ports and needs a decent power supply.
Specs wise it features core clock of 1545Mhz and boost clock of 1576Mhz which you can increase from MSI afterburner. For display, it comes with a 1x DVI-D, 1x HDMI and 3x Display Ports which is a great feature for connecting 2 or more monitors at the same time.
---
GIGABYTE GTX 1660 Ti OC 6G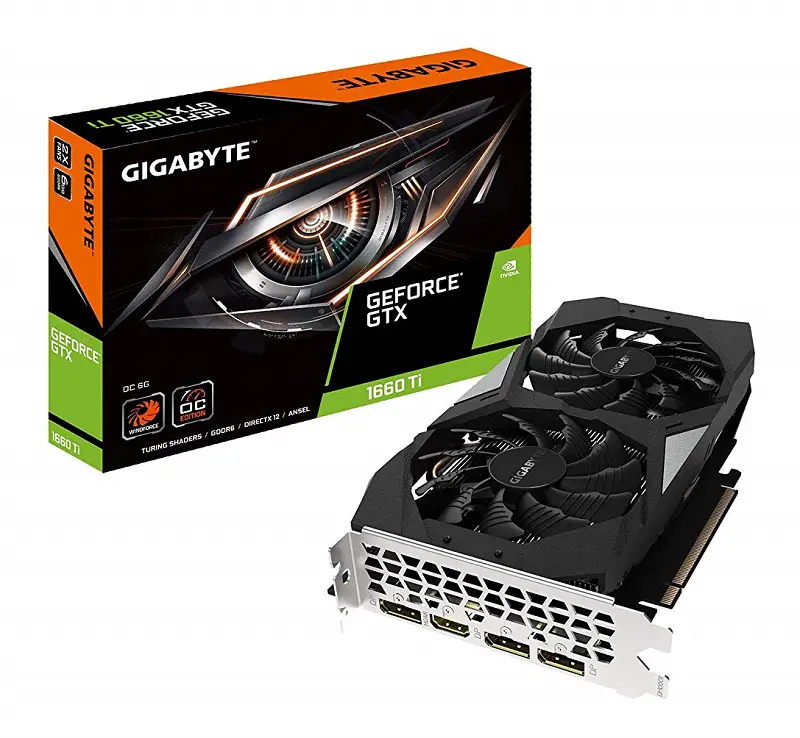 Nvidia's latest mid-range GPU is the GTX 1660 Ti which is the most powerful graphics card under $300 and easily beats the RX 590 and GTX 1060. It comes with 6GB of VRAM which is although lower than the RX 590 but still it is around 10-20% faster in Gaming and will provide you with more fps.
It comes with a core clock of 1770Mhz and a boost clock of 1800Mhz as it is factory overclocked. You can take it over 1800Mhz easily with proper cooling of your chassis and it will remain stable if the cooling is proper which will provide you with more performance consistently.
All the AAA titles will run very well with it if you combine it with Ryzen 5 2600/2600X and in my opinion, in this list this is the best combination you can come up with. All the games will run with 60+fps at 1080p ultra settings and eSports games will have no problem in going much more than this. As this card is based on Turing architecture, it is more powerful and more power efficient but do not think that it is made for Ray Tracing because that technology is only present in the RTX cards.
---
MSI GAMING RTX 2060 Ventus 6GB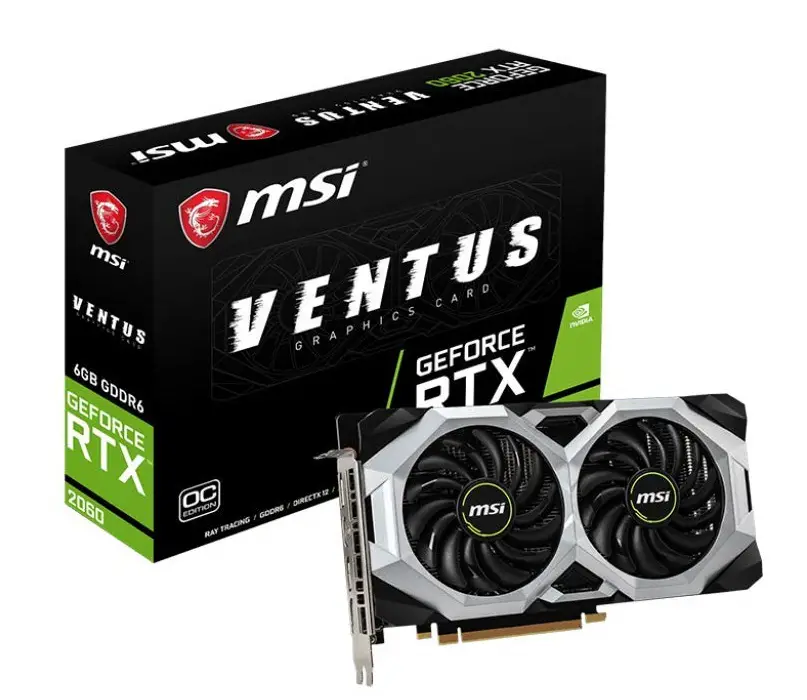 RTX 2060 6GB is also a successor to the GTX 1060 6GB but it even faster than the GTX 1660 Ti. It will provide around 15% more performance in most of the games and it is also Ray Tracing compatible though I don't recommend switching ON the RTX because it eats all the fps easily. But the DLSS option will increase the performance which this card is capable of.
With the boost clock of 1710Mhz, you can expect some serious performance. Also, the VRAM it uses is 6GB GDDR6 which is much faster than the GDDR5 and GDDR5X and features 14Gbps of speed. This is a beast for 1080p as well as 1440p although don't expect it to max out every game at 1440p but you can surely play on a 1440p screen with some tweaking in settings. After the 1660Ti, this is the second best match for the Ryzen 5 2600/2600X.
---
EVGA RTX 2070 Black Gaming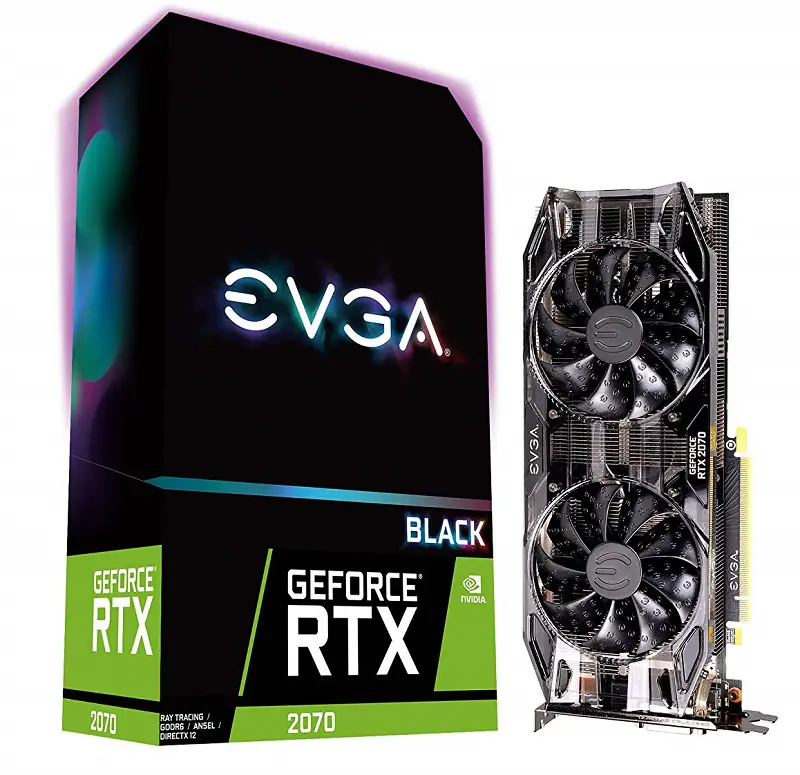 Next up is the RTX 2070 which is the max I recommend for Ryzen 5 2600/2600X as going above it, it is better to change the processor to something like Ryzen 2700X or any other Intel processor like i7 9700K. Ryzen 2600/2600X will be enough for RTX 2070 and won't bottleneck it. RTX 2070 features 8GB of GDDR6 VRAM which is more than the RTX 2060 and is a superb card for 1440p. I don't recommend using it on a 1080p screen because it's a waste of money if you do this.
You can expect 60+fps on 1440p resolution with Ryzen 2600/2600X. You can get more than that if you overclock both of the GPU and CPU but make sure you buy a good CPU cooler for Ryzen 2600/2600X. The EVGA RTX 2070 Black Gaming edition features boost clock of 1620Mhz and 2304 Cuda Cores. The card is much more capable for Ray Tracing than the RTX 2060 but do it on 1080p resolution instead if you ever plan to. Also, it is equipped with around 5 I/O ports out of which 4 are HDMI, DP ports which can support up to 4 monitors at the same time.
---
Conclusion
The above mentioned 4 graphics cards are the best match for the Ryzen 5 2600/2600X out of which the GTX 1660 Ti is what you should be looking for if you want the best value for the money. If you want more performance, then the max you should go with is the RTX 2070. Going with something like RTX 2080 or 2080 Ti will hinder the GPUs performance and thus you should try to balance everything as much as possible.
In case you still have doubts on choosing the proper GPU for your build, then you can ask me in the comments section below.