Finding a good graphics card has never been so difficult. There are various reasons for the shortage of GPUs in the market but it does not negate the fact that Nvidia and AMD don't have decent budget graphics cards for millions of gamers.
Things have changed drastically from the last 2-3 years due to the heated competition between Nvidia and AMD, which led to the release of compelling powerful graphics cards for a lower price.
A budget graphics card for some people falls in the range of $80-$120 while for some, it may be above $150. We currently have more than a dozen graphics cards from both manufacturers ranging from $80 up to $300. This provides good flexibility to build gaming PCs with a wide range of budget.
Here is a list of the top 5 best budget graphics cards in 2021 which provide excellent value per dollar spent and are capable of playing most of the games at 1080p with smooth frame rates on medium to ultra settings.
Note: Currently, most of the listed graphics cards may not be available or if they are available, they will cost almost double/triple the MSRP which we can't control.
#1. MSI Geforce GT 1030 Aero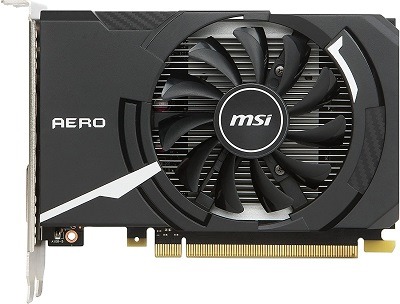 There are currently two versions of the GT 1030. One is with the GDDR5 memory and the other one is with GDDR4. Make sure you don't buy the second one as it is way slower. The MSI GT 1030 Aero is an ITX card which means it can easily fit in mini-ITX cases and won't pose a problem like the two fan cards.
It is made with 384 Cuda Cores and features 2GB of VRAM that has a bandwidth of 48GB/s which is almost 4 times the one with the GDDR4 memory. As a very cheap card, you can't expect it to max out the settings at 1080p resolution. Somewhat between 720p and 900p is recommended for gaming with it and you can put the settings on medium for fairly good graphics.
If you want to play at 1080p, then remember to put all the settings to the low otherwise you won't be able to play most games. Currently, it's the only sub $100 card which is meant for playing games. Going below it is not recommended as they are not meant for gaming, rather for providing display only.
#2. PowerColor Radeon RX 550 4GB Red Dragon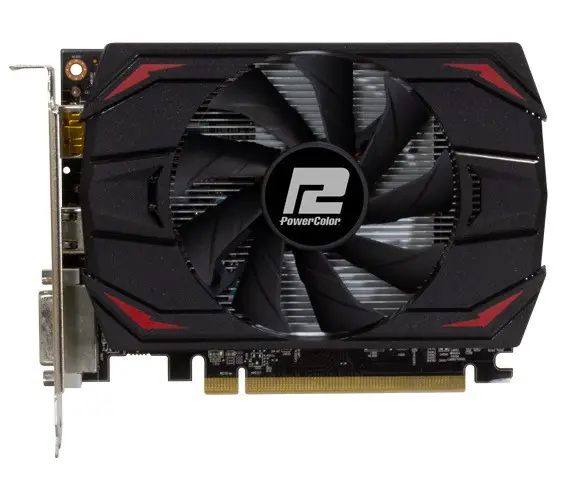 From AMD's side, we have the RX 550 which is a little more powerful GPU than the GT 1030. It features 4GB of GDDR5 memory that is clocked at 7Gbps and has 640 stream processors to execute the graphics operations. It's roughly 5% faster than the GT 1030 and due to the higher VRAM, it can allow you to increase some graphics settings such as Textures, Anti-Aliasing, shadows, foliage etc. depending upon the game you play.
While not a great deal-breaker, it's still a good starter for those who never had hands-on a gaming PC and want to start with something that fits the budget and gets the job done.
#3. XFX Radeon RX 560 4GB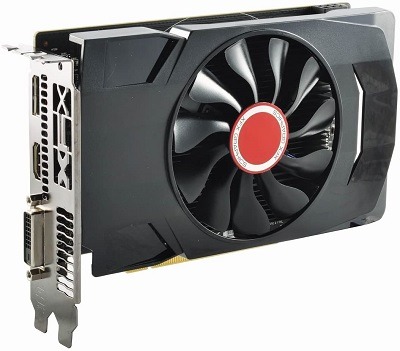 RX 560 from AMD is one of the cheapest cards you can buy for just over $100. It is not the ultimate choice for 1080p Gaming but you can surely play most titles with playable frame rates. Expect somewhere around 40-50 fps in most of the games on settings which will provide good eye candy.
The card is sufficient for 1080p gaming on medium to high settings. Games like the Shadow of the tomb raider, Doom, Hitman, Fortnite, PUBG will all run smoothly on this card unlike the slower card from Nvidia, the GT 1030, which I removed from the list because that isn't worth now after the release of Ryzen 3400G. The RX 560 mentioned here is the 4GB edition and you can increase the graphical settings more than you could do with the 2GB one.
The card is also power efficient compared to most budget graphics cards and requires less than 80 watts to operate and therefore, requires no external power connector which means you don't have to invest a lot in a big capacity power supply although a reliable power supply is always recommended to protect the components from faulty currents and voltages.
#4. Gigabyte Radeon RX 580 Gaming 8GB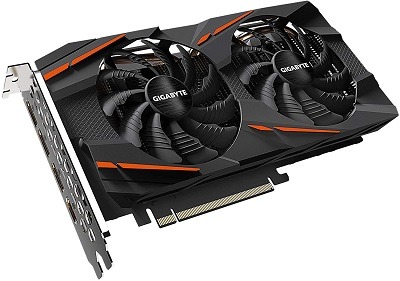 The RX 580 4GB is one of the RX series cards which falls in between the RX 570 and RX 590. This card competes head to head with the sub $200 Nvidia GPUs although it costs noticeably lower.
It is not just an entry-level card but actually, a solid 1080p card that can play most games on ultra settings. AAA titles can easily achieve 60+fps with high-ultra settings while there are a few games that will require you to lower down some settings to get to that number.
The Gigabyte RX 580 Gaming 8GB above features a stylish black shroud with orange accents and a decent sized aluminium heatsink that uses heat pipes and features RGB lighting that is visible from the side. With overclocking you can easily achieve up to 1400MHz on this card while the OC mode clock is 1355MHz. This will result in a significant performance boost needed to achieve 60+fps without tweaking the settings.
Don't have enough money to buy a graphics card? You can play games even without a GPU with this Gaming PC!
#5. Asus TUF Gaming GeForce GTX 1650 Super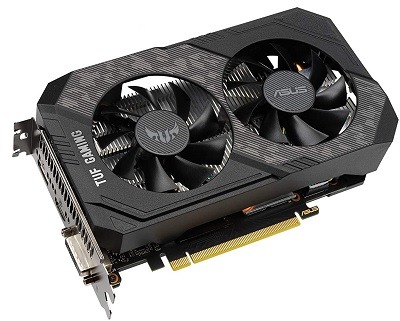 The price range of $150 to $200 is filled with several graphics cards and there are so many options to choose from. We have the GTX 1650 Super, the RX 590, and some entry-level editions of GTX 1660. All of these cards are close to each other in performance while the GTX 1660 being a winner by some small margin.
The RX 580/RX 590 and GTX 1650 Super, in my opinion, are the ones you should look for if you want something under $200. The difficulty in selecting between these two is that both of these cards are almost equivalent in gaming with RX 590 winning in some games and the GTX 1650 Super in others.
But according to the current pricing situation, most of the GTX 1650 Super editions cost lower than the RX 590. The RX 590 has 8GB of VRAM while the GTX 1650 Super has 4GB. Though the difference in performance in some cases isn't due to the memory only. GTX 1650 Super is perfect and 4GB should be enough for 1080p ultra gaming.
Do you want to build a PC with GTX 1650 Super with minimum expenditure? Check out this Budget 500 Dollar Build now!
#6. MSI GTX 1660 Super Gaming X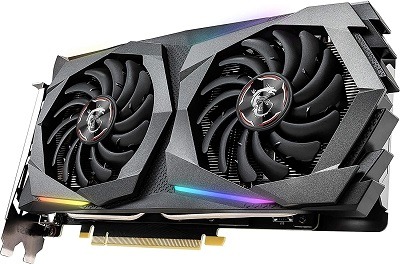 GTX 1660 Super is one of the best addition to Nvidia's catalogue that is faster than the GTX 1660 and provides much more than 60 fps at 1080p. I previously listed down GTX 1660 Ti as a recommendation but GTX 1660 Super is only a little bit behind it and the price difference is significant.
GTX 1660 Super features 6GB of GDDR6 memory with 1408 Cuda Cores and a boost clock of 1785MHz on the reference edition. But the MSI GTX 1660 S Gaming edition features 1830MHz on OC mode which is significantly higher and should provide a good boost. This card can also play most of the games at 1440p with high to ultra settings with around 60 fps. If it's available for around $250 in your region, then there is no other better card for this price and you should combine it with something like i3 10100 or i5 10400F for getting the most out of your money.
#7. Sapphire Radeon Pulse RX 5600 XT BE 6GB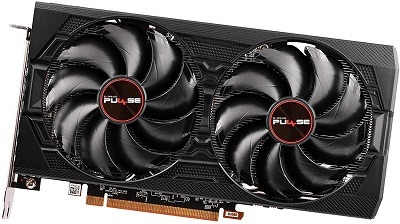 While GTX 1660 S and 1660 Ti are sufficient for 1080p ultra gaming and cost reasonably well, the RX 5600 XT from AMD also costs less than $300 but delivers considerably higher performance in almost every game than both of these Nvidia GPUs.
RX 5600 XT is astonishingly 30% faster than the GTX 1660 Ti and is capable of playing almost every game at 1440p resolution with 60 fps. It challenges the more expensive RTX 2060 without exceeding the $300 price mark. It comes with 6GB of GDDR6 VRAM and a base/boost clock of 1560/1620MHz.
Combine it with Ryzen 5 3600/5600X or i5 10400F/10600K to get the most out of it.

Important things to know before you buy a Graphics card
1. Price and Requirements
Price
Make sure before you buy a graphics card, you know your budget. You can have $100 or even $500 for buying a GPU but if you are going to build a completely new PC then defining and distributing the expenditure between different components is a little difficult. If you are buying a new PC, then make sure you don't buy an overkill graphics card for your CPU. A Pentium processor can't handle RTX 3070 or GTX 2080 Ti. Similarly, a GT 1030 is too slow for an i7 10700K.
Requirements
Another important thing is to define your requirements. Without knowing what you want, you can either overspend or underspend on your graphics card. If you are just starting out and want to enjoy some eSports or Casual games then a budget graphics card will be enough for the job. But in case you want to enjoy the games on ultra textures at 1080p or higher resolution then you will need to buy higher-end graphics cards like GTX 2060 or RTX 3060 Ti etc.
2. VRAM
VRAM is the memory that is different from the main system RAM and is only dedicated to providing the horsepower your graphics need. Every dedicated Graphics card has some dedicated VRAM which now in modern GPUs can vary from 1GB up to 16GB. To play games on higher settings at 1080p at least, you need to have around 3-4GB VRAM on your Graphics card. If you go lower than that, then you may have to lower down some of the settings in your games for getting good frames per second.
If you want to max out textures, anti-aliasing, foliage, shadows, etc. in a AAA game, then you will need at least 6GB of VRAM that is present in GTX 1660 and higher-end Graphics cards. Right now, I don't know of any game that utilizes more than that except in the case of higher resolution like 4K.
3. Cooling
Low Profile graphics cards have smaller heatsinks and therefore aren't efficient in maintaining good temperatures if you overclock them but graphics card with bigger aluminium heatsinks with copper heat pipes with 2 or more fans are extremely important for maintaining good temperature even while overclocking to the full potential. If you are not doing any type of overclocking, you should still make sure that your PC chassis has enough ventilation for proper air intake and exhaust.
4. Power Supply
Different graphics cards have different TDP and their power consumption vary. So, you need to check the graphics card's TDP before buying it. Make sure your power supply is having enough wattage capacity to run your whole system without any bottleneck.
A system that uses low end or budget components will have no problem in running on a 400 watts reliable power supply but when it comes to running a GTX 3080i, i7 10700K, Multiple Fans, AIO coolers, and several storage devices, then you will need a higher wattage power supply. Make sure you check the TDP of all of your components and see if your PSU still has enough wattage capacity to power your Graphics card.
Another important thing to note is the graphics card power ports. Make sure your Power supply has those power connectors that your graphics card requires. A GPU with a 6-pin port will use a 6-pin power connector from the power supply. Generally, almost all the budget power supplies in the modern day have a 6-pin power connector at the minimum. If your graphics card has 2x 8-pin power ports, your PSU must have those in order to run the graphics card with stability.
5. I/O Connectors
Sometimes a particular graphics card from a different manufacturer will not have the I/O ports for connectivity as your monitor requires to show the display. Check the I/O ports at the back of your monitor and also the I/O ports of the graphics card you are buying.
If your monitor is a 144Hz gaming monitor, then you must have a DVI port or a DP port on your monitor/GPU to get those 144Hz refresh rate smoothness. Make sure both your graphics card and monitor have these ports to avoid mishappening.
FAQ (Most Common Questions Answered)
Which is better Radeon or Nvidia?
Well, both are good, to be honest, and it only depends on the performance of their GPUs. A few years ago Nvidia had the best performing GPUs for the money but right now there are similar graphics cards from AMD too. You can have a good graphics card both from AMD and Nvidia but Nvidia stays up to date in the driver compatibility better than AMD. Nvidia also has Ray Tracing technology in the RTX series which is currently absent in the AMD GPUs but AMD may release Ray Tracing GPUs soon.
How can I get a cheap graphics card?
If you want to get a graphics card cheaper than its regular price, then it's recommended that you stay up to date on Newegg and Amazon for a regular price check. I recommend checking the prices on a daily basis because at any time the seller can reduce the prices.
Do I need a graphics card if I don't play games?
Well, it depends on what tasks you do on your PC. If you are a graphic designer or a video editor or someone who works on a GPU dependent program, then you will need a graphics card. Graphics card needed in these tasks may not need to be high-end but when it comes to gaming, it depends on the resolution of your monitor, the games and the graphics settings you want to play on.
You can also check our detailed guide on if you need a graphics card or not for making up your mind.
How much should I spend on a GPU?
It depends on how much money in total you are willing to spend on your computer. Generally, a graphics card should be the most expensive item in your entire PC as compared to the other parts if you are focused on gaming only. So, suppose you have $500 for a gaming PC, you should separate at least $150 dedicated only for a GPU which is roughly 1/3rd of your total budget. This rule can also be applied to PC's that are less or more expensive.