Introduction
In 2019, it's now even easier to find a graphics card that can max out games on a particular resolution than ever before. In the previous years, we saw how the graphics cards which were barely touching 60fps at 1080p and were costing much more than $200 or even $300 but now as the resolutions bumped up to 1440p and 4K for many users, graphics cards for 1080p became cheaper and thus providing more value for the money.
A budget graphics card for you may cost $100 and for the other person, it may cost $150 or more. But one thing is common in them, these graphics cards are meant to play games at playable framerates(not necessarily 60 fps) no matter what the settings are(Except Low). Currently, we have great graphics cards both from AMD and Nvidia. Right now mid to high-end GPUs like GTX 1660 Ti, RX 5700, RTX 2070 Super etc. are more popular than the budget graphics cards but as they are priced very well for their performance on higher resolutions, getting a graphics card for 1080p gaming is even easier.
For a mere $150, you can get a GPU for yourself that can provide you with at least 50-60 fps on high to ultra settings and that's what makes this tier a sweet spot for most gamers. In this post, I am going to list down graphics cards ranging from around $100 up to $250 that will ensure you never lose in any game due to low fps.
But before going forward here are the Top 10 Tips that you must keep in mind for buying a budget graphics card:-

Note: I update this list almost every month and sometimes more frequently than that to make sure you are aware of the current prices and performance of these cards.
---
#4.
XFX RX-
560D2SFG5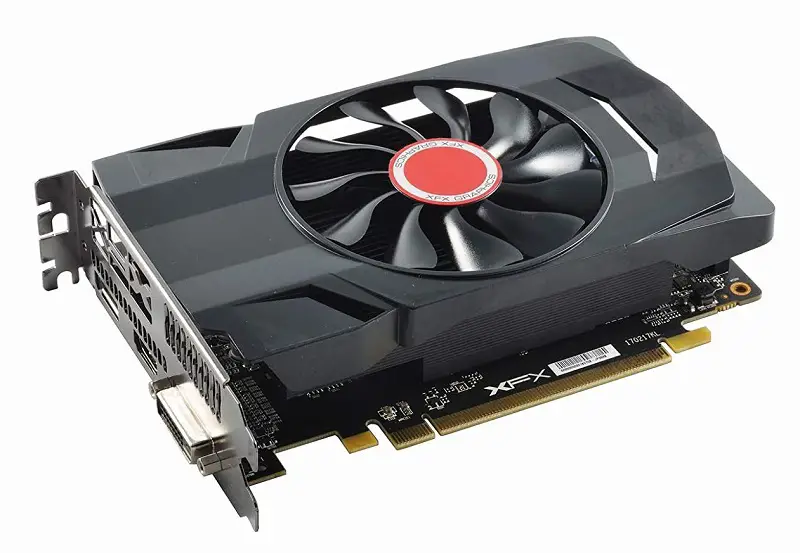 RX 560 from AMD is one of the cheapest cards you can buy for Gaming. It is not that fast for 1080p Gaming but you can surely play games with playable frame rates. Expect somewhere around 40-50 fps in most of the games on decent settings.
The card is very good for 1080p gaming on medium to high settings. Games like the Shadow of the tomb raider, Doom, Hitman, Fortnite, PUBG will all run smoothly on this card unlike the slower card from Nvidia which is the GT 1030 which I removed from the list because that isn't worth now after the release of Ryzen 3400G. This one is the 2GB edition and you can increase the graphical settings up to a limited extent, unlike its 4GB version which is currently available for a high price.
This card is very much power efficient and requires less than 80 watts to operate and requires no external power connector which means you don't have to invest a lot of money on your power supply. The card has a very good cooling heatsink that is made up of aluminium and the grey shroud over it fits in every type of theme build.
Specs:-
Memory
2gb Gddr5
Memory Interface
128-bit
Core Clock
1196MHz
Stream Processors
1024
Architecture
Polaris
CrossfireX
Yes
DirectX
12
Outputs
1xHDMI
1xDVI-D
1xDisplay Port
XFX RX-560D2SFG5
Summary
A very good starter graphics card that will help you become a part of the PC master race. Enjoy your games on 1080p medium-high settings.
---
Choosing a Graphics card Guide
---
#3.
XFX Radeon RX 570 RS XXX Edition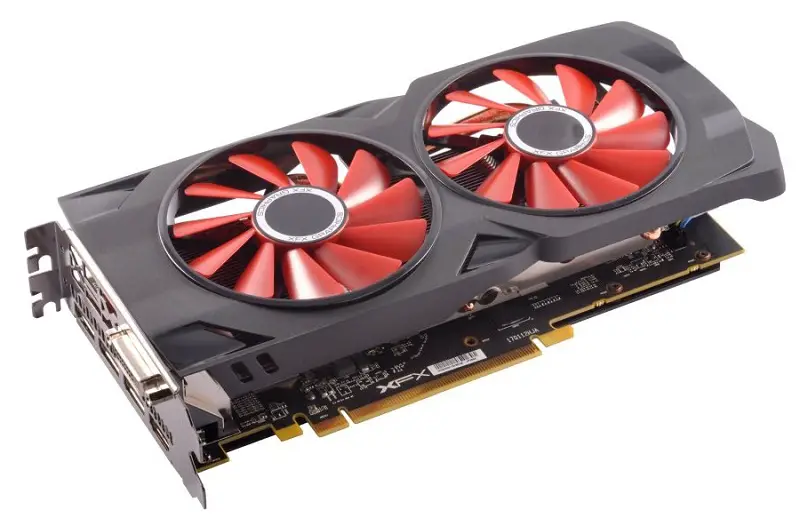 The RX 570 8gb is one of the Rx series cards which falls in between the RX 560 and RX 580. This card features 4gb of VRAM as well as 8gb of VRAM but the cost of that with 8gb VRAM right now goes up as high as the 4gb version of RX 580. So, this one makes a perfect graphics card for the money under $150 and makes a strong position in this list. Only the GTX 1650 is a competitor to this card for its price but right now this is cheaper than the 1650 and provides more than 20% performance. So, it makes sense to buy it for more value.
This card is not just an entry-level card but actually, a solid 1080p card which can play all the games on high-ultra settings. Some games will not get you 60+fps maxed out settings but if you lower some settings down, I am sure you will be close to 60 without any problem. This card unlike the RX 560 is not weak as it seems in between the RX 560 and RX 580. It's pretty close to the RX 580. It easily beats the Gtx 1050 ti and is very close to the previous version of RX series card which is RX 470.
With this card and you will get the latest technology, 100% DirectX 12 compatibility and a much lower power consuming device. Its memory interface is 256 bit which is double than that of RX 560 and features 2048 stream processors that are more than double the amount present in RX 560.
Also see: – Best graphics cards for under $200
Specs:-
Memory
8gb Gddr5
Memory Interface
256-bit
Core Clock
1196MHz
Stream Processors
2048
Architecture
Polaris
CrossfireX
Yes
DirectX
12
Outputs
1xHDMI
1xDVI
3xDisplay Port
XFX Radeon RX 570 RS XXX Edition
Summary
Going to the $150 mark, we have a great 1080p card from AMD capable of playing every game on ultra close to 60fps. This card if bought under $150 is among the best budget cards right now.
---
#2. PowerColor AXRX 590 8GBD5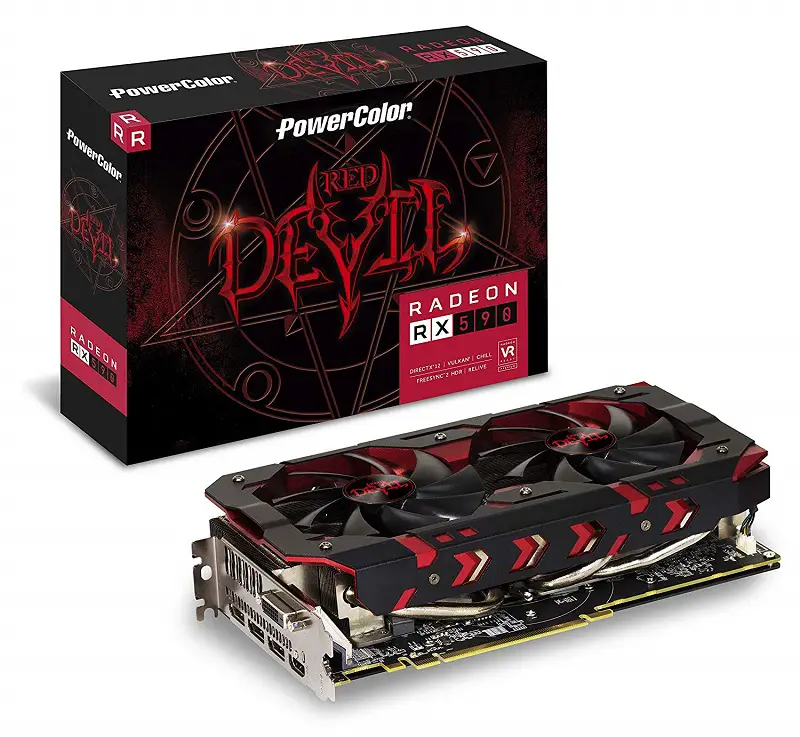 Due to the release of some new cards from Nvidia, AMD has lowered down the prices of its mid-end GPUs like RX graphics cards. Among them is the most powerful GPU in the mid-range which costs less than $250 but yet beats the RX 580 and GTX 1060 as well. This is the RX 590 which is a 1080p killer and can max out any game at full HD resolution.
Those having cash for a $700-$800 Gaming PC should definitely go with this card as this can easily provide buttery smooth experience in Triple AAA titles with over 60+fps. You can easily expect more than enough FPS in casual and eSports games like Overwatch, CSGO, and Rocket League. But as the trend is that of PUBG and other latest intensive games such as Assassin's Creed Odyssey and Battlefield V, this GPU would not fall back in performance if combined with a good CPU such as i5 9400 or higher.
As compared to the RX 580, it's roughly 7-10% faster in most of the games and is even faster than the GTX 1060 6GB edition. Although it's more power-hungry than the competitive Nvidia GPUs and requires 6+8 pin power connectors but then there is the option to overclock it more effectively to get some more fps and 8GB VRAM is more than enough for any game today at 1080p. So, this one is the best option under $250 currently.
PowerColor AXRX 590 8GBD5
Summary
The 8GB edition of RX 590 is a beast and makes even GTX 1060 6GB suffer in comparison. If the price of these two cards are similar at the time you are checking, then go with the RX 590 for the best performance.
---
#1. EVGA GTX 1660 Ti XC Black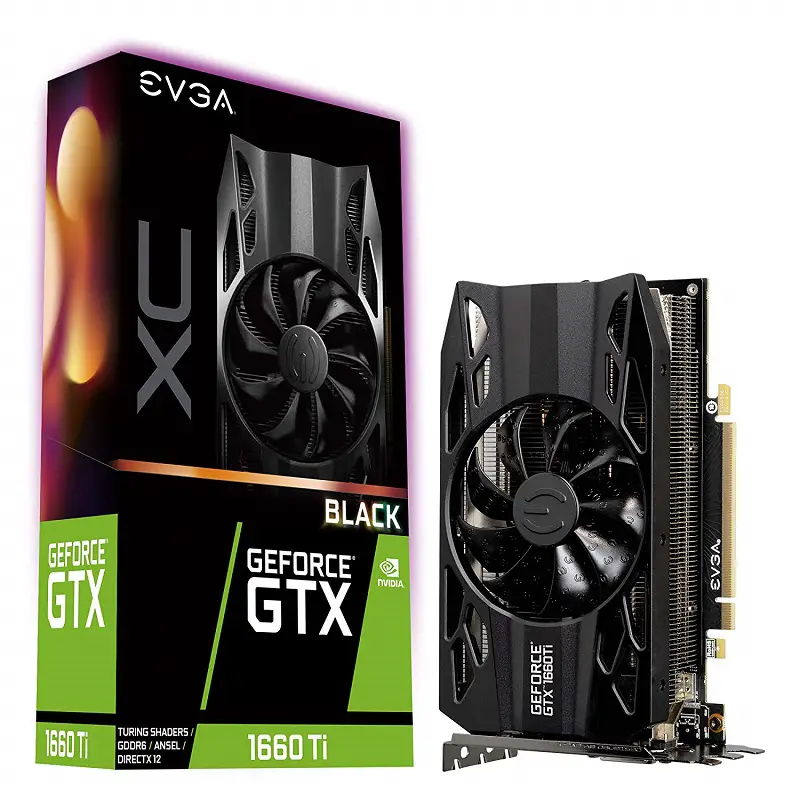 GTX 1660 Ti is the latest GPU from Nvidia that uses GDDR6 memory and is a successor to the GTX 1060 that is supposed to max out games at 1080p and 1440p. This card is a beast in performance when its price to performance ratio is compared to the previous-gen cards. In other words, it's a GTX 1070 but at a price of GTX 1060 which was initially under $300.
It features 6GB of GGDR6 memory that operates at a massive 12Gbps bandwidth as compared to the 8Gbps of GDDR5. This alone makes it very powerful in Gaming and the new Turing architecture is greatly improved over the previous architectures at the same cost.
This card although is built upon the latest Turing architecture but is not capable of Real-Time Ray Tracing which frankly isn't needed anyway. The card uses only a single 8 pin power port for power supply as it's very power efficient with a TDP of 120 watts. So, literally, you can use it on a 400 watts power supply if you want. But make sure if you buy this GPU, then you should also use a Good CPU that I recommend.
EVGA GTX 1660 Ti XC Black
Summary
GTX 1660 Ti is a powerful beastly card that can max out games even at 1440p with 60fps. You can call it the "GTX 1070" but at price of GTX 1060. For a powerful gaming experience, this is the most recommended budget gaming card right now.
---
GPU LIST (Prices as on 30th Sept 2019)
| Graphics Cards | Images | Prices | Latest Prices |
| --- | --- | --- | --- |
| XFX RX-560D2SFG5 | | $99.99 | |
| XFX RX 570 RS XXX Edition | | $149.99 | |
| PowerColor AXRX 590 8GB | | $229.99 | |
| EVGA GTX 1660 Ti XC Black | | $274.99 | |
Important things to know before you buy a Graphics card
1. Price and Requirements
Price
Make sure before you buy a graphics card, you know your budget. You can have $100 or even $500 for buying a GPU but if you are going to build a completely new PC then defining and distributing the expenditure between different components is a little difficult. If you are buying a new PC, then make sure you don't buy an overkill graphics card for your CPU. A Pentium processor can't handle RTX 2080 or GTX 1080 Ti. Similarly, a GT 1030 is too slow for an i7 9700K.
Requirements
Another important thing is to define your requirements. Without knowing what you want, you can either overspend or underspend on your graphics card. If you are just starting out and want to enjoy some eSports or Casual games then a budget graphics card will be enough for the job. But in case you want to enjoy the games on ultra textures at 1080p or higher resolution then you will need to buy higher-end graphics cards like GTX 1070 or RTX 2080 etc.
2. VRAM
VRAM is the memory that is different from the main system RAM and is only dedicated towards providing the horsepower your graphics need. Every dedicated Graphics card has some dedicated VRAM which now in modern GPUs can vary from 1GB up to 16GB. To play games on higher settings at 1080p at least, you need to have around 3-4GB VRAM on your Graphics card. If you go lower than that, then you may have to lower down some of the settings in your games for getting good frames per second.
If you want to max out textures, anti-aliasing, foliage, shadows etc. in a AAA game, then you will need at least 6GB of VRAM that is present in GTX 1060 and higher-end Graphics cards. Right now, I don't know of any game that utilizes more than that except in the case of higher resolution like 4K.
3. Cooling
Low Profile graphics cards have smaller heatsinks and therefore aren't efficient in maintaining good temperatures if you overclock them but graphics card with bigger aluminium heatsinks with copper heat pipes with 2 or more fans are extremely useful for maintaining good temperature even while overclocking to the full potential. If you are not doing any type of overclocking, you should still make sure that your PC chassis has enough ventilation for proper air intake and exhaust.
4. Power Supply
Different graphics cards have different TDP and their power consumption vary. So, you need to check the graphics card's TDP before buying it. Make sure your power supply is having enough wattage capacity to run your whole system without any bottleneck.
A system that uses low end or budget components will have no problem in running on a 400 watts reliable power supply but when it comes to running a GTX 2080 Ti, i7 9700K, Multiple Fans, AIO coolers, and several storage devices, then you will need a higher wattage power supply. Make sure you check the TDP of all of your components and see if your PSU still has enough wattage capacity to power your Graphics card.
Another important thing to note is the graphics card power ports. Make sure your Power supply has those power connectors that your graphics card requires. A GPU with 6-pin port will use a 6-pin power connector from the power supply. Generally, almost all the budget power supplies in the modern day have a 6-pin power connector at the minimum. If your graphics card has 2x 8-pin power ports, your PSU must have those in order to run the graphics card with stability.
5. I/O Connectors
Sometimes a particular graphics card from a different manufacturer will not have the I/O ports for connectivity as your monitor requires to show the display. Check the I/O ports at the back of your monitor and also the I/O ports of the graphics card you are buying.
If your monitor is a 144Hz gaming monitor, then you must have a DVI port or a DP port on your monitor/GPU to get those 144Hz refresh rate smoothness. Make sure both your graphics card and monitor have these ports to avoid the mishappening.