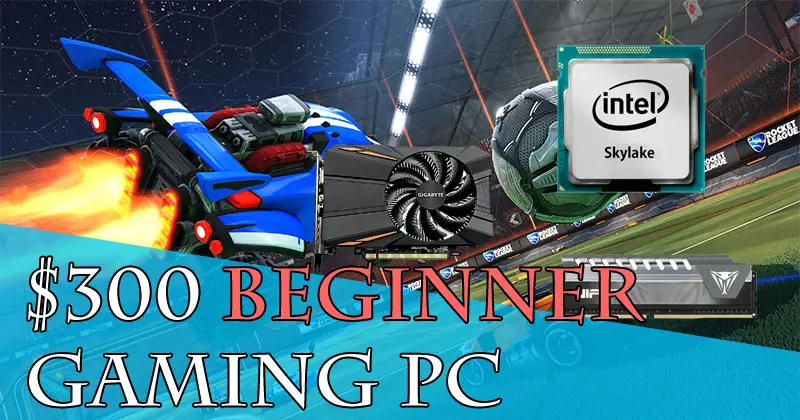 For 300-350 dollars you can build a decent PC which can play all the games at 1080p medium-high settings. This is not a high-end build and you shouldn't be expecting to max out at 1080p.
As 2018 is here, the list of components here in the post is still the best you can find.
As many gamers don't have the budget to buy an expensive gaming system, it doesn't mean that they cannot play games with just 300-350 dollars in hand. In fact, some of the best casual games, as well as some graphically intensive games, can be run on this PC.
I have selected the best components for this build. If you build it in the right way; the way I am going to explain, then you don't have to worry about any possible bottlenecking. I have carefully chosen all the components in this build in order for it to be future proof when you upgrade it. As every year new processors and GPUs launch, it becomes difficult to always keep up with the latest PC hardware trend. So, the best approach is to see which components should we use so that we don't have to change each and every part when upgrading. This is what I did with this build and I named it "THE BEGINNER".
"If you want to learn how to build a gaming PC from scratch you can get my guide from Here."
PARTS LIST
Components
Images
Check Price
Intel Pentium G4400
MSI H110M Pro-VD
Patriot Viper Elite Series
4GB DDR4
GIGABYTE GeForce GT 1030
low profile
Western Digital 320GB
EVGA 400 N1
Rosewill SRM-01
---
Processor
Intel Pentium G4400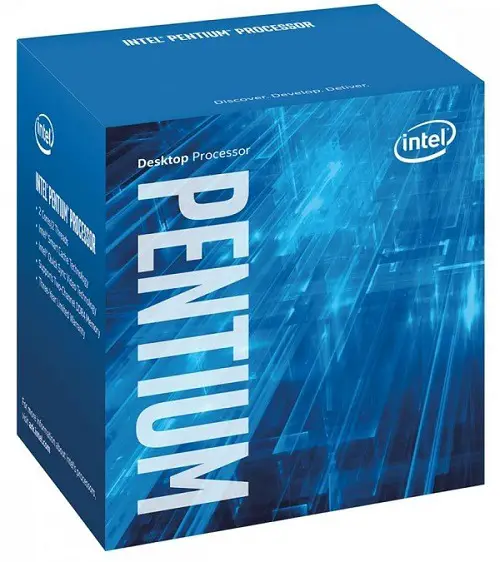 I have to keep changing the processors in this build because this budget is very critical. Prices of components in this category change very quickly. I previously used Pentium G4560 which is among the best budget processors and has 2 cores and 4 threads but the problem is the cost. But right now most of the Pentium processors are out of stock and the only Pentium left is G4400 which is also high in price right now. But still, I will try to save as much as money possible through different components without compromising performance.
As for this chip, it's not entirely a bad processor at all even though it is a dual-core CPU. Sure it gets beaten by Pentium G4560 but if you remember the performance of unlocked Pentium G3258, then you can expect similar performance from this processor too.
This processor can handle any budget graphics card without breaking a sweat and games like Rise of the Tomb Raider will have no problem running on it just like an Intel core i3 because most of the games are mostly GPU dependent. Of course, GTA V and Witcher 3 will be bottlenecked a little but you shouldn't expect much from this budget. This build will be mainly focused on playing games like CSGO, Overwatch, WOW, Rocket League, Bioshock infinite etc. These are the games for which this processor will come out to be the best bang for the buck.
It has 2 cores and is clocked at 3.3Ghz which is a fine clock rate and cannot be overclocked, so we will choose the other components just like it which will help us reduce the overall price.
The Pentium G4560 which I used previously is used in my $400 gaming build if you would like to spend a little more because that will also provide a decent gaming experience. With entry-level graphics cards, this one wins over many processors that come under $100.
Also see:- Best CPU for Gaming
---
Motherboard
MSI H110M Pro-VD Plus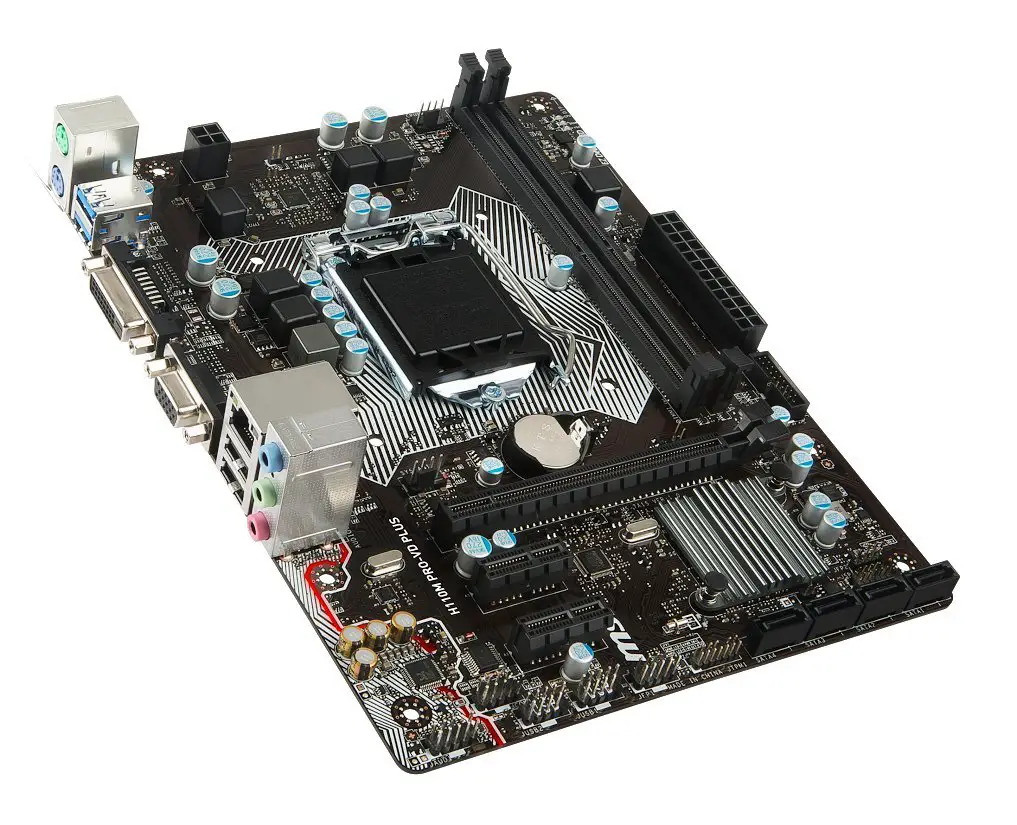 Getting a decent motherboard for this build is easy right now as a variety of motherboards with LGA 1151 socket are available for a cheap price. There are motherboards from manufacturers like ASRock which also provide fine motherboards, but right now for less price, MSI is providing you with one of the quality motherboards that are durable and are among the top performing motherboards that gamers buy on a budget.
My main focus was to choose a motherboard that will support all the components like GPU, CPU, RAM, HDD etc. and also be able to upgrade to high end builds. This one supports all the Skylake as well as Kaby lake motherboards from Intel Celeron to Intel Core i7s. So in future, you probably do not have to worry about its compatibility with these CPUs. But as for the specs, it has 2xDIMM slots that support up to 32gb of memory clocked at 2133Mhz which is very basic.
There is one PCI-E x16 slot for your graphics card, 2xPCIE x1 slots for sound/wifi cards. For storage, you have 4x SATA 3 ports that will support your hard drives as well as SSD's and for cooling, you have an additional 4 pin power port for chassis fan in the middle. For front ports, you will get the basic USB 2.0 header at the bottom and one USB 3.0 header on the right middle side of the motherboard.
This motherboard will be enough for locked processors like i3 7100/6100, i5 6400/7400 etc. but if you ever go with an unlocked processor in the future, you will be limited to overclocking. Well, that's a totally different story that I am telling you for extra information but currently, this motherboard has everything that you need. If you want to know more about it or any other component in this list, you are always welcomed in the comment section.
Also, see:- Best motherboards under $100
---
Memory
Patriot Viper Elite Series 4GB DDR4

I have used a single stick of 4 gigabytes of memory from Patriot. 4gb is the minimum and you may suffer some stutter especially in games like Battlefield 4 and Middle Earth: Shadow of Mordor. but still, in most of the games, 4gb of ram is enough for running any casual game at any resolution.
This memory is clocked at 2133Mhz which is exactly how much the motherboard I chose for this build will support. Currently, other DDR4 memories are much more expensive than this one and this is a good memory module that comes around $40.
The stick has aluminium heat spreader on it which eliminates heat when you do overclock or heavy gaming. You will also get a limited lifetime warranty with this ram and you will be able to add another 4gb stick in another DIMM slot as the motherboard we chose has 2 DIMM slots.
---
Graphics card
GIGABYTE GeForce GT 1030 Low Profile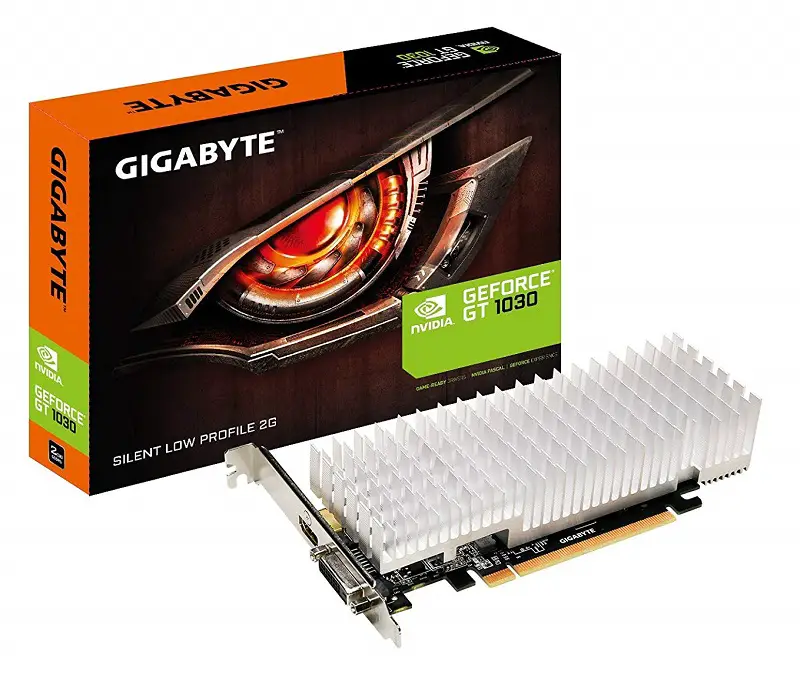 This is one of the best budget graphics cards today and now at a price of $80. Previously I used the RX 550 which is actually a faster card but that right now costs $110 or more. So to make the total expense as much as close to $300,  I chose the GT 1030 graphics card which is among the best cheapest GPUs that you can buy right now. It has 2GB of GDDR5 VRAM which is enough for medium settings at 1080p.
It is from Gigabyte and features a very basic aluminium heatsink with a single small fan that should do a fine job in dissipating heat but it is not meant for overclocking. The card features a core clock of 1227Mhz at Gaming Mode with a boost up to 1468MHz and 1195Mhz at OC mode with a boost up to 1506 MHz which is definitely a great thing for such a low profile graphics card. For output, you can use HDMI or DVI port which is all you need.
It can let you play all the games at 1080p on medium settings providing you at least 40+fps in most of the moderately graphical intensive games and more than 60 fps in eSports games like CSGO, Overwatch and Rocket League on medium settings. This is a perfect starting for budget gaming and will not exceed $300 mark that much.
---
Storage
Western Digital 320gb
As games are becoming huge, you need a good storage size. 320gb is not more than enough but still, it can store many of your games. As the 500gb hard drive is double the cost, therefore, you will only increase your expense and still not get enough space. You can store many games on this drive but may face problems storing setup files.
This hard drive runs at a speed of 7200rpm and has a cache memory of 8mb. With 7200rpm your loading times and booting times will decrease a lot and you will get faster operations.
---
Power supply
EVGA 400 N1, 400 Watts
When it comes to power supply, a lot of people buy cheap power supply saying that they don't have a high-end graphics card and it will handle all the components easily. But NO! it is really important to buy a power supply from a trusted and reliable brand. EVGA provides very good power supplies at all budgets and in different wattage.
This one is a decent power supply, not top of the line and neither a bad one. It comes in between and is sufficient to power all of your components allowing you to upgrade your rig further to add custom fans, hard drives or CPU cooler. Previously I used a 430 Watts PSU but right now the prices of most of these power supplies are above $40 so, I used this instead.
But saving small, small amounts will help us in getting the budget around $300 and this one will not reduce the performance at all. Because all it does is supply the power. You will get 2 years of warranty and better reliability over the cheap brands.
---
Case
Rosewill SRM-01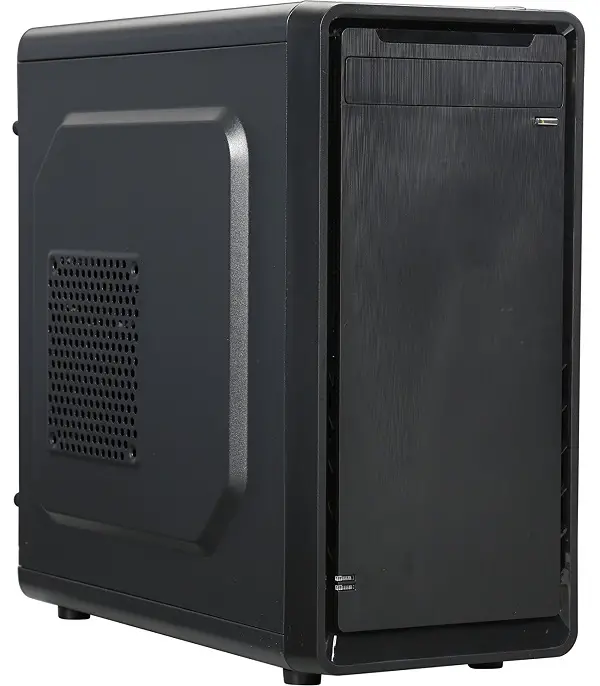 For the build, previously I chose the Rosewill FBM-01 which is also used in my $250 gaming build previously but sometimes that case isn't available so, again I have used the SRM-01 which gets the job done on a tight budget. The case is cheaper than many Micro-ATX cases and has good quality material. The side panel has a honeycomb-like mesh for better ventilation which can be used for installing a 120mm fan and a 120mm fan is also pre-installed at the rear. So you will have good air circulation throughout your case for better cooling.
This case is completely white from inside and black from outside. The build is good and it has enough space to install the components without any hassle. It supports Mini-ITX as well as Micro-ATX motherboards, therefore, you can use either one in this case. Graphics card is also not an issue as there is a lot of space left below where you will install it. The hard drive bays are above the Case fan and you can install one fan or two fan GPU easily.
---
TOTAL~$362(As of 14th Feb 2019). High prices due to Pentium
[You can switch to i3 8100 and an H310 motherboard if you find the Pentium expensive at the time of reading]
---
Related: Best Cheap Gaming PC
Recommended Peripherals for this build:-
Monitor: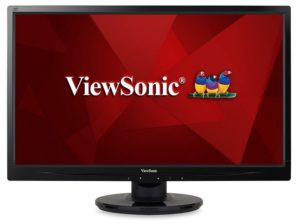 ViewSonic VA2446M: Check on Amazon
24-Inch Full HD 1080p (1920x1080p) 16:9 LED Computer Monitor with DVI-D, and VGA Inputs. 

10M:1 Dynamic Contrast Ratio; Two Built-In Speakers; Compatible with Mac, and Windows; ideal for both laptops and desktops; VESA mountable

3-year Limited Warranty
Keyboard/Mouse: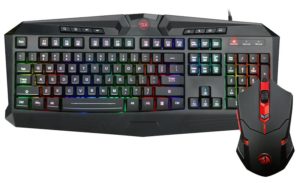 Redragon S101 gaming Keyboard/M601 Mouse: Check on Amazon
Keyboard: RGB Illuminated Redragon Gaming Keyboard: 

Mouse: Ergonomic Redragon M601 Centrophorus Backlit Gaming Mouse 3200 DPI (1000/1600/2400/3200 4 level DPI adjustment)

6 buttons, and an 8-piece weight tuning set (2.4g x 8). Durable smooth TEFLON feet and contoured body for ultimate gaming control. Quality ABS construction and two programmable side buttons
Wifi:
TP-Link TL-WN881ND wifi card: Check on Amazon
Easily setup a highly secured wireless link with WPS

Hassle-free installation

Seamlessly compatible with 802.11n/b/g products

Industry-leading 2-year warranty 
---
Have any doubts? Ask in the comments below