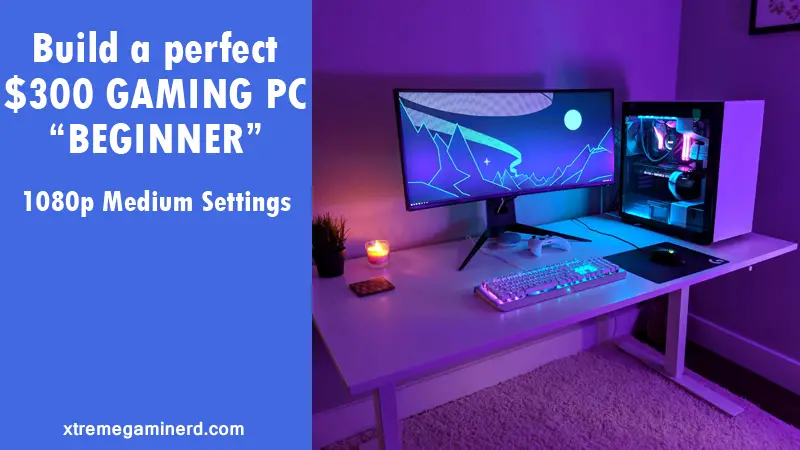 Our $300 gaming PC has been the most popular among all the builds we have here for our readers and we try our best to provide you with the top choices you can afford for less money.
The $300 "Beginner" Gaming PC has fulfilled many gamers' needs without breaking the bank and if you are new to this page, then consider bookmarking this before you leave so that when you check out all the other builds on different places of the internet, you can make up your mind before your purchase.
Right now, it's very difficult to build a $300 gaming PC with a graphics card as the cost of budget GPUs is way higher than it should be. This forces us to adopt hardware that saves us money without compromising much on performance.
Following is a list of recommended PC hardware that gets you one of the best $300 PC builds in 2022. Go through each section to know why I chose each part and what you can expect from this build.
---
PROCESSOR
AMD Ryzen 5 5600G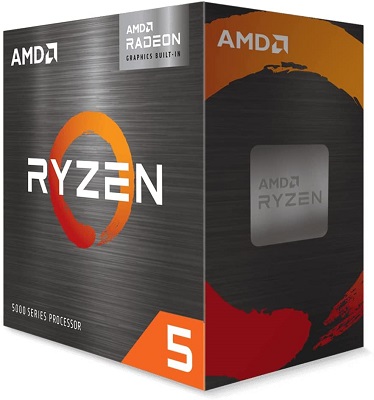 In 2022, we have a lot of options in the CPU market for literally any budget PC build ranging from as low as $200 and as high as $800. In the past, AMD used to have Ryzen 3200G and 3400G but they are now more expensive than ever after the release of Zen 3-based APUs. For this build, I suggest going with Ryzen 5 5600G APU that features 6 cores and 12 threads. This is an insanely powerful CPU that is not going anywhere before 5-6 years and would continue to provide a good experience with either its iGPU or dedicated GPU.
Its cores are clocked at 3.9GHz/4.4GHz base/boost clock and feature a low power consumption of 65W TDP. Again, this is an overclockable CPU, so you can increase its clock speed by increasing the voltage which in turn will increase the total power consumption. However, its stock CPU cooler, the Wraith Stealth is sufficient for mild overclocking and will control the overheating to a good extent.
GRAPHICS CARD
VEGA 7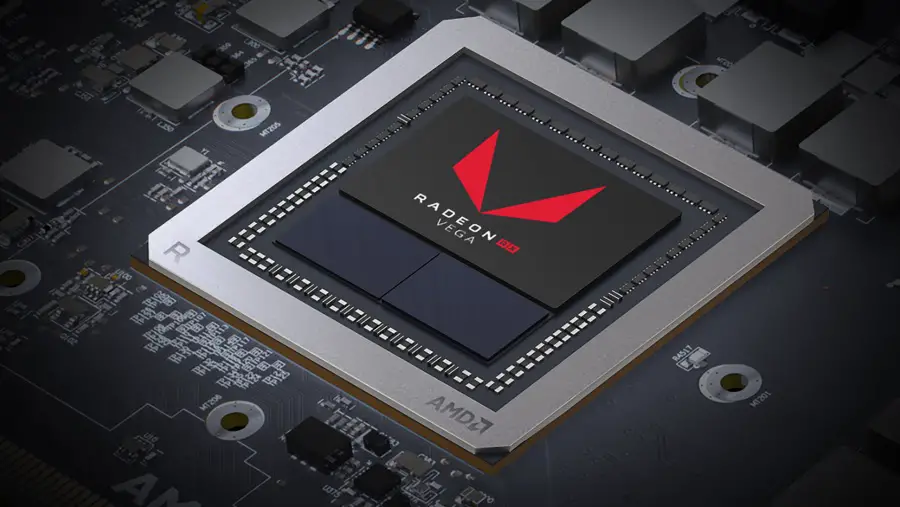 Instead of using a dedicated GPU, we are going to go with the iGPU of Ryzen 5 5600G. The current state of budget GPUs is not good enough to buy a discrete GPU for $100 or less, therefore, the total expense increases to $400 if we use a decent discrete GPU. On the other hand, Vega 7 on the 5600G comes inbuilt on the CPU and gives a decent performance at 1080p resolution. You can expect low to medium settings gaming with 40 fps on an average on most titles.
MOTHERBOARD
MSI A320M PRO-VH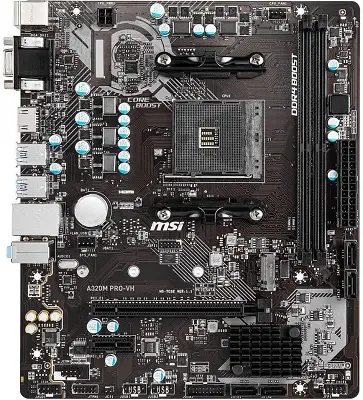 To save cost as much as possible without compromising much on performance, I chose the MSI A320 chipset motherboard. Unfortunately, it can't overclock but going with a B450 or B550 chipset motherboard will increase the overall cost significantly. In our $400 build, we chose a B450 motherboard which will unlock some more power but for this build, it is not possible to go with a better option.
MSI is the best motherboard manufacturer when it comes to budget motherboards and mostly due to one reason. Unlike other manufacturers, MSI equips its budget boards with EZ Debug LEDs which are really helpful in troubleshooting PC malfunctioning issues. On top of that, it has a Steel Armor PCI-E x16 slot for added strength to support a dedicated graphics card. You will find all the important slots and ports to install your devices and upgrade in the future except for overclocking.
As this is a Micro-ATX motherboard, you can install it in both Micro-ATX and ATX cases giving you more flexibility in choosing a PC case.
RAM
Patriot Signature Premium DDR4 8GB

RAM is as important as getting enough cores for gaming. RAM has its own bottleneck that affects gaming performance adversely no matter what CPU or GPU you have. Therefore, to get started we are going to use 8GB of DDR4 RAM from Patriot. Currently, the cost difference between a 4GB and 8GB RAM module is very less and for a couple of more bucks, you can get a high-frequency memory like this one that is clocked at 3200MHz. Moreover, you can add one more RAM stick in the future as the motherboard I recommended has two DIMM slots.
STORAGE
TEAMGROUP MP33 256GB SLC

In 2022, it's stupidity to go with a mechanical hard drive except if you can get one for dirt cheap. SSDs are priced much cheaper these days and not only you can get a SATA SSD for a super low price but you can also get an M.2 SSD for the same price that delivers super high transfer speeds. TeamGroup MP33 256GB SLC can store your OS, applications, and a few of your games for a while. Its Read/Write Speed is 1600/1000MB/s which is although not the fastest but because it is available for just 30 bucks, it makes it an ideal choice for this budget build.
POWER SUPPLY
Thermaltake Smart 430W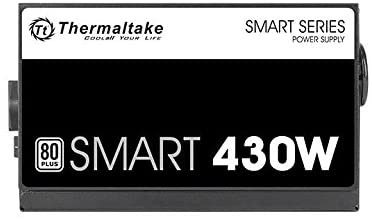 Currently, a lot of budget power supplies that are in the range of 400-500W are not available and some are more expensive than they used to be. While Apevia power supplies are cheap, if you buy a 400-500W PSU, they aren't reliable and heat up very quickly. The TT Smart 430W is rated at 80 Plus which means more than 80% of power efficiency most of the time and comes with 5 years of warranty
Thermaltake's 430W Smart power supply will cost you $30 and will increase the build's overall cost but it's much more reliable1)https://www.overclockers.com/thermaltake-smart-series-430w-review/ and provides all the connectors for powering up your components. As we are not going to use any dedicated graphics card in this build, you won't need any PCI-E connectors. However, for a future GPU upgrade, you can add a discrete GPU as this PSU has 2x PCI-E 8-pin connectors to provide sufficient power to budget to mid-end graphics cards 2)https://www.thermaltake.com/smart-430w.html.
PC CASE
Cooler Master MasterBox Q300L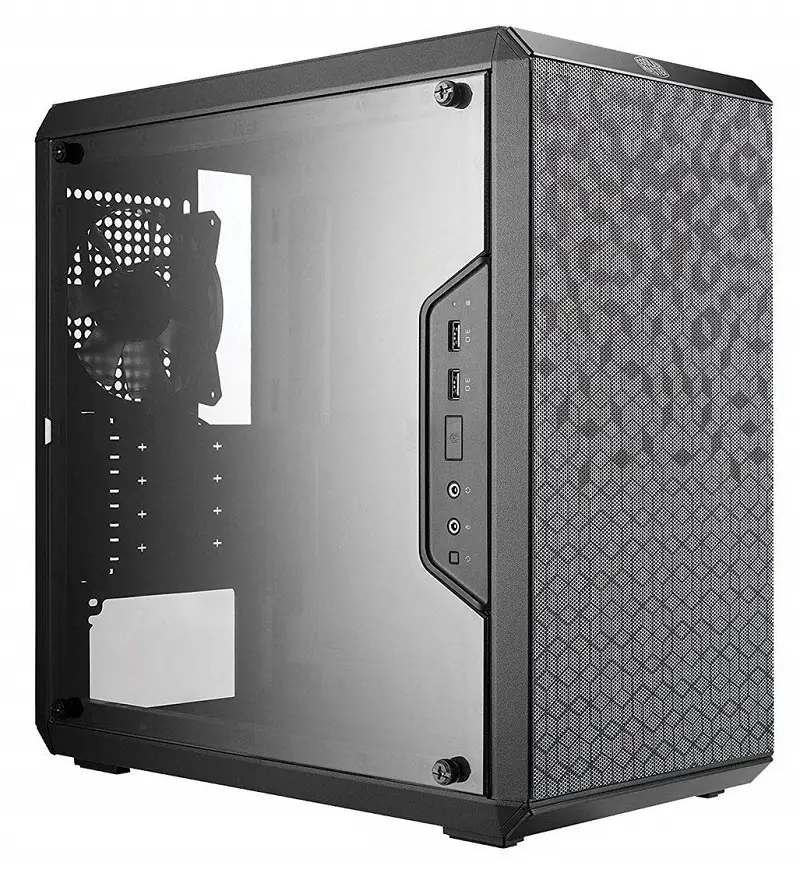 Finding a decent PC case for around $30-$40 is impossible right now. A few years back it was much easier to get a case for 30 bucks for this $300 build but now every decent entry-level case starts with $50. Therefore, the MasterBox Q300L is going to be your budget buy. It is a Micro-ATX form factor case that supports mini-ITX and micro-ATX motherboards but is still spacious from the inside.
I have built a computer using this case for one of my relatives and it was super easy for me to install everything without any hindrance. It features an acrylic side panel for see-through and front panel ports that are easy to access on the side. It comes with dust filters on both the top and front that filters the incoming air but still allows decent airflow for continuous cooling.
The routing holes are big enough for cable management and the motherboard plate cutout is also big to install aftermarket CPU coolers without the need for removing the motherboard out of the case. The best part is that if you ever want to install a graphics card, you won't have any problem in doing that as it supports graphics cards measuring up to 360mm. Definitely, a well-designed case for 50 bucks.
---
Total- $330-$360
Why you should build your PC by Yourself?
This is the most important question for you and it's because if you waste $300 on a crap pre-built computer or on terrible parts without knowing, then you are gonna regret it for a long time. $300 is a low budget for building a Gaming PC, yet it's still your hard-earned money that you will lose forever. As not everyone is a millionaire on the planet, it's best to use this money logically and with reason.
There are several benefits of building your own PC. Seven of them are obvious and must be known:-
You get to know more about computers and how each part works.
You know what components you are using on your PC.
You avoid wastage of money on parts that are expensive yet perform poorly.
You develop knowledge on how to build your own computer that helps you to save money by not going to a PC shop.
Building a PC for your family members and friends increases your experience and gives you a helping hand.
The best value for money is obtained.
By regularly building computers, you keep yourself up to date with the latest trends in the computer industry.
Recommended Peripherals
(Caution:- These will increase the overall cost of your gaming setup)
MONITOR
AOC G2490VX

For a smoother gaming experience and for fast-paced games like CSGO, I recommend going with a 144Hz monitor. A 60-75Hz monitor usually costs around $100 and the AOC G2490VX costs $140 but features a 144Hz refresh rate and AMD FreeSync support which you will be going to enjoy as this build is using an AMD graphics card.
AMD FreeSync helps in removing the tearing in gameplay and syncs the refresh rate to the fps to cancel any input lag you see on your screen3)https://www.amd.com/en/technologies/free-sync-faq.
KEYBOARD-MOUSE
Havit Mechanical Keyboard-Mouse Combo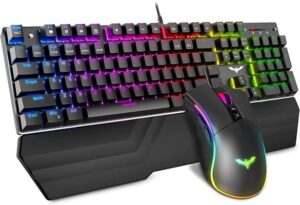 For this build, you most probably are going to use a cheap gaming mouse keyboard combo and most likely you are going to spend around $30 if not more. In this budget, most probably you will end up going with a membrane keyboard but Havit provides a spectacular combo for $35 that has a mechanical keyboard with custom blue switches and an ideal fps mouse.
Both the keyboard and mouse are using RGB LED backlighting and their effects can be changed from the buttons provided on them. These are more reliable than any $30 combo that contains a keyboard, mouse, mousepad and headset.
MOUSEPAD
GGLTECK Large Gaming Mouse Pad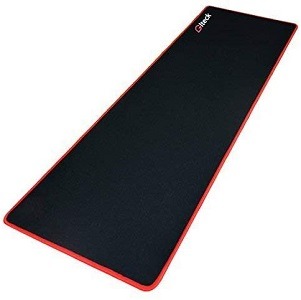 If you would like to invest in a good gaming mouse pad, then you should get a larger mousepad for good mouse mobility otherwise you can also get a cheap one if you are short on cash. This one is priced at $16 and lets you put both your keyboard and mouse on it and provides a better look to the overall gaming setup.
HEADSET
VOYEE Gaming Headset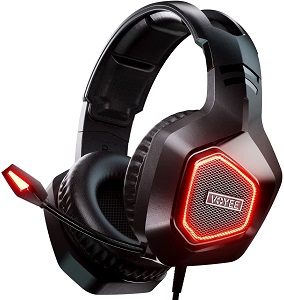 It's important to know where your enemy is and it's difficult to know it without a headset. There are several budget headsets for less than $30 but this one is dirt cheap. For just $12, this is a decent gaming headset that features RED LED lights on the earcups and is compatible with almost all consoles, PC, Mac, etc. You also get a dedicated mic to communicate with your teammates and an adjustable headband.
---
BEST UPGRADES
To achieve better gaming performance or better productivity, you need to upgrade some of the PC parts and while you may not be able to do this right now, save this post for future references. This PC build can be upgraded anytime and most of its parts are changeable. Here are some of the components I would suggest upgrading if you want a significant increase in gaming performance.
MOTHERBOARD
MSI MPG B550 Gaming Edge Wifi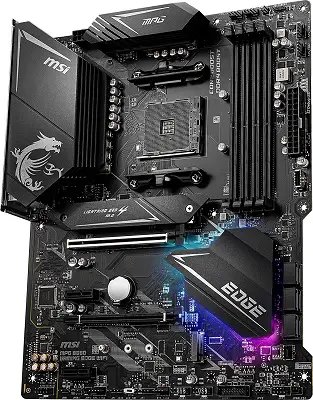 Ryzen 5 5600G is an overclockable APU that has both CPU and GPU overclockable. However, the only way to do so is using a chipset like B450, B550, X570, etc. Currently, the latest and best budget chipset to use with the Ryzen 5000 APUs is the B550. MSI MPG B550 Gaming Edge Wifi comes with a strong enough VRM to do strong overclocking and its heatsinks will be adequate for continuous cooling.
It comes with 4x DIMM slots to further upgrade your RAM to whatever size you want and has several PCI-E slots for expansion cards. Moreover, you will get a lot of USB ports and more M.2 slots for adding peripherals and M.2 SSDs respectively.
CPU COOLER
Noctua NH-U12S Redux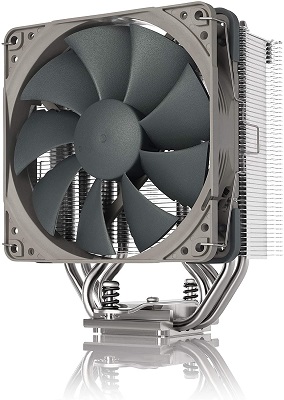 AMD's stock cooler won't be enough for good overclocking. The temperatures will be in the high 80s or even 90s, therefore, getting an aftermarket CPU cooler will be a game-changer. Noctua NH-U12S is a very popular single-tower CPU cooler that is incredibly good in both performance and silent operation. It uses copper heat pipes and a high air pressure Noctua fan to maintain a lower temperature no matter how hard you go in gaming.
GRAPHICS CARD
Nvidia Geforce RTX 3050(or Higher)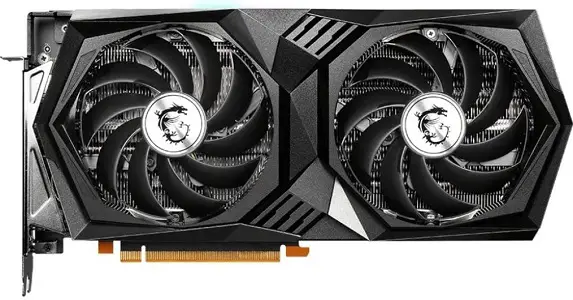 Ryzen 5600G can handle most mid to high-end graphics cards easily. Hence, there is nothing to worry about if you are going to upgrade to a powerful GPU. However, taking everything into consideration including the parts like the RAM size and Power Supply capacity, I recommend upgrading to a Geforce RTX 3050 8GB GPU that is as powerful as the GTX 1660 Super from the previous Nvidia generation. This will ensure you get 60+ fps on ultra settings which will be a great uplift from Vega 7.
PC CASE
NZXT H510 Flow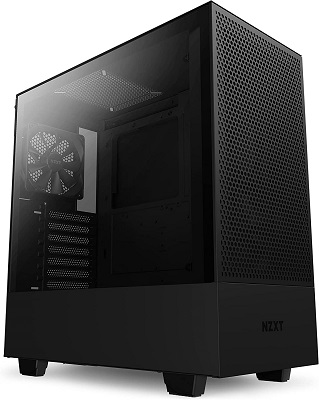 If you upgrade to a full-ATX form factor motherboard as I recommended, you need to upgrade your PC case first. The NZXT H510 Flow is a premium chassis that is made up of quality material and allows even better airflow from the front panel. It features a full-length PSU shroud to hide your PSU and all unnecessary stuff inside it. All of your current components, as well as additional parts, will easily fit inside it and the cable management will be a breeze.
---
FAQ (Most Asked Questions Answered)
How do I build a gaming PC?
To build a gaming PC you just need to know where each component is plugged in. I am listing down below where each part will go:-
CPU– It goes into the motherboard socket that is present in the middle of the board
RAM– Memory modules are to be inserted in the DIMM slots which are on the right side
CPU Cooler– This cooler is directly installed onto the CPU and each cooler has a different way of the installation which will be present in the CPU cooler manual itself
Graphics card– Graphics card uses the PCI-e x16 slot of your motherboard which is present below the CPU socket and is the widest slot you can have on a motherboard
Hard drive or SSD– These are not installed directly onto the motherboard but are connected via a cable. The ports are generally located on the right side of the board
Power Supply– This component has the cables which supply power to the motherboard and there are several connectors that you have to connect.
– 24 pin ATX power cord- This connector is inserted onto the 24 pin port on the motherboard
– 4 or 8 pin EPS power cord- This connector is for supplying power to the CPU and is inserted in the top CPU port which is present at the top left side of the PCB
– 6 or 8 pin PCI power cord- This connector is for powering up the graphics cards. A GPU may or may not have a port for using external power. If it does, then usually it ranges from a single 6-pin port up to 2x 8-pin ports.
If you want a complete guide on how to connect these, then download our guide for easiness in the building.
Will the Power Supply used in it be sufficient for upgrades?
Most of the time a 400-500W PSU is used in this build which is fine for a few upgrades like some more fans, a CPU cooler, a storage device, or a mid-tier GPU but if you want to upgrade to a better motherboard, processor,  high-end GPU, cooling solution and storage devices altogether, then you should definitely upgrade your power supply.
Is it cheaper to build or buy a gaming PC?
Generally, it's much cheaper to build a gaming PC than to buy a pre-built one. The companies that build a complete system include so many additional charges that the original cost of the build can easily go higher than 40% or at least up to 20% in general.
---
Wrapping Up
I am sure there won't be a better option for components or peripherals that I recommended for this build that will give you the best value. Yes, there are some alternatives you can go for, but overall this is the best possible build for $300-$350. If you face any difficulty in building your PC or if you are confused about anything, you can put your comment in the comments section below.