Gaming Builds
Best $300 GAMING PC for upto 1080p Medium/High Settings
Cheap Gaming PC under 300 dollars

This is the best $300 Gaming PC you will find today
For 300-350 dollars you can build a decent PC that can play all the games at 720p up to 1080p at medium-high settings. This is not a high-end build and you shouldn't be expecting to max out at 1080p.
As 2020 is here, the list of components here in the post is still the best you can find.
As many gamers don't have the budget to buy an expensive gaming system, it doesn't mean that they cannot play games with just 300-350 dollars in hand. In fact, some of the best casual games, as well as some graphically intensive games, can be run on this PC.
I have selected the best components for this build. If you build it in the right way; the way I am going to explain, then you don't have to worry about any possible bottlenecking. I have carefully chosen all the components in this build in order for it to be future proof when you upgrade it. As every year new processors and GPUs launch, it becomes difficult to always keep up with the latest PC hardware trend. So, the best approach is to see which components should we use so that we don't have to change each and every part when upgrading. This is what I did with this build and I named it "THE BEGINNER".
Watch the following video if you are interested more in video type content. The video is in the Hindi language, so it will be good for the people of India. The cost will be around Rs 25000 which is more than $300. Do give it a like and subscribe to my Youtube channel if the video helps you in a way or another:-
"If you want to learn how to build a gaming PC from scratch you can get my guide from Here."
---
CPU
No matter what budget you have, Ryzen 3 3200G is the ultimate choice for any budget gaming build. It's the fastest APU for $90 which provides the best gaming experience with integrated graphics. While getting a dedicated graphics card is still a better option, but for $300 gaming pc, it's right now not a wise decision to go for a dedicated CPU and GPU if both of them cost around $200 alone. Ryzen 3 3200G has Vega 8 graphics which use the system's RAM for graphics and as it is overclockable, you can easily bump up the graphics in your game after overclocking both its CPU and GPU.
MOTHERBOARD
For various reasons I used to choose the cheapest motherboard for this build but right now it's fairly easier to get a good motherboard for a cheap price as some of the boards have become cheaper. For Ryzen 3 3200G, you should never go below a B450 chipset motherboard as the APU is overclockable and you won't be able to benefit from the extra performance if you just use a simple A320 chipset motherboard. This motherboard has a very good VRM with 6+3 power phases that use doublers for better stability while overclocking. It can support up to 4 RAM sticks with up to 64GB of total RAM and features 2x M.2 slots for NVME SSDs.
RAM
For RAM, it's better to stick to 8GB of DDR4 RAM which will ensure that your system won't face any bottleneck while gaming. Currently, going below 8GB is not recommended at all even with a budget gaming PC as games are now more RAM hungry than before. At a resolution of 1080p, you must use 8GB to provide your PC more than enough memory to be used in games and applications, and as the motherboard we are using in this build has several DIMM slots, you can upgrade your RAM at any time.
STORAGE
An 240GB of fast SSD will ensure that your operating system, as well as games, boot as fast as possible. As the prices of SSDs have gone very low, a 240GB of SSD costs half of that of a 1TB traditional hard drive. The best thing is that your total cost won't exceed our target that much. Previously I used a single 500GB SSD but right now the prices of other components have risen up which made the total cost higher, so I used this one instead. 240GB should be Ok for a few games and applications and you can upgrade to biggers storage anytime you want.
POWER SUPPLY
For powering the whole system, I recommend going with the EVGA 400 N1 power supply that has got more than a thousand positive reviews due to its reliability even though it costs less than $30. It's very important to choose a good power supply for your components or you will risk your whole money that will mess up with your whole build at the end. Although it's not the best you can get but it's better than $10 power supplies that feature "500" watts but can damage your components at any time. This power supply has all the cables required to supply the power to CPU, Motherboard, and even to the graphics card if you add in the future.
CHASSIS
Lastly, for the casing, I chose the AeroCool Cylon RGB Mid-tower case that has a vast space inside for easy building and cable management. This case looks simple from the outside and from inside and is way better than most of the mid-tower cases I used previously for this build. It has enough room for a long graphics card, up to 6x 120mm fans, and even for a 120mm radiator at the front. It has an Acrylic side window panel to look inside and a full-length PSU shroud for hiding the PSU and extra cables.
---
PARTS LIST
Why you should build your PC by Yourself?
This is the most important question for you and it's because if you waste $300 on a crap pre-built computer or on terrible parts without knowing, then you are gonna regret it for a long time. $300 is a low budget for building a Gaming PC, yet it's still your hard-earned money which you will lose forever. As not everyone is a millionaire on the planet, it's best to use this money logically and with reason.
There are several benefits of building your own PC. 7 of them are very obvious and must to know:-
The first one is that you get to know more about computers and stuff.
You know what components you are using on your PC.
You don't waste money on parts that are although expensive, yet they perform poorly.
You learn how to build your own computer that helps you to save money by not going to a PC shop.
You can build PC of your family members and friends or you can at least install a part or two without anyone else help.
You get the most value out of your money by investing in only those things which are good.
You become up to date with the latest components and can compare different parts.
Recommended Peripherals

Ryzen 3 3200G isn't a very strong APU that can provide you 100+ fps at 1080p in most of the games, so it's better to settle with something cheaper and with a lower refresh rate display. Asus VG245H is a 24-inch 1080p monitor with a 60Hz refresh rate which can be overclocked up to 75Hz. As this monitor also supports AMD FreeSync, AMD Ryzen 3200G is a perfect choice for gaming that will remove any type of tearing.
Keyboard Mouse Headset Combo-
SportsBot SS301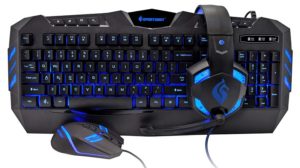 For a build costing $300, I don't recommend going with an expensive keyboard, mouse, and headset. Although it's important to have a decent combo of peripherals but a good combo will easily cost above $100. This combo from SportsBot costs only $30 and provides a keyboard, mouse, and a headset that is rare to find at a price like that. It will work for a year easily but don't expect it to work for several years.
Each of these peripherals has an inbuilt blue LED backlighting and the mouse has DPI buttons along with thumb buttons for additional operation. The keyboard is a membrane one, so don't expect it to provide you with tactile or clicky feedback upon clicking but the multimedia keys are surely a good addition to a cheap keyboard like this.
FAQ (Most Asked Questions Answered)
How can I make a 300 dollar gaming PC?
To build a gaming PC you just need to know where each component is plugged in. I am listing down below where each part will go:-
CPU– It goes into the motherboard socket that is present at the middle of the board
RAM– Memory modules are to be inserted in the DIMM slots which are at the right side
CPU Cooler– This cooler is directly installed on to the CPU and each cooler has a different way of the installation which will be present in the CPU cooler manual itself
Graphics card– Graphics card uses the PCI-e x16 slot of your motherboard which is present below the CPU socket and is the widest slot you can have on a motherboard
Hard drive or SSD– These are not installed directly on to the motherboard but are connected via a cable. The ports are generally located on the right side of the board
Power Supply– This component has the cables which supply power to the motherboard and there are several connectors that you have to connect.
– 24 pin ATX power cord- This connector is inserted on to the 24 pin port on the motherboard
– 4 or 8 pin EPS power cord- This connector is for supplying power to the CPU and is inserted in the top CPU port which is present at the top left side of the PCB
– 6 or 8 pin PCI power cord- This connector is for powering up the graphics cards. A GPU may or may not have a port for using external power. If it does, then usually it ranges from a single 6 pin port up to 2x 8 pin ports.
If you want a complete guide on how to connect these, then download our guide for easiness in the building.
How much fps or performance I can expect from this PC?
This is another great and important question. As right now you won't be using a dedicated graphics card for this one, you won't be able to play on high settings at 1080p but rather on medium settings at 720p/ 768p and some games even at 1080p with smooth frame rates which is still a good thing considering how much you are paying for this system. A pre-built system can't even run the latest games with 20 fps at 720p if you buy for only $300. Take a look at the following video to know how much fps you will get in different games.
Can I upgrade to a better processor like Ryzen 5 3600 in the future?
This PC uses a B450 chipset motherboard which supports all the AMD Ryzen processors till the 3rd gen CPUs. Ryzen 5 3600 will be totally fine with this motherboard and you can overclock it to get more performance. But keep in mind that you will have to buy a dedicated graphics card in order to play games with that processors as Ryzen 3600 doesn't come with an integrated GPU.
Will I have to upgrade my processor or motherboard for using a dedicated graphics card in it?
No, you don't need to upgrade the processor or motherboard for a dedicated GPU. Ryzen 3 3200G can easily support mid-tier GPUs without bottlenecks. You can buy a GTX 1650/1660 or something similar to use with it to game at 1080p ultra settings. But if you are planning to buy something higher than that then consider upgrading to at least Ryzen 5 3600.
Will the Power Supply used in it be sufficient for upgrades?
Currently, you can find a 400 watts or 450 watts PSU used most of the time in this build which is fine for a few upgrades like some more fans, CPU cooler, a storage device or a mid-tier GPU but if you want to upgrade to a better motherboard, processor or a high-end GPU, then you should definitely upgrade your power supply before that.
Is it cheaper to build or buy a gaming PC?
Generally, it's much cheaper to build a gaming PC than to build it. The companies that build a complete system include so many additional charges that the original cost of the build can easily go higher than 40% or at least up to 10-20% in general.
TOTAL~$345 (As of 20th June 2020)
---
Let me Know!
When you combine all of these components, I don't think there will be any better option for anything that I recommended will give you the best value for your money. Yes, there are some alternatives you can go for, but overall this is the best possible build you can get right now for $300-$350. If you face any difficulty in building your PC or if you are confused about anything, you can put your comment in the comments section below.