Quick Reminder
The total cost of our gaming builds generally don't exceed the target budget. We always pay attention to the final cost and each of our builds strictly remains under a particular budget most of the time
If you are looking for a gaming PC under $500 that can play your games smoothly without any stutter, keep reading because you are in the right place. In 2022, $500 might not get you a beast gaming PC but it is adequate for getting an exemplary configuration that can last for at least 3 years.
While you can get a PreBuilt gaming PC under $500 if you want to save time, we always recommend building one by yourself as the quality of parts will be superior and upgradability will be easy. The $500 Gaming PC we have listed here will play all of your games with around 50-60 fps on medium to high settings with some games reaching above 60 fps even on high settings.
This is truly one of the best budget gaming systems to start your gaming journey and you will be officially a part of the PC Master Race. In order to provide you with the best configuration, we take pricing, performance, value, and availability into our account to give you a PC that is the best bang for the buck. We have covered all the related topics in this article including parts recommendation, parts list, upgradability, and alternative PreBuilts to make a one-stop guide for you.
Is $500 Good For A Gaming PC?
For $500, you can expect a good budget configuration that will last a couple of years and will let you play games at 1080p resolution. Yes, $500 in 2022 is surely good for building a gaming PC. I won't promise you maxed-out games for this budget but with the configuration we recommend, you can make your way to upgrade this PC into a beastly machine that can max out any game at 1080p in the near future.
In 2022, the truth is that ta $500 gaming system certainly doesn't compete with the latest-gen gaming consoles as the consoles for under $500 have seen a good evolution in the past decade. While gaming on a budget has also improved, $500 is still not enough to reach the sweet spot where you can have no-compromise eye candy with a smooth gaming experience.
It is essential to know how you should break down $500 for different components and what I recommend for each category. This will give you insight so that you can build every new gaming PC from scratch without spending several days on the research.
Processor
A 4-core CPU is what you need for making your gaming PC powerful enough to handle any entry-level to mid-range graphics card. As most games require at least 4 cores to run properly, you cannot compromise on this one. It's best to have hyperthreading with the cores to have some noticeable advantages in both gaming and non-gaming applications.
Motherboard
For a $500 build, you should try to minimize the cost as much as possible on the motherboard. As most entry-level motherboards have all the necessary ports and slots for installing the components, it is best to save some bucks here to invest in a better GPU or memory. In case, the processor is overclockable, only then do I recommend going with an unlocked chipset but not at the cost of a decent GPU.
RAM
8GB is straight away the minimum you should look for. 8GB of DDR4 RAM clocked at 3000MHz will be best for gaming performance. If 16GB is possible without going much higher than the total budget, then you should get dual 8GB sticks in a dual channel for the best possible performance.
Graphics Card
For $500, you can and you should always try to get a discrete GPU. While it is fine to go even with an APU if the total cost is too high, a $150 GPU should be your priority by reducing the budget by a little for your CPU. This can get you 50-100% more performance for the same price.
Storage Drive
To start things off, I recommend going with at least 500GB of SSD. These days, SSDs are our first priority as they are significantly faster than traditional hard drives, especially NVME SSDs which are typically 3-5 times faster than SATA SSDs.
Power Supply
Depending on the graphics card you will be using, I recommend going with a reliable 450-550W power supply. This is where you shouldn't cheap out ever as your entire system depends on it and a reliable PSU will protect your PC components from a faulty voltage. Also, you should always look for a PSU that is at least rated at 80+ White or better and should have the least deviation on all voltage rails.
Case
Most budget gaming builds use a Micro-ATX motherboard as they are cheaper. Hence, it is obvious that you should opt for a micro-ATX tower but it should be spacious and should come with good airflow and a well-built cable management system. If possible, you should invest a few more bucks to get a mid-tower case as it will be easier to upgrade in the future.
Parts List For $500 Gaming PC
Processor

Intel Core i3 10100F
Cores/Threads- 4/8
Clock- 3.6/4.3GHz
TDP- 65W
Overclocking- No

For the processor, I chose the Intel Core i3 10100F as currently, it is the cheapest and best 4-core CPU with hyperthreading. It is one of the best budget CPUs since its release and still does a great job despite being available for less than $100. It features clock speeds of 3.6/4.3GHz as its base/boost clock and is rated at 65W.
Although it is not overclockable, the turbo boost technology helps it to gain some momentum when it is loaded with a CPU-intensive application or gaming. With 4 cores and 8 threads, there is no game that will refuse to run on it and it won't be bottlenecking any budget or mid-end GPU making it a viable option for the future.
Graphics Card

XFX Speedster SWFT105 Radeon RX 6400
Architecture- RDNA 2
Stream Processors- 768
Clock- up to 2321MHz
VRAM- 4GB GDDR6

Unlike our entry-level $300 gaming build, this PC uses a discrete GPU for giving you much better gaming performance which is not possible with an APU. For the GPU, I chose the Radeon RX 6400 which is definitely the best $150-$160 GPU right now. It features 768 Stream processors and 4GB VRAM to take those graphical settings to high in most games.
With this card, you can expect 50-60 fps in modern titles and over 100 fps in esports games such as CSGO, Valorant, Fortnite, and Rocket League. RX 6400 might not be capable of maxing out graphics but it is still much faster than the fastest integrated Vega GPUs on Ryzen APUs. For this $500 build, there could be nothing better than this card as it is not only fast but power-efficient as well consuming only 53W which doesn't require any external power connector. Also, it is a single-slot card, so you can literally fit it in most compact cases as well.
RAM

TEAMGROUP T-Force Vulcan TUF Gaming Alliance 16GB DDR4
RAM size- 16GB(2x 8GB)
Type- DDR4
Clock- 3200MHz
CL Timings- 16-18-18-38

A single 8GB DDR4 RAM module from most brands costs between $30-$40 and dual 8GB RAM sticks with the same clock speed cost only $10-$20 more. Therefore, it is more logical to get a 16GB kit that will give you no-compromise gaming performance and better productivity. This will ensure that no matter how many Chrome tabs you open, your system won't freeze at its place and you can open an application or two at the same time.
The TeamGroup Tuf gaming RAM modules feature a fantastic look with yellow accents on the black aluminum heat spreader. The modules are clocked at 3200MHz with the tested timings of 16-18-18-38 providing a quicker response. With just 2 DIMM slots occupied, you will have 16GB of RAM that will last you a lot of years easily.
Motherboard

MSI B560M Pro
Chipset- B560
RAM support- 64GB, 5200MHz
Storage- 6x SATA, 2x M.2
PCI-E slots- 2x PCI-E x1, 1x PCI-E x16

As we are going to use a locked processor, it is best to use a locked chipset motherboard to avoid cost increases. There are currently two locked chipsets to use with the i3 10100F CPU. These are the H510 and the B560. Here I chose the B560M Pro from MSI as it is cheaper than most entry-level B560 motherboards.
You will be getting 2x DIMM slots that support very high RAM clock frequencies(up to 5200MHz). It comes with dual PCI-E x1 slots for expansion cards and a single PCI-E x16 slot for your GPU. For storage, you will be getting a decent amount of SATA and M.2 ports, and therefore, adding a lot of storage drives won't be difficult in the future. At the I/O, you will get 6x USB ports, a single PS/2 port, and plenty of display output connectors.
Now coming to one of its best features, the EZ Debug LEDs are the handiest troubleshooting tool on the motherboard. Most entry or budget motherboards don't come with Debug LEDs but almost every MSI board does. This feature alone makes it a far better choice than other B560 motherboards under $100.
Storage

WD Blue 500GB SN570
Brand- PNY
Capacity- 500GB
Interface- NVME
Read/Write- 3500/1200MB/s

The SN570 500GB from WD is a very fast NVME SSD with a read speed of up to 3500MB/s which is insanely high compared to a lot of similarly priced SSDs. This will quicken the OS boot and game loading significantly and will save you a good amount of time. For our $500 build, I don't recommend going below 500GB of storage at all because you need at least 500GB to store a good amount of games.
However, with time, this SSD will also be full of different applications and multimedia files and you can always add another 1TB SSD in the future. As for now, nothing will stop you to install a few big games.
Power Supply

Thermaltake Smart BX1 RGB 550W
Wattage- 550W
Power Efficiency- 80+ Bronze
PCI-E- 2x 6+2 Pin
Warranty- 5 years

You should never cheap out on a power supply and for a build like this, always take the safe side to buy a decent power supply that protects your PC hardware from faulty current and voltage. We will be using the Thermaltake Smart BX1 RGB 550W power supply that is next level in aesthetics with its RGB fan and has 16 different lighting modes to choose from.
It has all the necessary cables to power your components like dual PCI-E 6+2 pin connectors which will be useful if you upgrade to a more powerful GPU in the future. It comes with an 80+ Bronze efficiency rating and has an ultra-quiet operation mode that makes your PC significantly silent in operation. Thermaltake is providing 5 years of warranty and
Case

Zalman S3 Mid Tower
Type- ATX
Dimensions- 412 x 189x 451mm
Weight- 4.7Kg
Material- Steel, Plastic, Tempered glass

For the case, I chose the Zalman S3 mid-tower chassis which is just under $60 and comes with a tempered glass side panel. It comes with a brushed aluminum front panel that has some vents on both sides for airflow and a full-length PSU shroud to cover all the cable mess.
The interior is spacious enough to support long graphics cards up to 330mm in length and CPU coolers up to 156mm in height. The cable management system is also decent as there are plenty of routing holes for easy cable management.
Cooling support is also excellent with support of up to 8x 120mm fans whereas radiator support isn't as good. Therefore, I only recommend upgrading to an air cooler and a 120mm AIO cooler to avoid any compatibility issues.
ORDER THE $500 GAMING BUILD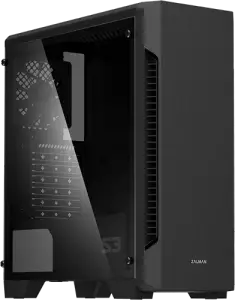 ORDER FROM AMAZON
AMAZON USA
AMAZON UK
---
1080P MEDIUM-HIGH SETTINGS
POWER-EFFICIENT
MID-TOWER FOR EASY UPGRADE
TOP-NOTCH RAM AND STORAGE
Important Note
Links to Amazon UK and Amazon CA may contain different components depending on the availability and pricing. Most of the time these components will be RAM and Power Supply.
Is $500 Gaming PC Upgradable?
Our $500 Gaming PC is 100% upgradable. From the CPU to the Case, you can upgrade whatever you like without the need for changing any other component. We chose the parts carefully so that you can upgrade your PC with individual parts one by one without worrying about any significant bottlenecks or compatibility issues. The most important thing before upgrading the PC is to carefully choose the parts that won't take away the balance from the configuration. You should be the most careful when it comes to the CPU-GPU combo.
Note that I recommend adding another 1TB SSD for storage before everything as storage is the most common issue for budget builds. Next, we can focus on the CPU and the GPU. As I chose the i3 10100F CPU, you can upgrade to any higher-end CPU from the 10th or 11th gen series. I would recommend going with at least an overclockable i5 or i7 processor but it will require you to change the motherboard to a Z chipset motherboard. If you want to avoid that, you can simply opt for a non-"K" Core i5 or i7 processor that will be as good as the overclockable chips and the performance difference won't be that huge.
With any of those CPUs, you can add any high-end GPU from the latest AMD and Nvidia GPU series. I would suggest going with at least an RX 6700 XT from AMD and RTX 3060 Ti from Nvidia so that you can play games with maxed-out settings at not only 1080p but also 1440p resolution. These two components upgrade won't require any other component upgrade and you can retain the entire rig as it is.
Lastly, the best upgrade will be the addition of a nice air or AIO cooler. This will be particularly good if you are going to use an overclockable CPU and with such a CPU, you should also change your motherboard. This will be costlier and may not be fit for everyone.
Best PreBuilt PCs Under $500
If you don't have enough time to build this PC by yourself or if you don't possess such skills, you can get one of recommended PreBuilt gaming PCs under $500. Check out our following post where we keep an updated list of the best PreBuilt gaming PCs under $500.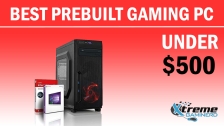 Getting a decent PreBuilt Gaming PC under $500 is a challenging task but don't worry, we have some great suggestions ...
Final Words
For having a smooth gaming experience on a budget, our $500 gaming build won't break your bank. While this won't beat the latest gaming consoles for the price, it is certainly upgradable to the point where the consoles cannot catch its performance.
If you need any advice or need suggestions regarding building your gaming PC, feel free to use the comments box below and we will try to solve your issues within 24 hours.
Related: