Quick Reminder
The total cost of our gaming builds generally don't exceed the target budget. We always pay attention to the final cost and each of our builds strictly remains under a particular budget most of the time
$1500 is not a small amount and can get you one of the best gaming PCs for a great gaming experience. The problem is finding the best PC components that can actually deliver the best value for the money.
If you are looking for having the best gaming PC under 1500 dollars, then we have one of the best PC parts recommendations and suggestions you can find on the internet. We have carefully researched and compared several components in each category to make a list of components that can deliver high performance in gaming without the need for dropping down any graphical settings.
Moreover, we always try to configure the PCs in such a way that they are easier to upgrade later. Our $1500 gaming build can easily last several years playing most titles on ultra settings at 1440p resolution. Read each and every section of the post to understand what you will need to build an awesome $1500 gaming build in 2023.
Is $1500 Good For A Gaming PC?
$1500 can get you medium to high-end components in each category be it CPU, GPU, or the motherboard. With high-end hardware, there is probably nothing that can stop the games reach the highest quality visuals. By spending more, you also get more whether it is just the fps or the technologies and features needed for taking the gaming experience to the next level.
As the hardware gets more powerful, better cooling solutions also become necessary and the compatibility of your case with the coolers and fans will determine how good your thermal performance will be. With our $1500 gaming PC, there will be no problems with the thermals whatsoever unless you want to drive your PC crazy by overclocking it to the extreme.
As for the components, you must know how to break $1500 for each part and what is the best possible configuration you can have this year. Before listing out our PC components for this build, we would like to guide you a little on how you should spend your money and what you can expect.
Processor
With lots of processors from AMD and Intel, it is easier to get an overclockable octa-core processor for the $1500 build. With a fast 8-core hyperthreaded CPU, you can not only game well but can do a lot of CPU-intensive. I recommend taking out $300 from your total budget for the CPU alone.
Motherboard
Our budget and mid-range builds mostly use a basic or budget motherboard as it doesn't directly affect your gaming performance. However, with an overclockable 8-core CPU, I recommend getting an unlocked chipset that will open the path for extra performance and gives you tons of slots/ports and additional features.
RAM
You should never settle down for anything less than 16GB RAM if your budget is above $1000. So, naturally, a $1500 gaming build must have dual RAM sticks of 8GB clocked at a high frequency for maximum performance.
Graphics Card
A graphics card handles the most intensive tasks in video games and the entire gaming performance mostly depends on the GPU. Dedicate at least $550-$650 for a GPU that features at least 8GB VRAM and powerful specs. It should go well with a $300 CPU and the chances of bottlenecks are almost negligible unless you are opting for something that is a decade old.
Storage Drive
To start with, have 1TB of storage space. This will be sufficient for your operating system, games, and other files. Make sure, you don't settle with a hard drive as your primary drive but only SSD that is insanely fast and takes less space in your case. If possible, add another $50-$70 to your budget to add another 1TB SSD.
Power Supply
The total power consumption of this build may go up to 500W with everything put to 100% usage and overclocked. Typical loads won't be more than 300W but to allow further upgrades, a 750W power supply is a good way to future-proof. Also, the PSU should be at least 80+ Gold, must have tight voltage regulations, lower noise, and must come with a lot of cables to power several components.
Case
While a simple mid-tower will do the job, you should look for good airflow, a decent cable management system, good components compatibility, and pre-installed fans. Most of the time, you won't have to worry about the case as most mid-tower cases will work just fine. Reserve $80-$130 for the case and you are good to go.
Parts List For $1500 Gaming PC
Processor

Intel Core i5 13600K
Cores/Threads- 14/20
Clock- 2.6-3.9/3.5-5.1GHz
TDP- 125W-181W
Overclocking- Yes

We are going with the best $300 processor right now. The Core i5 13600K simply crushes every processor at this price and competes with the more expensive CPUs in gaming. It features a whopping 14 cores and 20 threads that will be sufficient even for professional work like rendering, compression, or encoding.
The 13600K uses a hybrid architecture and features Performance and Efficient cores to distribute the load across all the cores. While the 6 Performance cores will mostly remain active during the intensive work, the 8 Efficient cores will ensure you get your background tasks done without any drop in performance.
As it is also overclockable, feel free to tweak the settings in the BIOS or from your favorite overclocking tool to squeeze more power but remember that it can run very hot.
Graphics Card

Gigabyte GeForce RTX 3070 Ti Gaming OC 8G
Architecture- Ampere
Cuda Cores- 6144
Clock- 1830MHz
VRAM- 8GB GDDR6X

Combining the i5 13600K with an RTX 3070 Ti will result in insane gaming performance at 1440p resolution. This combo can literally crush any game at this resolution by providing you with more than 100 fps in most titles on the highest graphical settings.
The Geforce RTX 3070 Ti is based on the Ampere architecture and features 8GB GDDR6X VRAM. It is also very capable of Ray Tracing without any significant drops in fps, thanks to the latest-gen RT and Tensor cores.
RAM

TEAMGROUP T-Force Delta RGB DDR4 16GB
RAM size- 16GB(2x 8GB)
Type- DDR4
Clock- 3600MHz
CL Timings- 18-22-22-42

Finding fast RAM for a low price is very difficult. We are going to use the T-Force Delta RGB 16GB kit that features 3600MHz of frequency and RGB LEDs. It doesn't have the most strict timings but will still perform decently with our configuration. Right now we don't have enough budget to spend on a 14-15-15-35 kit as those RAM kits are generally 2X more expensive, therefore, sticking with the 18-22-22-42 is the wise option right now.
Motherboard
MSI PRO Z690-A WiFi
Chipset- Z690
RAM support- 128GB, 6400MHz(OC)
Storage- 6x SATA, 4x M.2
PCI-E slots- 3x PCI-E x16, 1x PCI-E x1

To allow overclocking of the i5 13600K, we will need a Z690 or Z790 motherboard. As Z790 motherboards are a lot more expensive right now, the Z690 will be a better choice. Without spending a lot on a premium Z690 motherboard, we can still get decent features that will give you will need for overclocking, installation, and upgrading in the future.
MSI Pro Z690-A Wifi is a decent board with a good VRAM for overclocking and a pre-equipped Wifi adapter for wireless internet connection. Alternatively, you can use the 2.5G Lan port at the I/O and a decent number of USB ports for peripherals connectivity.
For graphics cards, you will get 3x PCI-E x16 slots and a single PCI-E x1 slot for small expansion cards while for storage, you will get a good 4x M.2 slots which are rare on budget motherboards. Also, for troubleshooting, it gives you EZ Debug LEDs which is one of the best features of MSI boards that helps a lot in cases of malfunctions.
Now whether you need awesome support for GPUs or high-frequency RAM kits, you will get all of that in one place. So, definitely, it is an ideal motherboard that gives you a lot without breaking the bank.
Storage
Crucial P3 1TB
Brand- Western Digital
Capacity- 1TB
Interface- M.2
Read/Write- 3500/3000MB/s

I recommend using an NVME SSD instead of a SATA one. The reason is quite obvious. M.2 NVME SSDs are now much more affordable than ever before and have come close to the prices of SATA SSDs, especially entry-level ones.
Crucia's P3 1TB SSD is a perfect example of that and will give you insanely high sequential Read/Write speeds that will quicken your file transfer and game loading. 1TB of space should be adequate for a while but I suggest adding another drive as soon as you run out of space.
Power Supply

Corsair RM750X
Wattage- 750W
Power Efficiency- 80+ Gold
Type- Fully-Modular
Warranty- 10 years

Corsair RMX series power supplies are almost among the top 3 when it comes to stable performance. The RMX series have been improvised over the past few years and I am recommending the RM750X 2021 edition. It is fully modular, has enough wattage capacity to power your components, and comes with an 80 Plus Gold rating.
It is easily up to 90% power efficient on typical loads and is also super silent. It features tight voltage regulation on all rails, low ripple noise, and a great hold up time of up to 27ms. According to Tomshardware, it is the "…performance king in the 750W Gold category"1)https://www.tomshardware.com/reviews/corsair-rm750x-2021-power-supply-review/5.
Case

Antec DF700 Flux
Type- ATX
Dimensions- 467 x 220 x 486mm
Weight- 7.4Kg
Material- Steel, Plastic

To host our components, we will need an ATX form factor PC case as we used an ATX motherboard. There are dozens of great mid-tower chassis out there, so, it is not mandatory to use only our recommended PC case. However, after analyzing multiple factors, I believe that the Antec DF700 Flux is an excellent choice that you won't regret.
It comes with a spacious interior that supports decently tall coolers and long GPUs. You also get a full-length PSU shroud to hide the PSU, cables, and storage drives. Cable management is also easy as it has several routing holes to manage the cables and you get 9 slots for installing up to 9x 120mm fans in total and big radiators.
There are 3x 120mm ARGB fans pre-installed in the case, saving you some money on cooling and giving your PC a stellar look as well. Unlike many cases, the front panel is fully ventilated to allow huge airflow from the front and a tempered glass side panel is added for admiring the aesthetics.
CPU Cooler

Noctua NH-U12S Redux
Type- Air, Single Tower
Dimensions(with fan)- 158 x 125 x 71mm
Heat Pipes- 4
Fans- 1

As we used an i5 13600K, you won't be getting the stock heatsink. So, buying an aftermarket CPU cooler is compulsory. I went with Noctua's NH-U12S Redux air CPU cooler which is very popular and is way ahead of most single-tower heatsinks. Its performance is exceptional and yet it only costs $50.
It comes with a sturdy aluminum heatsink that uses 4 copper heat pipes to dissipate heat rapidly and the best part is the silent operation which a lot of CPU coolers lack. It will be totally fine for overclocking the 13600K, however, I don't recommend going to extremes and loading your CPU to 100% in CPU-intensive apps as 13600K can reach really high temperatures. In that case, I recommend getting a 280mm AIO cooler if your budget allows it.
ORDER THE $1500 GAMING BUILD
ORDER FROM AMAZON
AMAZON USA
AMAZON UK
---
1440P MAXED OUT GAMING
14 CORE MONSTER CPU
HIGH SPEED RAM AND SSD
PRE-INSTALLED WIFI ADAPTER
Important Note
Links to Amazon UK and Amazon CA may contain different components depending on the availability and pricing. Most of the time these components will be RAM and Power Supply.
Is $1500 Gaming PC Upgradeable?
Absolutely. Each component in our $1500 build can be swapped for a better one anytime. If you ever feel that your requirements are not met, you can change your components by upgrading to better ones. This, however, should be done carefully as upgrading needs balance or your system will suffer from bottlenecks.
Currently, this build will be sufficient for intensive titles even if you plan to switch on Ray Tracing but for 4K resolution, I would suggest upgrading to an RX 7900 XT or RTX 4090. If your requirement is more CPU-oriented, then you can either try a strong overclock with the help of a better CPU cooler by upgrading to an AIO 280mm cooler or you can upgrade to an i7 13700K.
For storage, you can add multiple storage drives whether M.2 SSDs or SATA SSDs if you have a huge game library or tons of video files and this will be the most easier upgrade in the system that doesn't require you to remove the existing drive. Finally, for content creators, I encourage getting another 16GB RAM kit of the same model to uplift the performance.
Best PreBuilt PCs Under $1500
We know and understand that building a gaming PC is not for everyone as it requires some knowledge and a little bit of patience. PC manufacturers know this and therefore, sell PreBuilt gaming PCs for those who want to play right away when it reaches their doors.
Under $1500, you might not get the same value as with a custom one, but playing at 1440p resolution is still achievable and some of the parts we used in our build are easily accessible. Most PreBuilt gaming PCs will come with pre-installed Wifi and Windows operating system and on top of that, you will also get a 1-year warranty on parts and labor.
Check out our Best PreBuilt Gaming PCs under $1500 post where you can select one for yourself if you aren't able to build one.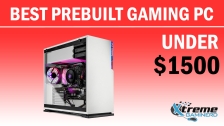 If you are looking for a kill gaming machine for under $1500, we are here to assist you to get the best PreBuilt Gaming ...
Final Words
If you have got any queries, feel free to put your comment down below. We will help you out if you need any suggestions and help regarding PC parts selection or assembling the PC.
Related: