Quick Reminder
The total cost of our gaming builds generally don't exceed the target budget. We always pay attention to the final cost and each of our builds strictly remains under a particular budget most of the time
An $800 gaming build should not only max out video games' visuals but also provide you with enough power to quicken the processing in non-gaming tasks. If you are looking for such an $800 gaming PC, look no further.
We carefully select components for our gaming builds to meet your requirements without breaking the bank. The 800-dollar build we recommend will help you play games on ultra settings without dropping below 60 fps in almost every game. This is the dream of every budget gamer and it is totally possible.
This post will guide you through building your $800 gaming PC from scratch and with all new parts. We also have some Pre-Builts listed at the end in case you want to save your time and effort.
Is $800 Good For a Gaming PC?
With 800 dollars in hand, you can achieve the sweet spot of gaming where you no longer have to compromise graphical settings for having 60+ fps at 1080p resolution. In order to build an awesome $800 gaming build, you need to divide the budget carefully and reserve some budget for each component to have a good balance and avoid bottlenecking.
In this build, we are looking at PC components that can last for a few years letting you play games on the highest settings at 1080p. We will also make sure that it is easily upgradeable so you don't have to change the entire configuration just to hit your next goal.
Before moving on to the parts list, we recommend you read our suggestions on what you should be looking for in every component category.
Processor
It is recommended to get a CPU that features at least 6 cores with fast single-core performance and it will be better if also features hyper-threading. With 6 cores, you can do almost any task along with hardcore gaming. We are going to set a budget of around $150-$200 for the CPU alone.
Motherboard
The main function of the motherboard is to connect all the components to have a flow of data. I don't advise spending a lot on it as it will have almost no impact on gaming and productivity performance. Rather we are looking for something that will provide all the necessary slots and ports for our components.
RAM
We are looking at 16GB RAM to have the best gaming performance. With 16GB of RAM, you will still have a good amount of RAM left while gaming that won't pose a problem if you leave some files opened behind. 16GB of fast RAM will last for a while.
Graphics Card
The GPU is the most important component as most of the gaming load is directly on the GPU. To ensure a smooth gaming experience, you must get a GPU from one of the latest generations of Nvidia and AMD GPU series with at least 4GB of VRAM. It should max out games at 1080p resolution and should not cost more than $300-$350.
Storage Drive
To store a good number of games, we will need 1TB of fast storage. You should always go with either a SATA or NVME SSD as they are several times faster than the HDDs and use less space inside.
Power Supply
To make sure you can add some more components in the future or even add a better GPU, we are going to get at least a 650W reliable power supply. You should never try to cheap out here as your PC's safety depends on the PSU. Your PSU should be at least 80 Plus rated and should have better voltage regulation, low noise, and all the necessary cables for powering the components.
Case
Finally, I recommend going with an ATX mid-tower case to host all the components. It should be spacious, should have good airflow, and good components support.
Parts list For $800 Gaming PC
Processor

Intel Core i5 12400F
Cores/Threads- 6/12
Clock- 2.5/4.4GHz
TDP- 65W-117W
Overclocking- No

You will never go wrong with the Core i5 12400F CPU whether you are building a budget or a high-end gaming build. This chip is absolutely amazing for its price and is definitely one of the best if not the best 6-core gaming CPU for $175. It is made on a 10nm process node and features 6 cores/12 threads clocked at 2.5/4.4GHz.
It is a locked chip, and therefore, won't require an overclockable chipset motherboard reducing our build expense. Many benchmarks have shown that it matches the performance of Ryzen 5000 processors including the 5600X at a lower price, however, the reason why I didn't choose the 5600X is that AM5 is around the corner and you won't be able to upgrade without changing your motherboard.
With Alder Lake i5 12400F, you can easily upgrade to a Raptor Lake CPU without changing your motherboard and have significant improvement in performance if you ever want to. From budget to high-end GPUs, the i5 12400F is capable of pushing the GPU to 100% without bottlenecking them at the least.
Graphics Card

XFX Speedster SWFT210 Radeon RX 6650XT CORE
Architecture- RDNA 2
Stream Processors- 1792
Clock- up to 2491MHz
VRAM- 8GB GDDR6

For less than $300, the Radeon RX 6650 XT is the best bang for the buck and on GPU comes close to its performance for $300. This is simply the best value card for gaming and can pretty much max out any game at 1080p resolution. Moreover, a lot of titles will easily play on high to ultra settings even at 1440p resolution.
It comes with a good 8GB GDDR6 VRAM that is adequate for almost any game and should give you way over 60 fps. All of its specs are really impressive with over 2000 Stream processors and up to 2635MHz of boost clock. It is also Ray Tracing capable but it is recommended that you put the RT settings in supported games to medium if you don't want to make your performance suffer.
RAM

TeamGroup T-Force Vulcan Z 16GB DDR4
RAM size- 16GB(2x 8GB)
Type- DDR4
Clock- 3200MHz
CL Timings- 16-18-18-38

For eliminating all the possible memory bottlenecks in both gaming and non-gaming tasks, all you need is 16GB of RAM. The T-Force Vulcan Z 16GB kit has 2x 8GB memory modules for a dual channel configuration that yields more performance. The kit is clocked at 3200MHz and features tight CL timings of 16-18-18-38 for lower latency.
16GB RAM will last a good number of years and you won't possibly be needing an upgrade any time soon except if you are a content creator who needs faster rendering and processing on higher resolutions.
Motherboard

MSI PRO H610M-G
Chipset- H610
RAM support- 64GB, 3200MHz
Storage- 4x SATA, 1x M.2
PCI-E slots- 1x PCI-E x1, 1x PCI-E x16

As we are using a locked 12th gen Core i5 CPU, we are better off with a locked chipset motherboard. Due to having a limited budget for the rest of the components, we are going with an H610 chipset that offers fewer slots/ports but is still sufficient for all of our components. The MSI PRO H610M-G features 2x DIMM slots for our RAM kit and a single PCI-E x16 slot for the graphics card.
It also features one PCI-E x1 slot for expansion cards where you can install a Wifi PCI-E card for wireless internet connectivity The motherboard is very basic but as we don't have a lot of options under $100, we will settle with it especially when it comes with EZ Debug LEDs for troubleshooting your PC if there is ever an issue with booting windows.
Storage

Silicon Power A60 1TB
Brand- PNY
Capacity- 1TB
Interface- M.2
Read/Write- 2200/1600MB/s

To store a good number of games and your files, you will need at least 1TB of storage. The Silicon Power A60 1TB SSD is a super fast NVME SSD that offers a sequential Read/Write speed of 2200/1600MB/s which will load your OS and games quickly.
It will be perfectly fine for a while and if you run out of space, you should add another 1TB or 2TB of SSD to have more storage space in the future.
Power Supply

MSI MPG A650GF
Wattage- 650W
Power Efficiency- 80+ Gold
Type- Modular
Warranty- 5 years

Coming to the power supply, we know how important it is to get a reliable PSU to protect your components from faulty currents and voltages. Therefore, I chose the MPG A650GF power supply from MSI which is quite new. Even though MSI is a new competitor in the PSU market, it is doing well enough.
The A650GF brings 650 watts of wattage capacity with an 80 Plus Gold efficiency rating. It is really power efficient with up to 90% of efficiency on typical loads and features tight voltage regulation on all the rails. It is also fully modular giving you the capability of managing the cables easily and neatly.
Case

Antec NX260
Type- ATX
Dimensions- 379 x 215 x 448mm
Weight- 4.3Kg
Material- SPCC, Plastic

The Antec NX260 is a gorgeous and lightweight mid-tower case that has excellent support for components. It features a fully ventilated front panel with 3x 120mm ARGB pre-installed fans for great airflow and comes with a ventilated top as well.
You can install up to 8 fans in total which also includes two slots on the PSU shroud which is going to make sure all the hot air coming from the graphics card is dissipated to the outside. The case is compact yet spacious enough to accommodate up to 310mm long GPU and up to 160mm tall CPU cooler.
Cable clearance is also decent and you get several routing holes for easy cable management. It is affordable and will be ideal even for upgrading your build in the future.
ORDER THE $800 GAMING BUILD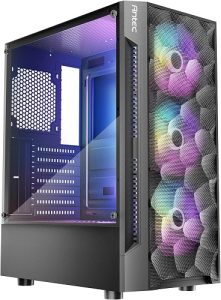 ORDER FROM AMAZON
AMAZON USA
AMAZON UK
---
1080P ULTRA SETTINGS, 1440P STARTER
SPACIOUS CHASSIS
ADEQUATE RAM, PSU & STORAGE
EASILY UPGRADABLE
Important Note
Links to Amazon UK and Amazon CA may contain different components depending on the availability and pricing. Most of the time these components will be RAM and Power Supply.
Is The $800 Gaming PC Upgradable?
Absolutely, even every custom gaming build we recommend here on Xtremegaminerd is upgradeable. The $800 Gaming PC has top-notch components in each category and we advise upgrading it if you have greater needs than this PC could offer. At the same time, we recommend choosing parts carefully in order to maintain the configuration balance and avoid possible bottlenecks.
While this PC will be perfectly fine if you upgrade only one component like the best possible CPU, GPU, or RAM, I still advise you to invest in other parts as well. The first upgrade for this PC I recommend is the graphics card. The Radeon RX 6650 XT is perfectly fine for 1080p gaming but if you want to max out games at 1440p or at 4K or if you want to have the extra eye candy by turning On the Ray Tracing to ultra, a powerful GPU like RX 6850 XT or an RTX 3080 will be a game changer.
The i5 12400F will easily handle those GPUs but if you want to go with something like an RX 7900 XT, I would recommend upgrading your CPU to something like an i5 13600K or higher. However, it is better to upgrade your motherboard before upgrading your CPU as we used a locked chipset, and installing an overclockable CPU like 13600K won't do much good unless you are using a Z690/Z790 motherboard that allows overclocking and also offer more PCI-E lanes, more and faster ports/slots.
The next upgrade can be your RAM or storage. Adding another 16GB RAM kit of the same model will make your system a beast but keep in mind that you will only be able to add more RAM if you get a better motherboard as we have a board with only 2x DIMMs. For storage, you can add one more SSD with at least 1 or 2TB of storage space.
As for the PSU and Case, there is hardly any need to change them as they are capable of supporting most components in the market but please inform us in the comments if you are looking for something unusual like a very power-hungry GPU, CPU+Overclocking, and multiple RGB devices, etc.
Best PreBuilt PCs Under $800
We understand that building a gaming PC for yourself for the first time may not be an easy task. That is why we have PreBuilt gaming systems that also do a good job of providing a decent gaming experience and saving you a lot of time. While we always and will always recommend building a PC by yourself as it offers better components and hence, better performance, we will still provide you with some decent options under $800 below.

Skytech Blaze II Gaming PC
Intel Core i3 10105F
Nvidia Geforce GTX 1650 Ti
16GB DDR4, 500GB SSD
Wifi and Windows 10 Home
For around $700, the Skytech Blaze II brings some decent configuration that comprises an Intel Core i3 10105F CPU with a GTX 1650 Ti. The Core i3 10th gen is a 4-core and 8-thread processor with some decent single-core performance that does very well with budget GPUs like the GTX 1650 Ti. You will get 16GB of DDR4 RAM and 500GB of SSD storage to start with.
This configuration is pretty much sufficient for playing games on high settings at 1080p resolution. However, it is still much inferior to our recommended custom gaming PC for under $800. The Skytech Blaze II also comes with pre-installed Wifi and Windows 10 Home to start with and a beautiful mid-tower case with some pre-installed RGB fans. So, pretty much ok for 700 bucks but not a killer deal.
MXZ Gaming Desktop PC
Intel Core i3 12100F
Nvidia Geforce GTX 1660 Super
16GB DDR4, 500GB SSD
Windows 10 Pro
MXZ Gaming desktop features a better CPU from the Alder Lake family and one of the best budget GPUs from the Nvidia GTX 1600 series. The CPU-GPU combo here is also a good one with a Core i3 12100F CPU that features 4-cores and 8-threads and a GTX 1660 Super.
Core i3 12100F is currently the fastest budget CPU under $130 and kills every processor in this price range from AMD and Previous Intel processors. The RAM, however, is not that good with only 8GB of size which may need an upgrade in the near future. The storage drive is a SATA SSD with 500GB of storage space and you get pre-installed Windows 10 Pro but no Wifi.
The best feature is its case which is a micro-ATX tower with RGB LEDs on the front panel and features pre-installed 6x 120mm RGB fans. This will easily save you around $50-$70 on the case fans and will provide a pretty decent airflow inside the chassis.

CYBERPOWERPC GXiVR8060A12 Gamer PC
Intel Core i5 11400F
Nvidia Geforce RTX 3050 8GB
8GB DDR4, 500GB SSD
Wifi and Windows 11 Home
The CyberPowerPC Gamer Xtreme Gaming PC is currently the best PreBuilt under $800 with the Core i5 11400F and the RTX 3050. The 3050 is a great GPU for 1080p gaming despite its poor pricing when bought individually but as it comes pre-installed on this PC, it improves its value.
You can easily play every game on high to ultra settings at 1080p resolution. Also, to start right away, the company is providing a gaming keyboard/mouse bundle which is unavailable in the PreBuilts listed above it. You also get pre-installed Wifi and Windows 11 Home on a fast NVME 500GB SSD. This is definitely our recommendation for those who don't have time to build our $800 gaming build.
Final Words
We have provided the best possible configuration for the $800 custom gaming build that will own every other PC in 2023. Let us know if you need any help in building your PC or if you need any suggestions regarding the selection of PC components. We will try to get back to you in a day or two.
Related: