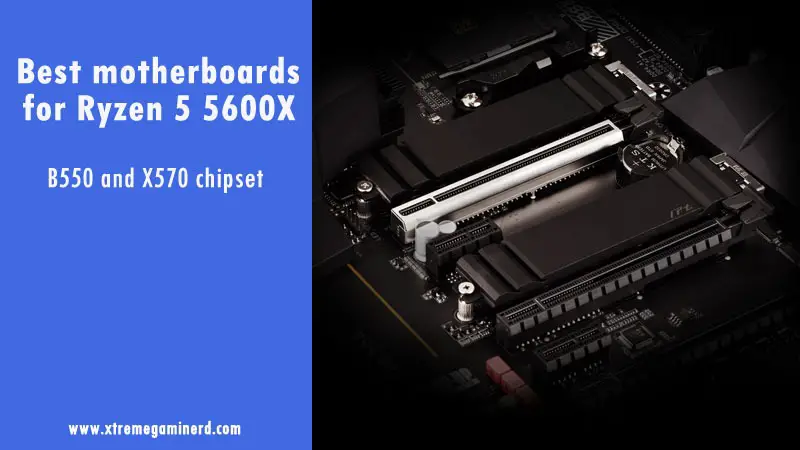 Ryzen 5 5600X replaces the top performer Ryzen 5 3600 and 3600X but the demands for a good overclocking motherboard remains. AMD has made 5600X compatible with the A520, B450, B550, X470 and X570 motherboards but it's best to skip the X470 chipset for either a B550 or X570 board for better compatibility and better features.
Ryzen 5600X has 6 cores and 12 threads that is enough to fulfill the demands for any gamer or even a content creator. The processor features a base core clock of 3.7GHz and a boost clock of 4.6GHz which yields better performance than any other $300 processor.
It has successfully beaten all the available Intel and previous Ryzen processors in single-core performance benchmark as well as gaming performance with a remarkable margin and is easily overclockable on a B550 or X570 motherboard. This puts a great opportunity for its users to get free performance just by tweaking the core clocks and voltages in the BIOS or Ryzen Master software.
Ryzen 5 5600X is the new gaming champ!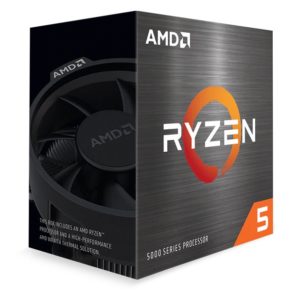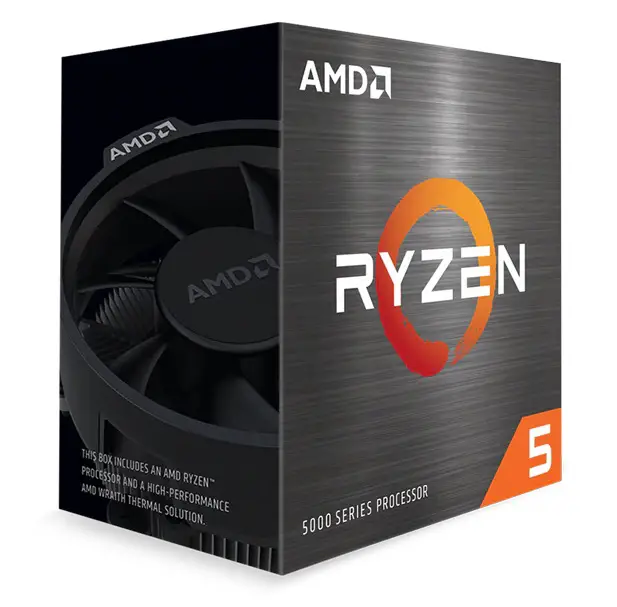 Quick Specs :-
6 cores/ 12 threads
Base clock: 3.7GHz, Boost clock: 4.6GHz
Process Technology: 7nm
Total L3 Cache: 32MB
TDP: 65W
Consider the list of motherboards below which are worth every dollar and provide better value than most of the not listed motherboards.
Ultra budget

– Gigabyte B550M DS3H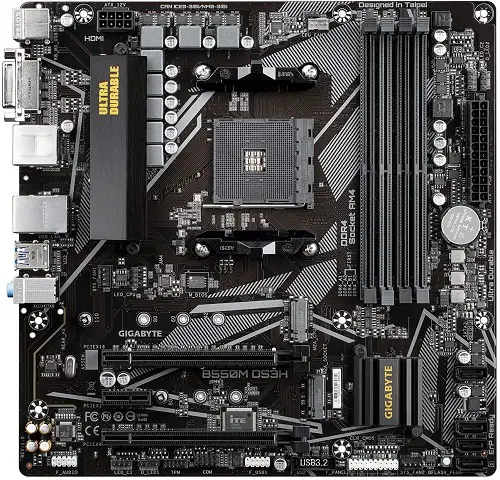 Quick Specs :-
VRM: 8 power phases
RAM support: 128GB, 4400MHz
Expansion slots: 2x PCI-E x16, 1x PCI-E x1
Storage: 4x SATA, 2x M.2
---
Starting the list with B550 motherboards, the Gigabyte B550M DS3H is an ultra-budget motherboard for those who don't want to spend too much for overclocking and advanced features. The motherboard has 5+3 power phases with Low RDS(On) MOSFETs which are good for stable voltage supply to the processor and although it's not very powerful for strong overclocking, you will still be able to overclock your processor up to some extent.
A 6 core processor doesn't necessarily need 10+ power phases for basic overclocking and if you aren't an enthusiast overclocker like me, then certainly wasting a lot of money on high-quality VRM boards won't be wise. Do note that it is not the best motherboard for 5600X at all but for those who want their PCs to support all the latest components support such as 4000+MHz RAM compatibility, PCI-E 4.0 x16 for the graphics card, 1GB LAN, M.2 connectors for NVME SSDs and a decent amount of USB ports at the I/O.
Related:- Best graphics cards for Ryzen 5600X
Asus TUF Gaming B550-PLUS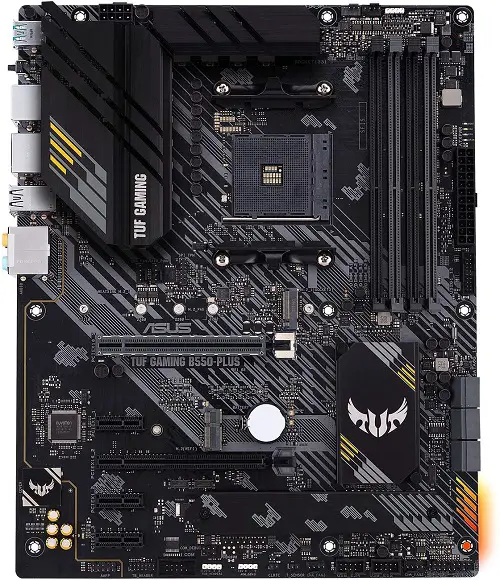 Quick Specs :-
VRM: 10 power phases
RAM support: 128GB, 4600MHz
Expansion slots: 2x PCI-E x16, 3x PCI-E x1
Storage: 6x SATA, 2x M.2, 1x M.2(Key E)
---
For overclockers, Asus TUF Gaming B550-Plus is the best budget board for only $150 that features 8+2 power phases with DrMOS power stages and military-grade TUF components. This should be enough for decent overclocking that will allow you to gain some noticeable performance in gaming and non-gaming tasks.
The board has a 2.5Gb LAN which is quite faster than what most of the motherboards have and comes with an M.2 slot key E for Wifi adapter. There are 2x PCI-E x16 slots that support AMD CrossfireX and the board has 3x PCI-E x1 slots for expansion cards if you want to add any.
The board supports 4000+MHz RAM modules with up to 128GB of total DDR4 RAM support. For storage, there are 6x SATA ports and 2x M.2 connectors for M.2 SATA and NVME SSDs. Here if you use any of the PCI-E x1 slots, the secondary PCI-E x16 slot will run at X1 mode making CrossfireX useless and if you use a SATA 5 or 6 port, then the secondary M.2 slot will be disabled as they share bandwidth with each other. This is important to know before you try to fill all the slots on the board.
One more feature on it is noteworthy which is the Asus Q-LED that helps to find out the faulty component among the CPU, RAM, Graphics card and storage if your system fails to boot. At the I/O, you will have a total of 8x USB ports including a Type C and a Bios Flashback button for updating the BIOS through a USB stick.
Asus ROG Strix B550-F Gaming(Wifi)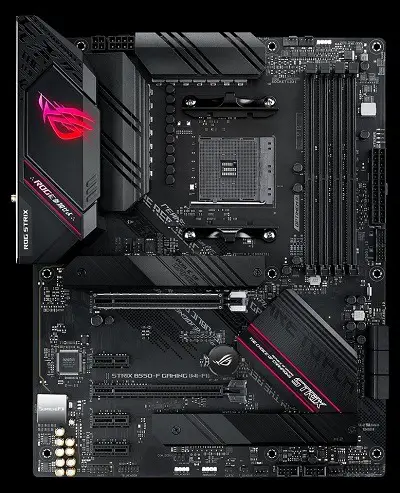 Quick Specs :-
VRM: 14 power phases
RAM support: 128GB, 4600MHz
Expansion slots: 2x PCI-E x16, 3x PCI-E x1
Storage: 6x SATA, 2x M.2
Inbuilt Wifi adapter
---
Stepping up, we have a great B550 board from Asus in the ROG series. ROG series is a premium motherboard catalogue that features a high-level of performance and unmatched aesthetics.
The B550-F Gaming Wifi features an Inbuilt wifi adapter that supports Intel Wifi 6 and comes with a 2.5G Intel LAN for wired connection. Beside the LAN port, you will get 8x USB ports including a Type C and a dedicated port for BIOS flashback that will go along with the BIOS Flashback button. Similarly, you will get some basic onboard features such as Debug LEDs which are very helpful in detecting the possible malfunctioning PC component.
Coming to its stronger sections, we have a solid 14 power phase VRM that uses 50A rated DrMOS and dense heatsinks for continuous heat dissipation. Over it is the I/O cover with an RGB ROG logo that is customizable through the Asus software. As for cooling other parts, it is equipped with 2x M.2 shields on both the M.2 connectors and brings in a total of 6x fan headers.
For expansion cards, you will get dual PCI-E x16 slots that run at x16 and x4 respectively and the 3x PCI-E x1 slots that share the bandwidth with the second PCI-E x16 slot. For storage, you will get 6x SATA ports and 2x M.2 connectors the second of which shares the bandwidth with the 5th and 6th SATA port.
Top-Notch

– Gigabyte B550 Aorus Pro AC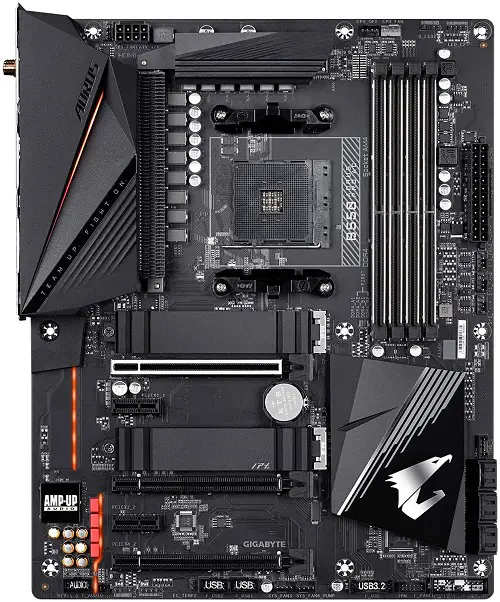 Quick Specs :-
VRM: 9 power phases
RAM support: 64GB, 3200MHz
Expansion slots: 2x PCI-E x16, 1x PCI-E x1
Storage: 4x SATA, 2x M.2
Inbuilt Wifi adapter
---
Gigabyte B550 Aorus Pro AC is, in my opinion, an undefeated motherboard under $200 which has distinguished VRM and heatsinks for hardcore overclocking. While many people may prefer going with the Aorus Elite for $20 the PRO AC has much more for those extra bucks which help in improving the performance and functionality.
B550 Aorus Pro AC has wifi inbuilt with Intel Wi-Fi 3168 and BLUETOOTH 4.2 support. The Elite doesn't have any inbuilt Wifi and has inferior VRM heatsinks. This board features a 14 power phase VRM with doublers and DrMOS with big ventilated heatsinks that allow air to pass easily through it. It's perfect for overclocking up to any 8 core processor and definitely a no-compromise for 5600X.
It has Debug LEDs beside the chipset and a Bios Flashback button on the I/O. Unlike most B550 motherboards, it comes with a lot of USB ports at the back. While there are more USB 2.0 ports than 3.1, it is still a good feat that allows you to connect multiple peripherals which don't require a high-speed transfer connection like a mouse or keyboard.
It has 3x PCI-E x16 slots for video cards, 2x PCI-E x1 slots for expansion cards and 2x M.2 connectors for fast SSDs but do check how these slots and connectors share the PCI lanes before filling them in order to achieve better compatibility and speeds.
Best budget

–

MSI MPG X570 GAMING PLUS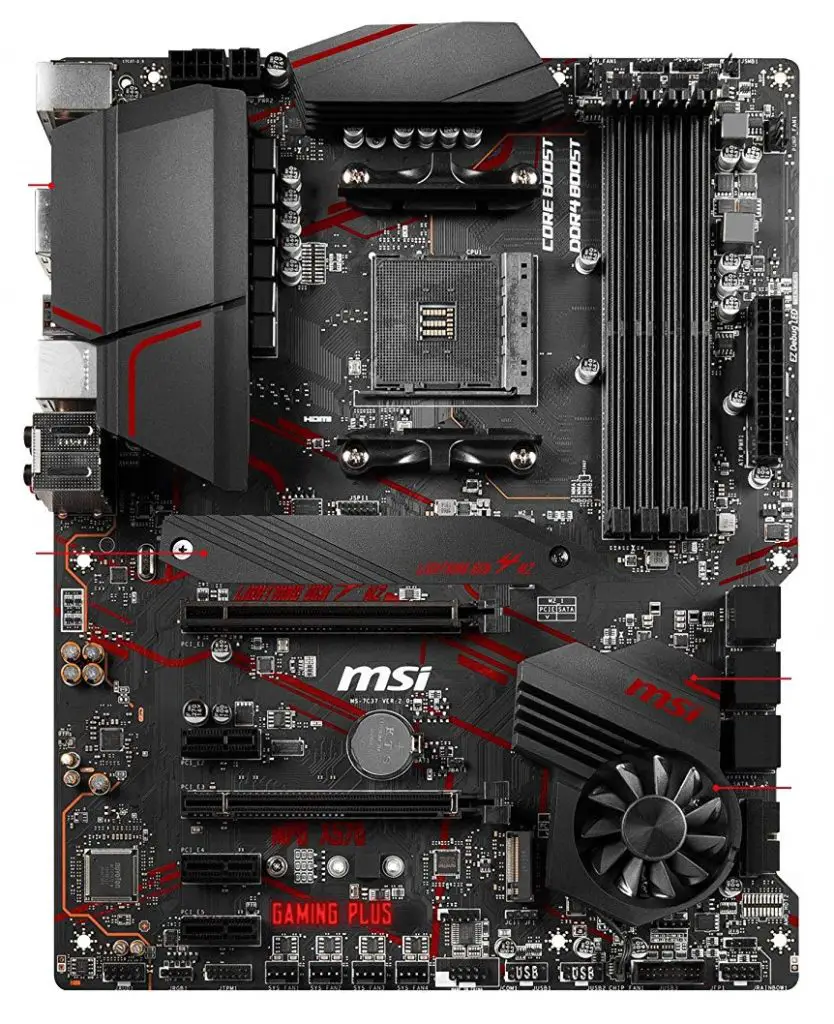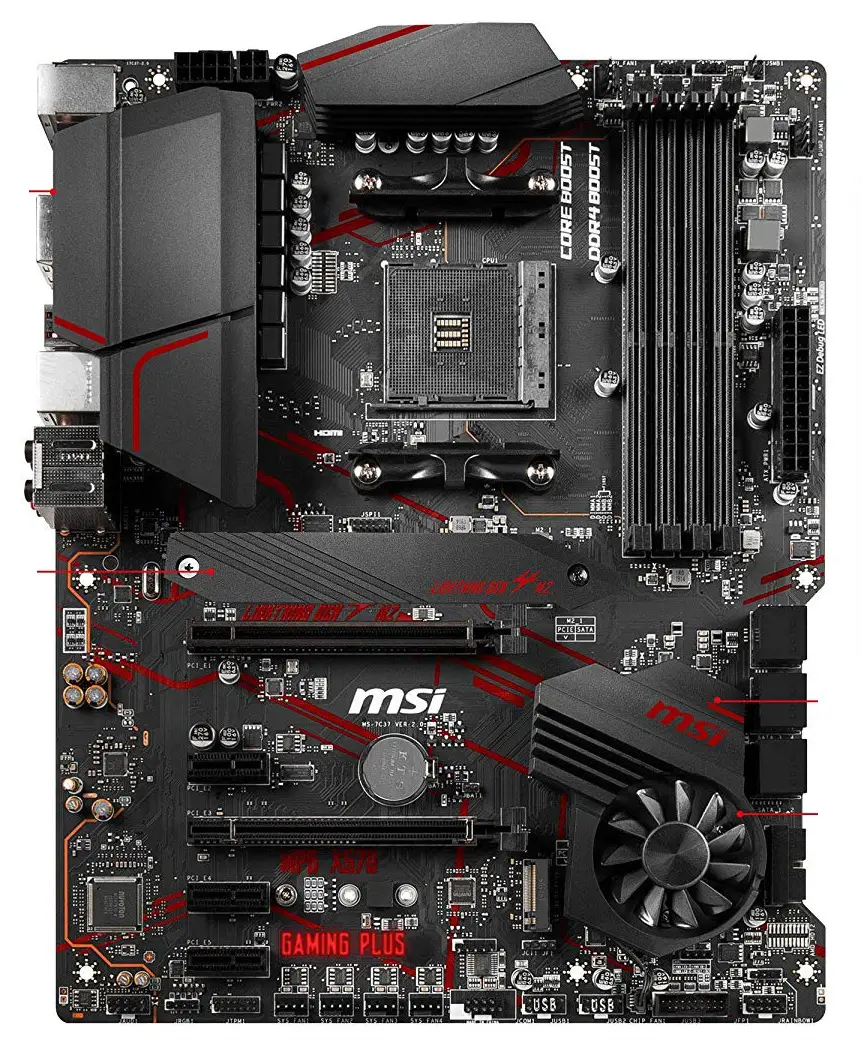 Quick Specs :-
VRM: 9 power phases
RAM support: 64GB, 3200MHz
Expansion slots: 2x PCI-E x16, 1x PCI-E x1
Storage: 4x SATA, 2x M.2
---
While the B550 motherboards listed above are enough for 5600X, some features like more PCI lanes and better compatibility with components are only available on X570 motherboards. The MSI MPG X570 Gaming Plus is one of my favourite X570 boards that doesn't break the bank and is ideal for any 6 core processor like 5600X for overclocking.
It features 10 power phase VRM that use doublers for better stability and have decent grooved heatsinks over the VRM for passive cooling. It supports AMD 2 way CrossfireX on its 2x PCI-E x16 slots and has 3x PCI-E x1 slots for expansion cards. There are 2x M.2 connectors that use independent PCI lanes(Primary M.2 connector uses PCI lanes from CPU and secondary M.2 slot from chipset) while the first PCI-E x1 slot shares bandwidth with the 2nd PCI-E x1 slot which will result in disabling of one of them if the any of them is being used.
The board uses EZ Debug LEDs for troubleshooting and comes with 6 total fan headers that include the CPU fan and water pump connectors. At the I/O there are mostly USB 3.2 ports and also a Type C port for USB type C devices. For updating the BIOS, you will also get a BIOS Flash button on the I/O and a Realtek 1G LAN port.
Best Value

– Gigabyte X570 AORUS Elite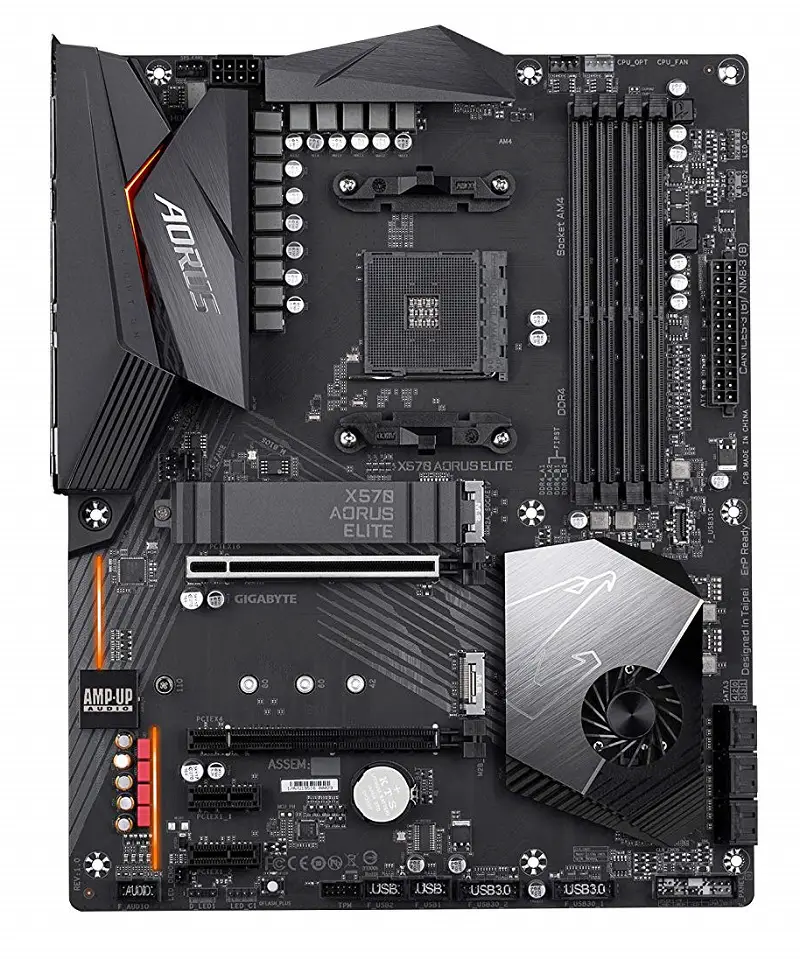 Quick Specs :-
VRM: 9 power phases
RAM support: 64GB, 3200MHz
Expansion slots: 2x PCI-E x16, 1x PCI-E x1
Storage: 4x SATA, 2x M.2
---
If you want the best value motherboard, then the Gigabyte X570 Aorus Elite is a top-quality motherboard under $200 with powerful VRM, features and aesthetics. It features 12+2 power phase VRM with doublers that are enough for overclocking even an 8 core processor like Ryzen 7 5800X and has grooved heatsinks with RGB lighting on the VRM.
The VRM uses an Intersil Digital PWM controller and DrMos that provides higher current support and continuous current for each power stage. This should enable the full potential of 5600X without increasing its temperature a lot with the help of a decent AIO CPU cooler like EVGA CLC 240.
It supports 2 way AMD CrossfireX and has 2x M.2 connectors for fast SSDs. The primary M.2 connector uses an aluminium shield for heat dissipation and the primary PCI-E x16 slot uses steel armor for more strength to provide good support to heavy graphics cards.
The board also has a USB Type C header that is handy and useful with a case having a Type C port on the front panel. The board, unfortunately, doesn't have any BIOS FLASH button like MPG X570 Gaming Plus and has only 4x Fan headers in total but without any doubt, it is the best overclocking board for 5600X for less than $200.
Related- Best motherboard for Ryzen 7 5800X
Conclusion
You necessarily don't need an X570 chipset motherboard for Ryzen 5600X and a B550 chipset board like the ones that are listed above will do the job just perfectly. You should always make sure that the board should have a powerful VRM and good heatsinks over them to avoid overheating. Moreover, you should also look for onboard features to allow maximum utilization of features.
If you have any doubts, then let me know in the comments section below.