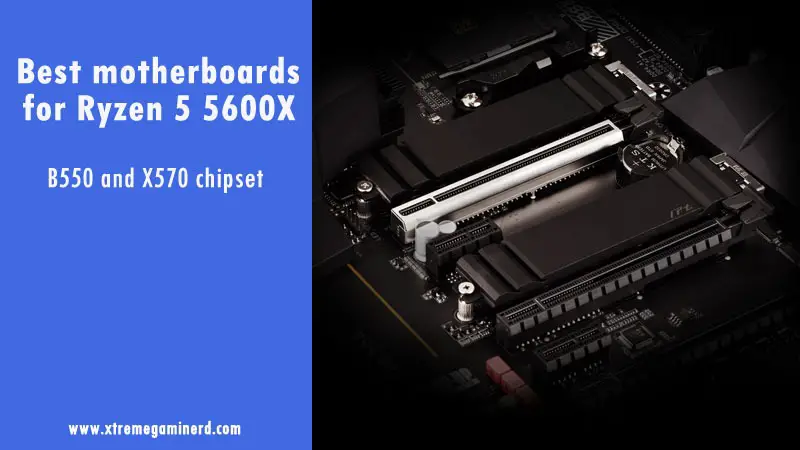 Ryzen 5 5600X replaces the top performer Ryzen 5 3600 and 3600X but the demands for a good overclocking motherboard remains. AMD has made 5600X compatible with the A520, B450, B550, X470 and X570 motherboards but it's best to skip the X470 chipset for either a B550 or X570 board for better compatibility and better features.
Ryzen 5600X has 6 cores and 12 threads that is enough to fulfill the demands for any gamer or even a content creator. The processor features a base core clock of 3.7GHz and a boost clock of 4.6GHz which yields better performance than any other $300 processor.
It has successfully beaten all the available Intel and previous Ryzen processors in single-core performance benchmark as well as gaming performance with a remarkable margin and is easily overclockable on a B550 or X570 motherboard. This puts a great opportunity for its users to get free performance just by tweaking the core clocks and voltages in the BIOS or Ryzen Master software.
Consider the list of motherboards below which are worth every dollar and provide better value than most of the not listed motherboards.
Related:- Best graphics cards for Ryzen 5600X
Related- Best motherboard for Ryzen 7 5800X
Conclusion
You necessarily don't need an X570 chipset motherboard for Ryzen 5600X and a B550 chipset board like the ones that are listed above will do the job just perfectly. You should always make sure that the board should have a powerful VRM and good heatsinks over them to avoid overheating. Moreover, you should also look for onboard features to allow maximum utilization of features.
If you have any doubts, then let me know in the comments section below.