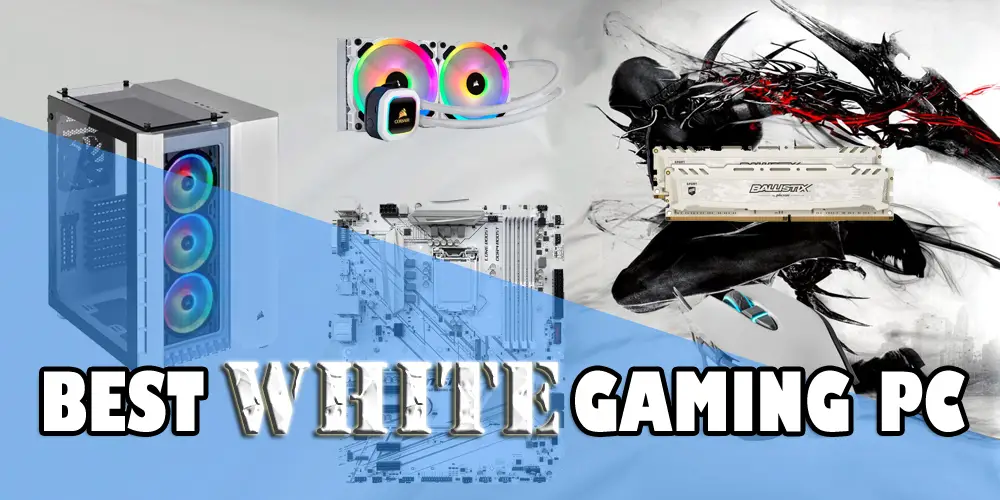 Introduction
I will frankly tell you about my likeness of PCs. I like white builds more than any other coloured systems and due to my love of white PCs, I tried to get as many components as possible in white colour when I built my system back in 2017. Not every component I got had white colour, so, I had to tweak a few things.
I bought the Corsair 570X case which was initially launched only in black colour, therefore, I used white vinyl sheet inside my case to make it look white. Even, the furniture including my bed is white in colour in my room. And I am not alone. I know you also love white themed PC builds and that's why you are here!
Currently, there are numerous options to build an awesome white PC build and I can't just list out every possible component here. Here I am going to list out some of the best white coloured components that will build a gorgeous white system. As I know that you also have some budget in your mind, I will list the components according to it because your budget will be different than the other reader. You might have a budget of $800 to spend and the other reader might have $1300. So, you need to choose according to your budget.
There are a few components you cannot have them as white but they don't matter anyway because they will be hidden completely. These components are the Processor and the Storage drive but almost all the other parts including peripherals are present in white colour in the market. So, without wasting a lot of time, take a look at these 3 builds which will make your system look gorgeous.
---
THE BRIGHT STARTER: $700-$800 Gaming PC
PARTS LIST
| Components | Images | Latest Prices |
| --- | --- | --- |
| Intel Core i3 9100F | | |
| DEEPCOOL GAMMAXX 400WH | | |
| MSI B360 Gaming Arctic | | |
| Crucial Ballistix Sport LT 2666 | | |
| MSI Gaming Rx 590 Armor | | |
| Silicon Power 512GB SSD | | |
| CORSAIR RM750X White | | |
| Phanteks Eclipse P400 Glacier White | | |
Details
Not only it will be a beautiful and gorgeous white PC but it will also perform fantastically at 1080p. With i3 9100F and RX 590 8GB, you will be able to max out most of the games at 1080p easily. This is what every gamer would want for smooth gameplay. The i3 9100F is the lastest 9th gen i3 processor that has successfully beaten the previous i3 8100 processor even though it's more power-efficient and the motherboard I used for it is the B360 Gaming Arctic from MSI which is although not cheap but doesn't increase the expense a lot. On top of the processor, I chose the DeepCool Gammaxx 400WH CPU cooler which is white straight from top to bottom. Even it's LED Fan is also white which will illuminate your whole chassis like no other colour.
As far as the motherboard is considered, it's one of the best budget motherboards for locked Intel processors with ATX form factor and has every kind of slot and ports for installing different components. It's PCB is fully white and the Crucial Ballistix Sport memory sticks also have white aluminium heatsinks which will make your system even whiter though it's just a small portion of the build. For gaming, these 2 sticks of 4GB each will be enough for ultra settings gaming and you can upgrade it anytime in the future.
For the power supply, I chose the Corsair RM750X which is overkill for this build but enough for decent upgrades. I couldn't find any 500-600 watts PSU with white colour, So I chose this one which will increase the total cost a little bit but at the end, you won't have to compromise on your colour theme. The only thing which isn't white in this build is the storage drive which is almost impossible right now to get in white colour but nonetheless, it will be hidden completely from the visible space. Graphics card though is a combination of white and black colour which doesn't go against the theme so much.
Taking all of these components together, I have chosen the Phanteks P400 Eclipse with Glacier White colour that is totally white from the outside and black from inside. Putting all the white components on the black interior will make them clearly visible and will put a great contrast on them for the best looks. This is the cheapest 1080p gaming PC with the white theme I recommend. Surely, you can go lower than that but it won't be worth it if it isn't able to play games at 1080p on ultra settings.
Total~ $720-$760(Approx.)
---
 THE SNOWY MACHINE: $1400-$1500 Gaming PC
PARTS LIST
| Components | Images | Latest Prices |
| --- | --- | --- |
| AMD Ryzen 5 3600 | | |
| Corsair H100i RGB PLATINUM SE | | |
| ASUS Prime X570-Pro | | |
| CORSAIR VENGEANCE RGB PRO 16GB | | |
| Gigabyte RTX 2060 Super Gaming OC | | |
| Crucial P1 1TB NVME SSD | | |
| Corsair RM750x | | |
| NZXT H510i | | |
Details
What can be better than the Ryzen 5 3600 for a mid-high-end Gaming build in 2019? It's right now the best value processor you can get from any tier. With 6 cores and 12 threads, it will ensure that you don't run out of cores for multitasking and gaming. This is better than i5 9600K overall except for purely gaming purpose and for that's the reason it is better to buy this one as it has 6 more cores that will make your system more future proof.
It will be used on the Asus Prime X570 Pro motherboard that is currently the only board with the most white accents available in the X570 motherboards. It has 14 power phases with doubling that creates an ideal state for overclocking with stability and are cooled with decent heatsinks. This will ensure proper overclocking along with RGB lighting for creating appealing looks. On it, I recommend going with 16GB of RAM from Corsair Vengeance that are clocked at 3200MHz. These RAM will not only perform great with Ryzen 3600 but will also create mesmerizing lighting effects with the RGB lights at the top of the white aluminium heatsinks.
As the Ryzen 5 3600 comes with a stock AMD heatsink which is black in colour, I decided to change it with the Corsair Hydro Series H100i RGB Platinum SE cooler which is totally white from the radiator to fans and has RGB lights inbuilt in the block as well as in the Corsair LL 120mm fans. This will not only provide the best possible white aesthetics but will also unlock the full potential of the Ryzen 5 3600.
Coming to the most important component for this build, we have the RTX 2060 Super from Gigabyte which is a 3-fan card with the whole shroud as white. This is really a damn good card for gaming at 1440p and I cannot help myself but look at it again and again for it has the best white aesthetics in this whole build. It also has LED Gigabyte logo at the side which will be clearly visible once you start the system. As for the storage, I chose the 1TB NVME SSD from Crucial which is one of the cheapest 1TB NVME SSD you can find today. It will easily fit on the motherboard and will provide you even faster speeds than the SATA SSD.
To power these components, I chose the same Corsair RM750X power supply which is white in colour which I chose for the Bright Starter build. It has enough capacity to power the Ryzen 5 3600 and RTX 2060 Super without creating any bottlenecking issues. And to host all of this I chose the NZXT H510i which is among the people's all-time favourite cases. It is completely white from outside and even though has a very simple look with a plain front panel, it doesn't look anything less than premium. It has a vast amount of space inside for installing tall and long components and has a full-length PSU shroud for covering the PSU and extra cables. At the side of it is a tempered glass panel through which you can enjoy the snowy white beauty.
Total~ $1440-$1490(Approx.)
---
THE WHITE JUGGERNAUT: $2000-$2100 Gaming PC
PARTS LIST
| | | |
| --- | --- | --- |
| Intel Core i7-9700K | | |
| H100i RGB PLATINUM SE | | |
| ASUS Prime Z390-A | | |
| CORSAIR VENGEANCE RGB PRO 16GB | | |
| Gigabyte RTX 2080 Gaming OC | | |
| Sabrent 2TB Rocket NVMe SSD | | |
| Corsair RM750x | | |
| Corsair Crystal Series 680X RGB | | |
Details
If you want no-compromise performance and a total white PC, then this White Juggernaut will be the most powerful white gaming machine for 1440p as well as 4K. Even though there are some components which if you use in this one instead of the ones I chose, you will still not get a higher price to performance ratio. This build uses an Intel Core i7 9700K which is currently the best gaming CPU for $350 and features 8 cores and 8 threads clocked at 3.6GHz with a boost clock of 4.9GHz.
I used it on the Asus Prime Z390-A motherboard which has white heatsinks and is very much similar to the Asus Prime X570 Pro in looks. On it, I recommend using the Corsair Hydro Series H110i RGB Platinum SE CPU cooler which I used with the previous build because it is the only white CPU liquid cooler which can outperform almost every white AIO cooler present on the market. It will let you overclock the i7 9700K over 5.0GHz easily and you will get a significant increase in performance especially when you will overlock everything from CPU to GPU in this build.
For RAM, I chose the Corsair Vengeance 16GB 3200MHz Pro RGB memory modules that will eliminate every possible bottleneck on any resolution in any game. And for maxing out the games at 1440p as well as for playing games at 4K with high to ultra settings, I chose the Gigabyte RTX 2080 Gaming OC which has a similar look to the Gigabyte RTX 2060 Super I used in the Snowy Machine. It's completely white from top to bottom and is a 3-fan card that will increase the overall beauty of your RIG.
With 2TB of NVME SSD storage, the Sabrent Rocket SSD will make your system absolutely fast and you will get enough space to store a lot of games as well as applications that will last much longer. All of this will be powered by the Corsair RM750x power supply and will be hosted in the Corsair Crystal Series 680X RGB chassis which is one of my favourite recommendations in the mid-tower cases. It's deeper than most of the mid-tower cases and yet has lesser width due to the two sections that divide it. It's very much cleaner and makes easy to install everything because it has a separate section for power supply. That way you will be able to hide more cables.
It's white from the outside and from the inside and has 3x 120mm Corsair LL RGB fans pre-installed at the front. At the rear, you will find 1x 120mm Corsair SP fan which you can change if you want to sync every lighting effect. Put all of the recommended components in it and enjoy the beauty and the beast 🙂
Total~ $2000-$2100(Approx.)
---
Recommended Peripherals
[one_third]Corsair K70 RGB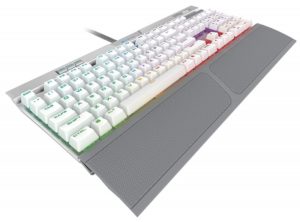 [/one_third][one_third]Corsair M65 Elite RGB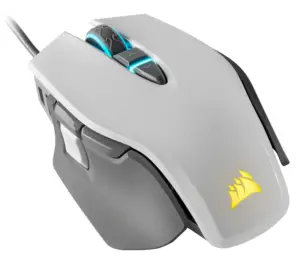 [/one_third][one_third_last]

Razer Kraken Pro V2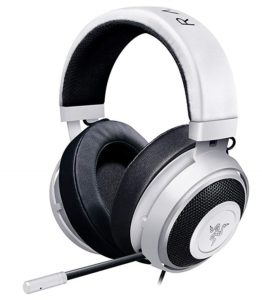 [/one_third_last]
Conclusion
As you saw from above, it's not that hard to build a white gaming PC but it's also important to use the right parts so that you don't face any kinds of bottlenecks or low performance for the money you pay. The components I chose in each build is according to my guides and will do both the jobs perfectly.