Cases
The best mid tower cases in 2018
If you are going to use a Micro ATX or an ATX motherboard in your system then you at least need an ATX Mid Tower gaming case. Companies like Corsair, Fractal and NZXT provide some of the best cases for every need and every budget. But other companies like Thermaltake and Rosewill also seem to give a tough competition to these.
Depending upon your needs and the components you will be using, you can either get a mid-tower with only 2 HDD mounts and only a few fan ports or you can get an insanely big mid-tower case that supports water cooling and a lot of custom fans.
Doing a lot of research, I have found the best ATX mid-tower cases for every budget with different features you can buy this year. All these cases have got plenty of positive reviews and I am going to review them to make it clear whether these cases worth your money or not.
How to Choose the Case?
For tight budget builds like $500 gaming build or $400 gaming build, the cases that cost under $50 are the best choice and above $50, these cases are best for building gaming rigs that cost you more than $500 up to $1200. Cases that cost above $100 are for enthusiasts and have many additional features that you may want in order to get better quality or to show off.
This guide is going to be very long therefore if you want to save your time, you can choose your category according to your budget first and then read the reviews.
---
Thermaltake Versa H22 SPCC ATX Mid Tower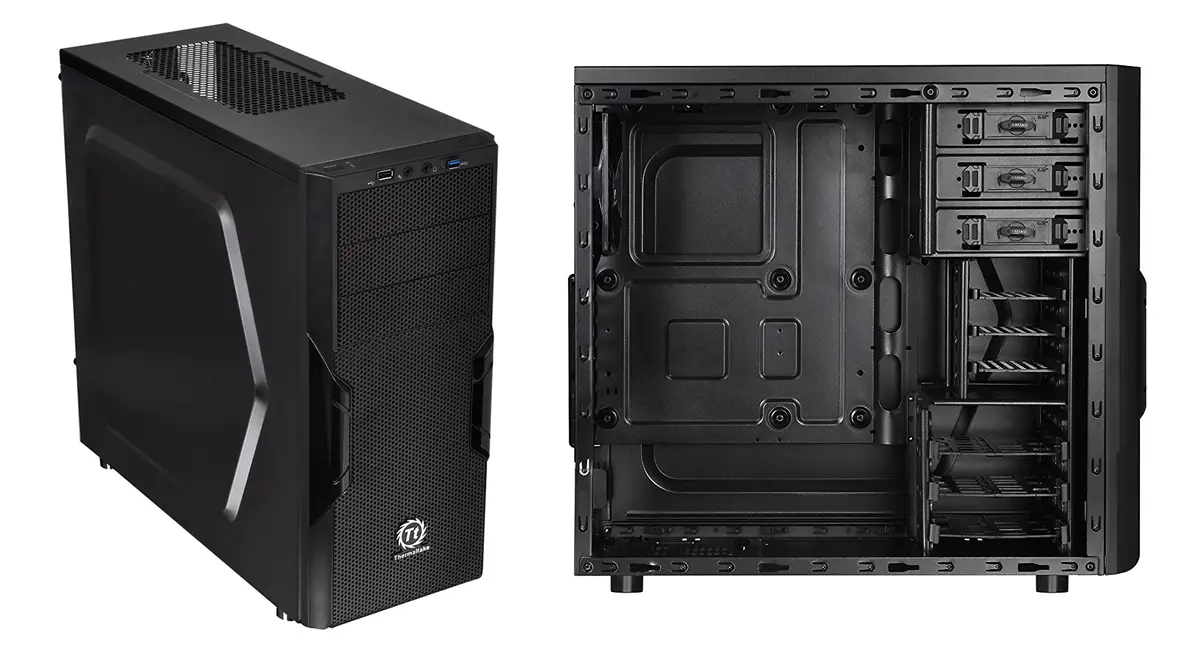 This case is available in two versions. One has an opaque side panel and this one has a transparent window in its side panel which lets you see through it inside. This case is good for a budget build costing more than $300 up to $600 as it has some of the most important and basic features that you would be looking for. A similar case I have used for my $500 gaming build. As for the window panel, it costs above $50 but this case which has opaque side panel costs only $40.
DESIGN AND VENTILATION
The material used in this case is SPCC steel and the colour is black both on interior and exterior and will look best if used with components coloured in orange, red, blue or white. The design is simple and has been optimised for good ventilation. The front of the case has honeycomb mesh for cool air intake and has two ports for installing 2x120mm custom fans.
The top of the case also has a perforated mesh which is for eliminating the heat through the top. As the side panel doesn't have any fan slots, you will not be able to install any fans in that. But the rear has a 1x120mm pre-installed fan for exhaust. If you install two fans at the front for intake, the case will never heat much as it will create a good cycle of exchanging the cold and hot air.
COMPONENTS COMPATIBILITY
Inside the case, you have 3 drive bays for 5.25″ drives, 3 drive bays for 3.5″x Hard drives that can also be replaced with 3×2.5″ SSD's and finally at the bottom you get 3 drive bays more for 2.5″ drives. So you have a pretty good amount of support to install more hard drives and SSD's.
Now, this case can support motherboards with form factors Micro ATX and ATX and standard PS2 power supplies. It can support long graphics cards and also has a good amount of space so that you can easily install a custom cooler like Cooler Master Hyper 212 EVO etc. and will have no problem in doing two-way CrossfireX or SLI. The front of the case has audio and mic jacks for easy access. Two USB ports are also available along with them out of which one is USB 3.0 and one is USB 2.0 ports.
Thermaltake Versa H22
Pros
Has a lot of slots for installing storage devices
Has decent cooling system with enough ventilation
Has several holes for routeing cables
Value to price is unquestionable
Cons
It has a old design which may not appeal to enthusiasts
Short cutout in the motherboard tray which makes it difficult to install an aftermarket cooler without removing the motherboard
---
Rosewill Gaming Challenger S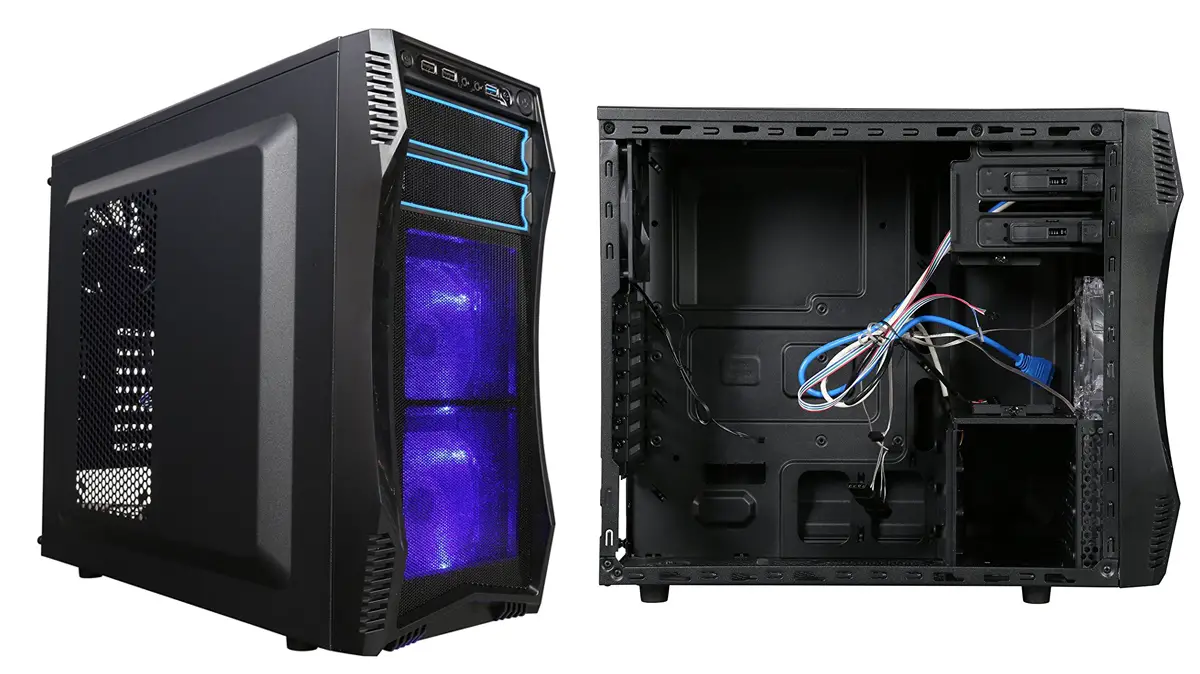 A better case for a little more price is this Rosewill Challenger S. For a budget less than $50, this case is among the best cases available now in the market. It is best for gaming PC's costing $500 and above up to $1000 as it supports full-length components. Although it generally costs above $40 but you can get it for less than this on some occasions.
DESIGN AND VENTILATION
This case is also made up of SPCC steel. The design is very attractive especially the front which has a curve on the sides. The case comes with 2x120mm blue LED fans pre-installed on the front which not only makes it cooler but also makes it look better. The rear is also equipped with 1x120mm fan for exhaust. This case is even better than the Thermaltake Versa 22 as it has more space inside and supports more custom fans. At the front along with 2x120mm fans, you can also install a water cooling radiator with fan 120mm in size for cooling your CPU. That's why I included it in my best airflow cases of 2018.
The top and the bottom are equipped with perforated mesh and dust filters. Creating all side ventilation, in this case, is easy as you have the support to install fans at the top, bottom, rear and front. The total amount of fans it can support at a time is 8 including the radiator. 2x120mm fans at the top, 2x120mm/2x140mm fans at the side and front respectively. Cable management and wiring are just simple as all other cases in this list. You don't have to worry about cable management in all of these cases.
COMPONENTS COMPATIBILITY
It supports even longer graphics cards up to 360mm in length. Even the compatibility of motherboards is better with the support of MINI ITX motherboards additionally. So, you can build even a budget or a high-end build with it. The only con it has as compared to the previous one is that it has 2×2.5″ drive bays and 2×5.25″ drive bays as compared to 3/3 in the previous case. But you still have 3×3.5″ drive bays for up to 3 hard drives. Now, I still don't think that it is a con because there is hardly anyone who utilizes more than 3/4 drive bays in total.
The drive bays for SSD's like in the previous ones are replaced with the Radiator support that also makes sense as you can do liquid cooling for your CPU.
Rosewill Gaming Challenger S
Pros
Has great airflow and supports fans at multiple locations
Ventilation is exception at this price point
Cable management is decent with a enough clearance for cables
Comes equipped with pre-installed 3x 120mm fans(2 with Blue LED)
Best for Value to price performance
Cons
The material quality is not that great
Has a limited support for radiators
---
Corsair Carbide Series SPEC-04 TG Edition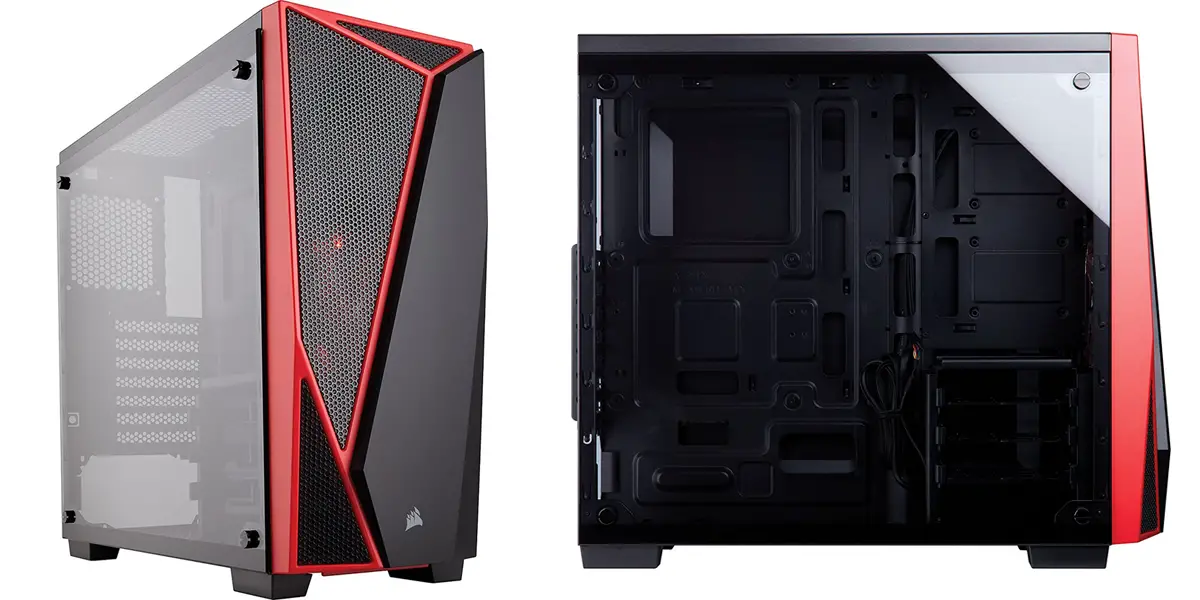 Corsair SPEC-04 is one of the latest edition in the SPEC series. Although SPEC-05 is also available but that case is terrible in many aspects. However, the SPEC-04 brings new things to the table. The previous three SPEC cases brought good interior and good airflow from the front. As the time changed and the tempered glass became more popular, Corsair released the SPEC-04 edition and then redesigned it with a tempered glass. The tempered glass in this case will allow you to see everything inside the case and is immune to minor scratches.
The case has a similar interior to the previous SPEC cases and provides a decent cutout at the motherboard tray for easy CPU cooler installation. This case has a support for up to 3 hard drives and 2 SSDs at the back side which will be hidden completely. This makes it a good choice for a clean build. There are a lot of routeing holes inside the case which are, however, not accompanied by rubber grommets, but still enough for routeing any cable through the required routeing hole. Cable management in this case is easy as there is decent clearance at the back.
Taking a look a the front which is the best part of this case, it has an angular front panel design with both mesh and a plastic cover. The mesh will allow good airflow from the front but the plastic will restrict some airflow. Most of the cases we saw in 2017 and also in 2018 brought a plain glass tempered glass panel that restricts 90% of the airflow, but this case provides a fine amount of airflow which is very necessary for maintaining a steady temperature inside. There is one 120mm RED Led fan pre-installed in the case and you can install two more fans at the front, 2x 120mm fans at the top and 1x 120mm fan at the rear for a complete balanced airflow. You can check out the complete review of this case if you want to know more about it.
Corsair Carbide Series SPEC-04 TG Edition
Pros
A good lightweight and sturdy case
Comes with a tempered glass side panel
Very good angular design at the front
SSDs can be installed at the back which will be totally hidden
Several routeing holes present for easy cable management
Big motherboard tray cutout for easy CPU cooler installation
Cons
No rear fan pre-installed
Support for radiators not good
Front panel restricts some airflow as compared to the previous SPEC cases
---
Corsair Carbide Series 100R Silent Edition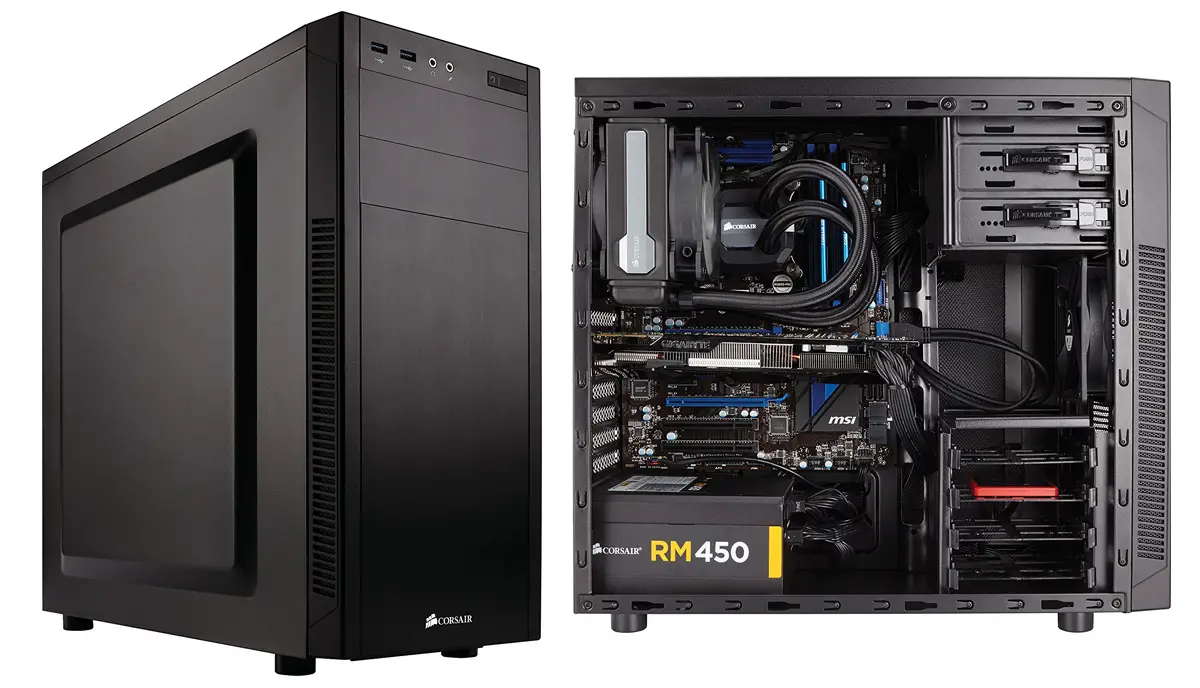 This is the case which I have used in my $1250 Kabylake build as well as $600 Kabylake build because it has a good components compatibility and is almost silent. There are two versions of this case but the other one is not made silent as this and costs only a few bucks lower.
DESIGN AND VENTILATION
The design is simple and sleek and the ventilation, however, is not much good like the previous one but you can actually install up to 3 custom fans inside the case. As the case is bigger you can still expect it to not heat so much. Actually, this case is designed as silent as possible for media works etc. The side panel doesn't have a window but actually, all of the panels including the top of the case use insulation material for absorbing noise. The front of the case is straight and sleek too with the support of 2x120mm/140mm fan support inside.
The rear has a fan controller to make your fans slower or faster which is a good feature to use the fans as slow as possible when the system is idle and push them as fast as you can when you are doing gaming. But if this case would have ventilation perforated mesh or something like that, the case wouldn't be so silent. So, if you prefer silence over ventilation, this is a right option for you.
COMPONENTS COMPATIBILITY
The components compatibility is also fine. It has 2×5.25″ drive bays and 4×3.5″/2.5″ combo drive bays for Hard drives and SSD's which are tool-free easy to setup drive bays. The compatibility of motherboards is, however, better than the previous case as along with the Micro ATX, ATX motherboards, it also supports Mini-ITX motherboards. But the maximum height of CPU cooler it can support is 150mm which could have been more for this price.
The case supports Liquid coolers like H55, H60, H75, H80i but I think you can use a Corsair H100i on the front. As the there are no drive bays in middle of the case, you can actually use graphics cards longer up to 414mm and two-way SLI/CrossfireX.
In the front, there are Audio I/O jacks and two USB 3.0 ports. So, if you have a motherboard that has a USB 3.0 front panel port you will get the benefits of these two ports. I think this case is only good for you if you want a silent PC with a little bit of compromise. Sure it has some disadvantages when we look at the ventilation but at the same time, you get compatibility with Mini-ITX motherboards and more silence.
Corsair Carbide Series 100R Silent Edition
Pros
Several cut outs for proper cable management
Outstanding silent operation
Tool free drive bays
Cons
Lack of proper ventilation
Lack of 240mm radiator support
---
Fractal Design Meshify C TG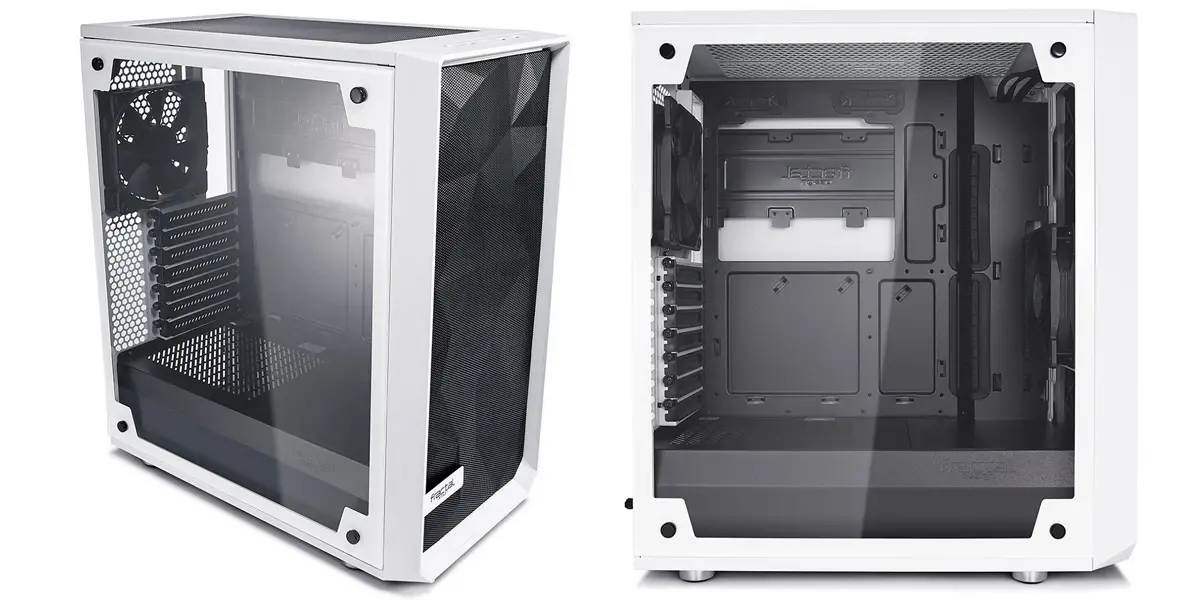 If I can choose a perfect case for you under $100, then I will recommend the Fractal Design Meshify C TG which is without any CON the best case you can find right now. This is a deal breaker and consists of every feature that you would want and need. The case is taller than it is wide and saves a good amount of space on the desk but this doesn't let it decrease its compatibility. It can take AIO coolers, custom liquid loops and long graphics cards. The interior and the exterior are at its best and I like the White version of this which has a white exterior and black interior. There are a total of 5 versions of this case including a black one but I like this one the most.
The case uses a very good design for installing the components especially the storage devices. The full-length PSU shroud hides the power supply and can host 2x 3.5″ hard drives while the back of the motherboard tray can host 3x 2.5″ SSDs. For cable management, there are 2 big routeing holes with rubber grommets. There are also some routeing holes on the PSU shroud that are very helpful in connecting the front panel connectors to the motherboard. As for the cooling, this case doesn't hold back anywhere. The front panel features an angular design which Fractal Design claims increases the intake. There are dust filters at the front, top and bottom so that the case accumulates less dust.
You can install up to 3x 120mm/2x 140mm fans at the front, 2x 120mm/140mm fans at the top, a 1x 120mm fan at the bottom and 1x 120mm fan at the rear. The case already comes with two 120mm fans pre-installed- one at the front and one at the rear.  For AIO cooling, you can install up to 360mm radiator at the front and up to 280mm radiator at the top. Therefore, cooling wise it doesn't fall back and provides the maximum support. The material quality, as well as the aesthetics of this case, is 10/10 for the price.
Fractal Design Meshify C TG
Pros
Has a lot of ventilation and good airflow at the front
Comes with dust filters at the top, bottom and front for dust prevention
The Angular front panel, Tempered glass side panel, White/Black colour design etc. makes it look gorgeous
It can support up to 360mm and 280mm radiators at the front and top respectively
It uses a very effective way to host the storage devices while hiding them completely
---
NZXT S340VR Elite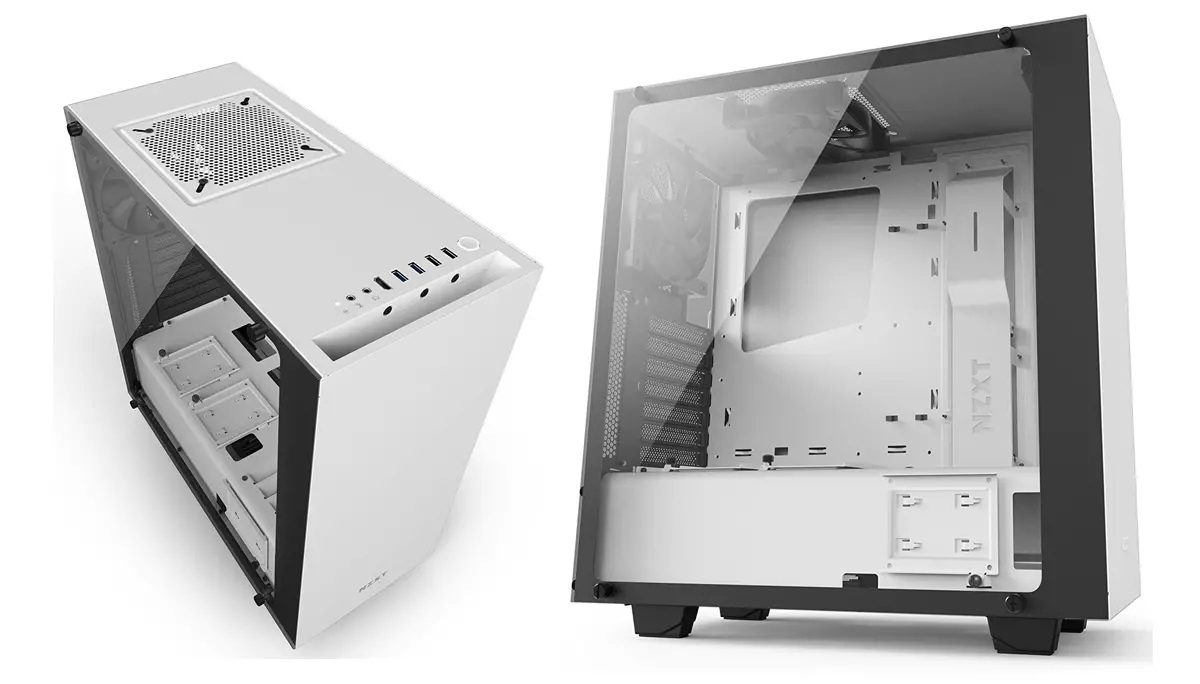 NZXT S340VR Elite is the newer model of NZXT S340. The case looks like a lot similar but there are a few changes in the case which I have listed below. The price difference is almost $20 but it's justified for the extra features it comes with.
DESIGN AND VENTILATION
This case is simply plain and modernistic. Some may like a transformer looking case but I prefer a plain case like this which has a good design. Although the ventilation, in this case, is not good enough but it's still fine for normal high-end gaming rig which is not made specifically for overclocking. The case has 2x 120mm fan slots the rear and at the top. It's definitely a CON here not having at least two 120mm fan slots at the top but when you see that the front has only two slots for fan installation then it makes sense because a case should have balanced airflow.
You can install a 240mm or a 280mm radiator at the front. The case will take cool air from the bottom and will result in lesser dust but at the cost of lesser airflow. So don't go for hardcore overclocking of every component. Now talking about its looks, it comes with a tempered glass side panel which resists micro-scratches, unlike the normal NZXT S340 version. The case also comes with a magnetic puck that can be used to hang headphones or VR headset at the front. Cable management is also improved a little bit but everything else is similar to the previous version.
COMPONENTS COMPATIBILITY
The case supports Mini-ITX, Micro ATX and ATX motherboards and graphics card with a maximum length of 364mm without any front radiator and 334mm with radiator. You can do two Way SLI/CrossfireX easily, in this case, however, I don't recommend SLI now.
The power supply mount and hard drives mount is present at the bottom which is totally hidden and will keep your system even tidier and neat. Unfortunately, there is no drive bay for ODD so you have to use USB drives instead. But there is an additional SSD slot at the side of the PSU shroud and a cutout for neat cable management. So, now you can install up to 3 SSD's.
The cable management is even better with a lot of holes and a cable bracket that hides the big cables. There are also straps present at the back which will hold your cables altogether. Overall this case is very decent for its price and I don't have any reasons for you to not to buy it.
NZXT S340VR Elite
Pros
Looks great with the tempered glass side panel
Has a full length PSU shroud that hides most of the cables/PSU and hard drives
Has three SSD slots and awesome cable management
Comes with a magnetic puck for hanging headphone or VR headset
Cons
Not enough ventilation at the front panel
Lacks required amount of fan slots at the top
---
Phanteks Enthoo Pro M TG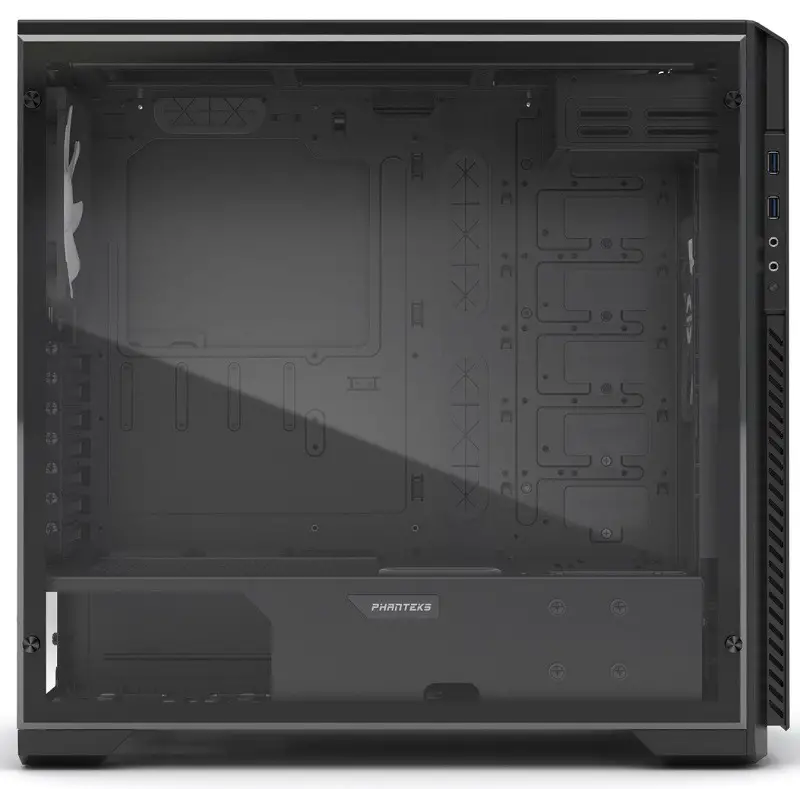 I cannot stop myself but put this beautiful mid-tower on this list as it features one of the best designs for compatibility with components and for cooling. It's the combination of everything at one place and comes at a budget price that many cases fail to come at.
DESIGN AND VENTILATION
When the design of this case is considered it's better than the NZXT S340 Elite in my opinion with some fewer premium features but what it comes with is not present in the S340. The interior of this case is designed in such a manner that it gives you more than enough empty space to work with and you can do custom water loop liquid cooling in this case without any problem. There are two big routeing holes with rubber grommets that hide the cables neatly and the presence of this holes almost at every suitable place makes it a good case for cable management.
Installing a custom CPU cooler won't be a problem in this chassis as it has a big cutout on the motherboard tray and a lot of space behind it. The case also features a full-length PSU shroud that will hide every cable properly along with the hard drives. Your power supply, however, will be visible from the side because of the cutout at the shroud so you can either make your PSU brand appear from outside or you can mod the PSU for better looks.
Related:- Best Cheap Gaming PC
The front panel of the case is one of the best things in it which is currently not being implemented in a lot of cases. It sports a ventilated front panel with a dust filter that will allow good airflow inside the case and at the same time, it will stop the entrance of dust to a good extent. At least it's better than the cases which have very less area for intake and because of this I recommend going with it over the NZXT S340 Elite, however, the latter comes with a side tempered glass panel which is absent in it. It contains tempered glass side panel that is the new addition to the original version of this case and therefore you will admire its aesthetics more than ever.
COMPONENTS COMPATIBILITY
Starting from how much fans and coolers it can take, there is a very good support for both radiators as well as chassis fans in it. You can install up to 3x 120mm fans at the front if you remove the HDD cage and with HDD cage installed you can install 2x 120mm fans. Similarly, you can install up to 360mm radiator at the front and a 360mm radiator at the top which is exactly what you should be looking for in case you want the best cooling performance. Surely, it's not the best in cooling but it's far superior to most of the mid-towers I listed on this list.
You can install Mini-ITX, Micro-ATX, ATX as well as E-ATX motherboards in it that should not be wider than 264mm. A normal mid-tower doesn't have a compatibility like this and you can install a very big CPU cooler in it at the same time as the total clearance for a CPU air cooler is 194mm. And as there is a lot of space in it because of the absence of the HDD cage in the middle, you can install very long graphics cards and do two Way-SLI or CrossfireX if you are planning to build a high-end Gaming PC.
For storage, there are a total of 2 bays present for 3.5″ hard drives and you can install 6 more of those which aren't included with this case and you can buy them for expanding your storage capacity. For SSDs there is one drive bay present and you can install two more separately. Overall, this case should be your priority if all of your requirements come under what I have stated.
Phanteks Enthoo Pro M TG
Pros
A perfect mid tower with compatibilty of E-ATX motherboards and big CPU coolers
Has support for custom water cooling
Full PSU shroud hides cables and hard drives
Proper ventilation with dust filters for improved cooling
---
NZXT Phantom 410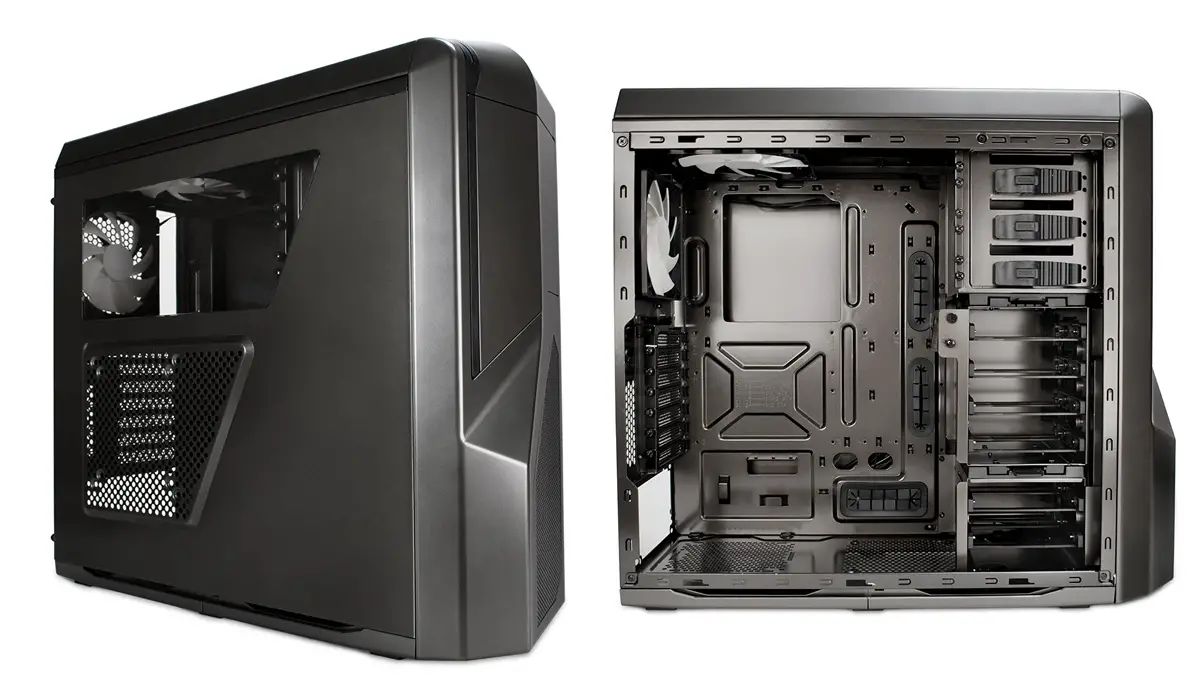 It's true that 2017 was the year of tempered glass and RGB and so maybe 2018 but it doesn't change the fact that there are some old cases which are still the best for their price and people should consider them for their PC's. This is another NZXT mid tower that costs equal to the S340VR Elite but looks damn professional. Just like the other mid towers, it has a similar design but has exceptional cooling features along with flexible customization. This case is the best-looking case for under $100.
DESIGN AND VENTILATION
The design is very sleek and stylish. The material used in this case is a very good quality steel and the front panel has some good features like a removable top cover to access the ODD's and also has a mesh ventilation for better airflow. The case comes with 3 pre-installed fans. 1x120mm fan at the rear and front and 1x140mm fan at the top. Along with these fan ports, you still have 4 more fan ports in the whole case including areas front, top, bottom and at the side panel.
The pre-installed fans are very good quality and the other fan ports can be used by installing similar NZXT fans. The case also has fan filters at the front and at the top making difficult for the dust to enter it. With this case, you can easily cool your CPU with a 240mm dual radiator at the top and for overall case cooling, the front 1x120mm fan can be replaced with either 2x120mm or 2x140mm fans. The side panel also has a transparent small glass window along with the side fan port so as you can see through it inside. The only con I have heard of it from the customers is that it is too big. LOL. How can it be a con?
COMPONENTS COMPATIBILITY
It supports Mini-ITX, Micro ATX and ATX motherboards. Along with the support of too many fans, you can install a graphics card up to 280mm with a front fan installed at the front, up to 230mm long graphics card with drive bays installed and up to 305mm long graphics card if nothing is installed at the front middle.
For storage devices, it has 3×5.25″ drive bays, 6×3.5″ combo drive bays for both HDD and SSD out of which 4 are removable to install bigger graphics cards. The drive bays are a tool-free mechanism and require no screws to install the drives. You will never have problems with any components installation and cable management with this case. 
NZXT Phantom 410
Pros
It has several cutouts with rubber grommets for finesh cable management
Has great support for radiators and big coolers
Has tool free modular Hard drive cage design
Good amount of ventilation will make this case remain cooler
Cons
No tempered glass side panel edition
May not appeal to those who like plain simple design
---
Thermaltake Suppressor F-51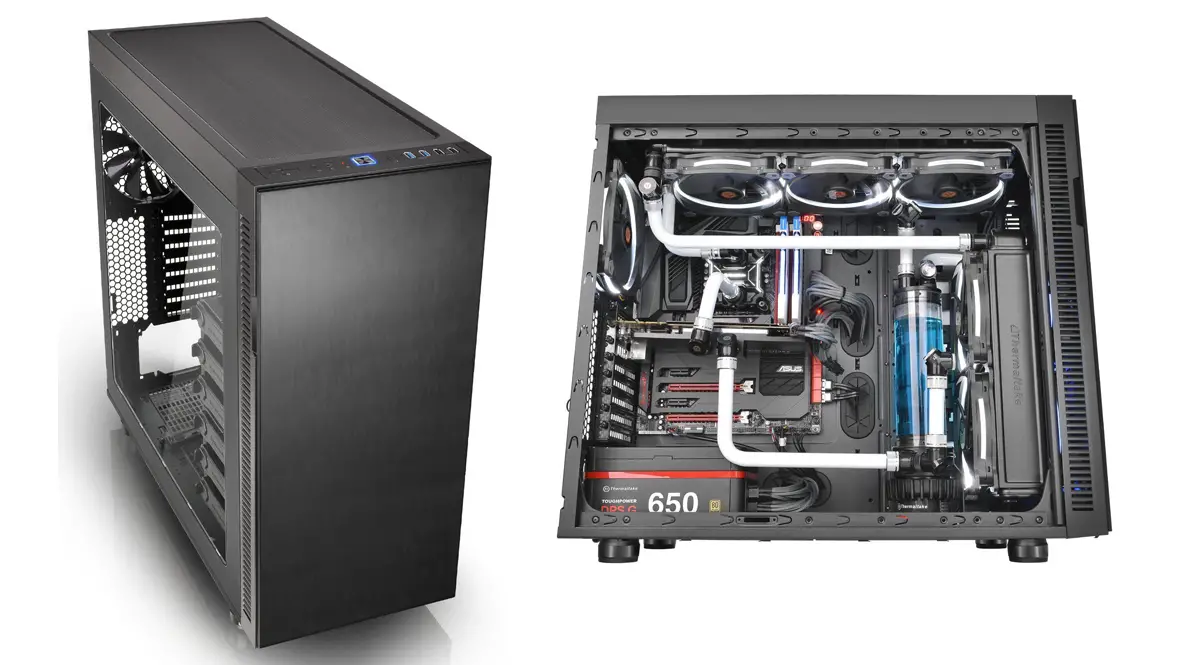 Just above 100 dollars another beast mid-tower from Thermaltake catches our attention. It has two versions, one is silent edition without any transparent window which costs $100 and this one is gaming edition costing more than $110 now. It has a transparent window on its side panel and is fully modular.
DESIGN AND VENTILATION
This case is badass. Customers have said that it is very heavy and does not feel cheap at all and it shouldn't be as it is enthusiast gaming case. Along with too much of space, this case has dampened panels all side to make it silent. The interior and exterior are steel grey in colour and looks elegant. For cooling, it comes with pre-installed 1x140mm fan at the rear and a huge 1x200mm fan at the front to cool the hard drives.
But it becomes a little bit noisy when your system is working under 100% load otherwise, the case is completely silent. For cooling your CPU you can install a radiator at the top which also has a dust filter. The bottom and the front panel also have large dust filters to keep the dust-out. And if you want to install a dual or triple radiator for your CPU, you can install it at the top or even at the front as the drive bays are totally removable creating a huge amount of space. This case is really silent as well as has a complete solution for maintaining the temperature at lower degrees.
COMPONENTS COMPATIBILITY
It can fit any component easily. You don't have to check out the specs of a radiator or a graphics card before buying to make sure that it will fit or not. Anything will fit into this case. It can support huge radiators, water cooling setup, insanely long graphics cards and what not. For storage, there are 6+2 drive bays for ODD, HDD and SSD's which are easily removable if you want to create more space but even if you don't remove them, you can easily be able to do SLI/CrossfireX of up to 3 graphics cards. This case is really huge and you can never regret buying it.
Thermaltake Suppressor F-51
Pros
It's a huge case with great compatibility
Cable management is easy with more than enough clearance
Has support for custom water loops
Has modular design and can be changed accordingly
Cons
Not enough airflow at the front
No tempered glass edition
---
Define R6 Black TG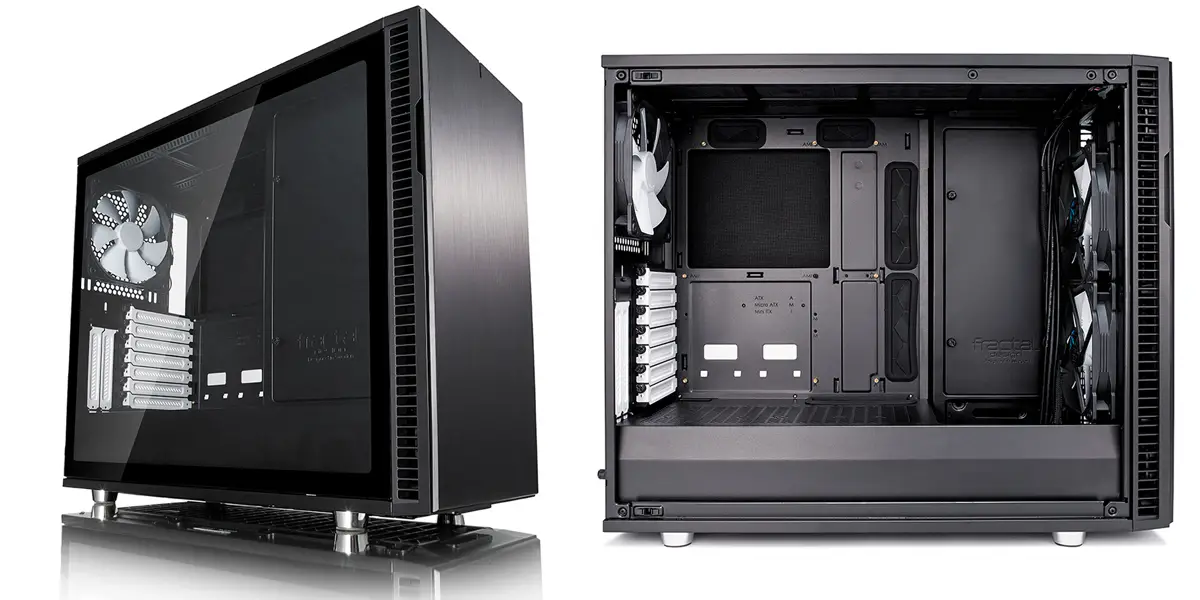 This is another great mid-tower case from Fractal Design. The quality of Fractal Design cases are superior to most of the brands out there and Fractal provides more features which are really needed. This case is not aimed at the best airflow but designed to reflect a simple yet modern look. The case is made wider to host big components especially long graphics cards. The front of the case has a brushed aluminium finish and takes the cool air from the sides. The case also has a large tempered glass side panel through which you can take a look at your components.
It's completely black from inside and outside, however, there are some variations available in White as well as Gunmetal colour.  Inside the chassis, there is a full-length PSU shroud that has an open space at the front in order to host thick radiators and intake fans. The case is highly modular and you can literally take apart almost every part of it if you ever face any incompatibility with any component. There is a hard drive panel which you can either remove completely or use in order to expand your storage capacity. Along with that, there are two hard drive bays in the PSU shroud and two SSD drive slots at the back of the motherboard tray.
The case has sound dampened side panels which will ensure that you hear less noise while gaming. But that doesn't make it stand behind in terms of cooling. The case can let you install up to 3x 120mm fans or 2x 140mm fans at the front and 1x 120mm/140mm fan at the rear. The case already comes with 3x 140mm fans pre-installed in these locations and if you want more balanced airflow, there are slots for installing up to 3x 120mm or 2x 140mm fans at the top. Similar is the case for radiators.
Cable management, on the other hand, is fabulous as there are cable tying straps behind the motherboard tray and enough clearance for tucking the leftover cables. At the back, there is also one FAN Hub present from where you can control of your chassis fans. At the top, there is an option to choose from a completely covered top or a dust filter. Not only at the top but at the front and bottom, the case is equipped with dust filters to resist dust as much as possible from entering into the case.
Define R6 Black TG
Pros
Features a very plain yet modern design in terms of aesthetics
Great support for coolers, fans and radiators
Comes with a lot of dust filters
It's highly modular which lets you customize your build as per your requirements
Sound dampened side panels helps in reducing overall noise
Cons
Front panel doesn't lets a lot of air for intake
---
Corsair Crystal Series 570X RGB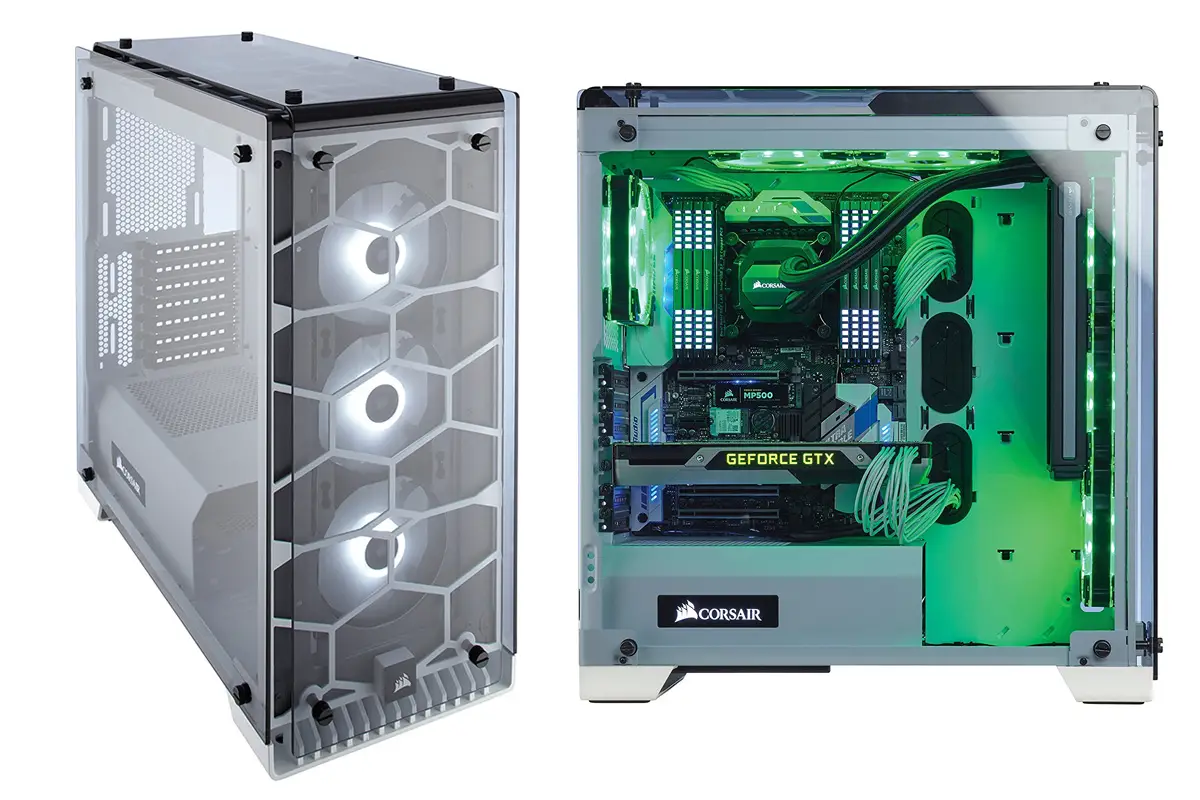 Except for some flaws that are minor for me this case is the most premium mid-tower chassis but at a cost, not everyone can afford. For $180, this case has a great support for components and a premium look with all side tempered glass panels.
DESIGN AND VENTILATION
I don't remember exactly the case name from which the idea for Corsair 570X was taken but nonetheless, this case has 4 sides tempered glass panels which makes it very heavy and a burden sometimes because it needs a lot of care. But those tempered glasses make it look fantastic making visible everything from fans to internal components. Many people didn't like the tempered glass at the back as it exposes the cables but if you do the cable management properly with the help of the metal cover and velcro straps that it comes with, it should be no problem.
The case although have tempered glass panels at the front and top, it has clearance at the sides for airflow. Those aren't enough for proper airflow but does the job done. As I am using this case in my personal RIG I can say that those aren't a problem for me but for overclockers, it won't be an appealing choice. Coming to the interior, it has a good amount of empty space with a PSU shroud that does not extend towards the front panel making clearance for thick radiators if you want to do custom water cooling in it. The PSU shroud doesn't come with any cover that hides cables but if you stuck them well inside the shroud, then it will be OK.
The case has a good amount of routeing holes with rubber grommets but at the PSU shroud, there isn't any. So, these are some flaws which may make you imply that this case isn't the best one and sure it isn't but the material quality is superior when compared to some of the best chassis in the market. Also, it comes with 4x 120mm Corsair SP series fans that are RGB connected to a Corsair Controller at the back of the case which can be controlled using the three buttons at the top of the case. You can switch between the effects, colours and speed for making your case gorgeous.
COMPONENTS COMPATIBILITY
This case can support intermediately sized CPU coolers and long graphics cards. As the hard drive bays are present at the back of the case there is enough space present at the front which won't put any interference in installing thick radiators. You can install 2x 3.5″ hard drives as well as 2x 2.5″ SSDs at the back. There isn't any more room for expanding the storage capacity in this case.
For cooling, as there are already 4x 120mm fans pre-installed in it, you can install two more 120mm fans at the top making a balanced airflow overall. Similarly, you can install up to 360mm radiator at the front and 240mm radiator at the top. The front, of course, comes with a dust filter and it gets filled with dust in a month easily which you can remove for cleaning. So, in case you are doing ultimate cooling in your case be prepared for cleaning the dust regularly.
This case when released was available in only black colour. Now it is present in Mirror Black, Red and White also providing you options to choose from.
Corsair Crystal Series 570X RGB
Pros
A premium case with 4 side tempered glass panels
Support for very thick radiators at the front
Comes with 4x 120mm pre-installed Corsair SP series fans
Available in 4 different colours to choose from
Cons
Not proper airflow because of the tempered glasses
No routeing hole in he PSU shroud
Needs a lot of care
---
CoolerMaster MasterCase H500M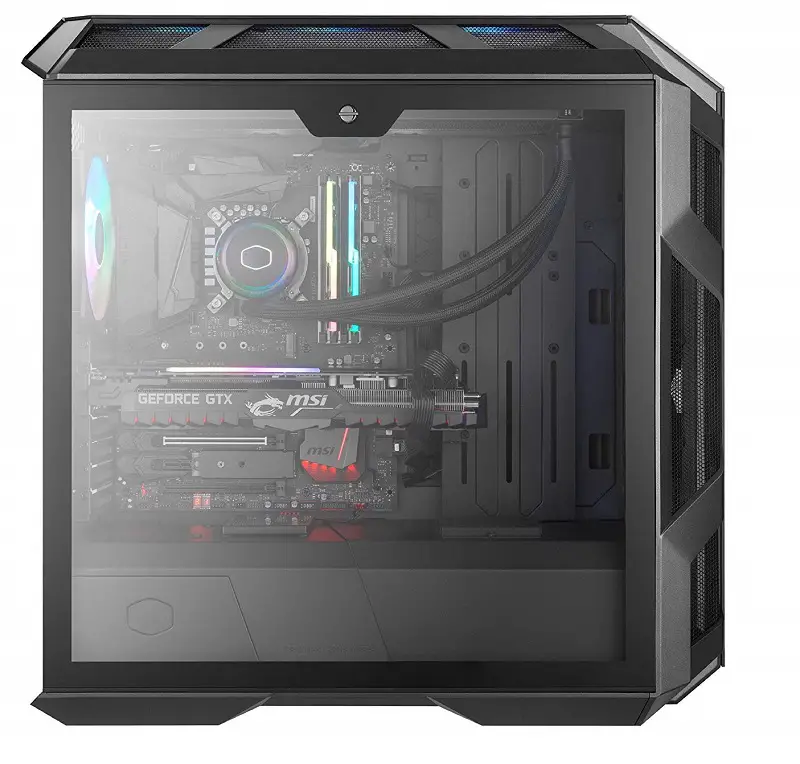 Cooler Master MasterCase H500M is the revised edition of the original H500P which also got a revision for the front panel but this one adds some more features to the case which helps in both aesthetics as well as airflow. This case costs $200 due to the premium quality materials used in it and the features it has been equipped with for components support as well cable management.
Our Senior Editor Subhanka has reviewed this case and is using it as his personal chassis and believes that it lives up to its name and is worthy of being included in the Half series that CoolerMaster has specifically made for high airflow. The front panel uses a quality mesh design that features more width from the sides which results in increased airflow and the middle part can be interchanged with the glass panel if you want to limit the dust intake. In both the cases, the case performs absolutely great in terms of cooling and as the case is equipped with 2x 200mm ARGB fans, you will be enjoying both the great airflow and multiple coloured lighting effects.
Inside it, there is a lot of space for installing tall CPU coolers, AIO coolers as well as long graphics cards that will get clearance up to 412mm. It also uses Graphics card support arm that helps the graphics card not to sag which looks odd. With a full PSU shroud, you can hide all the cables inside it and also host your hard drives which is now a norm in most of the mid-tower cases. Behind the motherboard tray, you will find the covers that allow you to hide cables properly even if you don't use the back panel. That's also a good addition.
There are multiple features that are still needed to be discussed on it but it will be better if you read our full review of this case that will let you decide if this case is worth the money or not.
CoolerMaster MasterCase H500M
Pros
The case has beautiful aesthetics and uniformity of colour
The case has good air-flow potential even if the front mesh is replaced with tempered glass
Nice support for CPU Cooler (Air/Liquid)
Secure two-step mounts for tempered glass
Neat cable management
Cons
The case has mounting issues with 2.5" drives
To have a nice build, you need to have updated equipment
Fan Bracket has no mounts and needs extra care while installing
Price is higher
---
Cases List (As of 12th Sept 2018)
| Case | Image | Price | Links |
| --- | --- | --- | --- |
| Thermaltake Versa H22 | | $39.64 | |
| Rosewill Gaming Challenger S | | $53.12 | |
| Corsair Carbide Series SPEC-04 TG Edition | | $59.99 | |
| Corsair Carbide Series 100R Silent Edition | | $58.04 | |
| Fractal Design Meshify C TG | | $80.88 | |
| NZXT S340VR Elite | | $128.50 | |
| Phanteks Enthoo Pro M TG | | $99.99 | |
| NZXT Phantom 410 | | $90.37 | |
| Thermaltake Suppressor F-51 | | $129 | |
| Define R6 Black TG | | $151 | |
| Corsair Crystal Series 570X RGB | | $170.10 | |
| CoolerMaster MasterCase H500M | | $199.99 | |