Corsair 460X and 570X cases were revealed at the end of 2016 and both of them brought a similar look making some confusion on what basis both the cases differ. From outward appearances, both look similar although there are some differences and from inside there are some more differences from which you can get an idea of what will be more suitable to you.
I am going to list down the similarities and differences between the two cases along with my opinions rather than just putting down their specs on the list of how much they weigh or measure. This comparison should leave no room for any confusion but take one note in mind that there are several different approaches to building in a case that depends on the parts you purchase.
So, I am not going to put a compatibility chart here for each case rather than put an overview with advantages and disadvantages of what they can support and what will be best for you.
Corsair Crystal 460X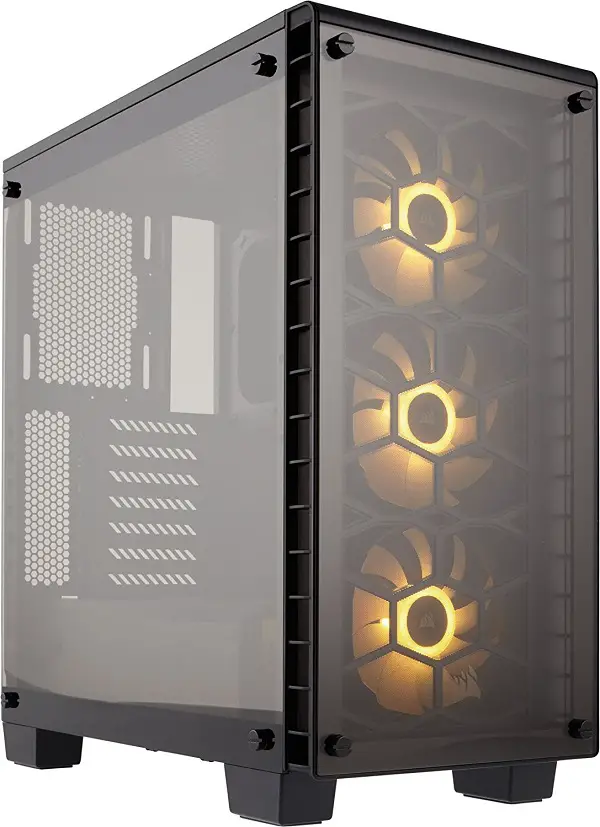 Corsair Crystal 570X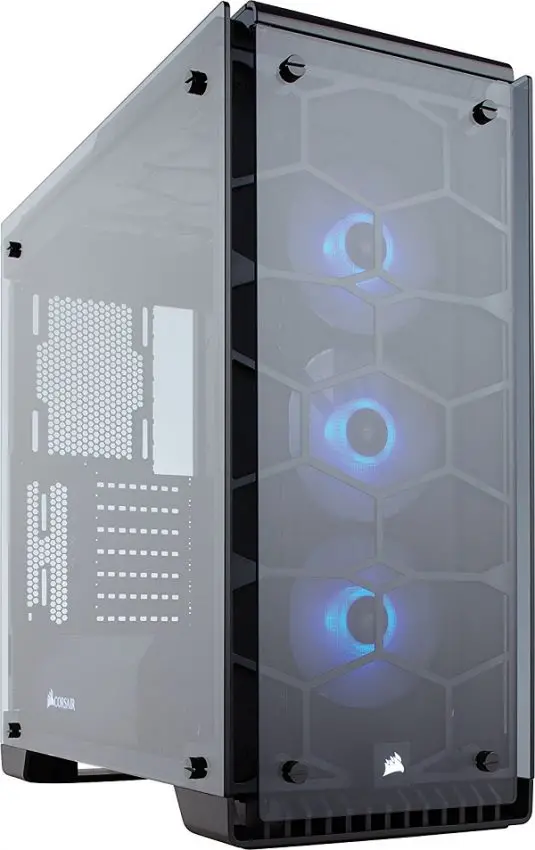 Similarities
1. Both are mid-towers
2. Feature front and side tempered glass panels
3. Come with PSU shroud
4. Three big routeing holes with rubber grommets
5. Big motherboard tray cut out for aftermarket CPU cooler installation
6. Come with 3x 120mm pre-installed Corsair SP 120mm RGB fans at the front
7. Dust filters present at the top, front and bottom
8. Adjustable rear fan position
Corsair 460X Pros
✅ Opaque side panel at the opposite side for hidden cable management
✅ Longer PSU shroud that hides cables better
✅ Compact but supports a good amount of components
✅ Hard drive bays present in the PSU shroud are easier to use
✅ Three 2.5″ drive bays present at the motherboard tray that supports up to 3 SSDs
✅ Cutout at the bottom of the motherboard tray for easy wiring for front panel ports
✅ Present in two colors
Corsair 570X Pros
✅ Bigger in size makes compatibility with components better
✅ Supports thicker radiators at the front due to shorter PSU shroud
✅ Unique hard drive installation system at the back
✅ Cable cover for hiding the cables at the back
✅ 4 side tempered glass panels that give a premium look
✅ Present in 4 different colors
Corsair 460X vs 570X dilemma
Both cases are well-made mid-towers by Corsair but due to some different features, their prices differ. Corsair 460X right now costs around $130 and 570X sits at $170. This $40 price difference is mainly due to the bigger size of the 570X and 2 more tempered glass panels at the top and on the other side. Also, the 570X is heavier and features more space for AIO coolers.
However, there is a minor difference between the two which you may not understand just by looking at them. Corsair 570X has very little clearance at the front for intake of cool air because of the side panels covering most of the space. In comparison to that, 460X's side panels don't extend towards the front making more room available for the intake. The second small difference which may or may not concern you is the length of the PSU shroud. 460X's PSU shroud is longer which covers all the extra cables but 570X doesn't have that longer PSU shroud mainly because Corsair wanted it to support thicker radiators in case you want to do custom water cooling.
Corsair, when released the 570X, didn't equip it with a PSU shroud cover which left most of the cables exposed but right now it comes with a PSU cover which helps to hide all those extra leftovers. Also, there is no routing hole on the PSU shroud so you can easily route the front header cables easily making cable management somewhat poorer than the 460X.
Corsair 460X is available in only two colors: White and Black with RGB and Non-RGB fans but Corsair 570X is available in 4 different themes with RGB fans which makes the latter a better option in most cases but the price difference is what makes both of them good for their prices. 460X is better in some ways while the 570X is in others.