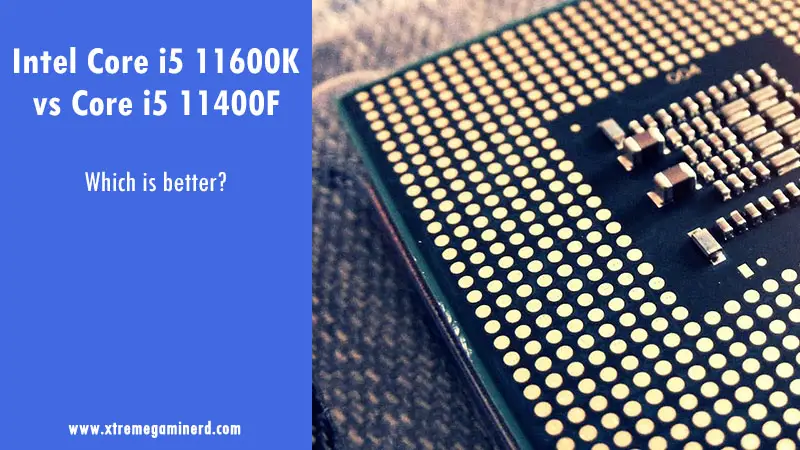 With the addition of two new gaming CPUs to the 11th gen Intel processors, it is becoming tough for many to choose between the i5 11600K and i5 11400F.
These processors though have a lot of similarities, they have significant price differences. There are a couple of things you need to know before deciding between the two and I am explaining the similarities and differences between the two in all possible areas below.
Specifications and basic differences
| Specs | i5 11600K | i5 11400F |
| --- | --- | --- |
| Code Name | Rocket Lake | Rocket Lake |
| Lithography | 14nm | 14nm |
| Socket | LGA 1200 | LGA 1200 |
| Cores/Threads | 6/12 | 6/12 |
| Clock speeds | 3.9/4.9GHz | 2.6/4.4GHz |
| Cache | 12MB | 12MB |
| TDP | 125W | 65W |
| Integrated graphics | Intel UHD 750 | No |
Cores/Threads
Both i5 11600K and i5 11400F feature 6 cores and 12 threads.
Cache Memory
Both the processors come with 12MB of L3 cache
Clock Speeds
The i5 11600K is an unlocked processor and comes with higher clock speeds as well. It features a 3.9GHz base clock with up to 4.9GHz boost without manual overclocking. It can easily go beyond 5.0GHz with a decent CPU cooler but the i5 11400F neither is faster in stock clock speeds nor it can be overclocked.
It comes with a base/boost clock speed of 2.6/4.4GHz where the base clock is significantly lower than the i5 11600K.
Power Consumption
The i5 11600K is rated at 125W and can go higher if overclocked or if the voltage is increased. The i5 11400F, on the other hand, is a power-efficient CPU with only 65W of TDP.
Motherboard Compatibility
i5 11600K and i5 11400F are compatible with the latest LGA 1200 motherboards with these chipsets: H510, B560, H570, and Z490/Z590. The i5 11600K is overclockable on every chipset except for the H510.
Integrated graphics
i5 11600K comes with powerful Intel UHD 750 graphics but there is no integrated GPU on the i5 11400F which makes installing a dedicated graphics card with the i5 11400F compulsory. Intel UHD 750 graphics can play a lot of casual games and esports games at 720p resolution with playable framerates unlike the UHD 630 from the previous generation.
Gaming performance
While most games have hardly up to 5% difference between the two processors where i5 11600K is the winner, the i5 11600K comes ahead by up to 11% in Battlefield V. In games like COD Warzone, Microsoft flight Simulator, Assassin's Creed Valhalla and more, they are very much close in performance ((https://www.youtube.com/watch?v=YkUUmO3_lMo)).
The gaming performance potential of i5 11600K is higher as the test ran the i5 11400F on 4.2GHz and i5 11600K on 4.6GHz but the latter can go beyond 5.0GHz easily.
Cooling Required
i5 11400F comes with a stock Intel heatsink and requires no advanced cooling solution while i5 11600K users will have to buy an aftermarket CPU cooler. For overclocking, even a better cooler is required and if you want to get the best one, consider our list of best CPU coolers that we recommend for the i5 11600K.
Recommendations for motherboard
For the i5 11600K, I recommend going with B560 or Z590 chipset motherboards. These allow overclocking and come with plenty of decent features like 2.5G Lan, lots of USB ports, powerful VRMs, and many of them come with an Inbuilt Wifi Adapter.
For the i5 11400F, it's better to go with the H510 chipset motherboard that has very basic features and doesn't allow overclocking. Only if you require more slots, ports, and headers for adding more components, you can switch to a B560 motherboard but that will increase the total cost of your build.
Pricing and Conclusion
The i5 11600K is priced at $262 and is currently available for even lower. The i5 11400F will cost you $175 which is almost $90 less than the i5 11600K. Here seeing the gaming performance of both, it can be easily concluded that the i5 11400F is a far better choice that provides more value for gaming and will require no additional cooling solution and an overclockable motherboard.
Intel Core i5 11600K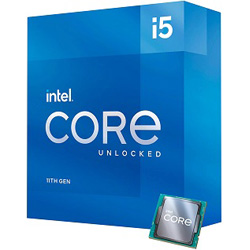 Intel Core i5 11400F