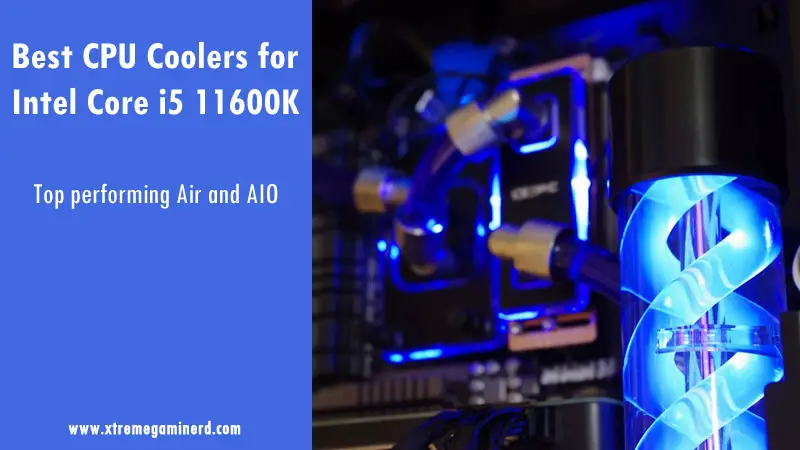 Core i5 11600K features a TDP of 125W which requires a good CPU cooler in order to maintain proper temperatures for a long time. The chip doesn't come with a stock CPU cooler and can't sustain its performance with it anyways making it compulsory for the user to buy an aftermarket CPU cooler that can handle hot temperatures.
The i5 11600K features 6 cores and 12 threads similar to the previous-gen i5 and is overclockable. This means, the more you increase the core clock speed, the hotter will it run. For enthusiast overclockers who like to increase the voltage as well will definitely require a proper cooling solution to maintain consistent performance.
Going with any budget CPU cooler will although be fine for users who just need proper cooling while casual gaming or basic tasks but to ensure that you get the maximum benefit out of the CPU, I recommend going with the following CPU coolers.
Before you check the coolers list, you may also want to check out our guide on 9 ways to cool your PC effectively.
Cooler Master Hyper 212 black edition
For basic operations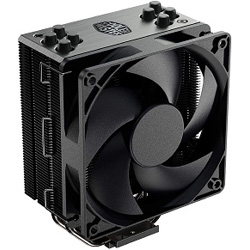 Specifications
Cooler Type: Air
Heatsink: Single
Number of fans: One
Heat pipes: 4
Lighting: No
Summary
Not the best but surely an ideal cooler for non-overclockers or mild-overclockers who want cooler and stable temperatures while surfing, playing casual games and other similar tasks
The Hyper 212 from Cooler Master needs no introduction. It has been the most successful CPU air cooler of all time and still going good. The cooler has several variations and this black edition is among the latest ones that is affordable and capable of handling 4 or 6 core processors properly.
The cooler features a single heatsink tower with its total height of up to 158.8mm and has 4 copper heat pipes embedded and directly exposed to the base. This increases the capability of the cooler to absorb more and more heat and with the help of a Silencio FP120 fan, you will receive up to 42CFM of airflow and an incredible 2.9mmH2O of air pressure.
This cooler can keep your processor below 70°C most of the times even if you are playing intensive games but if you plan to overclock, then better look for other options in the list.
Arctic Freezer 50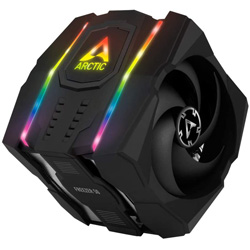 Specifications
Cooler Type: Air
Heatsink: Dual
Number of fans: Two
Heat pipes: 6
Lighting: ARGB
Summary
For $80, the Freezer 50 has to be among the best air CPU coolers for the money that provide both looks and performance. Its dual pre-installed fans and dual heatsinks with 6 heat pipes are sufficient for overclocking most processors without any worries
Arctic Freezer 50 is a decent sized air cooler with dual tower aluminium heatsinks. For overclocking a processor like i5 11600K or higher, a dual tower is recommended for faster heat dissipation and this one does the job for less money. In this cooler both the heatsinks are joined by 6 heat pipes in U-Shape and are exposed at the base for direct contact with the CPU.
It comes with dual air pressure fans pre-installed where both work in Push-Pull configuration to maximize the dissipation of heat. While one fan is 120mm, the other one is 140mm delivering the airflow even higher. Aesthetically, it does a very good job by bringing in a heatsink cover that features 13 ARGB LEDs that are compatible with almost all the major RGB software such as MSI Mystic Lighting, AsRock Polychrome, Asus Aura Sync etc.
Be Quiet Dark Rock 4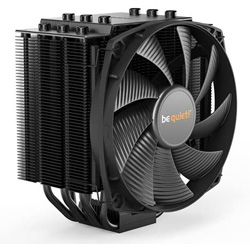 Specifications
Cooler Type: Air
Heatsink: Single
Number of fans: One
Heat pipes: 6
Lighting: No
Summary
Be Quiet is popular for producing ultra-silent fans and the Dark Rock 4 uses one of the best performing yet silent fans to keep temperatures down. With a single heatsink tower, it provides performance similar to a dual tower CPU cooler.
Rated at 200W TDP, the Dark Rock 4 is one of the top-performing CPU coolers that provide the performance of a dual-tower cooler with just one heatsink. However, this heatsink is big and uses 6 embedded heat pipes with a smooth finished base for perfect contact with the CPU.
It uses the popular Silent Wings 135mm PWM fan that generates noise of only up to 21.4dBA at full speed making the operation completely silent. Therefore, it's ideal for usage in places where you need ultra level silence with no-compromisable performance.
Be Quiet thankfully has also made sure that you can install another 120mm fan at the other side for a Push-Pull config and this will help a lot in case you are going for a strong overclock. It has got several awards from various reviewers and many of them consider it to be the best bang for the buck.
Related: best motherboards for Intel i5 11600K
MasterAir MA612 Stealth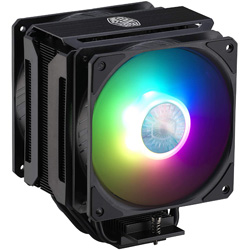 Specifications
Cooler Type: Air
Heatsink: Dual
Number of fans: Two
Heat pipes: 6
Lighting: ARGB
Summary
Based on the Hyper 212 design but now with dual heatsinks, the MA612 Stealth is a powerful CPU cooler that can dissipate more heat due to the embedded 6 heat pipes in heatsinks and features ARGB fans for a pleasing look.
Having the same design concept as the Hyper 212, the MA612 Stealth features a dual tower heatsink design with 6 copper heat pipes that go through a nickel-plated base. The base is smooth enough for making perfect contact with the processor making heat absorption from the chip faster.
The cooler features 2x 120mm ARGB Sickleflow fans that are quiet in operation and throw a good amount of air measuring up to 62CFM. The cooler comes with a mini RGB controller that will help you change or customize the lighting effects as per wish. Moreover, the heatsink comes with a premium-looking aluminium top cover and provides 100% clearance to the RAM modules unlike most of the dual tower CPU coolers which have a compatibility issue.
For less than $100, this one is also a great choice for overclocking the i5 11600K or even i7 11700K.
Noctua NH-D15 chromax.Black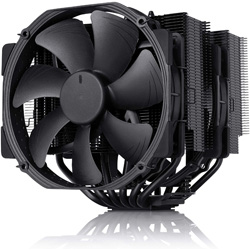 Specifications
Cooler Type: Air
Heatsink: Dual
Number of fans: Two
Heat pipes: 6
Lighting: ARGB
Summary
NH-D15 is an unbeatable CPU cooler that has been the king of all air coolers since 2014. It features a massive dual tower heatsink with the option to use up to 3 fans for enormous amounts of airflow and pressure. It's the ultimate choice for overclockers.
Noctua's NH-D15 is around for 7 years and the Chromax Black edition is just the same cooler with black fans and heatsinks for a better look. The cooler presents a dual tower heatsink that along with all the fans installed will take up space equal to a square box with dimensions as 165mm x 150mm x 161mm.
It comes pre-equipped with 2x 140mm NF-A15 PWM fans that throw a massive amount of airflow up to 82.46CFM each with max noise of 24.6dBA. Moreover, you can add one more 120mm fan to the other side if needed.
Its performance matches many AIO coolers and is the best non-liquid and non-risky alternative for enthusiast overclockers. For i5 11600K, it is definitely more than sufficient and the Number One recommended cooling solution to go for.
MSI MAG CoreLiquid 240R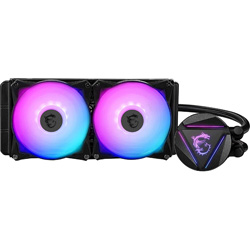 Specifications
Cooler Type: Liquid
Heatsink: 240mm radiator
Number of fans: Two
Heat pipes: N/A
Lighting: ARGB
Summary
MSI MAG CoreLiquid 240R is one of the coolest AIO coolers you will find today. It boasts a unique artistic design with RGB lighting on both block and fans to provide you with the best looks while maintaining the performance numbers to the best.
Liquid coolers are generally noisier than air coolers but there are a lot of advantages of these when it comes to overclocking and heat dissipation. You can install the radiator in any appropriate place inside your chassis like at the top to eliminate the heat to the outside directly or you can install it at the front for cooling the radiator faster.
The Mag CoreLiquid 240R brings a 240mm radiator that has a split pathway for the cool and hot liquid that helps in cooling down the CPU quickly. The pump is equipped inside the radiator itself to increase its life and help the block to maintain a compact size.
The CPU block looks gorgeous with the MSI Dragon logo and RGB lighting. You can even install the block in any orientation without worrying about the logo being seen upside down as the blockhead can be rotated up to 270 degrees for keeping the logo upright.
For i5 11600K, it's perfectly fine for strong overclocking and costs $100 which is not expensive at all considering all of its features whether aesthetics or components.
Related: Best Z590 motherboards for Intel 11th gen CPUs
EK-Vardar D-RGB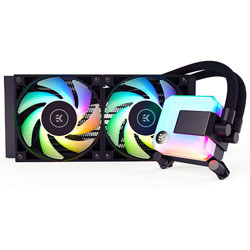 Specifications
Cooler Type: Liquid
Heatsink: 240mm radiator
Number of fans: Two
Heat pipes: N/A
Lighting: ARGB
Summary
EK has been in the business for a long time producing outstanding custom water cooling solutions. The EK Vardar 240 D-RGB is promising with its AIO components and Vardar fans for providing excellent performance
EKWB is very well known for its custom liquid solutions. The company mostly produces water blocks, fittings, tubes, pumps, reservoir and other water cooling related components for processors, motherboards and graphics cards. Being an experienced company, they are now providing AIO coolers for those who don't want to invest a lot of time customizing their liquid coolers.
The EK Vardar 240mm D-RGB AIO cooler features an aluminium 240mm radiator and a CPU block that is universally compatible with most motherboards sockets. Both the Vardar 120mm fans and CPU block are equipped with Addressable Dynamic RGB LEDs that are compatible with the RGB software from major motherboard manufacturers.
The Vardar fans that cool the radiator have the max speed of 2200RPM which throw around 66CFM of airflow and are very popular in the community of the enthusiast overclockers who make their own custom water loops. This is a step up from most 240mm budget AIO coolers and for $120, it is very promising for sure.
NZXT Kraken X53 RGB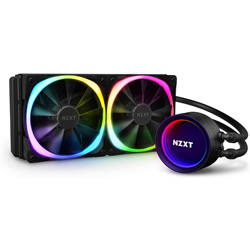 Specifications
Cooler Type: Liquid
Heatsink: 240mm radiator
Number of fans: Two
Heat pipes: N/A
Lighting: ARGB
Summary
Kraken X53 is a premium choice for overclocking. The aesthetics and performance of this AIO cooler is on whole another level. Although it's expensive, it will provide unmatched cooling performance that will yield better CPU overclocking results
It's quieter, it's aesthetically superior, and it beats most 240mm radiators. The Kraken X53 is an elite AIO cooler that features a unique CPU block design with an infinity mirror concept. The RGB lighting through this looks like it never ends and the best part is that the blockhead is rotatable.
The radiator is the standard aluminium 240mm rad. Installed on it are 2x NZXT AER RGB 120mm fans that are very silent in operation. Unlike other AIO coolers listed above and also, those that aren't listed here generate quite a lot of noise in full speed but the Kraken X53 produces max noise of 33dBA at full fan speed.
It's expensive though, generally 30% more than most AIO 240mm coolers but for overclocking a CPU like i5 11600K, Ryzen 5600X or even i7 11700K, this is Tier 1 in its category.
Related:- Intel Core i5 11600K vs Ryzen 5 5600X
Wrapping Up!
There are a few more CPU coolers that I would recommend but generally, they are close to each other in performance. I prefer going with the latest ones as they bring better technologies and advancements over the older ones.
All of these CPU coolers are highly rated and received positive feedback from the users and I have no doubt that you will be completely fine with any of them.