Intel's Core i9 CPUs are enthusiast-grade processors that users use mostly for intensive CPU tasks such as rendering, video encoding, compression/decompression, and compilation.
This puts the i9 CPUs at a place where they are utilized up to 100% most of the time while other slower processors like i7s and i5s enjoy being used mainly by gamers. As the processor gets used at 100%, the temperature is significant compared to less intensive tasks like gaming.
So, naturally, we face thermal issues with high-end CPUs like the Core i9 13900K, and therefore, in this post, we will take a look at how much cooling it requires and what are the best cooling solutions available for this CPU right now.
Core i9 13900K Overview
The i9 13900K is the successor to the Alder Lake i9 12900K and belongs to the Raptor Lake family. It is manufactured on an enhanced Intel 7 process node(10nm) and features hybrid architecture comprising Raptor Cove Performance cores and Gracemont Efficient cores.
The core count has been increased compared to the past generation significantly as the Efficient cores are now doubled. So, we have a total of 24 cores with 8 Performance and 16 Efficient cores. As the Efficient cores don't feature hyperthreading, we have a total of 32 threads.
The Efficient cores are clocked at 2.2-4.3GHz while the Performance cores feature a higher range of 3.0-5.7GHz. L2 and L3 cache are also increased significantly and now we have 32/36MB of L2/L3 cache. Finally, the processor is rated to operate between 125-253W TDP which is the highest on any i9 CPU.
Core i9 13900K Runs Hot Like Sun
The power consumption of 13900K is crazy and it is significantly higher than any other Intel i9 processor from previous generations. On paper, Intel states that the max power consumption is 253W but even on the stock settings under full load, the CPU goes beyond that easily and touches the 300W mark.
When overclocked, it can become a toaster. Even with a decent 240mm/280mm AIO, it hovers around 95C as tested by many independent sources. Hence, you cannot expect it to run fine on an air cooler.
Only premium and high-performance AIO coolers are the solutions to this problem and we have listed down below the top 6 AIO coolers you should use with this CPU.
Investing For The Cooler Realistically
The Core i9 13900K has an MSRP of $600 and most users who are going with this option are having enough budget to invest in premium components such as a high-end Z790 motherboard or high-end RAM.
Therefore, investing in a CPU cooler shouldn't be a problem. We are looking at a price range that starts at $100 and ends at $200 which is probably the most reasonable budget range for many users. We can go even above that but most $200+ AIO coolers are most aesthetics without any significant improvement in cooling performance.
Best CPU Coolers For Core i9 13900K
---
MSI MAG CORELIQUID 280R V2
CHECK AMAZON PRICE

It's amazing how a 280mm AIO gives hard competition to some of the best 280mm as well as 360mm AIO coolers. Although MSI is not the best CPU cooler maker, the Coreliquid 280R V2 definitely impresses in performance and is certainly better than the 240R which beats most 240mm AIO coolers.
It's also gorgeous with those dual 140mm ARGB fans and the ARGB CPU block that can be controlled via many popular RGB software. These fans are not just for the show but they actually have a massive airflow of up to 84CFM but can go loud at full speed.
As for the CPU block, you can install the radiator anywhere you want and all you need is to turn the block cap to the correct orientation. For under $100, this is one of the cheapest ARGB 280mm AIO coolers that won't disappoint.
EK AIO 280mm D-RGB
CHECK AMAZON PRICE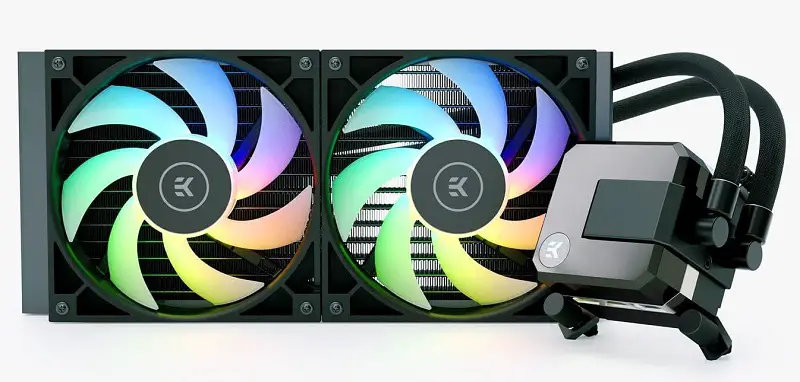 Important note- If you are buying it from Amazon, you will need to buy an LGA 1700 upgrade kit. 
Coming to another 280mm AIO, the EK AIO 280mm is probably the second-best 280mm AIO out there in the market. There are two editions of this cooler, one is without the RGB and the one I recommend features Dynamic ARGB lighting. While the performance of both editions is equivalent, you get a much better-looking AIO with RGB fans and RGB CPU block.
The fans operate at a speed of 500-2000 RPM with a max noise of 36.4dBA. Tests have shown that at full speed, these fans become really noisy but if kept around 50%, they provide satisfactory quiet performance. The cooler provides high-performance cooling and beats almost every 280 AIO except the Liquid Freezer II 280 which is our next recommendation.
Arctic Liquid Freezer II 280
CHECK AMAZON PRICE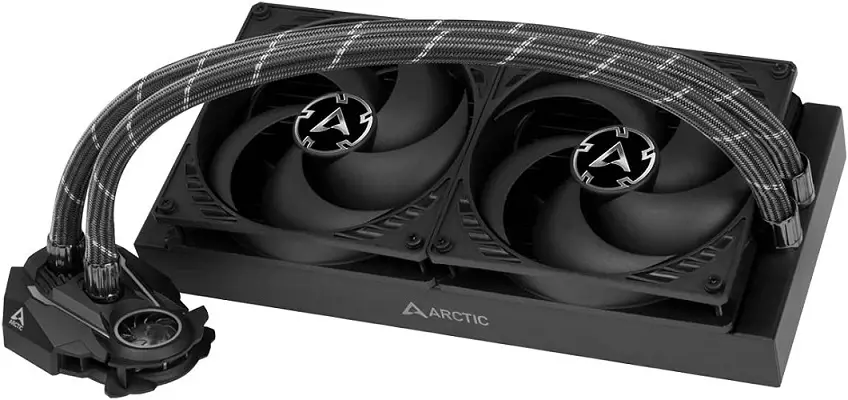 Liquid Freezer II 280 is currently the best-performance 280mm AIO that outperforms even many 360mm AIOs. It won multiple awards for excellent cooling and silent operation. It features dual 140mm Arctic P14 fans that run at a speed of 200-1700RPM giving users a big range of speed to play with.
The slowest speed will ensure almost pin-drop silent operation while the highest speed will provide maximum cooling without creating much noise.
It features a smoothly finished copper cold plate for perfect CPU contact and has a PWM controllable pump that operates between 800-2000RPM. Pre-applied is the MX-4 thermal paste which has excellent performance and is recommended by a lot of independent reviewers including Tweaktown and Techspot.
Arctic Liquid Freezer II 360 A-RGB
CHECK AMAZON PRICE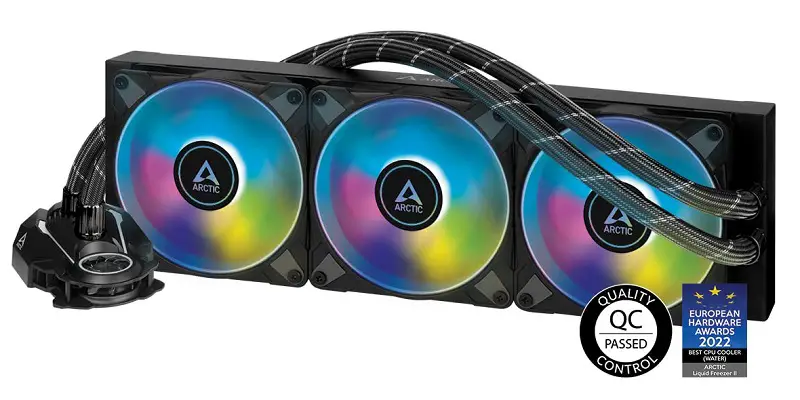 To take a step further in cooling, there is nothing better than a 360mm AIO for the 13900K, and fortunately, the brands that offer the best 280mm AIO have 360mm editions too. The Arctic Liquid II 360 A-RGB is a top-notch 360 AIO that now offers a bigger radiator with triple 120mm ARGB fans.
The cooler comes with its own proprietary pump that is designed to consume less power and provide silent performance. It is compact and is connected to the radiator via well-sleeved tubes that are immune to minor physical damage.
It features a max speed of 100RPM more than the 280mm edition and on top of that, you get ARGB lighting on the fans that can be customized using popular software like MSI Mystic Light, RGB Fusion, Aura Sync, and more.
EK Nucleus CR360 Lux D-RGB
CHECK AMAZON PRICE

Important note- If you are buying it from Amazon, you will need to buy an LGA 1700 upgrade kit. 
In an epic battle between the best 360mm AIO coolers, the EK Nucleus CR360 comes at the top just like its processor EK Basic 360. It has an improved design and faster fans that can now run 200RPM faster than the basic edition resulting in improved cooling performance.
On top of that, you get a fully ARGB CPU block and triple Vardar fans that can be controlled via any popular RGB software. So, in short, this doesn't lag behind in any area except that it is a little noisier compared to the original Basic edition as the fan speed can go as high as 2300RPM.
CoolerMaster MasterLiquid PL360 FLUX
CHECK AMAZON PRICE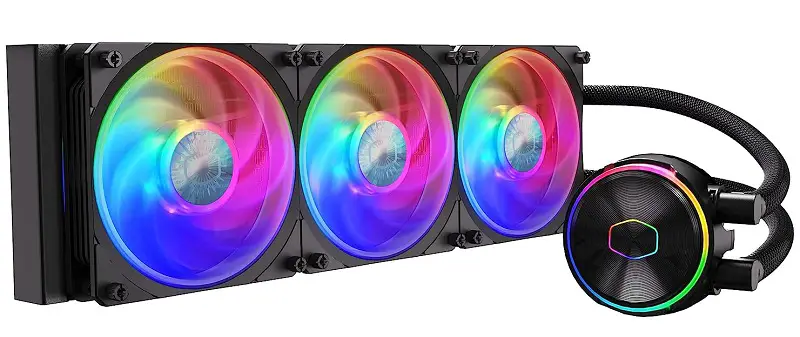 Last, but not least, in the premium category, the MasterLiquid PL360 Flux is the quietest AIO cooler you will find. It is capable of cooling high-end CPUs rated at a TDP of more than 200W and therefore, is one of the best options for the i9 13900K.
It features a 360mm radiator with triple ARGB 120mm PL Flux fans that offer high airflow of more than 72CFM and excellent air pressure of nearly 3.0mmH2O at just 32dBA of noise at full speed of 2300RPM. The cooler has a premium dual chamber pump that features a max noise level of 15dBA and features ARGB LEDs too.
Thermal results are excellent but the only CON is its high price which is $180 which some users would find absurd considering that they have equally powerful AIO coolers for $40-$50 less.
Which Cooler Will Be Ideal?
Considering all the AIO options, I would personally choose the EK AIO 360mm cooler which is my favorite of all and it is the only high-end AIO that I recommend for almost every high-end CPU.
You can also go with the MSI CoreLiquid which offers great aesthetics and satisfactory performance but if you want an enthusiast level of cooling performance, the EK AIO 360mm is an excellent choice. For those who love silence, consider the P360 Flux which offers similar performance but quieter operation.
Final Words
Cooling the i9 13900K is the biggest headache today as it is very power-hungry and can put most premium AIO coolers to their knees. Let us know which CPU cooler you are going with in the comments below and what you think about the EK AIO 360mm being put at the top.