Ryzen 7 7800X3D is hands down, the best gaming CPU right now. Thanks to the Zen 4 architecture combined with the advantages of 3D V cache, it outperforms every high-end CPU for a much lower price.
This brings us to now consider other aspects of running this CPU that directly or indirectly allows it to run at its full potential. As simply dropping this chip into any motherboard will not do every job, you also need to see how you should keep its clock speeds high.
Ryzen 3D CPUs generally boast lower boost clocks than the non-3D editions and the 7800X3D is no exception. One of the reasons for this is its poor thermals due to a different die design.
With the help of a fantastic aftermarket cooler, you can solve this problem forever and let your CPU do its job at its maximum potential.
In this post, we will take a look at why you need to consider cooling the 7800X3D seriously followed by our recommendations.
Ryzen 7 7800X3D Overview
Ryzen 7800X3D succeeds the previous-gen Zen 3-based Ryzen 5800X3D and features the same core/thread count of 8/16. The processor is based on the Zen 4 architecture featuring clock speeds of 4.2/5.0GHz.
It brings a total L3 cache of 96MB, thanks to the 3D V cache technology that allows an entire chiplet of L3 cache to sit on the CPU die. All the cores can access the L3 cache directly resulting in a good boost in performance in many games and applications.
The 7800X3D features a default TDP of 120W and is disabled for overclocking.
Ryzen 7800X3D Requires a Decent Cooling Solution
3D CPUs are limited in max boost clock due to their die designs. The 7800X3D features a max operating temperature of 89 degrees Celsius just like the 7950X3D which is significantly lower than the max operating temperature of the non-3D CPUs.
However, the 7800X3D runs pretty cool most of the time especially in games due to consuming significantly less power compared to the 7950X3D and i9 13900K. This does not mean that the chip will be able to handle all that load while a basic single-tower cooler is installed on top of it.
The CPU is already limited by its clock speeds and if you want to maximize its full potential by keeping the clocks high, you must ensure that your CPU is getting enough thermal dissipation.
Therefore, we need CPU coolers that can allow running this CPU on higher clocks for a long time and we recommend going with AIO coolers.
Best CPU Coolers for Ryzen 7 7800X3D
---
Be Quiet Dark Rock Pro 4
CHECK AMAZON PRICE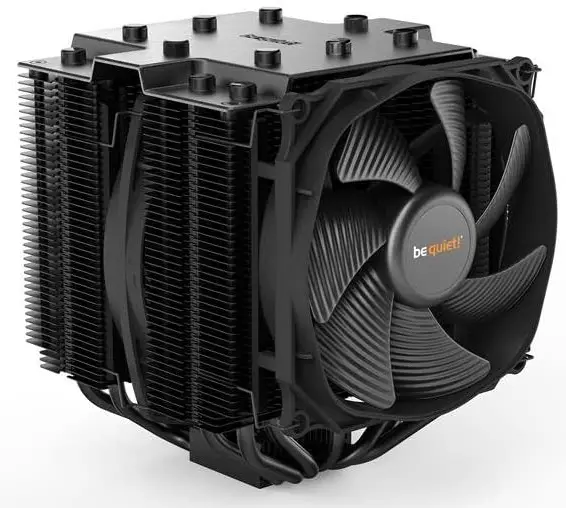 Starting the list with an air cooler, I find the Be Quiet Dark Rock Pro 4 the best choice for 90 bucks. It's not better than the Noctua NH-D15 which I mostly recommend for high-end CPUs but because the latter is now as expensive as some 280mm AIOs, it's better to save some cash on this one.
It's still very close to D15's performance and is possibly among the top 3 air coolers of all time. Featuring a dual aluminum tower heatsink, the cooler can acquire quite some space inside your chassis but that's very important as more surface area will allow faster heat dissipation.
The cooler is an all-black aluminum heatsink with 7 high-performance copper heat pipes that run directly through the base and towards the top of the heatsink blocks.
It comes with pre-installed 2x 140mm Silent Wings PWM fans that boast a very low noise operation with a max noise of 24.3dBA at full speed. This will be almost unnoticeable if you are running your CPU at full load without compromising on the cooling performance.
Be Quiet BW007 Pure Loop 280
CHECK AMAZON PRICE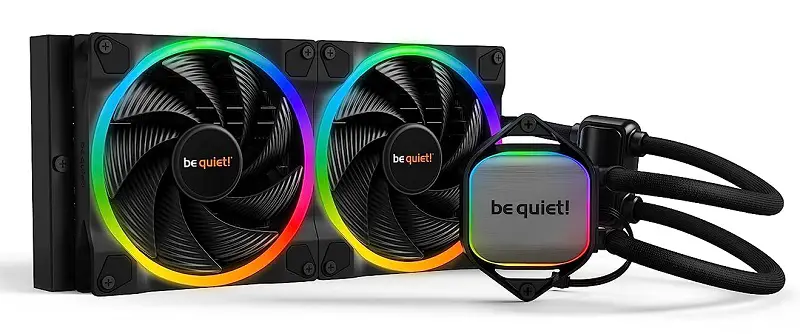 Another great cooler from Be Quiet is the Pure Loop 280. As the company is specifically concerned about the quiet operation, the Pure Loop 280 is not an exception to that. Just like the Dark Rock Pro 4, it is also silent when it comes to its pump and fan operation.
As tested by Techpowerup, the cooler is pretty impressive in both cooling performance and low-noise operation. However, AIO coolers like this are generally louder at full RPM and we recommend that you don't push the fan speed to 100%.
Aesthetically, the cooler is pretty appealing with a minimalistic design featuring a brushed aluminum CPU block and all-black rad and fans. Now considering that the cooler stands among the top performers in the 280mm AIO category, for a price of around $100, this one is currently one of best value AIOs to use with the 7800X3D.
ARCTIC Liquid Freezer II 280-ARGB
[Editor's Choice]
CHECK AMAZON PRICE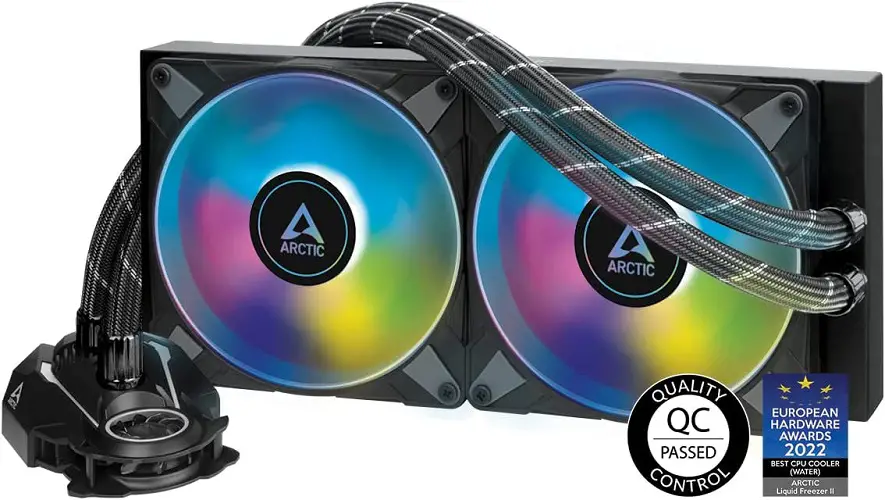 Hardly any of our CPU cooler lists goes without the Liquid Freezer II 280. The reasons are many and this is why the cooler has been awarded by almost every independent reviewer for being the best 280mm AIO of all.
It's hands down the top choice for any high-end chip that competes with most high-end 360mm AIOs without costing above $130 whether you consider the non-RGB of ARGB edition.
As the ARGB one is available for a few bucks more, you can have almost the same performance without having to compromise on the looks. While not everyone likes the RGB, I personally think it would be a great addition to your rig.
The cooler features a top-notch proprietary pump that is PWM controlled and can reduce noise significantly. The fans are also PWM and are designed to deliver great air pressure to quickly dissipate the heat from the radiator.
Everything other than that like tubing, compatibility, and ease of installation is quite excellent for its price and it has been our readers' favorite AIO cooler for a long time.
CoolerMaster MasterLiquid PL360 FLUX
CHECK AMAZON PRICE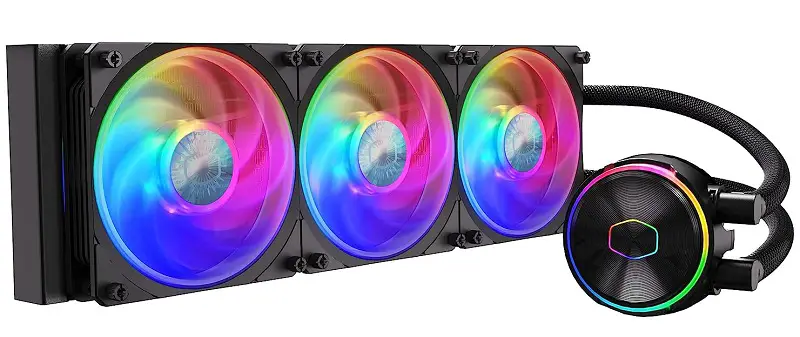 The ML PL360 FLUX is currently the quietest AIO CPU cooler as per Tomshardware in the 360mm AIO category and delivers competitive performance. The cooler features a dual chamber pump in the CPU block and features ARGB LEDs in both the block and 120mm fans.
The rad measures 360mm in length and uses triple 120mm Gen2 ARGB PL-Flux fans that can go as high as 2300RPM. This allows them to deliver a crazy air pressure of 3.0mmH2O without going above 32dBA of noise.
While it's not the cheapest here, it certainly does the job as effectively as some of the best AIO coolers.
EK Nucleus AIO CR360 Lux D-RGB

[
Best Premium]
CHECK AMAZON PRICE

Last but not least, if you are looking for something that won't compromise on the looks and is supposedly the champion of 360mm AIO coolers, look no further than the EK Nucleus CR360.
It is a level up over the EK Basic 360mm which was the best value 360mm AIO that used to cost just $130. While this cooler is not near that price, it is also way better in aesthetics and functionality with Digital RGB LEDs available in both the fans and CPU block.
It stands right at the top of the chart in cooling performance according to Kitguru, whether you see its stock or overclock results. Even though it is not the quietest, you can still lower the noise significantly by reducing the fan speed.
Which Cooler is Ideal?
Literally, any CPU cooler listed here will work decently. Apart from these, there are many more that will be as good as the listed ones except that they are costlier or may not have great availability.
In my opinion, the Arctic Liquid Freezer II 280 will be a perfect cooler for the 7800X3D but if you care more about noise, then go with the ML PL360 Flux.
Final Words
Ryzen 7800X3D is currently the best gaming CPU that can push any high-end GPU to 100% of usage while delivering excellent performance due to the availability of an extra cache. Sustaining its performance requires good and reliable coolers and we have listed our recommended ones above.
Let us know which cooler you are willing to go with for your CPU in the comments below and why.