Most flagship CPUs with high core and thread count need a lot of cooling because they tend to generate more heat than budget chips with fewer cores.
Ryzen 9 7950X3D is no exception. Perhaps, it is one of the hottest running chips you can buy right now. With power comes the requirement for providing your CPU with an effective cooling solution, or your CPU might not live long enough.
In this post, we will be looking at why you need a Great not just good CPU cooler for the Ryzen 9 7950X3D followed by a list of our recommended CPU coolers that will do the job without overspending.
Ryzen 9 7950X3D Overview
AMD Ryzen 7950X3D is based on the Zen 4 architecture and uses TSMC's 5nm process node. The processor retains the 16 cores and 32 threads of the non-3D edition but features lower base clock speed.
The Base/Boost clock of 7950X3D is 4.2/5.7GHz and the CPU runs on an AM5 socket. While there is no change in its L1/L2 cache size, the L3 cache size is now almost double over the non-3D version. It features 64+64MB of L3 cache where the second chiplet of L3 cache physically sits on top of the chip but is available to all the cores directly.
Ryzen 7950X3D features 41% lower TDP compared to the 7950X where the former is now rated at 120W by default. Lastly, the CPU also features RDNA 2-based iGPU with 2 GPU cores clocked at a Base/Boost frequency of 400/2200MHz.
7950X3D Runs Pretty Hot
It has been evident from many tests that the 7950X3D runs pretty hot. It is although not as bad as the Core i9 13900K, it still needs an equivalent level of cooling as 3D CPUs are poor in thermals.
The 3D cache that sits on top of the chip makes it difficult to provide the cores enough cooling and this is the main reason why AMD has disabled overclocking the 3D chips.
Even though some motherboard manufacturers allow overvolting of the chip, it may lead to the death of the CPU if the user goes above the recommended voltage.
While it is ok to go even with a 280mm AIO, our recommendation will mostly comprise 360mm AIOs as high-end chips like these may throttle pretty quickly particularly when the Max Operating Temperature of 7950X3D is already lower than non-3D CPUs.
Best CPU Coolers for Ryzen 9 7950X3D
---
ARCTIC Liquid Freezer II 280

[Best Budget]
CHECK AMAZON PRICE
Arctic's Liquid Freezer II 280 always stays on the top of our CPU cooler recommendations because it possesses the capability of a 360mm AIO while taking less space in your chassis and also costs lower at the same time.
It has won multiple awards from third-party reviewers for being the best 280mm AIO and there is no doubt that it will go well with the 7950X3D. The Liquid Freezer II comes with a 280mm radiator and a compact pump that is easy to install.
The cooler comes with dual 140mm Arctic P14 fans that can run as slow as 200RPM giving out almost no noise but can also boost up to 1700RPM when you are loading your CPU to 100% usage.
Nonetheless, you customize the fans and pump operation as you please to reduce noise or increase the cooling efficiency which is an advantage of having PWM fans and pump.
CoolerMaster MasterLiquid PL360 FLUX
CHECK AMAZON PRICE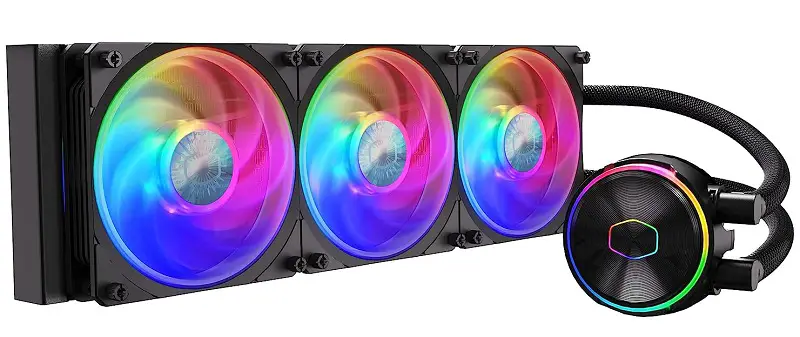 MasterLiquid PL360 FLUX is another top-notch choice for high-end CPUs and delivers competitive performance for its price. Not only it is excellent in cooling but is also the quietest AIO CPU cooler in the 360mm segment.
Its CPU block features a dual chamber pump and inbuilt ARGB LEDs for those who want to illuminate their rigs from the inside. All of your fans and the CPU block lighting can be controlled using a single software called Cooler Master's MasterPlus+ software or you can also sync the lighting effects with other components as well.
The PL360 Flux provides a big 360m radiator that uses Gen2 ARGB PL-Flux fans that can operate at a very high speed of up to 2300RPM while delivering a crazy good 3.0mmH2O air pressure with just 32dBA of noise.
Therefore, if your priority is silent operation, it should be a perfect fit for your rig that won't disappoint by any means.
EK Nucleus AIO CR360 Lux D-RGB

[Best Value]
CHECK AMAZON PRICE

The next on the list is one of the best value if not the best value 360mm AIOs in the market. Unlike, the AIO 360m D-RGB, it's a little bit more expensive but features better aesthetics and performance.
It tops the chart with its dominating cooling performance without making a lot of noise. The cooler comes with a 360mm AIO that uses triple 120mm EK FPT fans that are designed for high air pressure and airflow.
Aesthetically, the AIO is very attractive with the RGB lighting inbuilt into the fans as well as the CPU block that can be controlled via most motherboard manufacturers' software or through a standalone RGB hub.
Lian Li GALAHAD AIO 360 RGB
CHECK AMAZON PRICE

Lian Li is not very popular in the CPU cooler segment but has decent products to offer particularly cases and coolers. The Galahad AIO 360 RGB is one of the best products from the company that offers distinguished looks with different color options to choose from.
You can have either black or white edition AIO with all the components being painted into either black or white color completely. The radiator uses triple ARGB SL120 UNI fans that have RGB lights on the borders giving some type of ring effects.
The cooler also provides dotted ARGB lighting on the CPU block and you can change the colors and the effects of the LEDs on both fans and block using any of the popular software like Aura Sync, Polychrome, RGB Fusion, Mystic Light, etc.
Performance-wise, it is one of the top performers in the high-end cooling segment without producing a lot of noise. However, it can go pretty loud when the fans are put to the max operating speed.
AORUS WATERFORCE X 360

[Best Premium]
CHECK AMAZON PRICE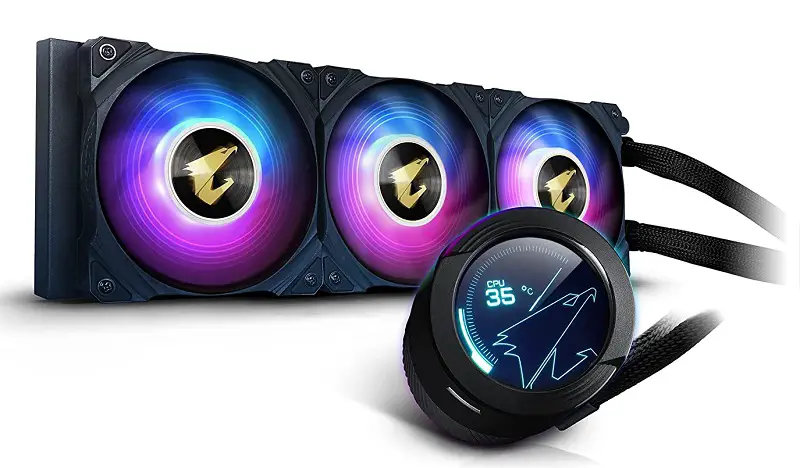 Last but not least, the Aorus WaterForce X 360 is a premium AIO cooler that suits the taste of enthusiasts who don't want to compromise a bit on aesthetics and performance.
While it is not necessarily the best cooler for 7950X3D, it is great for high-end rigs that want to stand out in looks. The WaterForce X 360 provides triple 120mm ARGB fans that are rated at a max noise of 37.6dBA. This is because the fans can spin pretty rapidly with a max speed of up to 2500RPM.
The CPU block uses a circular LCD that can display different metrics like CPU temperature which can come quite in handy and is also slick. The display isn't limited to it but can also show many functions and even videos and Gifs in the Custom Mode.
Which Cooler is Ideal?
Personally, if I were to choose one out of these five coolers, I would either go with the Liquid Freezer II 280 if I am on a tight budget or the EK Nucleus one.
Both of them provide amazing value for their price and will be perfect for not only 7950X3D but for also the i9 13900K which runs even hotter.
On the other hand, the other three coolers have their own advantages over the first two but are also costlier.
Final Words
By no means you should ever think of going with an air or even a 240mm AIO on a 7950X3D. This could risk your CPU's life or will at least limit its performance if the CPU reaches the max operating temperature.