With more cores, comes more heat generation and this is true with most CPU series belonging to different generations.
With the launch of the Ryzen 7000 series, this is now even more obvious but instead of having only the higher-end CPUs running at a high temperature, every Ryzen 7000 CPU now runs hotter.
Here we are talking about the Ryzen 9 7900X in particular which needs more attention than the 7600X or 7700X. The reason is the higher core/thread count and more TDP.
In order to cool this beast, we will need a top-notch cooling solution that won't be cheap and will most probably cost above $100. Considering all the factors and requirements in mind, I am listing the top 6 CPU coolers you should use with the 7900X if you don't want it to throttle.
Ryzen 9 7900X Overview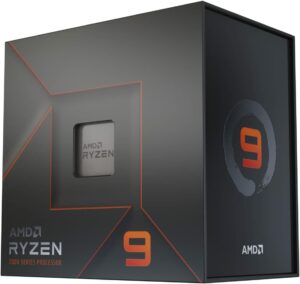 AMD Ryzen 9 7900X is based on the Zen 4 architecture and uses TSMC's latest 5nm process node which is currently the smallest node used for desktop processors. The 7900X features 12 cores and 24 threads at a clock speed of 4.7/5.6GHz which is the highest we have ever seen on the Ryzen 9 CPUs.
With a refresh die design, the processor brings a double L2 cache and a good 64MB L3 cache memory that makes it superior in gaming and productivity over the 5000 series. Priced at $549, the processor is at a very competitive price point and goes head-to-head with the top processors available right now.
With a default TDP of 170W, this processor is power-hungrier than its predecessors but at the same time brings an average of 13% IPC gains over the 5900X. This also makes it run hotter than the slower Ryzen CPUs and needs a beefier cooling solution.
Ryzen 7900X Runs Hot
While more cores require a better cooling solution, older generation Ryzen CPUs didn't use to run so hot as the 7000 series. The 5900X runs pretty fine and maintains a good temperature with a decent aftermarket cooler.
This is not the case with the 7900X unfortunately. Almost every user sees its temperatures hovering around 90C which is alarming yet AMD calls it completely normal.
The weird thing is that it does not reaches this high temperature with any budget or stock cooler but with an AIO cooler or dual tower cooler. So, you cannot put it with any fancy-looking CPU cooler thinking that your 7900X will now run below 80C.
How Much To Spend On A CPU Cooler?
Ryzen 9 7900X was launched at an MSRP of $549 and realistically most users would spend at least $100 on a CPU cooler. Some users may prefer even going higher as the 7900X is not any other processor that will run just fine with a single tower cooler.
So, we are looking at a price range of $150-$200 which is going to be the most popular price range for buying a CPU cooler. Anything less than $100 is a big no-no unless you are doing some casual light work which most of the users won't be doing.
7900X is made for enthusiasts and can quickly render, compress, and do any other task quicker than its predecessors. Therefore, it will get hot in CPU-intensive titles. Therefore, I advise spending at least $100 on a cooler and while there is no limit to how much you can spend, you can get the job done under $150.
Best Coolers to use with Ryzen 7900X
Noctua NH-D15 Chromax.Black
Buy at Amazon
Buy at Newegg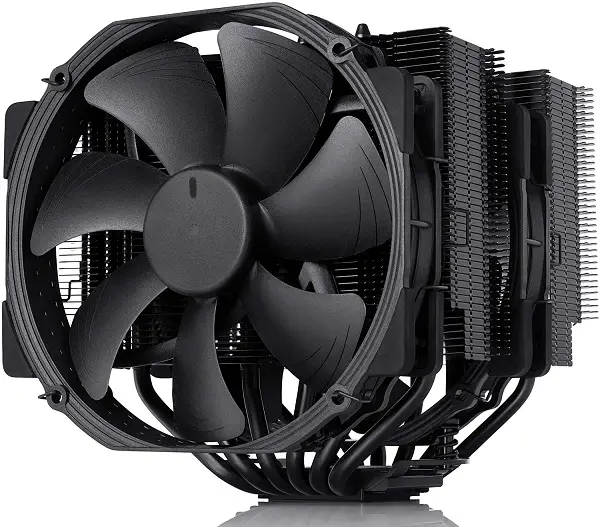 Noctua NH-D15 is a multiple award-winning CPU cooler that doesn't need any introduction. This cooler has been in the market for around 8 years and still, no air cooler has come close to its performance.
It's heavy and beefy but gets the job done for almost any high-end CPU. With the heavy dual aluminum heatsinks, it weighs around 1.2KG and can support up to 3x 140mm fans. Don't worry, the cooler already comes with 2x pre-installed Noctua NF-A15 fans that are designed to work silently while throwing a massive airflow.
The NH-D15 is simply the best air cooler you can get right now irrespective of the price and has the potential to cool the 7900X in overclock mode. Its 6 copper heat pipes will make sure that the heat is transferred continuously from the chip to the fins and the fans will quickly dissipate the heat from the heatsink.
Arctic Liquid Freezer II 280 A-RGB
Buy at Amazon
Buy at Newegg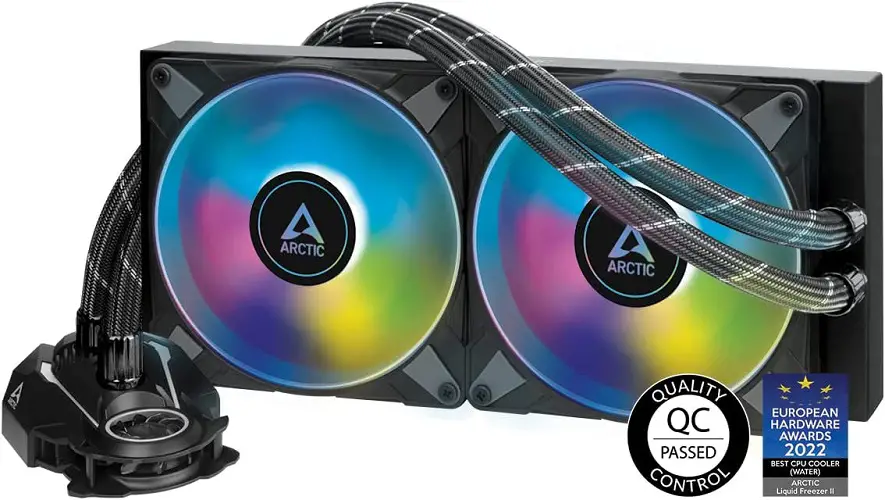 Arctic Liquid Freezer II 280 has won the praises of many reviewers and according to most of them, there is no better 280 AIO out there that can outperform it.
It comes with a 280mm radiator and dual 140mm Arctic P14 PWM fans that are controllable via BIOS or software. As this cooler has two editions: non-RGB and ARGB, I recommend going with the ARGB if you don't have any problem with the budget.
The cooler features its own unique proprietary pump for silent operation and consumes less power than the standard pumps. With ARGB fans not only you will see bright colors illuminating your rig from the inside but you can configure them to work between 200-1900RPM.
Arctic Liquid Freezer II 360 A-RGB
Buy at Amazon
Buy at Newegg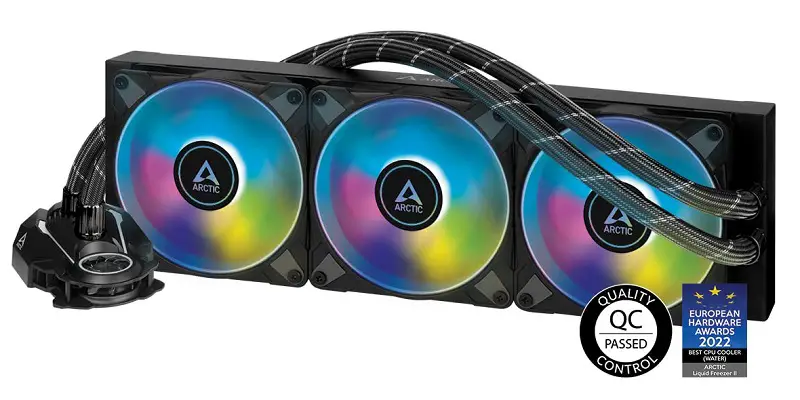 The 360 ARGB is the big brother of the 280 ARGB and is basically the same cooler with the exception of its radiator. The Freezer II 360 provides a bigger surface area in its radiator that allows more heat dissipation.
Moreover, there are now 3x 120mm fans instead of 2x 140mm that will provide noticeably better cooling. It has been evident from tests done by third-party sites that the 7900X runs better with a 360 AIO and there could not be any better option than the 360 ARGB for less than $130 where you get both performance and aesthetics.
Corsair iCUE H150i Elite Capillex XT
Buy at Amazon
Buy at Newegg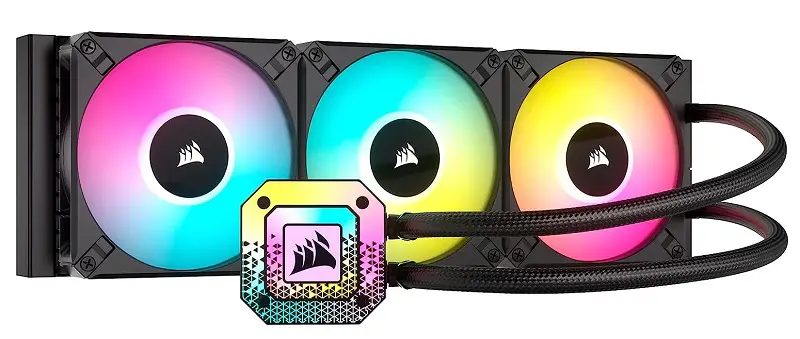 Corsair is very popular in the PC industry due to having a wide range of PC products comprising PC components as well as peripherals. One of its most successful product catalogs includes AIO cooling solution that offers different-sized AIO coolers.
The AIO series from Corsair has seen many transformations and one of the best AIO coolers you can get from it is the iCUE H150i Elite Capillex XT.  It features a standard 360mm radiator and triple Corsair AF120 fans that operate between 400-2100RPM of speed.
This is the best-looking AIO from Corsair till now and performs on par with the top 5 360mm AIOs at the moment. It features full compatibility with all different types of sockets including the latest AM5 and LGA 1700 and is also controllable via Corsair iCUE software.
It is definitely not cheap but considering that it is a whole package, you won't go wrong with it.
EK Nucleus CR360 Lux D-RGB
Buy at Amazon
Buy at Newegg

EK Nucleus CR360 hands down the best 360 AIO cooler in the market which replaces the EK Basic 360. EK is famous for its custom water loop cooling solutions and doesn't disappoint in its AIO coolers as well. The older version has been praised by many including GamersNexus and Techpowerup and this one is even better in functionality and aesthetics.
It beats even the best of 360mm AIO coolers including the Liquid Freezer II, EVGA CLC 360, and others but it is definitely much more expensive than the Basic 360mm. However, the cost is still equivalent to the Corsair H115i Elite Capillex which makes it a top-notch option for next-level cooling.
The fans used on the radiator are one of the best air-pressure fans you will ever use. These are the EK Vardar FPT series fans and are incredibly fast with up to 2300RPM and incredibly silent with a max noise level of up to 36 dBA.
So, a good uplift over the basic edition with respect to aesthetics and fan operation and with that you also get 5 years of warranty.
Cooler Master MasterLiquid ML360 Illusion
Buy at Amazon
Buy at Newegg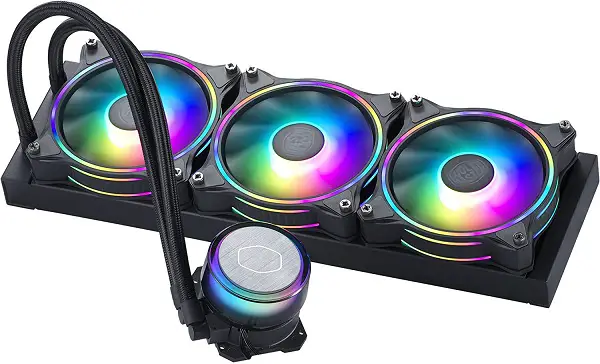 Lastly, those who are looking at a more premium cooling solution that doesn't compromise on looks or performance can opt for the ML360 Illusion.
Even though Cooler Master is not at the top of the charts with its AIOs, the ML series is still doing fine for several years. Being a user of one of the initial ML AIO series coolers, I trust Cooler Master with the M360.
And not only me but if you check its reviews particularly the review by Tomshardware, you will be impressed by its performance and functionality.
It beats the more expensive NZXT Kraken X72 and even the newer Kraken Z73. Surprisingly, it is also more silent than these two coolers which are known for their quality.
Final Words
Cooling the 7900X won't be easy with any budget cooler. You have to go with any of the premium cooling solutions and it is recommended that you buy an AIO cooler if you don't want to overheat.
Let me know what CPU cooler you are going to buy for the 7900X in the comments below.