Gaming enthusiast doesn't use just casual DELL mouse and keyboard but the best of peripherals. And by peripherals, I mean all those components which are used for gaming, particularly that includes Mouse, Keyboard, Headset, Mousepad, etc. I am not including Monitors in it because that is a completely different topic and if I discuss it, it will take a whole other post.
There are so many brands that you wouldn't be able to count them if you search for them including world-famous brands to infamous brands from China or any other country.
For having the best experience in gaming, you need to have dedicated peripherals from a trustable brand that can work for years and have great support. I have collected the best brands for peripherals and explained the reasons behind why I think they are the best. This list doesn't necessarily mean that the sequence of the brands or the brand itself from the list is accepted as "THE BEST" in the whole world by each person but here I am giving my personal opinion based on my experience with them.
I am not an expert in everything so if I miss something you can remind me or suggest me in the comments section and you can tell me your opinion on different brands based on your experience. As I will go forward in testing more peripherals from different brands, I will be updating the list based on that.
Before you proceed, here are some tips that you should consider before buying a peripheral.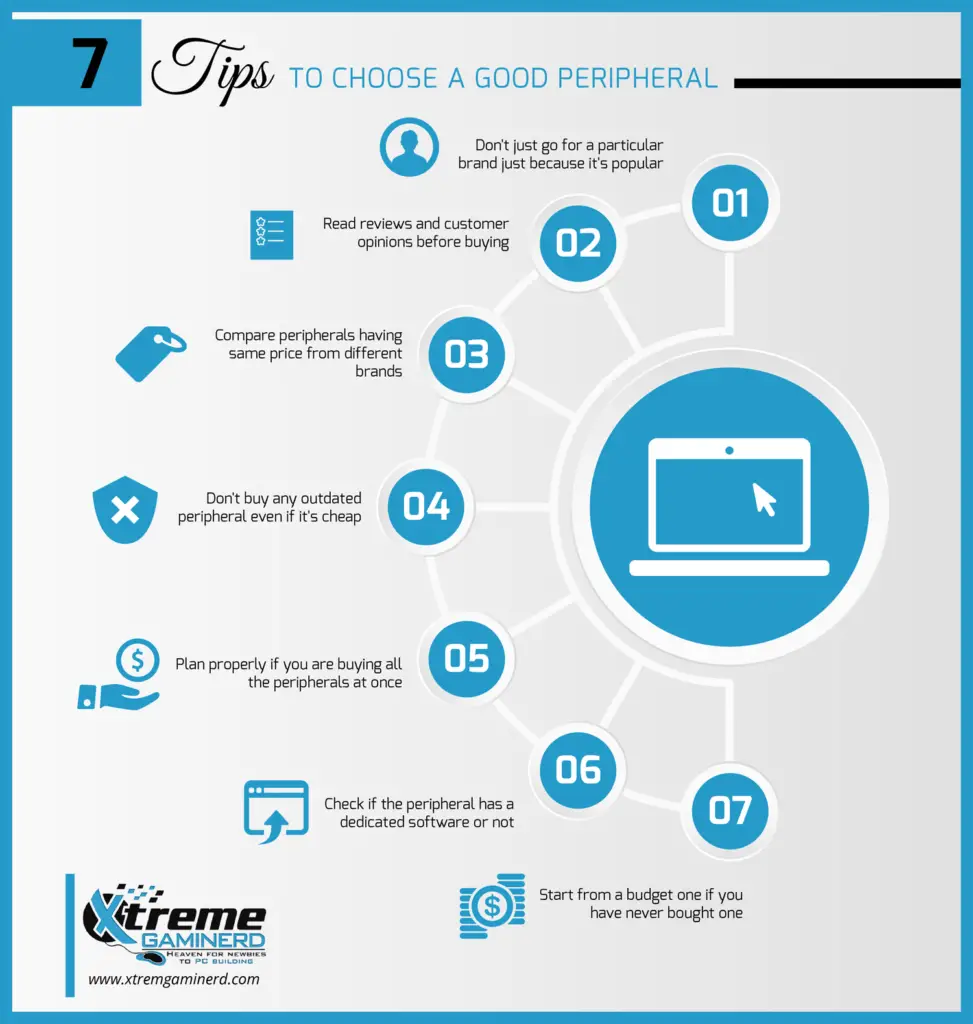 #1. Corsair
For me, Corsair produces the best keyboards for gaming. They are rock solid and have so many varieties of lighting, construction, and working. Generally, most of the Corsair keyboards have multimedia keys and they are heavy. You won't feel that they are using some cheap materials and their CUE software is really simple for customizing the features.
Although, I am not a big fan of its mice because when I used the Corsair Pro M65, it was the worst of all the mice I used among the top mice I have used. Some techs gave it the "Best FPS mouse" awards and titles but that isn't even an fps mouse in my opinion. That's just a casual mouse for playing every other game which you like. Although, the construction is strong and there are weight adjustment techniques that are useful and are not present in every mouse.
Corsair VOID headphones and its Mouse mats are also great, especially those RGB ones that come in cloth as well as the hard surface. So, currently, one of the most varieties you can find in peripherals is from Corsair and if you go to buy all the peripherals then you can get them from a single brand and customize them collectively from the same software.
Corsair has a wide variety of keyboards and from $70 to $200, you will find different types of mechanical keyboards. Not every keyboard is good for its price but those which are around $100 like K70 Lux(Non-RGB),  Strafe, etc. are really good. Similarly, there is now an RGB stand that Corsair launched for headphones.
In the mouse category, it doesn't have most varieties of mice but if you want to link every peripheral to one software and to each other then you may go with the fewer options it provides.
#2. Logitech
Now, for some Logitech is best for peripherals because of its support which I am not talking about in detail because the experience of each person is subjective but in general, what I have seen is that people talk too great of the support from Logitech but I am not putting it on the top of my list is because of the limitation in peripherals. There are hardly a few Logitech mechanical keyboards present on the market, so it lacks competition in keyboards. Corsair, Razer, Cooler Master, and others beat it easily in this.
But the most efficient and indeed one of the best mouse makers is Logitech. Just take a look at its Proteus G502, I don't think that there is any better mouse than this. It's perfect for every situation and beats every other mouse in its price range. And there is not a single-purposed mouse that Logitech lacks from its showcase, you will be able to find different models of different generations including Wireless and MMO mice. So, it has a complete package.
Logitech is also a producer of great headsets. Its G930 headset is very famous despite of mixed reviews but Logitech has several other headsets as well for different price ranges.
Now coming to the mouse mat, it doesn't have any revolutionary mats. The only category that Logitech has dominated is the Keyboard/mouse combo and you will find several options like MK620. They are made for casual use and are also good options for budget gamers. But both the budget and premium products of Logitech are great to deal with for their price.
#3. SteelSeries
SteelSeries produces the best gaming mice for competitive games. Its Rival series has produced several models of gaming mice and I myself used a Rival 100 previously for which I stopped using the Proteus G502(Personal preference). It has some professional mice like Rival 310 and Rival 700 which are fit to suit different budgets and they have the best grips of all the Mice I have tested.
They have a dedicated SteelSeries software which is also good. I wouldn't say that it's the best but it gets the job done. But as far as keyboards are concerned, they are much behind the other brands as the only popular keyboard series they have is the APEX series and they are just fine if anybody wants to have only SteelSeries peripherals.
Other great peripherals are Mousepads and headsets. It probably doesn't have any RGB mouse pad now but there are several different priced mouse pads that are of very good quality and the headsets are also professional. The ARCTIS series are premium headsets for gamers and for budget gamers, the Siberia Headsets are good options. I myself using the Siberia 200 which is comfortable and priced very well.
One more great peripheral from SteelSeries is Nimbus Controller which comes under $50 and has got several hundreds of positive reviews on Amazon and is one of the most searched terms in the controller category.
#4. Razer
For some, it's controversial if Razer is one of the best Brands for peripherals or not because of the material they use for their peripherals. Yes, it's true to an extent that the material quality of the Razer peripherals is not as good as other brands which I have mentioned but they offer a completely different experience in their own area. For example, the Razer Deathadder Elite is a top-class FPS gaming mouse and I don't think that except for SteelSeries any other brand has a good competition to it in mice when it comes to competitive gaming.
In keyboards also, it has pretty decent mechanical keyboards that stand head to head with Corsair keyboards. A great keyboard from Razer is the Black Widow Chroma V2 which is among the most bought keyboards on the planet. Similarly, when it comes to mouse mats, there are normal as well as RGB mouse mats too. Razer headsets are also decent although not the best. Kraken 7.1 is a very popular and widely sold headset from Razer. The brand has particularly spread its branches in every peripheral category and has performed spectacularly well. But I would like to have them put more quality material into their components so that they can beat their competitors.
#5. Cooler Master
I put Cooler Master at the last because it's intermediate between a good brand and a cheap brand for peripherals. It neither produces the best peripherals and not the worst. But as the brand is renowned and has good support, there is an advantage over the cheap brands that you will get better support.
It doesn't have any great mouse except the MasterMouse PRO L which is been named just like their keyboards. It's not a great mouse and Cooler Master has just dipped its toe into the world of peripherals for producing great components. It still has to go beyond the state in which it's right now.
But the mechanical keyboards of Cooler Master are worth the price. One of my friends reviewed the Cooler Master MasterKeys PRO L keyboard on this site and he totally liked it as an overall gaming/productivity keyboard. The most popular peripherals from Cooler Master are the keyboard/mouse combos. A great example of this is the Cooler Master MasterKeys PRO L.
For headsets and mouse pads, it hasn't done any great job, So I recommend going with Steelseries, Razer, or Corsair for headsets and mouse pads.
What does the Data Say?
It's difficult to know exactly which peripheral from which brand is sold the most worldwide but from the Best Sellers category, we can gather information about which peripherals are sold the most.
When gaming mice are concerned, if we exclude the cheap mice that are widely used such as Redragon M601 and others, the most sold Mice are Razer Deathadder Elite, Corsair M65 Pro, Razer Naga Hex V2, and SteelSeries Sensei 310. In the keyboard category, we have Corsair K70 LUX RGB, Corsair Strafe RGB, Razer Black widow Chroma V2, and Logitech G810.
Check out:- Comparison between Corsair K70 vs Logitech G810.
In the headsets category, HyperX Cloud II, SteelSeries Arctis 5 RGB and Corsair VOID Pro RGB are the most popular headsets while in the mouse pads category SteelSeries, Corsair, and Razer dominate the industry.