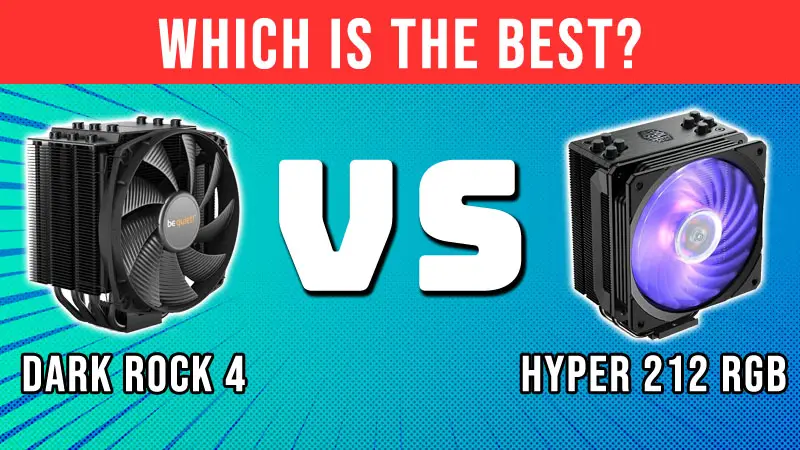 Before we jump into comparison, you must acknowledge that both the Dark Rock 4 and Hyper 212 belong to a different class of CPU coolers. That said, the value achieved per dollar spent is what we are going to look for instead of comparing each of their features directly without taking prices into account.
Be Quiet released the Dark Rock 4 in 2018 while Cooler Master has released several different variations of the Hyper 212 in the past few years. Currently, the most recent one is the Hyper 212 RGB Black edition. To see which one is better for its price, we need to compare their specs, cooler design, cooling performance, and performance value to understand where each cooler stands.
Dark Rock 4 Summary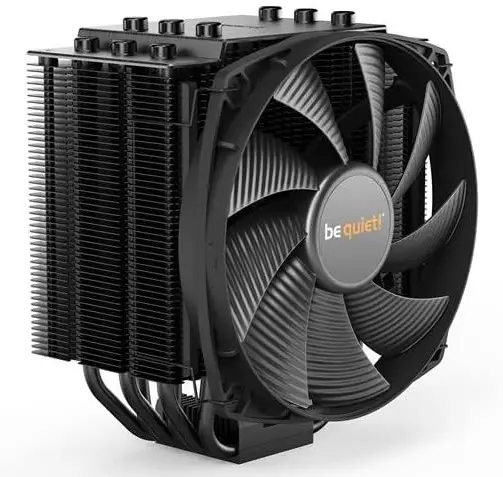 The Dark Rock 4 features an all-black single aluminum heatsink tower with 6 copper heat pipes embedded. The cooler weighs 0.92Kg and measures 96 x 136 x 159mm. The heatsink comes with a pre-installed 135mm Silent Wings PWM fan that is absolutely silent in operation and throws massive air for rapid cooling.
The heatsink supports an additional 120mm fan for push-pull configuration and features a brushed aluminum top cover with a diamond-cut finish for a premium look. It is compatible with all the major sockets including the latest LGA 1700 for Intel Alder Lake CPUs and AMD's AM4 socket for all the Ryzen processors. The official MSRP of Be Quiet Dark Rock 4 is $75.
Hyper 212 RGB Black Summary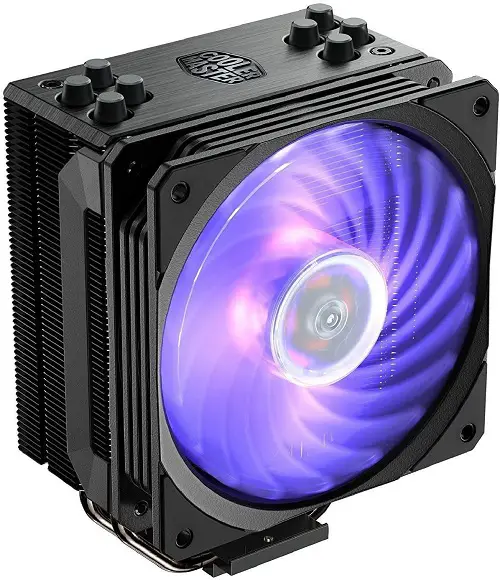 Hyper 212 RGB Black is the latest edition of the original Hyper 212 Evo CPU cooler. It features an All-Black single tower of the aluminum heatsink with 4 nickel-plated copper heat pipes. It features a single 120mm Cooler Master SF120R RGB fan and measures 120 x 79.6 x 158.8mm.
It allows the installation of one more 120mm fan on the other side and is compatible with most sockets including the LGA 1200 and AM4 except for the LGA 1700. Its official MSRP is around $50.
Specs Comparison
| | | |
| --- | --- | --- |
| | | |
| | | |
| Dimensions in mm(L X W X H) | | |
| | | |
| | | |
| | | |
| | | |
| | | |
| | | |
| | | |
| | | |
| | | |
Heatsink Design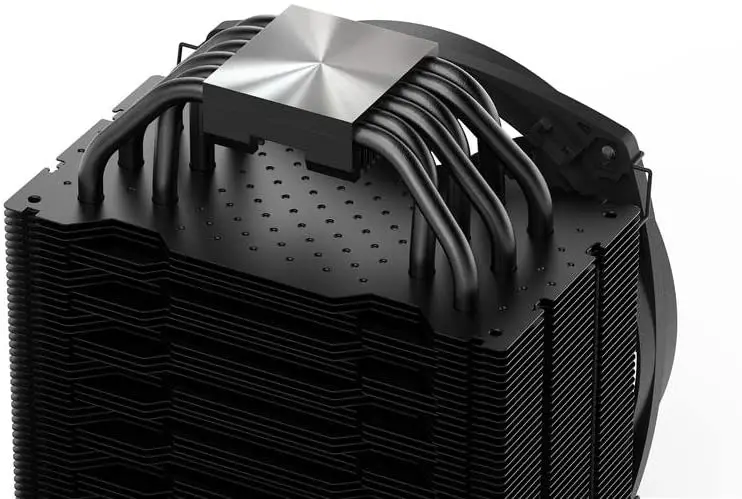 The Dark Rock 4 features a single block of the aluminum heatsink with several hundreds of fins with adequate spacing to allow airflow through them. The cooler uses 6 copper heat pipes totally black in color that transfers the heat from the CPU base to the fins. These heat pipes pass through the metallic base that speeds up the heat transfer to the aluminum heatsink but aren't exposed to the processor directly. This results in a smooth finish of the base and better contact with the CPU.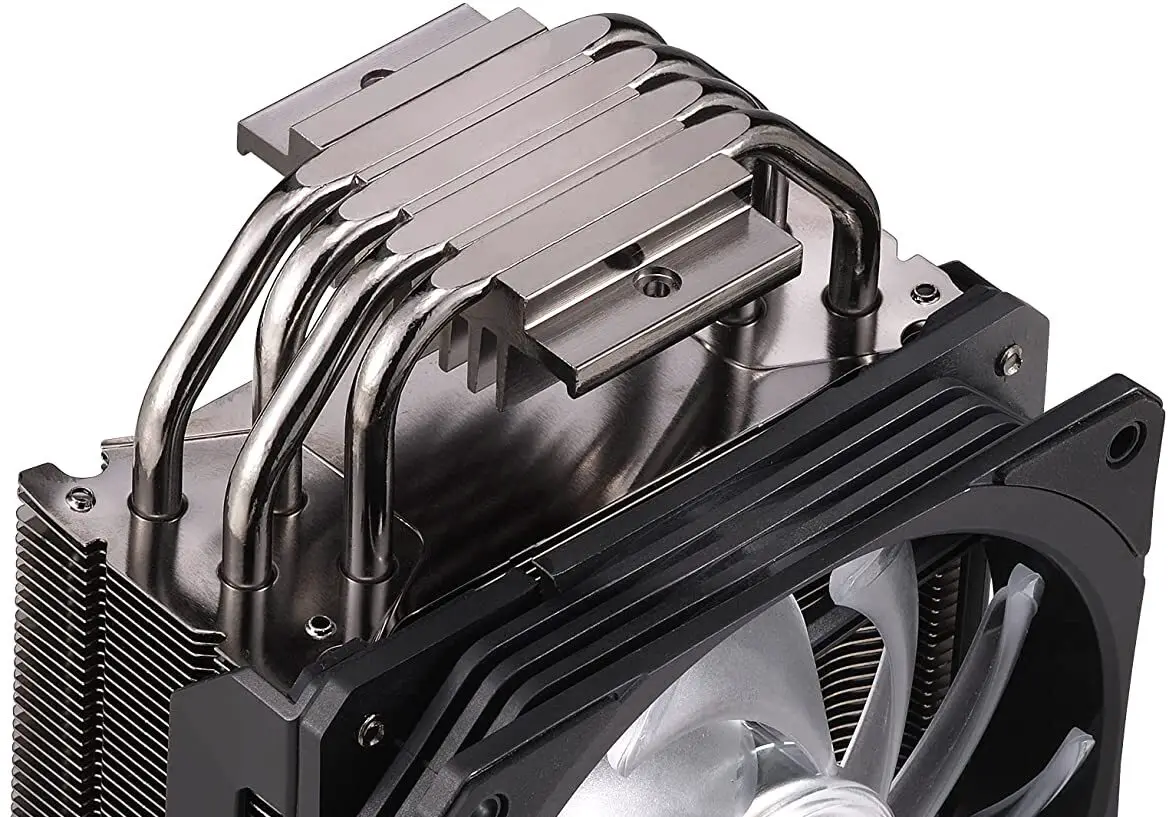 The Hyper 212 RGB Black is a little different in design with only 4 copper heat pipes that are nickel-plated. Instead of passing through the base unexposed, all the heat pipes are exposed to be in direct contact with both the CPU and heatsink. This doesn't result in a very smooth finish but has a better capability of absorbing heat directly from the CPU.
Cooling Performance
A lot of third-party site reviews are already out and it makes it convenient for us to know the performance of each cooler. It is important that we compare the results of these coolers on the same rig from different reviewers as this will give us a clear insight into how much difference is there between their cooling performance.
Tomshardware-
Tomshardware is a very popular review site that has reviewed both the Dark Rock 4 and Hyper 212 RGB Black Edition. Their system used a Core i7 5930K CPU clocked at 4.2GHz. The results show that the temperature difference at 50% fan speed and 100% fan speed is 4 to 6 Degrees Celcius. Hence, as concluded by TH, the Performance Value of Hyper 212 RGB Black Edition is far ahead of Dark Rock 4.
PC Perspective-
PC Perspective tested both the coolers with an Intel Core i7 7700K CPU. The test was done with X264 Benchmark software and as you can see below, the temperature difference on full load is less than 1 degree Celcius. This is an unexpected result as most reviewers saw a higher temperature difference between these coolers.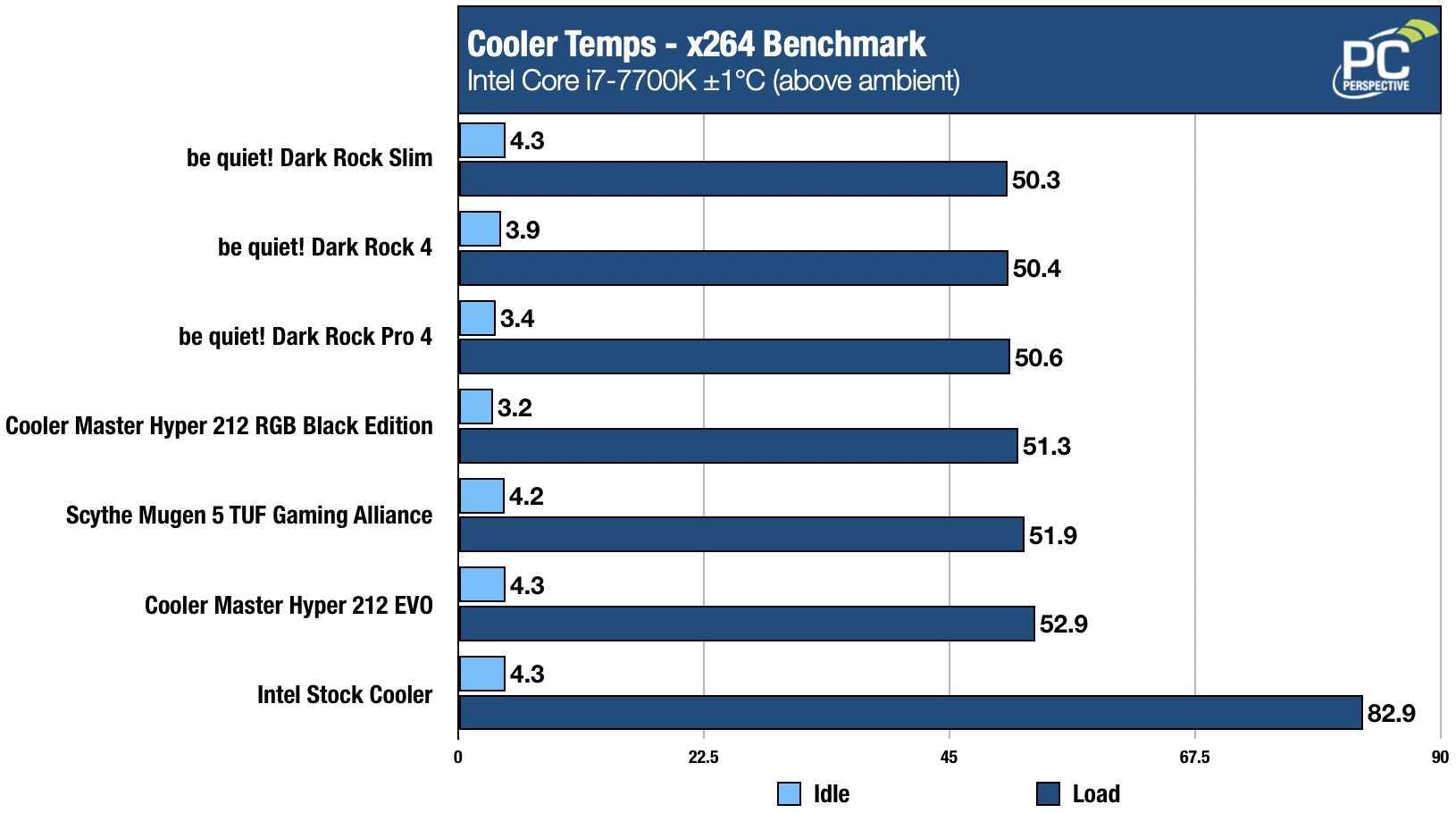 Reasons to Choose Dark Rock 4
Dark Rock 4 is a bigger cooler and provides more surface for better heat dissipation. This does result in better cooling and the 6 copper heat pipes are doing their work as they should. The cooler is well suited for a 6 or 8-core processor and is fit for an intermediate level of overclocking.
Another great reason to choose the Dark Rock 4 is the low noise. As tested by several reviewers, it is much more silent than the Hyper 212 RGB Black. So, people who want lower temperatures at lower noise should consider going with this cooler.
---
Reasons to Choose Hyper 212 RGB Black
According to the thermal tests, the Hyper 212 RGB Black Edition provides much better value for money. The cooling performance is decent at a price of $50 and the noise is also reasonably low. Although it is not as powerful or silent as the Dark Rock 4, people having a lower budget for a cooler should opt for this one.
It is perfectly suited for any 4 or 6-core processor and capable of intermediate level of overclocking. On top of that, the cooler comes with an RGB fan that provides eye candy not available with the Dark Rock 4.
---