Intro
Xtremegaminerd.com is supported by the readers. The purchase you make through our links may get us some commission and doesn't cost you an extra penny.
---
I am fond of aftermarket CPU Coolers and whenever I get an opportunity, I test them when I get my hands on them. While there have been a lot of CPU coolers from different vendors this year, I got fortunate enough to get hands on one of them. Arctic sent me their Freezer 33 eSports One CPU cooler a few months ago but due to some complications, it reached me very late. I wasn't able to test it when I got it because my testing RIG motherboard died. So I ordered a new one. I am very thankful to Arctic that they sent me their Bionix fans and the cooler for review from Germany.
SPECS
| | |
| --- | --- |
| Heatsink | Aluminum Fins x 49, Thickness:0.5 mm, 123mmx150mmx80mm |
| Base | Direct touch Ø 6 mm x 4 |
| Fan | 120 mm, 200 –1,800 RPM (controlled by PWM) |
| Bearing | Fluid Dynamic Bearing |
| Noise Leve | 0.5 Sone |
| Current/Voltage | 0.20 A/+ 12 V DC per Fan |
Unboxing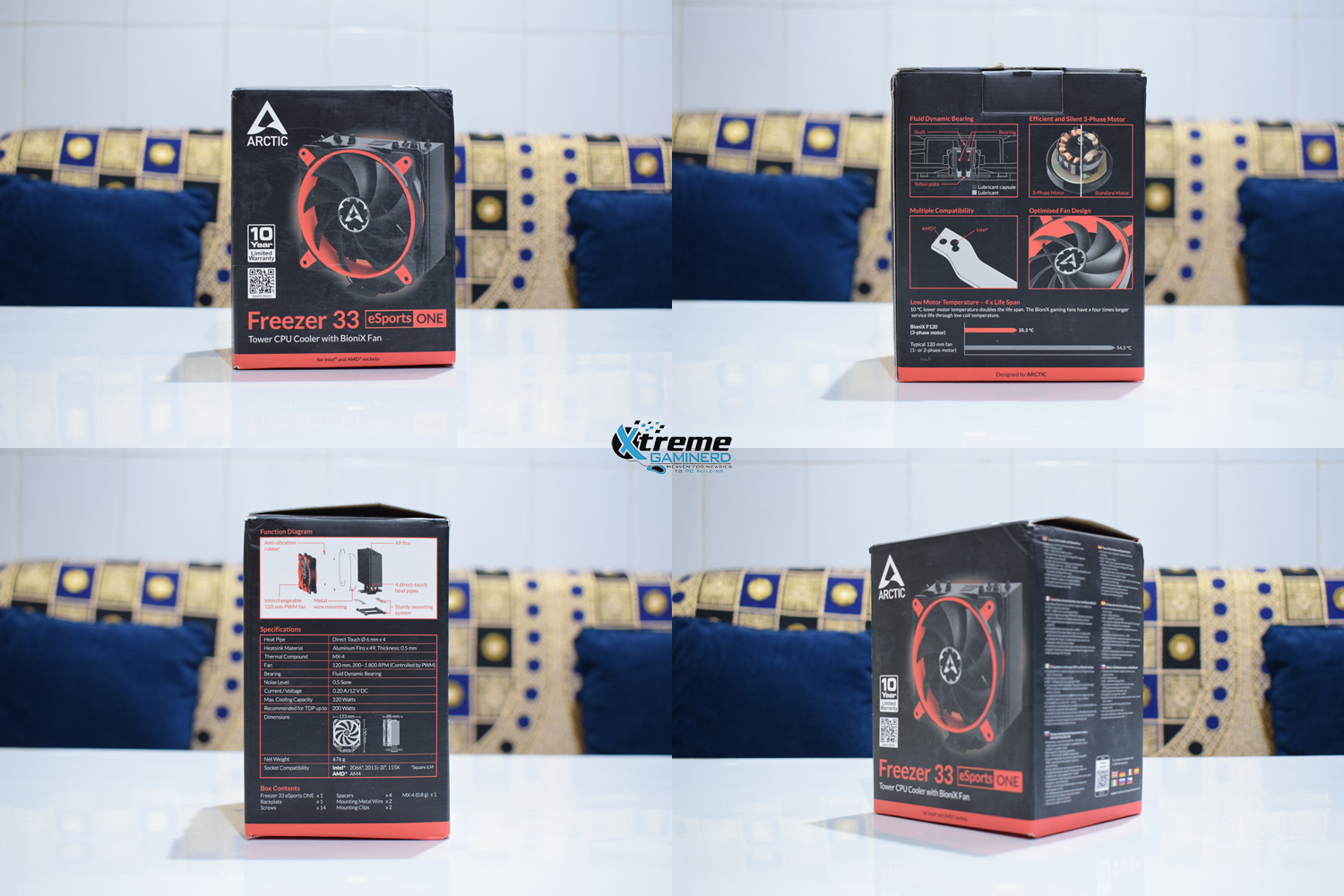 Packing was fine. The best thing which I liked about its box was the description of the cooler and the installation method. Arctic made a good use of the box sides in explaining everything you need.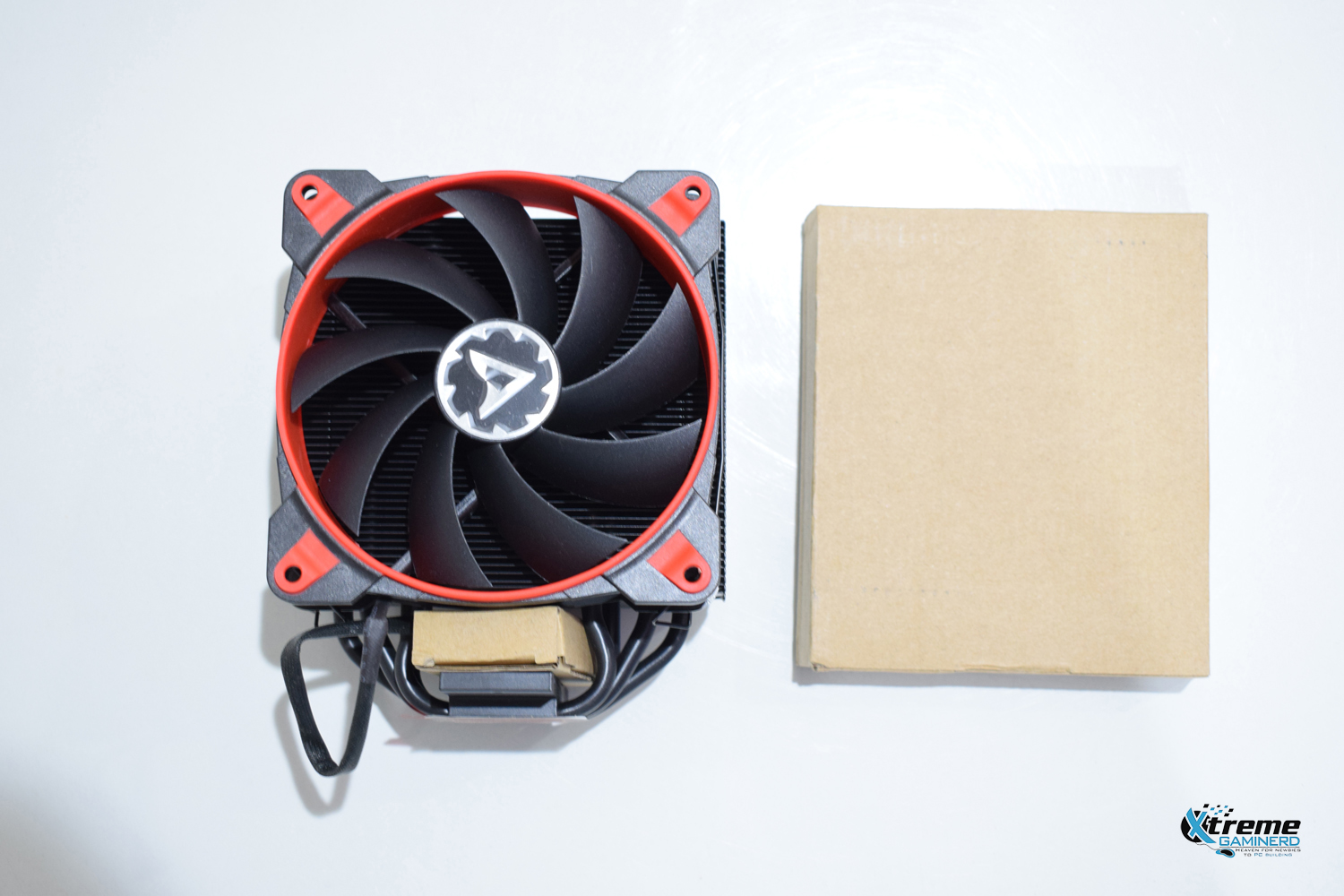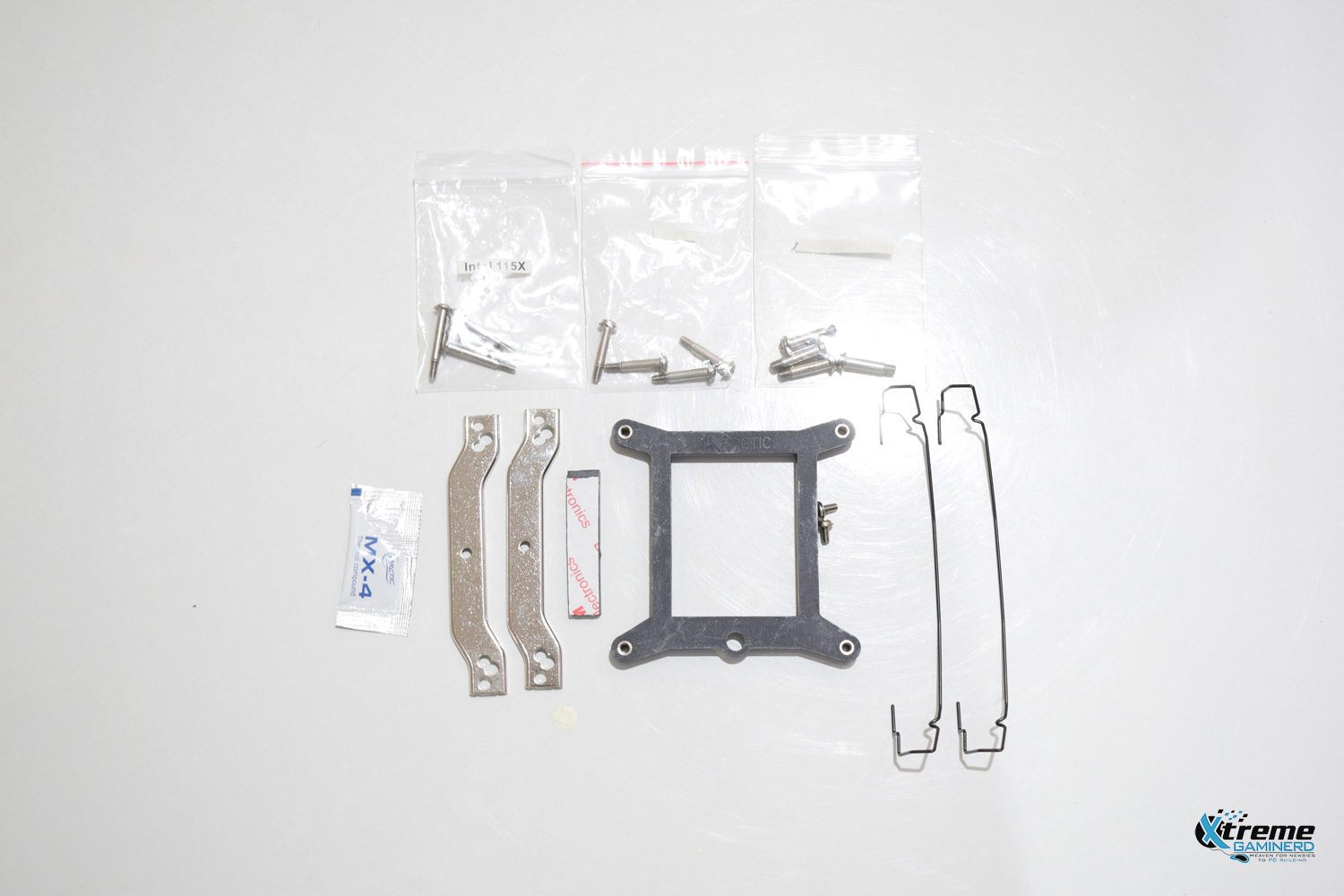 Inside the box, you will find the necessary things that are used to install the Cooler. There were two additional fan clips for attaching the fan and a rubber which I didn't use. As far as the accessories are concerned, you can clearly tell from looking at them, that the installation process is going to be very easy.
The only thing that I didn't like is that MX-4 thermal compound in a small packet. Yes, it is obvious that they can't provide a big tube with a budget cooler like this but a small tube should be a good replacement if one ever wants to re-install the cooler. Anyways, not a big deal for me.
Taking a close look
The cooler is pretty much basic from all sides and the black colour really looks good on the heatsink. The advantage of a black heatsink is that it goes well with any colour themed build. Coating the aluminium heatsink for some is not ideal as it may put some minor performance issues but it's very unnoticeable in real life. Anyways black is a good absorber of heat and coating with a single layer won't kill the performance.
The black/red coloured Bionix F120 fan matches the heatsink well and it's perfect for any black/red themed build. There are although options if you want to choose a different colour. Arctic is providing, White, Red, Green and Yellow coloured fans for this cooler.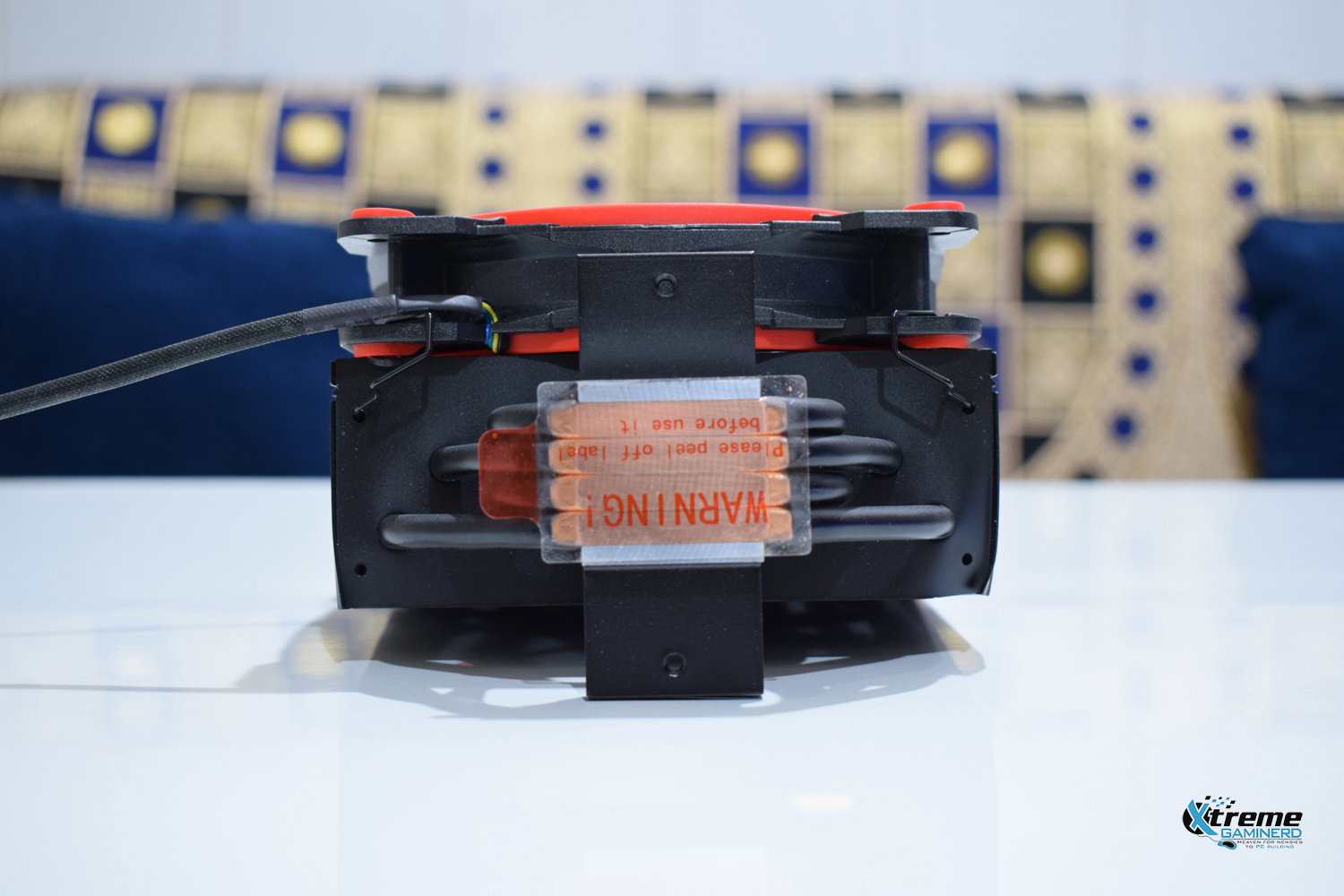 Now take a look at its base. The cooler is using a small aluminium base with 4 copper heat pipes that are passing through it and exposed to the eye. This means that the heat conductivity will be good as there are a lot of coolers which uses the same method and I have tested some of them. This technique saves some cost but still provides good performance.
These 4 copper heatpipes are also painted in black and pass through the whole aluminium heatsink and end at the top.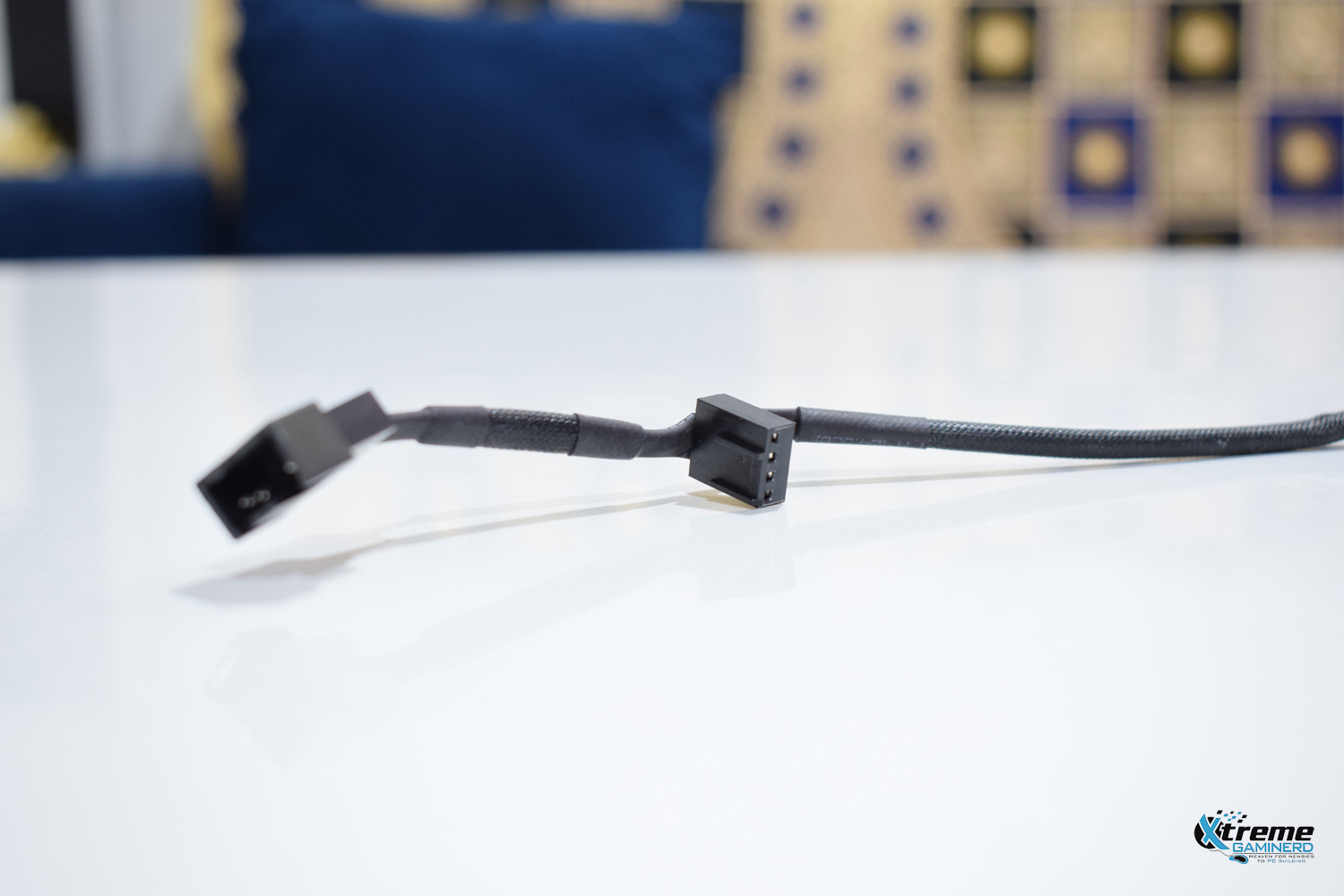 The fan uses PWM control method and comes with a cable having a male connector along with the 4 pin PWM connector.
Installation
Installation was the easiest which I have ever seen on a CPU cooler. Just put the bracket at the back aligning to the screw holes and put the cooler on the top. Then use the two steel clips to fix the cooler on the CPU. I was very happy with the installation method. The more complicated the installation is, the more likely I would like to deduct the rating.
As the cooler uses the universal method of installation, you don't need to check the manuals for instructions. Just check the back of the cooler box for knowing how to install it. It's pretty much straightforward.
The cooler didn't take too much space but I think that it would be difficult to install it with tall memories if you put one in the first slot. Know that installing the cooler requires you to first remove the fan because you can't put screws into the clips unless you do that.