Arctic BioniX F120 Gaming Fans
Arctic launched its new Airflow fans recently along with their new Freezer 33 edition CPU coolers. This time the company claims that the fans are redesigned for better airflow with more reliability and lower noise. I have never tested any Arctic products before so I can't compare them with any previous Arctic fans to conclude what has been improved and what not, but I have different types of fans from different companies to which these BioniX AF120 fans will compete against in this review. Let's find out if the Arctic BioniX F120 is really worth your $15 or not.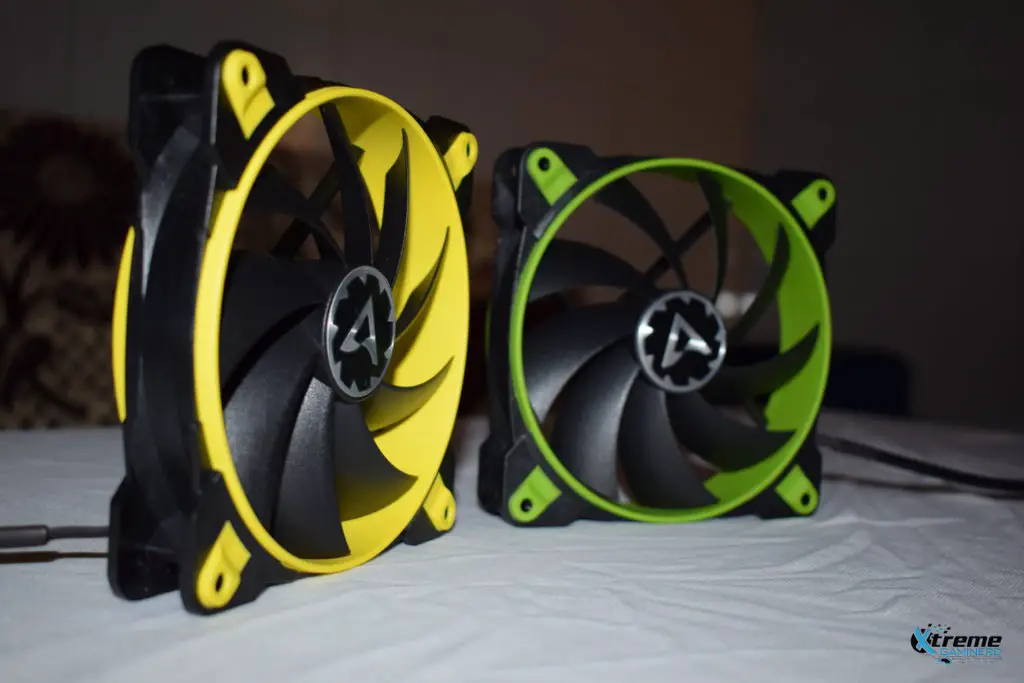 Specifications:-
| | |
| --- | --- |
| Dimensions | 120 (L ) x 120 ( W ) x 27 (H) mm |
| Fan | 120 mm, 200 – 1800 RPM (Controlled by PWM) |
| Airflow | 69 CFM / 117 m/h |
| Bearing | Fluid Dynamic Bearing |
| Noise Level | 0.5 Sone |
| Current / Voltage | 0.20 A / + 12 V DC |
| Weight | 129 g |
It's no doubt that Arctic produces very good CPU coolers and I have recommended their F12 fans in my best PC fans article because they are cheap and get the job done. But there are a few things that I can definitely point out in which it made the new BioniX F120 fans better.
Arctic recently sent me their new fans to review them, so I am thankful to them for letting me have hands on them before most of the buyers can so that I can give my opinion if you should get these fans for your PC or not.
These fans are currently present in two sizes: 120mm and 140mm. Both have the same design but a difference in performance. There are 4 colours in which you can buy them right now: Red, Green, Yellow and White. 
Unboxing
If you can see from the front side, the box states that it has 10 years of limited warranty. I haven't seen this much of warranty with any fan till now. I am sure Arctic is sure about the reliability of the BioniX fans and that's why they have increased the warranty for a very long period.  Although it's impossible to test the reliability of any product but I think when the company is giving it as their official spec, then this is a huge pro.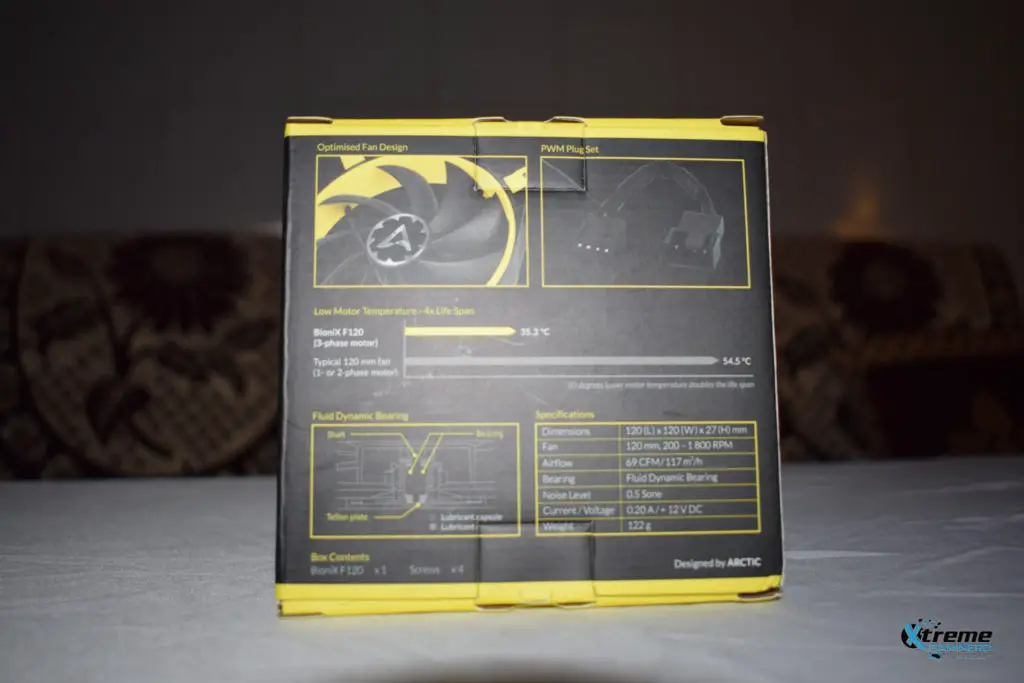 At the back of it, the box explains about its mechanism and have the basic specs which I listed above. The box is neither small nor big. It's just adequate to fit in the fan and its accessories.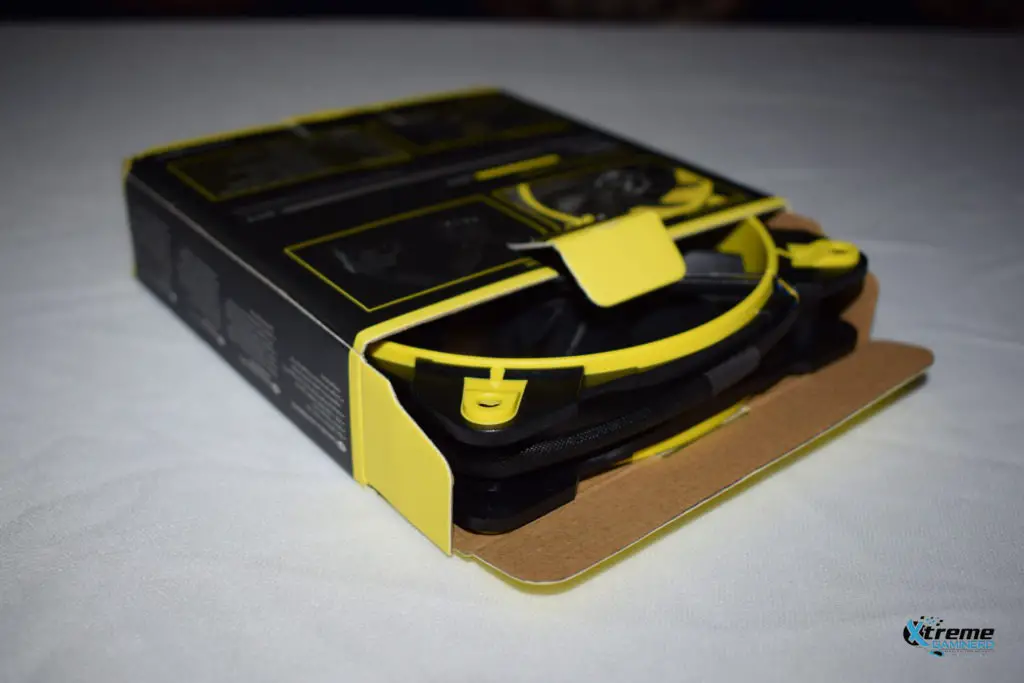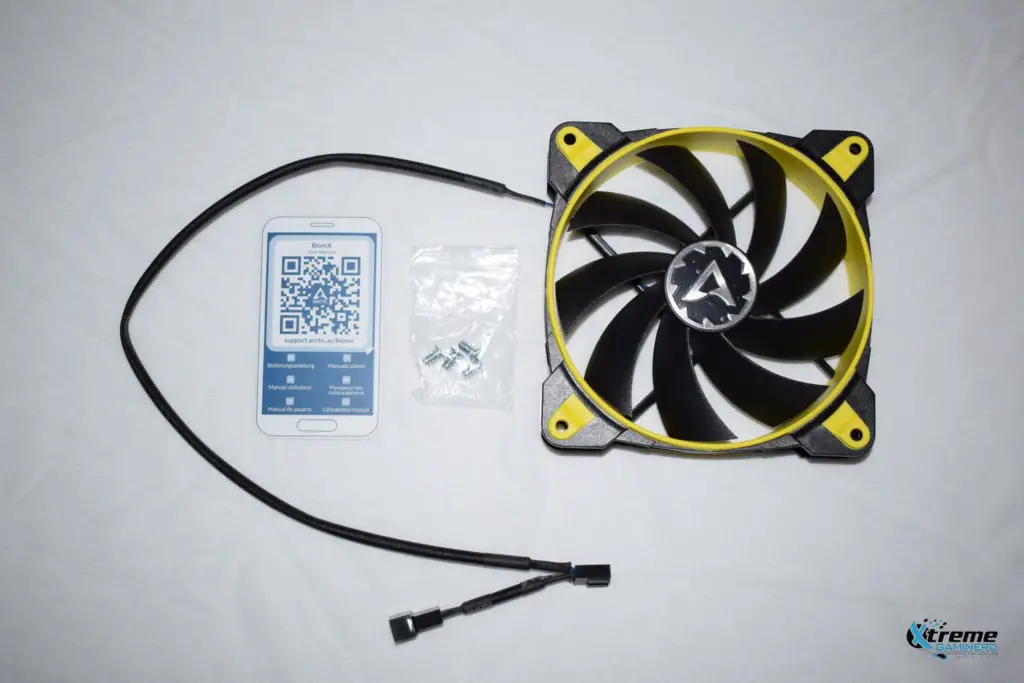 So, the box contained three things: QR CODE, 4 screws, 1x 120mm BioniX F120 fan. This is very basic and most of the fans come like this. But the major difference here is the manual guide which is now in the form of QR Code. You have to scan it on your phone to open the support page from where you can get the installation methods. I would prefer a hard copy of manual instead of going to the website because it makes things so easy and using the website will need you to have the internet.
Taking a close look
The fan looks very good with the yellow accents with an Arctic Logo in the middle. Almost every fan has LOGO in the middle except Noctua but what you can see from the above pics that the fan has fixed colour combinations and there is no RGB version of this fan right now. If you are building a PC with a particular colour theme in your mind, then you can have 4 colour options for this which I think are the most common colours. But once you use particular coloured BioniX fans, then you will have to stick with it or change the fans altogether to change the colour theme. A PRO for those who want a fixed colour and a CON for those who like to change the colours on a day to day basis.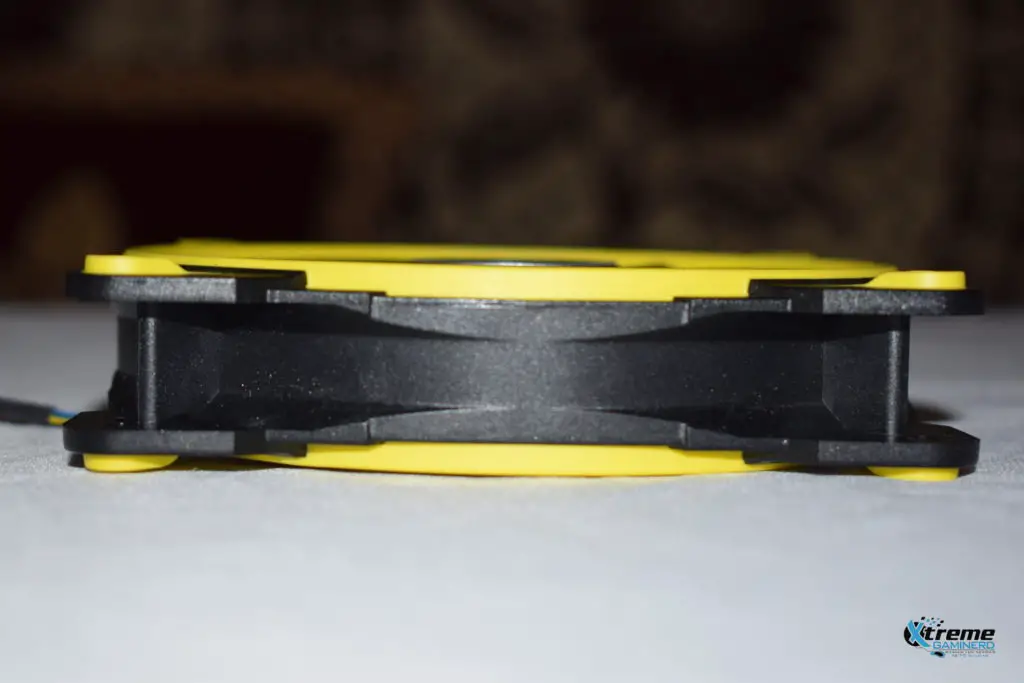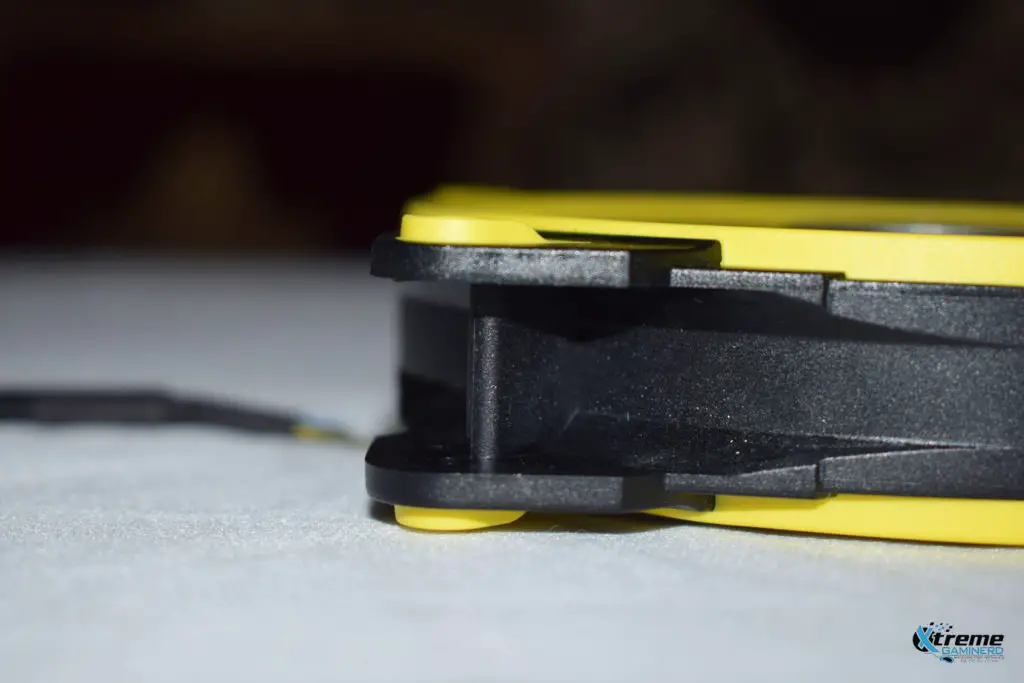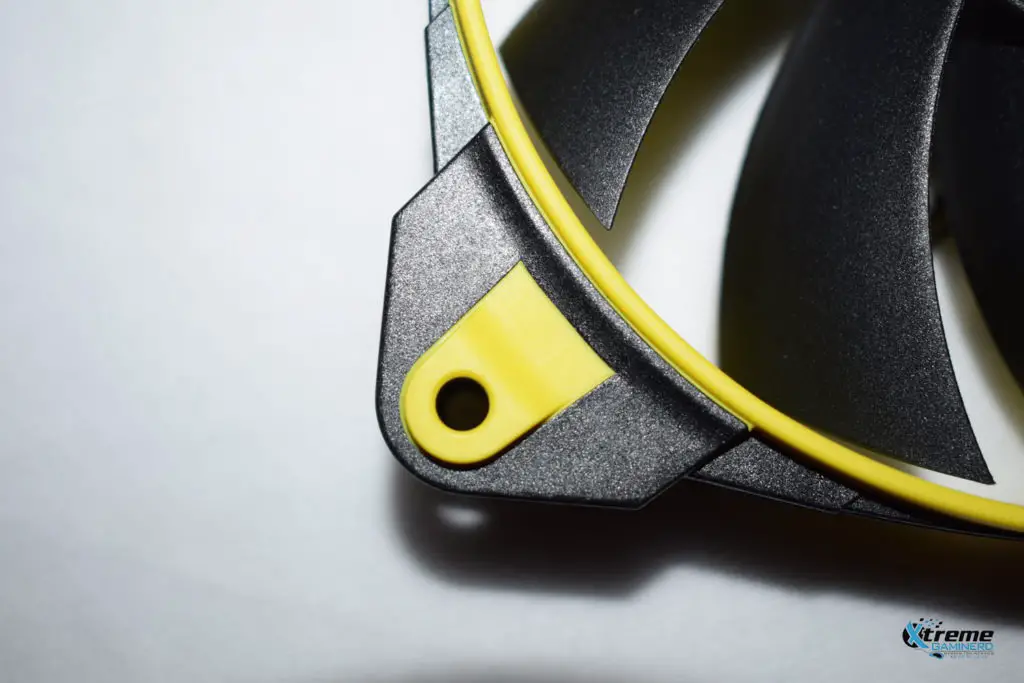 Taking a look at the sides, it is built decently with properly aligned screw holes i.e., the screws can go easily straight from one hole to another as there is an extended plastic just touching to the holes at one side for easily routing the screws without any difficulties. As some fans don't have this like Corsair SP120, the screws tend to go in different directions during installation. But now, a lot of fans use this same mechanism for routeing the screws. Corsair HD120 is particularly the best in this case.
The fan corner is also equipped with small rubber pads to minimize vibration which is a must needed feature.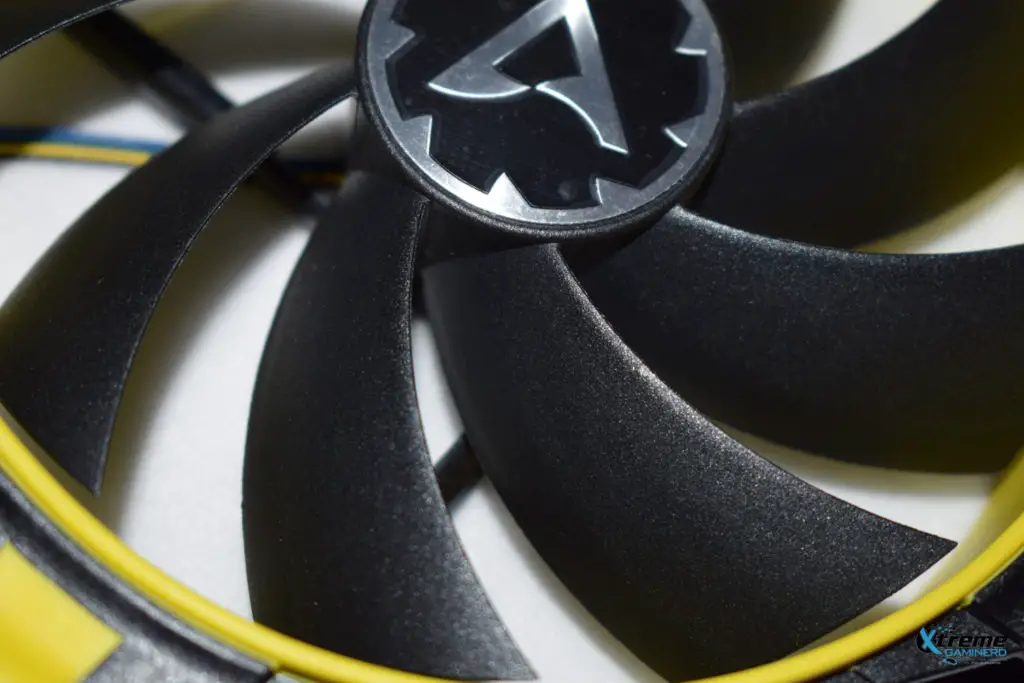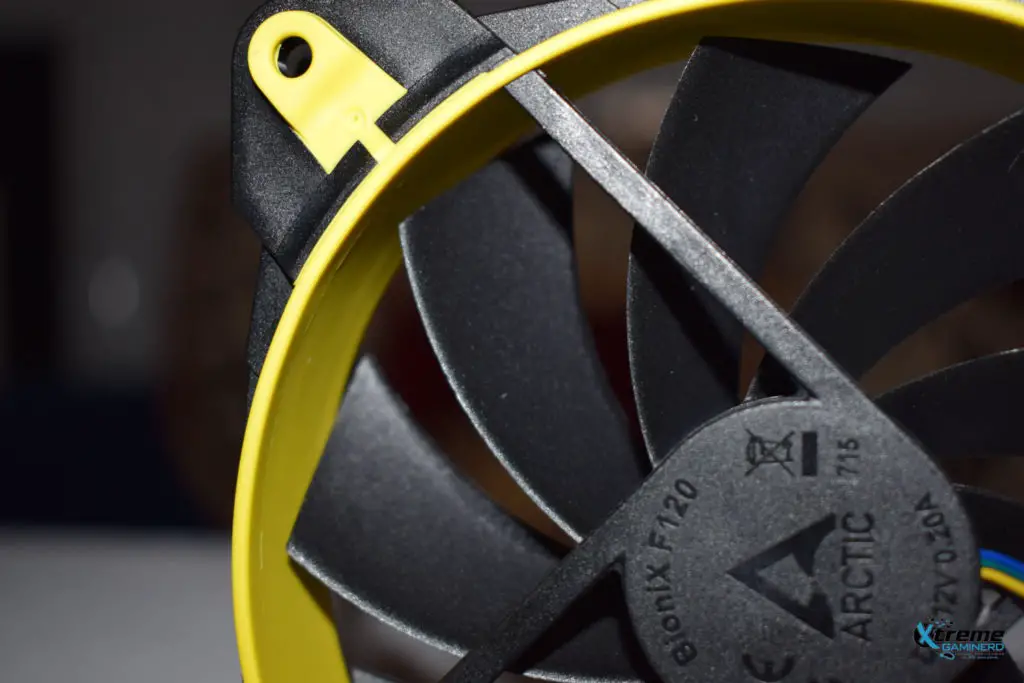 The fan blades are something which is the second most important thing in a fan after it's bearing. As it uses a fluid dynamic bearing, the bearing must provide less friction to the fans and help in achieving low noise which we will see in the real test soon.
Fan blades are similar to the previous Arctic F12 fans. I don't know about the rigidity of the F12 fans but the rigidity of this fan is much better than any fan I own. The plastic is very hard and the blades are very thin. You can't bend them easily and this should achieve higher speed with lesser vibrations. As compared to my Corsair AF120 fan which is also a very good Airflow fan, the fan blades are wider at the end in BioniX F120 fan while the blades of Corsair AF120 are equal in width from start to end.
The blades are also flexible in Corsair AF120 and even in most of the fans that I own. This in one case a Pro and a Con. As for a hard blade, the airflow is better and a higher speed can be achieved but at the same time, they are more brittle than flexible plastic blades which do not break easily but don't provide as good performance as a hard blade fan can.
The fans of BioniX F120 are also longer than the Corsair AF120 but are equal to the Cooler Master's MasterLiquid 240 120mm fans which are great air pressure fans.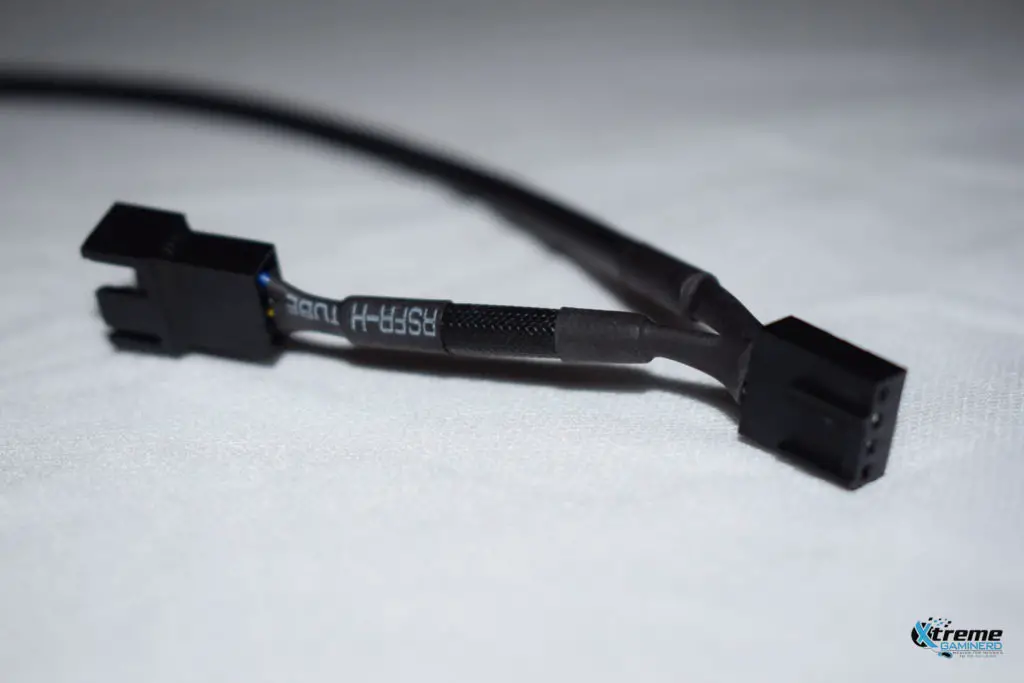 In accessories, it lacked a fan splitter because it is already equipped with a splitter which has one 4 pin female PWM connector that will be connected to power the fan and a 3 pin male connector to power one more fan. So, it's a good innovative idea to power more fans without including an extra fan splitter.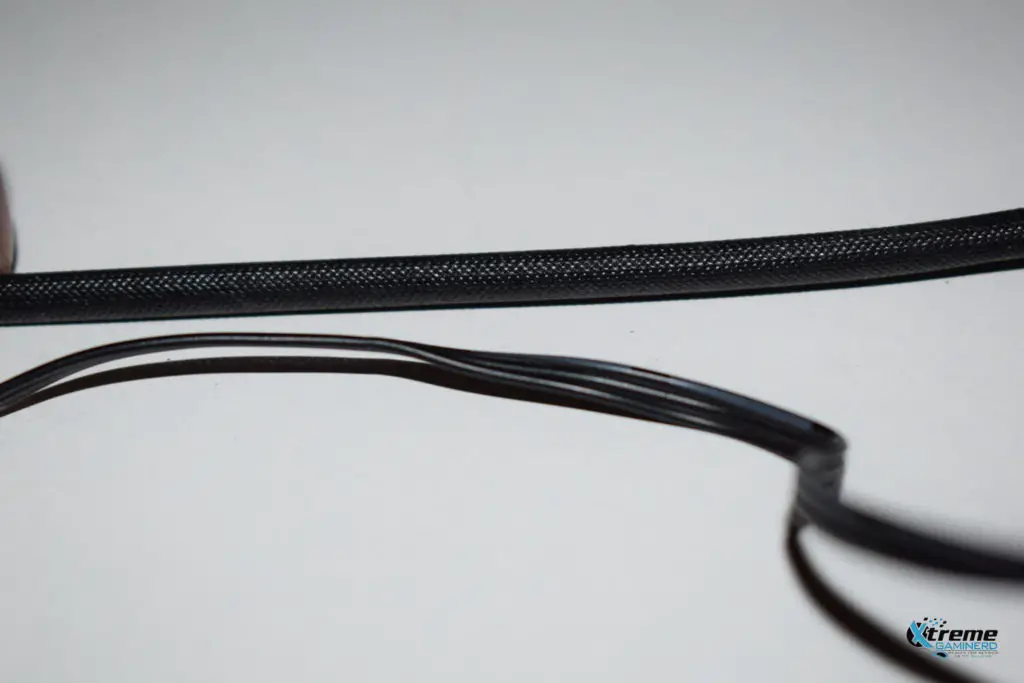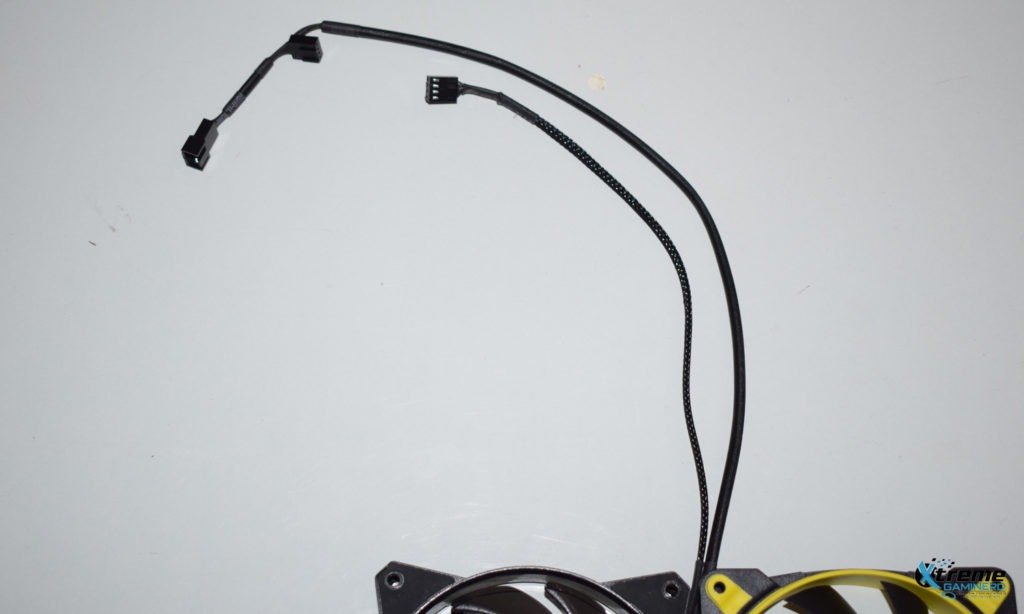 Cable is protected very well with a good thick coating. It's thicker than the Cooler master's Air pressure fans and far better than the Corsair AF/SP/HD fans. The length is adequate, neither too long nor too short but longer than most of the air pressure fans that I have.
[nextpage title="Benchmarks and Conclusion"]



Testing Methodology
Testing a fan is not as simple as testing a CPU cooler or a graphics card. For testing a particular fan one needs at least 4-5 fans of different kinds to stress test everything in a PC which also depends on the amount of ventilation a case has. So, the best way to test the cooling of a fan is to use them on a heatsink. For this purpose, I tested this fan on a Cooler Master MasterLiquid Radiator and on an air cooler called Thermaltake Contac 12 and compared them with the stock CPU cooler fans.
As for noise testing, I used a total of 5 different fans along with the BioniX F120 fans and tested them at different speeds.
For testing, I used my testing rig which I use for other things as well:-
Intel Core i5 6600K: Check on Amazon
Asus Z170 Pro Gaming: Check on Amazon
2x 4GB DDR4 2400Mhz Corsair Vengeance LPX: Check on Amazon
320GB WD HDD: Check on Amazon
TP-Link N300 Wifi PCI Card: Check on Amazon
Cooler Master MasterWatt Lite 500W: Check on Amazon
Cooler Master 690 III: Check on Amazon
1x 120mm Corsair AF fan: Check on Amazon at the rear, 1x 120mm DeepCool TF120 fan(Used from Radiator): Check on Amazon
I tested the fans at 25C which I measured using a Digital LCD thermometer and kept it in consideration if the room temperature changed anytime while testing. For measuring the CPU temperature and fan speed I used CPUID HWMonitor and for overclocking the CPU I used the Asus AI Suite 3. For tweaking the fans speed I used Bios as well as Asus AI Suite 3. 
For testing the noise I used a Digital noise tester. The how's of testing will be explained below soon.
Test #1: On Radiator
So, I took the Cooler Master's ML 240 radiator and installed the two Bionix F120 fans on it and tested the temperature as well as noise. I tested the performance of these fans at different speeds and at different CPU clock speeds and then I compared it with the stock Air pressure Cooler Master fans which are one of the top cooling fans for a radiator.
After installation, I opened up the side panels and the top meshed panel to allow maximum airflow through the radiator.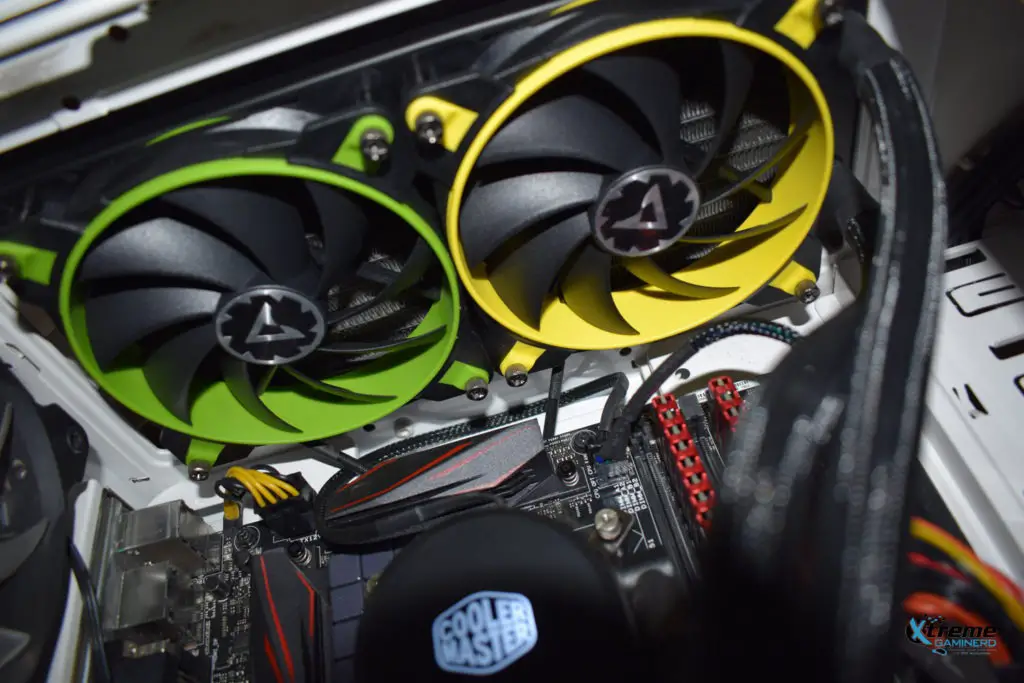 Heavyload was used for stress testing for 15 minutes for each clock and at different fan speed.
Temperature comparison graph:-
Note: The minimum fan speed CM 120 fans can go is 750RPM from the BIOS and the BioniX fans can go close to 700RPM. Unfortunately, I forgot to test the BioniX fans at 750RPM speed but I think the comparison is still fair enough as there is an only 60RPM difference.
I compared the temperature at their minimum speeds and at their maximum speeds. But making it fair, I tweaked the fan speed of the BioniX fans to match that of the Cooler Master fans maximum speed.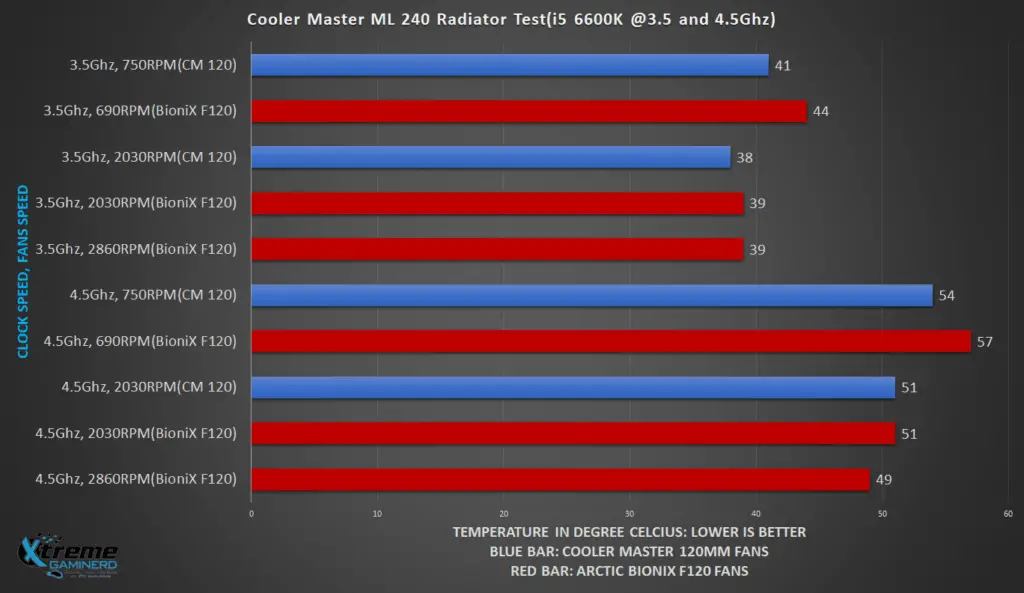 What you can see from the above graph is that the Cooler Master air pressure fans are, of course, better than the BioniX F120 fans but the interesting thing to observe is that as you increase the speed of the BioniX fans to max, they perform better than the Cooler Master fans. Though at low speeds like that of 2000RPM and lower than that Cooler Master fans are the clear winner because air pressure fans are specially made for cooling heatsinks only.
From the graph above, it's clear that BioniX F120 can be a decent replacement that will perform better at max speed which i.e., 2850RPM which is insanely high.
Noise comparison graph:-
Note: The decibel numbers shown below in graph are of 2-2 fans from each vendor accompanied by the sound of the pump. Noise testing is very difficult when the environment is very noisy but I managed to make the room as quiet as possible. But +-1dbA error can be expected and just as I said that I forgot to test the BioniX fans at 750RPM speed, I measured noise of BioniX F120 at 690RPM. The difference in noise levels will still not be noticeable between 690RPM and 750RPM.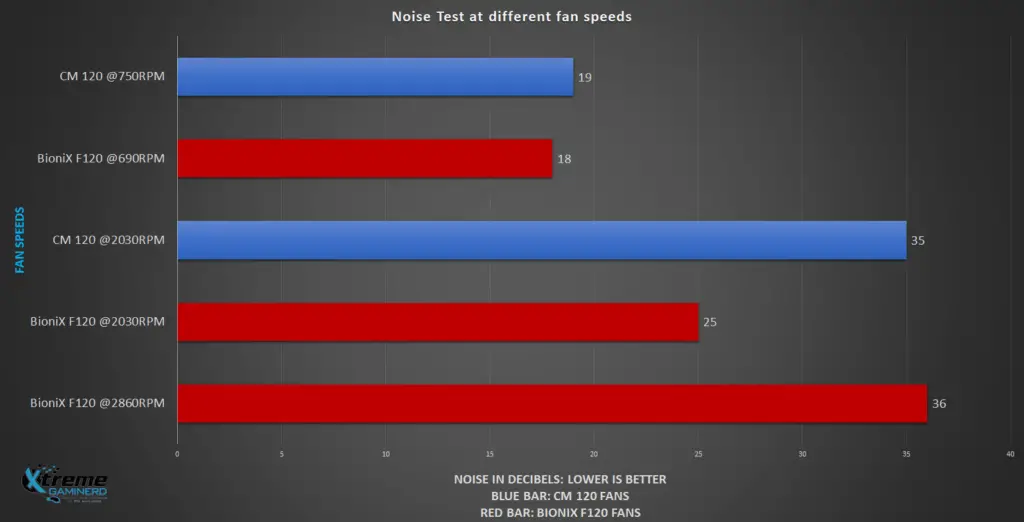 The BioniX F120 fans are exceptionally quiet when compared to the Cooler Master Air pressure fans and at the exact equal speed of 2030RPM, it's quieter by a big margin of 10dbA. I didn't expect that much. When they were spinning at 2030RPM, they were not bothering me at all. It felt like that they were spinning somewhere between a silent profile and a standard profile. So, even if the fans are made to spin at the max speed, they are almost equivalent to the Cooler Master fans giving a little better cooling as you saw in the previous graph.
Test #2: On Heatsink
The second test I did was on Heatsink of Thermaltake Contac Silent 12 CPU cooler of which I am soon going to post a full review. I compared the BioniX F120 fan to the stock fan which came with the cooler that is an air pressure fan in terms of temperature and noise. Again, after installation, I opened up all the panels to allow maximum overflow and stress tested the cooler with both the fans separately at different clocks and different fan speeds.
Fortunately, the same clips by which the TT Contac Silent 12's fan was held on to the heatsink were able to hold the BioniX F120 fan just perfectly.

Temperature Graph:-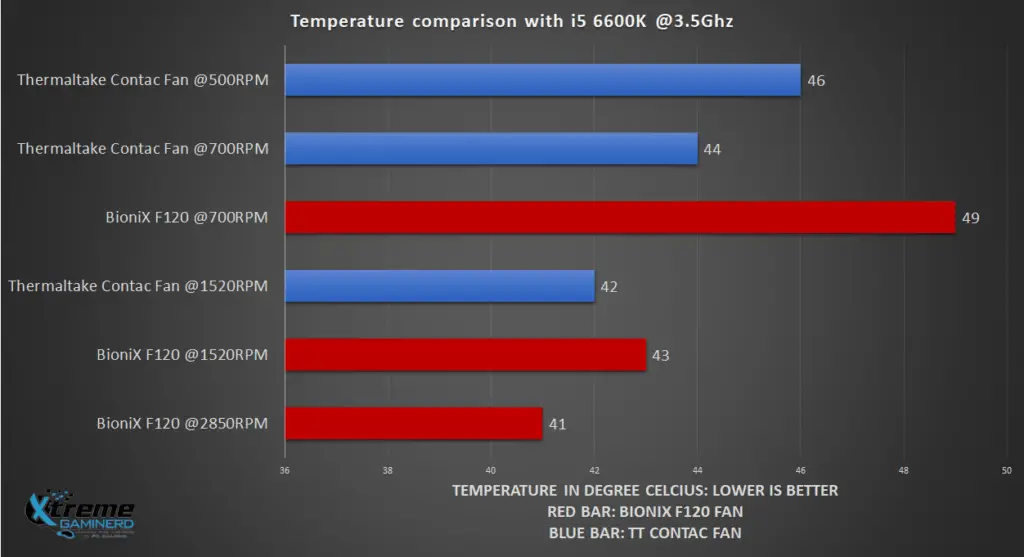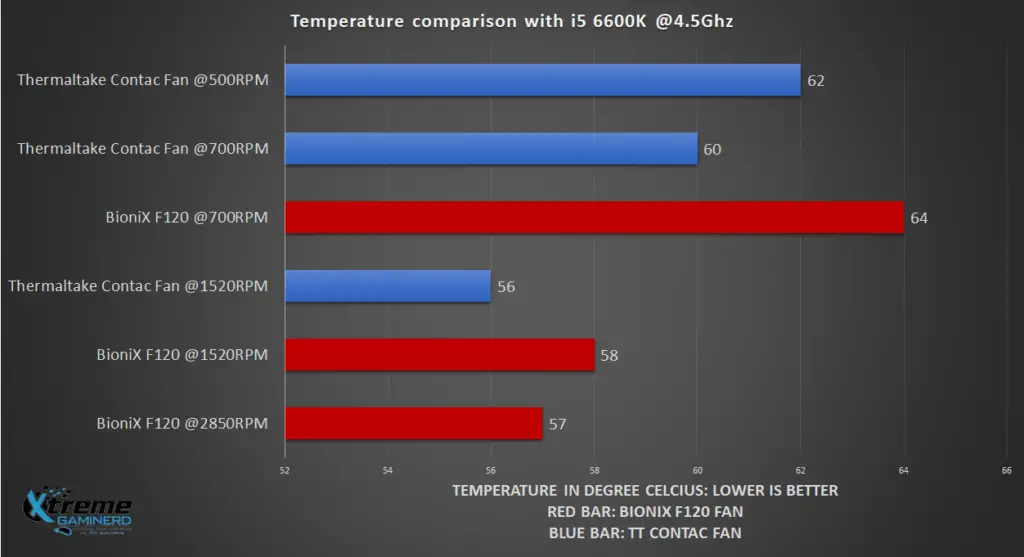 Just like before, the BioniX F120 is not able to beat the Air pressure fan from Thermaltake. The reason is the same. BioniX fan is air flow fan and the TT fan is an air pressure fan. But just like before making the fan run at full speed gave the stock TT fan good competition in cooling. Although, it's clearly not the winner here as the TT fan gives the same amount of cooling at almost half the speed of BioniX F120. But it can be a decent replacement here if you just turn up the speed to max.
Noise Graph:-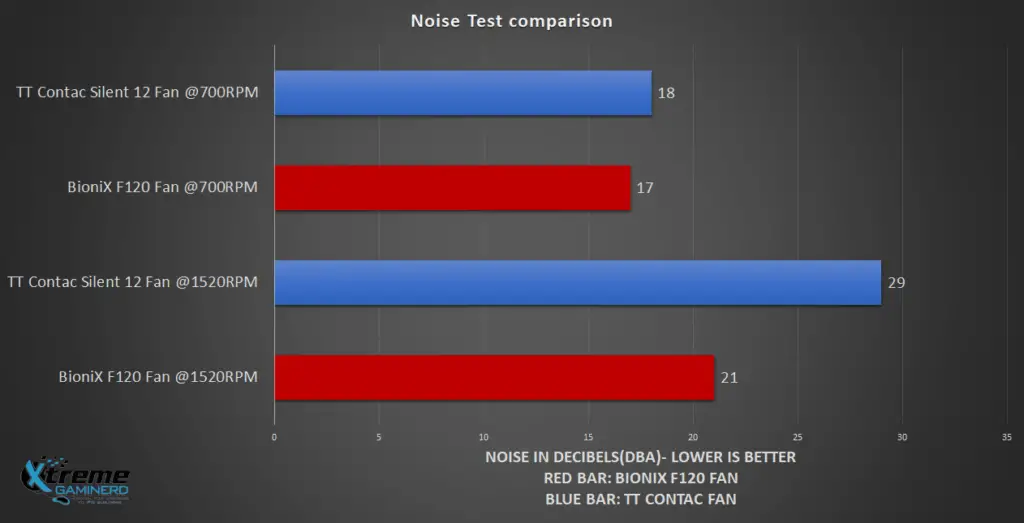 BioniX F120 fan again won by a big margin when it was run at an equivalent speed of TT Contac Fan which is also the max speed i.e., 1520RPM. At 700RPM, things were similar but BioniX F120 is a damn silent thing.
Test #3: Noise Test comparison
Here I tested the BioniX fan with 5 other fans to see which is noisier. I have separated the graphs for minimum and maximum fans speeds. As the monitoring software was not able to detect the fan speeds of some fans, I had to use the Minimum and Maximum speed graphs. Some of the fans of which I was able to tweak the fan speed, I ran them equal to the speed of BioniX fans and included the decibels in the maximum speed graph. The noise numbers are in dbA

For testing each of these fans I connected them to a 4 pin fan header on my motherboard and kept the fan outside the case depending on how much length its wire has. This makes the interference of PSU fan noise even lesser.

These are the 3rd and 4th noise graphs where you can see the outstanding performance of BioniX F120 fans in silence. Although, I was unfortunate that I didn't have had any Noctua Fans which are supposedly the quietest fans available in the market but the other fans which I compared are also popular among PC builders.

I made the top 3 bars of different colours excluding the Red one that explains the decibels of each fan at a fixed speed of 2000RPM. You can clearly see the difference, I don't have to explain. No fan won over the BioniX F12 in quiet operation but in cooling, it was a little behind.

When I completed all these tests, only one thing came to my mind: Damn Silent Operation!

[rwp_box id="0″]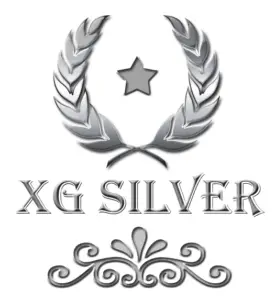 ---