Fans
The best PC case fans for cooling
Best PC Case fans in 2018
In this article, I am going to list down some of the best PC case fans that are the best bang for the buck. As Cooling is one of the most important factors that lets your system perform efficiently on a constant load but it also ensures that your components like CPU, GPU, HDD operate for a long time.
If you have an awesome build like a $1750 gaming PC or even a budget build like $500 gaming PC, you still need appropriate cooling to make your system perform at its full potential. Many cases come with additional fan slots at the top, rear, front and at the bottom. They are present there for a reason which is only to use them to make cool air go in and hot air go out.
Now there are a lot of custom fans available in the market but you may have the question that which one is the best?
The simple answer is that the brands which you recognise and the world trusts go for only those ones. If you find a 120mm fan for only $5 and another 120mm fan costing $15, then, of course, the $5 fan is a crap and if you buy that thinking that what difference will it make, then you are thinking totally wrong.
Cheap fans have a low lifespan, higher noise, less cooling and sometimes less compatibility. Therefore I have made the list of best custom fans that are trusted by millions of users and have got thousands of positive reviews and you will never regret buying them.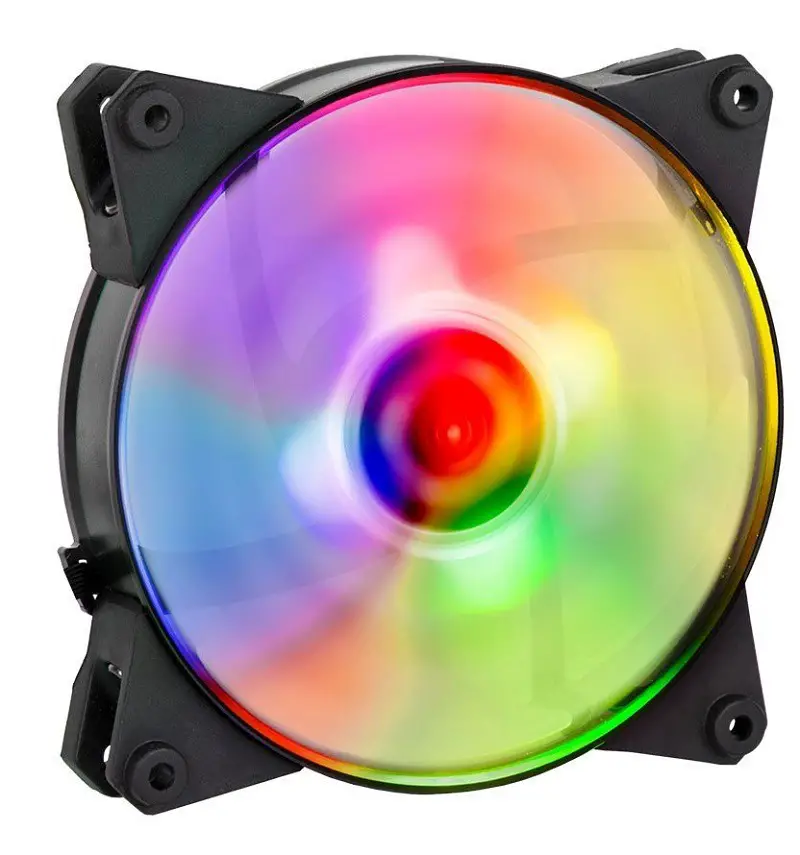 Cooler Master produces some of the best sleeve bearing fans. Due to their awesome performance, they have got thousands of positive reviews and better ratings over other brands.
Many will say that sleeve bearing fans may not be good and have less lifespan. But these fans are designed especially for long time operation. Currently, there are different fans available from Cooler Master which are as follows:-
There are more fans but these are the latest and the best fans which you can get under $20. Non-LED as well as LED fans are present and as the present era is the era of RGB, Cooler Master has provided with different RGB fans concerning Airflow and Air pressure.
As these are PWM fans, so you can control their speeds according to the temperature of your system. Many have even installed different Cooler Master fans into their Cooler master hyper 212 EVO cooler as the second fan and have got much better results.
These fans have very low noise levels but as your system will heat more and the fans start moving faster you may observe some noticeable increase in noise levels. But what I like is the unique design of these fans and their wide range of speeds. The MasterFan Pro RGB fans have a general range of 650RPM to more than 1100RPM. That's why they are silent and are effective for removing heat from a chassis.
Corsair has a wide variety of fans right now and the best RGB fans are currently the Corsair LL series fans. Almost every vendor except from Noctua have produced LED RGB fans but Corsair fans are very attractive. They have different types of fans for Airflow and Air pressure just like the Cooler Master. The most popular ones are as following:-
Each and every above-mentioned fan works very well. I have personally used and still using the Corsair's SP, AF and HD series fans. In performance, SP series fans are ideal while HD series fans look the best because they illuminate everything in your chassis. AF series fan removes a lot of hot air when used as exhaust and they are neither too loud nor too silent. But they are decent for their price.
More to read:- Best CPU for Gaming
As some of the fans among these like ML pro and SP series spin very fast at more than 2000RPM speed when made to run at max speed, they will definitely get noisier but the HD and LL series fans don't have a very high max speed. So, they are more for aesthetics but also perform silently. You can connect HD/SP and LL series fans to a controller and sync with your Node Pro if you have one otherwise, you can still play with different effects.
Cases like Corsair 570X has an inbuilt controller and can change the colours and effects of these fans in one press of a button. So, Corsair has exclusively provided this feature in their premium tempered glass cases.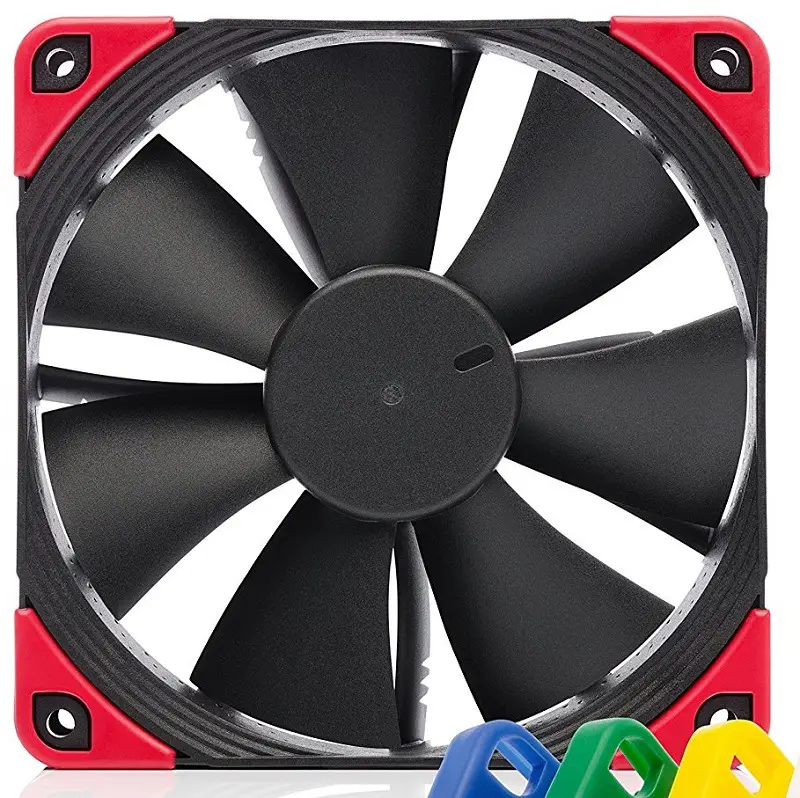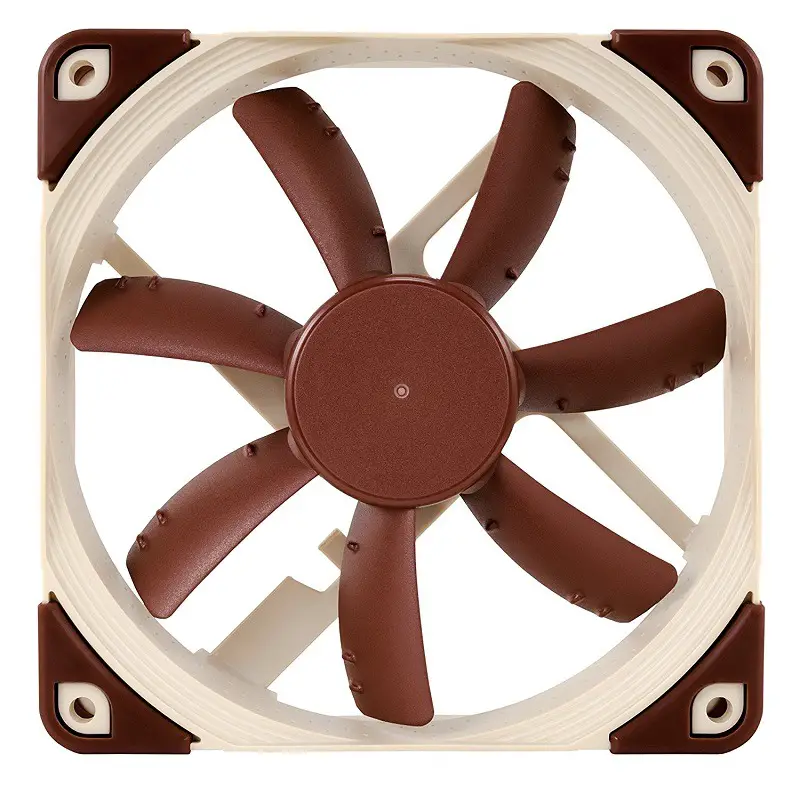 Not only the Noctua Cpu coolers are the best, even the custom fans for basic cooling has no competition whatsoever. The colour and the design is very good to fit in any case(just kidding). The best feature with the Noctua fans is that their fan blades have vortex control notches which help the vortices to be split into several small vortices to increase the air flow.
Currently, Noctua has several different types of fans. Probably it has the most amount of varieties. Some of them are as follows:-
Noctua till now had the same brown and light brown colour scheme with which everybody was fed up. They looked ugly as they don't match with a red/black or white/black type theme. But Noctua has not launched the same fans with different colour combinations and also added some new techniques to change the borders of a fan frame to match your build theme.
As for the performance, the Noctua fans are quietest in performance and they have a wide range of operation. Their fan blades are very strong and effective.
In some of the fans, you can see the small lines drawn at the end of the fan blades which is really an outstanding technology to increase the air flow and decrease the noise levels too. I don't want to go deeper into science now but I think you have got my point what I want to say.
These Fans are just fantastic and have fewer vibrations when spinning. Yes, these are the most expensive fans on this list but spending 4-5 dollars more will get you the best fans for your case.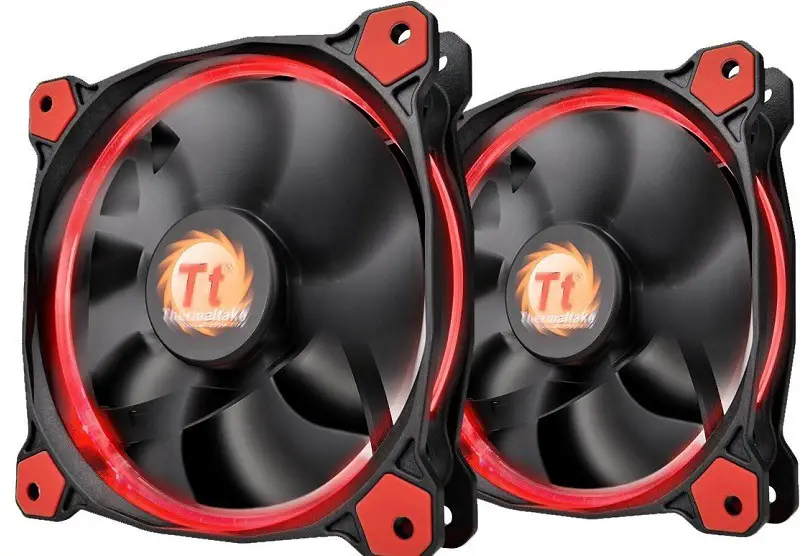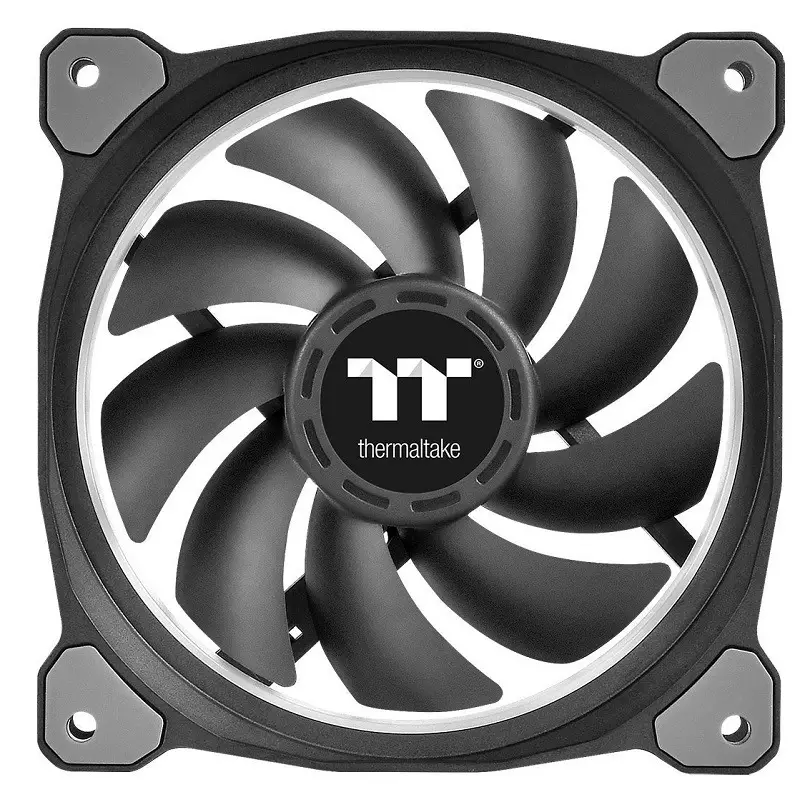 Thermaltake 12 TT Premium fans are one of the most expensive fans out there. These fans are specially made for radiators and have a completely different method for displaying the colour effects. These are mainly of two types:-
There is a Ring around the Fan's body which has LED's inside it. Now there are fixed one colour TT fans also but you can get the RGB one which looks much better. The colours may not be that much bright as that of Corsair AF or SP series fans but they will look good if installed on a front case radiator.
Cooling wise, I tested them myself and I consider them equivalent to the Corsair SP series because of how much silent they are and how much cooling they do. I swapped the cooler master Static pressure fans from my Cooler Master MasterLiquid radiator and also tested these by on a Deepcool Captain 240 radiator. These performed better than the stock Deepcool fans which were noisier.
The noise level is 19.8dBA to 24.69dBA which is very silent and there is a total of 256 different colours to choose from. The pack consists of 3 fans with a controller and will cost around $110 which is very expensive for a budget build, but for an enthusiast, this thing is really worth investing it.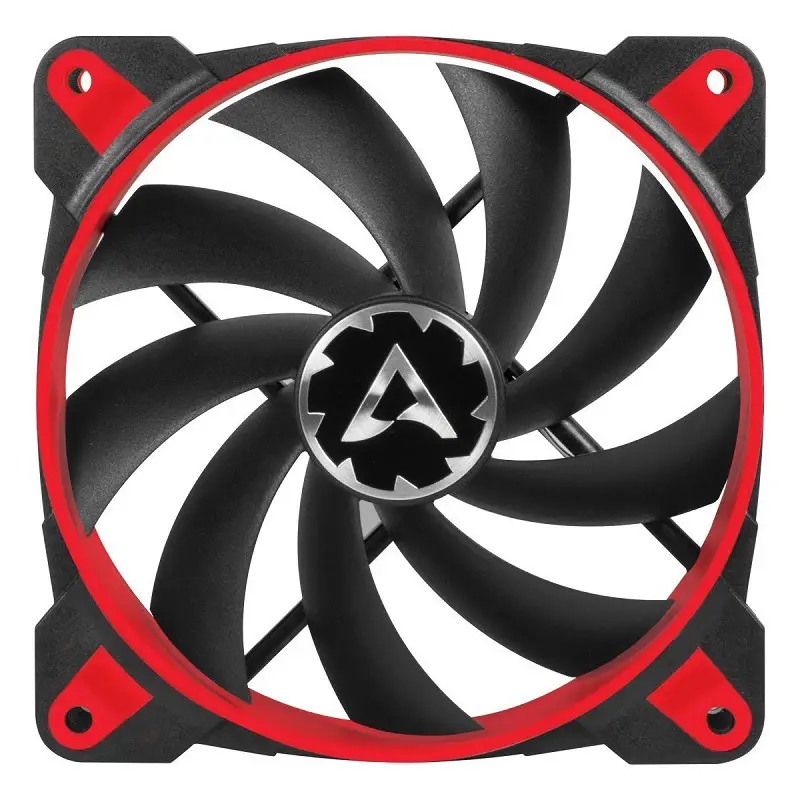 Arctic fans offer a wide variety of different operations. These are present in three sizes: 80mm, 92mm and 120mm. Each having its own advantages and disadvantages. I recently reviewed the Arctic BioniX F120 fan which recently Arctic sent me. So I have also included this fan. Currently, there are three types of fans that I recommend from Arctic:
As for the Bionix Fans, they are the most silent fans that I have tested. After the Noctua fans, these are the quietest fans and they perform decently. What I liked about these fans that they have the widest range of operation. From around 700RPM to around 2850RPM is the speed range that it offers to make it a top performer for cooling. However, the pressure of these fans is not better than the corsair fans.
Now, every fan has 9 fan blades which help in removing more heat from the case even if the fan is spinning slowly.
The 80mm fan has a low airflow of the only 31CFM and is designed especially for low noise. If you want low noise and still want to get good cooling then it's a great choice otherwise, of course, it's not better than those fans that are from Cooler Master or Noctua.
But the 92mm fan and the 120mm are an exception. With 92mm fan you will get 43CFM of air flow and with the 120mm fan, you will get a very high airflow of 74CFM which we haven't seen in any other previously mentioned fans.
Moreover, these fans are PWM as well use fluid dynamic bearing which has more lifespan than the ball bearing fans and therefore these fans have a warranty of 6 years.
Antec TriCool Fans
Antec TriCool Fans are not the best on the list but of course the cheapest best solution for your PC. If you have 5 bucks in your pocket you can get a standard 80mm fan without LED. May Antec fans are cheaper but they still provide very good features especially the three-speed switching option from which you can run these fans either on low, medium or high.
Among all the sizes 120mm fan is great and is available in blue, red and standard forms. On low settings, the fan spins at a speed of 1200rpm generating a noise level of 25db only. On medium, it spins at a speed of 1600rpm generating a noise level of 28db and on high it spins at a full speed of 2000rpm and generates a noise level of 30db.
But still, it's less than that of Corsair fans and provides 79CFM airflow at full speed which is the best you can get on this list.
These fans are simple, quiet and effective and are a good option if you have a low budget and if you don't want to go with crappy fans. A must buy for budget rigs like $300 build or $400 build.
Rosewill Long life sleeve Fans
If you want a 4 fan collection to cool your whole case at a cheap price, Rosewill provides this collection to you. Now, these fans are not high-pressure fans but actually made for silent operation. These spin at a speed of 1200rpm and generate a noise level of 22dbA which is almost non-hearable and will force you to strain your ears to listen.
All the fans are 120mm and will produce a good air cycle in your case if you put two for exhaust and two for intake. The best placement for intake is either front or bottom and for exhaust, the best places are top and rear.
These are a fine choice for budget builds and will cool your system without spending so much of money. Buy them here.
Next article to read: – Best Cpu Air Coolers