Gaming headsets are already very popular for their unmatched crystal clear sounds and they help very much in games like CSGO where you need to hear the footsteps. I have used dozens of different headsets that include premium as well as budget headsets.
My taste in their design has changed and I have seen people adapting to newer designs. Today, it's not very difficult to get a great-looking headset online. There are numerous premium as well as locally branded budget headsets that use a unique design that makes them look very attractive.
What makes them more attractive is RGB lighting. I have used maybe around 7-10 different types of RGB headsets and I am never tired of looking at them except when I wear them because at that time only the other person can see the lighting.
Whatever the case, your headset increases the beauty of your setup when its lights are on and they are not just fancy-looking pieces of metal and plastic, they feature 7.1 surround sound that makes you immersed in the game. So without wasting any further time, let's jump on to the list of best RGB gaming headsets!
Top Premium RGB Headsets
CORSAIR Void PRO RGB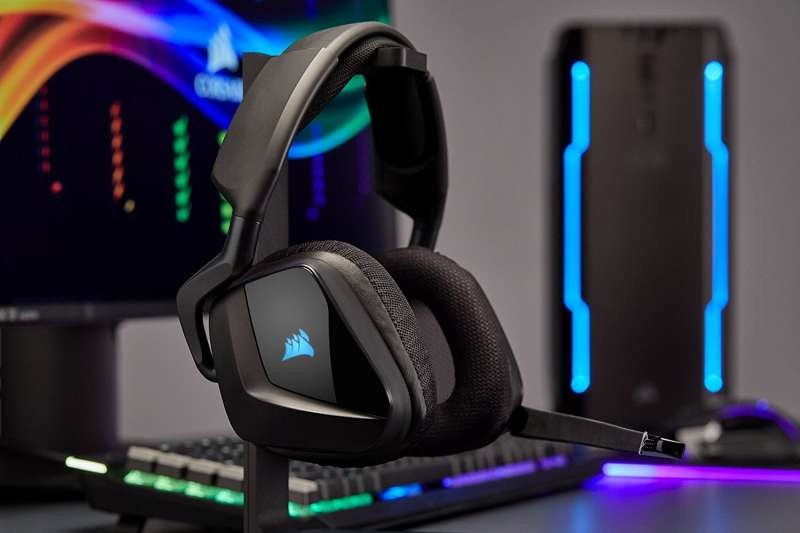 Corsair Void RGB headset is among the best headset of the previous gen. Although it's not among the latest, it still works up to the expectation. The price of this headset has been dropped to $60 which is right now a great deal? The headset doesn't have too much RGB in it but only what is required. The Corsair logo on the center of the two earpads looks decent and their lights can be controlled using Corsair iCue software.
The earpads use a net cloth that allows one to breathe and the headrest can be adjusted according to the needed height. It has a straight mic which is, in my opinion, better than the flexible one and adds more aesthetics to it. If you use it on the Corsair ST100 RGB stand then your desk will look more attractive as both of them can be synced together from the software.
Related: 11 reasons why Headphone jack is not working with Mac
SteelSeries Arctis 5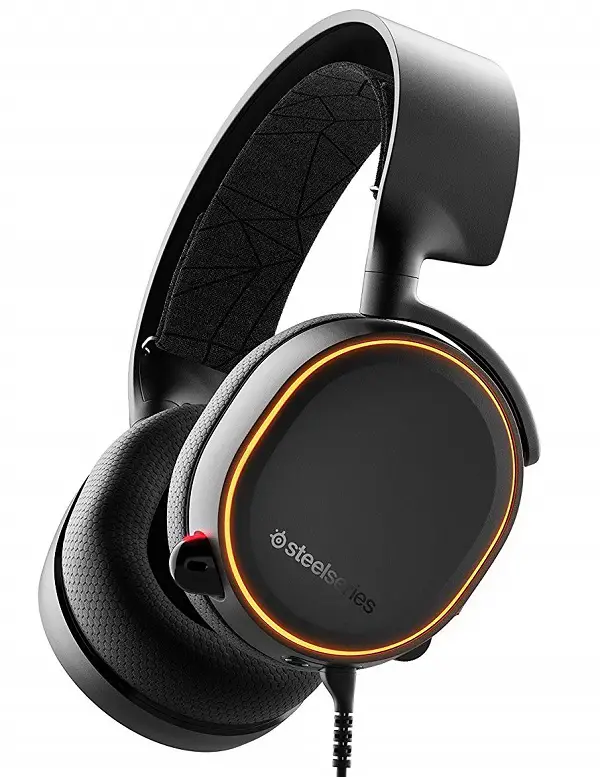 SteelSeries Arctis 5 is my favorite headset of all time. I bought it in 2018 and I still like it the most. The headset looks thin but feels very premium. The earpads feel very comfortable and use a mic that can be put back inside which saves a lot of space. It uses a flexible headrest that doesn't put pressure on the head and it feels light all the time.
The earpads have big ring RGB LED lights that look more decent than the Corsair Void Pro RGB and you can change the colors and effects from SteelSeries Engine 3. The headrest comes with two options to connect. Either with the 3.5mm jack pin or through USB. Its cable is very long and you can literally sit in one corner of the room while your PC is in another corner.
Razer Nari Wireless 7.1 Chroma RGB Headset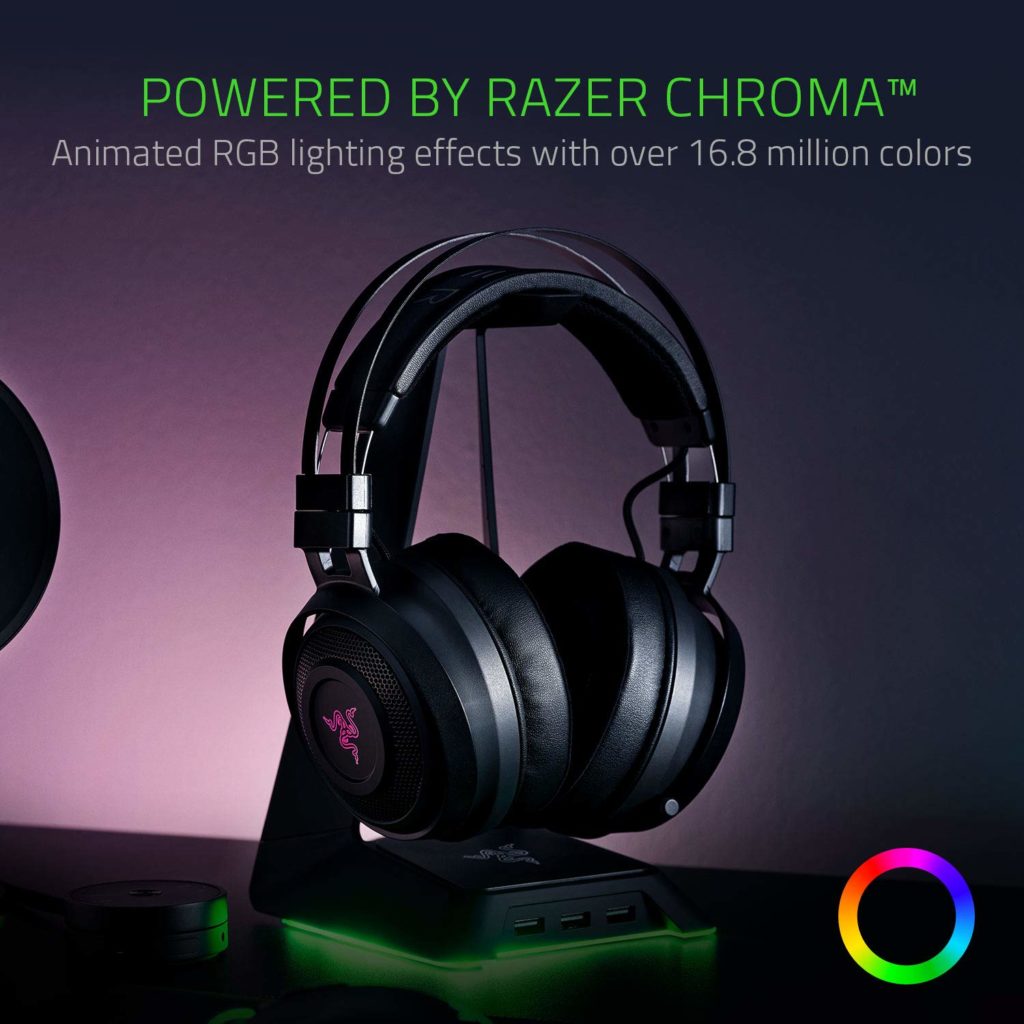 Razer has produced numerous great headsets for gaming and the Razer Nari wireless headset is the one that will keep away the cable mess along with providing great 7.1 surround sound quality with RGB lighting. The headset uses a flexible headrest and big earpads that provide great comfort with the swiveling earcups that adapt to the shape and position of the ears.
The headset uses a similar way of RGB lighting as the Corsair Void RGB which is the presence of the Razer logo on the earpads that use RGB LEDs which can be controlled by the Razer Synapse software. From this software, you can control different Razer peripherals such as a keyboard, mouse, and headset stand. This one costs more than the above two headsets and costs $100.
Top Budget RGB headsets
RUNMUS 7.1 Surround Gaming Headset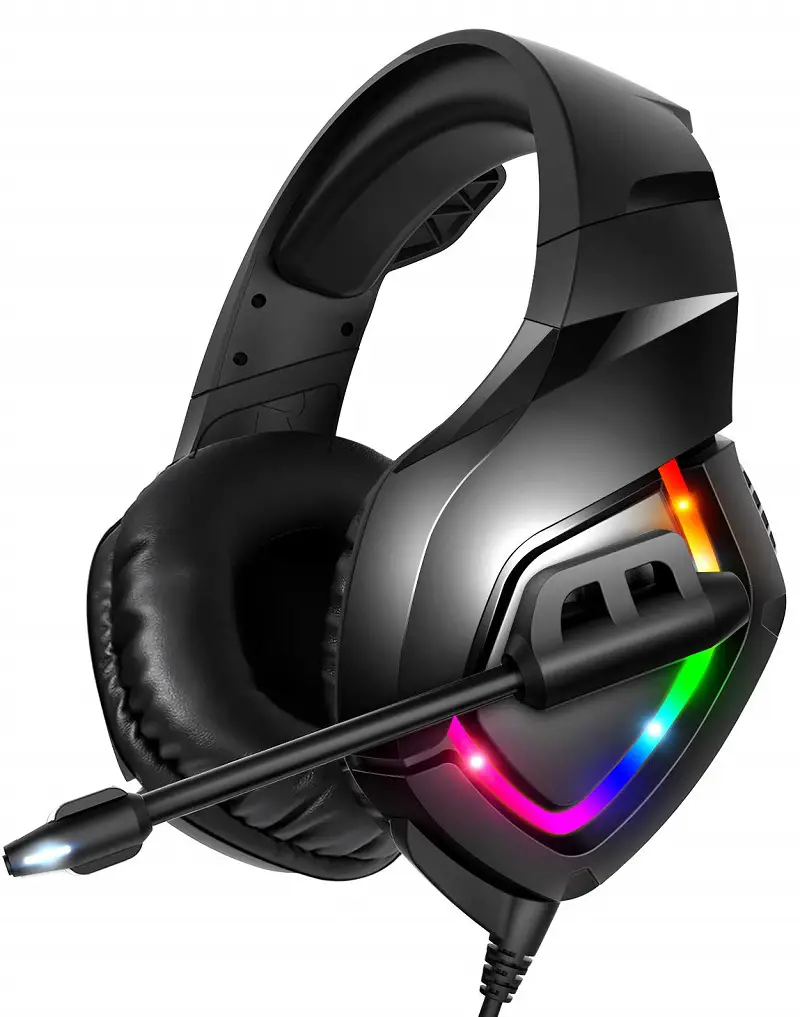 It's not necessary that only the popular manufacturers produce great headsets. I have used numerous local or infamous branded headsets which are almost identical to the premium headsets in performance. The only great difference between these two is the lack of controlling software.
The Runmus Gaming headset is a $30 headset that doesn't need any software for customizing and uses plug and play method. The headset uses an adjustable headrest which isn't that great but it's fine considering the price. The great thing about this headset is the RGB lighting which covers a great area on the earcups. There is a 3.5mm audio jack with a USB connector that helps the headset provide a power supply to the RGB LEDs. If you don't use it then the LEDs won't turn on.
For a mere $30, this is the best seller headset on Amazon.com and there is no reason you shouldn't buy it if you have a lower budget especially when it is fully compatible with most of the latest gaming consoles as well as PC.
Jeecoo USB Pro Gaming Headset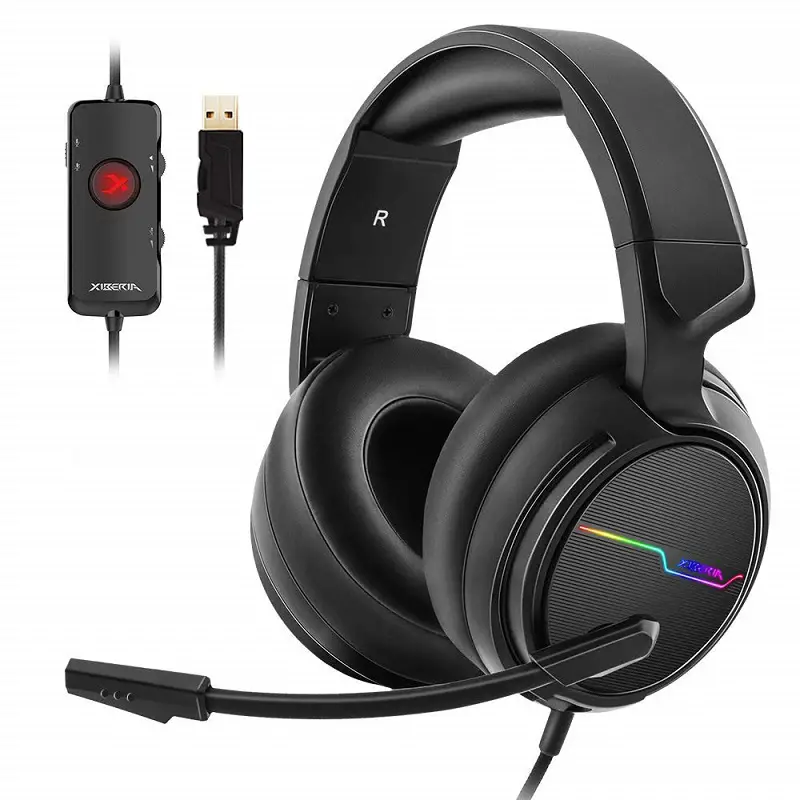 Another best-seller headset on Amazon is the Jeecoo USB headset which features 7.1 surround sound quality and a more premium design. It uses oval ear cups with very comfortable padding. The headrest is not flexible like the SteelSeries Arctis 5 or some other expensive headsets but it's adjustable. The headset comes with a mic that can rotate on its position and the headset uses a control device that can let you increase/decrease volume as well as disable/enable the mic.
The headset has an RGB LED line going through the middle on the earcups above which XIBERIA is written. It's most likely the manufacturer name of this headset which is rebranded now as Jeecoo but it really doesn't matter if the headset works like charm. The headset is ready to plug and play and doesn't need any software for control. Again, this is similar to the previous one but with better looks. It's fully compatible with different devices like PC, MAC, or Laptops.
RegeMoudal 7.1 Surround Gaming Headset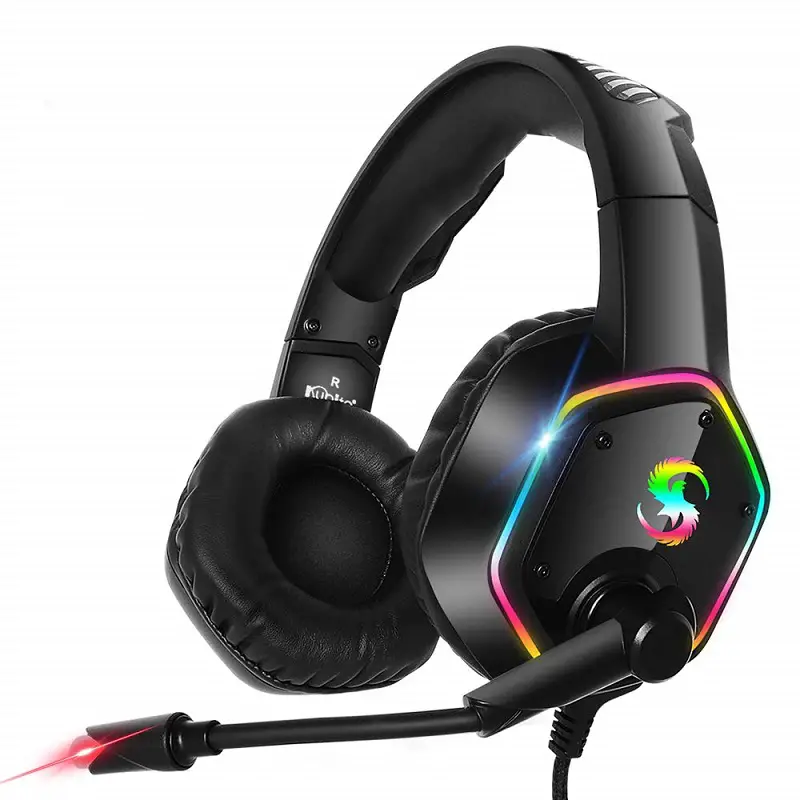 Ragemoudal is another infamous brand similar to the above two but features the best aesthetics among most RGB headsets. The design is very simple with a simple yet cushioned headrest and the earcups use fine padding. To be honest it's not very reliable but should work for a good amount of time which will make it worth its price of $29.
The headset uses two different RGB lighting zones on each earcup where the borders use a single RGB LED strip and in the middle, there is a bird logo in an S shape. It fills the earcups with RGB lighting and when you will plug it into your PC, it will be ready to show its colors without any software installation. It's compatible with the latest consoles as well as PC and it's the best-looking RGB headset on the list.
Final Words
With RGB everywhere, it's time to switch to RGB headphones without compromising performance. The above-mentioned 6 headsets are great for their price and if you don't want to compromise performance or reliability in any way then it's better to go with any of the 3 mentioned premium headsets but if you have a budget problem, then going with any of the 3 budget headsets will let you fulfill your dreams of looking at RGB lighting on your headphones and enjoy surround sound quality.