Even though I am more of a fan of gaming headsets than earbuds, there is no denying the fact that earbuds usage is way higher today than ever before.
According to the 2020 statistics by Statista, Earbuds are used 5-10% more in the outdoors, in malls, cars, public avenues, and in the gym than headphones. Thanks to their compact design and portability, earbuds make life easier.
That said, this does come with challenges like a lot of surrounding noise and if your earbuds are not capable of limiting those, then you are not using the right one.
This is where the Tozo Golden X1 Earbuds come into action which promises high-quality sound through LDAC technology and feature balanced armature drivers.
Tozo is a Seattle-based company that has now established its branches in various parts of the world and is not as popular as some of the already established brands like Sony, Samsung, and Apple.
The company sent me their flagship model Golden X1 Earbuds for review which was officially launched on 11th January 2023. I have been using them for a couple of days now and here is how I perceive them for their price tag of $149.
Packaging and Accessories in the Box
I liked the premium packaging because everything was arranged in a neat manner and there were a lot of things included inside.
The Earbuds
Charging Case
Six pairs of Eartips
A USB Type-C Cable
User Manual and Quick Guide
Everything was packed inside a foam to protect the accessories from damage and the Manuals were inside a small envelope.
The User Manual details the Earbuds Function Diagram, Wearing, Pairing, Multi-point feature, and Touch feature as well as explains how to use the Tozo app.
I did not expect the manual to be so detailed so, it is pretty fair to see that if you buy these, then you should definitely check out everything that includes the quick setup and the advanced features.
Build Quality and Looks
Unlike most earbuds you will find today, the Golden X1 earbuds boast a unique design due to their mic stems being shorter.
The build quality is pretty solid as it should be. It uses a carbon nanotube diaphragm that is well-known for its high rigidness, reliability, and lightness, and for providing a smooth and clear treble.
Each earbud has "L" and "R" markings near the microphone that lets you know the correct one to use in each ear.
The package contains 6 pairs of ear tips that range from XS to XXL in size giving users the choice to use the right one that fits their ears perfectly.
For some, this might be a small addition but for me, it is a dealbreaker as I and my wife use totally different-sized ear tips. My wife has never been able to use any earbuds because normally, earbuds come with Medium-sized ear tips that don't fit her ears. So, the XS size was very well needed.
This also allows other family members to use these earbuds who will need different-sized ear tips for a proper fit.
Features and Technology
Tozo Golden X1 comes with LDAC technology that offers better data transmission and also features a Balanced Armature Driver unit that has the capability to create a significantly higher sound frequency of 44.1KHz compared to the maximum frequency of 20kHz a human can hear.
As per the company, this driver can reproduce high-frequency sounds excellently and can even restore the ultrasonic sound of dolphins. Even though this might not give a significant advantage to human listening, it is indeed better than the Dynamic Driver which can have a distortion in sounds at a higher volume.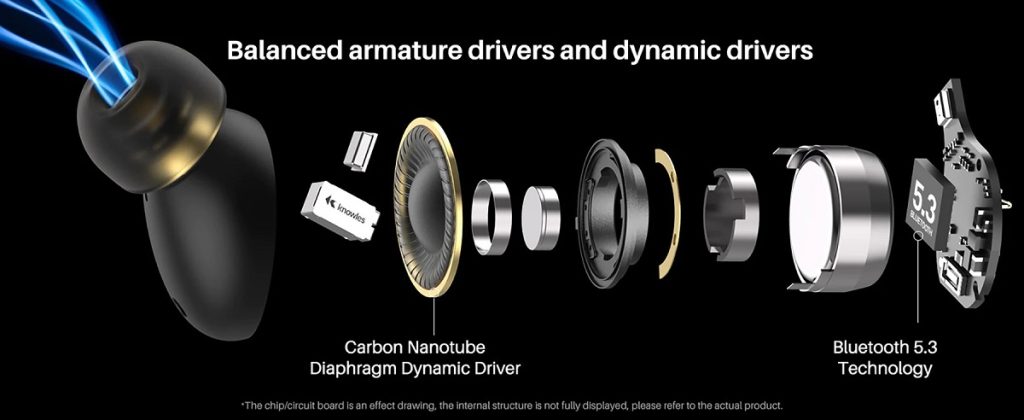 Nonetheless, Tozo equips the Golden X1 with both Dynamic and Balanced Balanced Armature Drivers so that the users can have a full range of 12Hz to 44.1Khz of frequencies. This should allow the Golden X1 to produce detailed sound and great bass at lower volumes but also detailed sound at higher volumes which we will see by testing the earbuds in real life.
Charging Case
The charging case is absolutely beautiful. Not only it serves the traditional purpose of charging your earbuds wirelessly but it also has monitoring features.
When the earbuds are put inside the case, the LEDs automatically light up to show the total percentage of your charge for individual earbuds.
Now the charging case has its own way of usage. You can either connect it via a cable charger or you can put it on a wireless charging station if you have one.
Connectivity and the Ease of Use
Earbuds are straightforward to use. You just take them out of the case and put them in your ears without having the need to turn them on manually.
However, the Golden X1 also features the Auto power off/on method. If you put the earbuds in the case and close it, they will be turned off automatically. Opening the case will turn them on like that.
It is important to remember that you will only be able to fit them in your ears in a certain orientation. The mic stem should always be towards your mouth or the earbuds won't fit inside your ears.
Touch Features
Touch features make using the Golden X1 earbuds pretty comfortable because there are so many things you can do with simple touch functions.

Whether you want to play/pause a video/audio file or increase/decrease the volume, you will be able to do so with just a touch. Increasing and Decreasing the volume requires you to touch and hold on either of the earbuds sensors and the same hold press can also hang or reject any upcoming calls.
Similarly, you can also switch to another media file by pressing twice on the right earbud.
It can take a few days for you to adapt to all those functions if you have never used touch functions on earbuds in your life but believe me, it makes life convenient.
Another great feature of Golden X1 is the multi-point feature. What this feature essentially does is that it can allow you to connect the earbuds to two different devices simultaneously and can let you switch to any of them whenever you want.
Sound Quality
Here comes the most important part. Even though I am not necessarily the best guy at analyzing the sound quality of earbuds, I am pretty experienced in recognizing good-quality sound in headphones as I have been using various gaming headsets for a decade.
The Golden X1 is more than enough in loudness if you love to blast your ears from loud music but they aren't too loud. The great thing is that no matter how low or high the volume is, the audio properties and details don't distort. The lows, mids, and highs are perfectly distinguishable which matters the most.
The bass is also decent but I was expecting more. Even though the bass can be increased via the app, I think it's quite unfair to ask for the bass quality you get in a gaming headset.
The important thing here is that with 16 different modes in the Equalizer, you can differentiate between the sound quality. Even though they won't be as good as in high-end PC speakers, you can easily feel the difference between the modes like Classical and Bass+.
The immersiveness increases when the Noise Cancellation mode is turned on and this also has a positive impact on bass quality. This is why the Tozo app is a must-have function in your phone which has incredible features which we will talk about later.
Microphone
I tested the microphone with and without noise cancellation mode and the difference wasn't significant. I can still hear the surrounding noise which shouldn't be the case according to the reviews I read in other places.
Still, if we ignore that we can't ignore the recording quality which isn't great either. I compared it to the mic quality of my phone and I found the Golden X1 to be 10-20% better.
So, I would not call it a clear win for the earbuds because the microphone here just serves the purpose of being a "microphone". I think it's a pity that the premium $149 earbuds cannot provide decent recording quality.
I am also well aware that most earbuds have the same problem and it's too much to ask for a sound quality of a dedicated condenser microphone but I would have loved it if the recording quality was at least 50% better than the default phone mic.
Tozo App Makes All the Difference
Almost all of the great features of Golden X1 can be derived from the Tozo app which is present on both Android Playstore and Apple Store. Even though the ratings on these stores are not on the positive side(which might send away most users), you should still use it by yourself before deciding to uninstall.
Most negative reviews are due to bugs that don't let the users connect the earbuds which the company should fix but in my case, I never had such problems.
Upon opening the app, I found several functionalities which I got used to in a few minutes. The app interface gives you three different tabs including Earprint, Noise Cancellation, and Sound Effect.
Initially, there is a quick configuration where the app gives you the option to take a hearing test which gives you your hearing print. I personally didn't find it too useful but it helped me know how sensitive my hearing is.
The second tap is Noise Cancellation where you will find five different modes including Noise Cancellation, Transparency Mode, Reduce Wind Noise, Leisure Mode, and Normal Mode. The 6th one is the Custom Pattern where you can manually increase or decrease the noise cancellation feature.
When you tap on the "Settings" gear on the top-right,  you will find your individual earbud battery life and also the option to change the Touch Control. From there, you can customize the touch controls of each earbud according to your comfort.
Lastly, in the Sound Effect tab, you can tap on the "More Sound Effects" option to choose from 16 different equalizer modes to change the audio effect.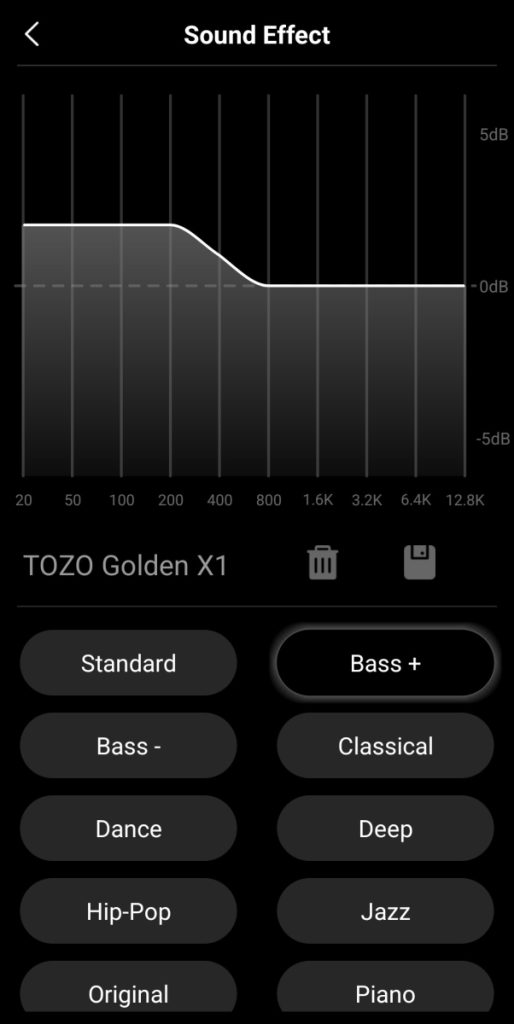 Noise Cancellation
By default, the Transparency Mode is active and in this mode, you will hear a windy noise constantly. This mode consumes low battery but is ideal for situations when you want to stay alert to your surroundings.
The Normal Mode creates better noise cancellation and the Leisure Mode and Reduce Wind Noise are similar to each other in cutting off the surrounding noise.
Noise Cancellation is the most effective and powerful mode that works like magic and you hardly hear wind or fan noise near you. This allows it to produce more immersive sound quality and this is where the Bass+ and custom Bass equalizer make much more sense.
This mode also consumes much more battery but it is one of the finest features the Golden X1 has.
Battery Life
The company advertises that the Golden X1 has a battery life of up to 8 Hours and up to 32 Hours with the Charging case.
After testing it for a few days I found out that it's not the case. The earbuds last somewhere between 5-6 hours of usage which includes continuous listening, small breaks that range from 5-15 minutes, volume intensity from 50-100%, and switching of noise cancellation modes.
Of course, the charging case can charge your earbuds when you put them back which is definitely a pro because it can give you 20-25 hours of total battery life without having to plug it into the charging dock.
I assume that the earbuds will discharge completely in 4-5 hours if you use them at 100% volume and on the Noise Cancellation mode continuously which is satisfactory but the advertised battery life is not entirely true.
Conclusion
Tozo Golden X1 comes out to be a great underdog that can easily compete with more expensive earbuds. One of the best things about the earbuds is using the Tozo app which gives so many functionalities you can't miss. These earbuds are crazy good when it comes to high-quality sound detail and noise cancellation is perhaps the best thing the earbuds could feature.
My only complaint is the microphone recording quality which is inferior compared to what you would expect for a $149 price tag. Still, these are marginally better than the default phone microphone and get the job done.
For Golden X1 you are paying a premium price of $149 and therefore, premium functionalities are expected. Fortunately, the earbuds don't disappoint and pass in almost every area while providing you with premium features. On top of that, the ease of use is what makes it stand out against the budget earbuds.
PROS:
Top-notch sound quality with clear lows, mids, and highs
16 different equalizer modes
Immersive bass quality
Impressive and customizable touch features
Active noise cancellation is wonderful
Dedicated app for almost everything
Charging case with real-time monitoring
6 sets of ear tips
CONS:
Disappointing microphone quality
Battery life is lower than advertised(5-6hrs and not 8)
Xremegaminerd Award